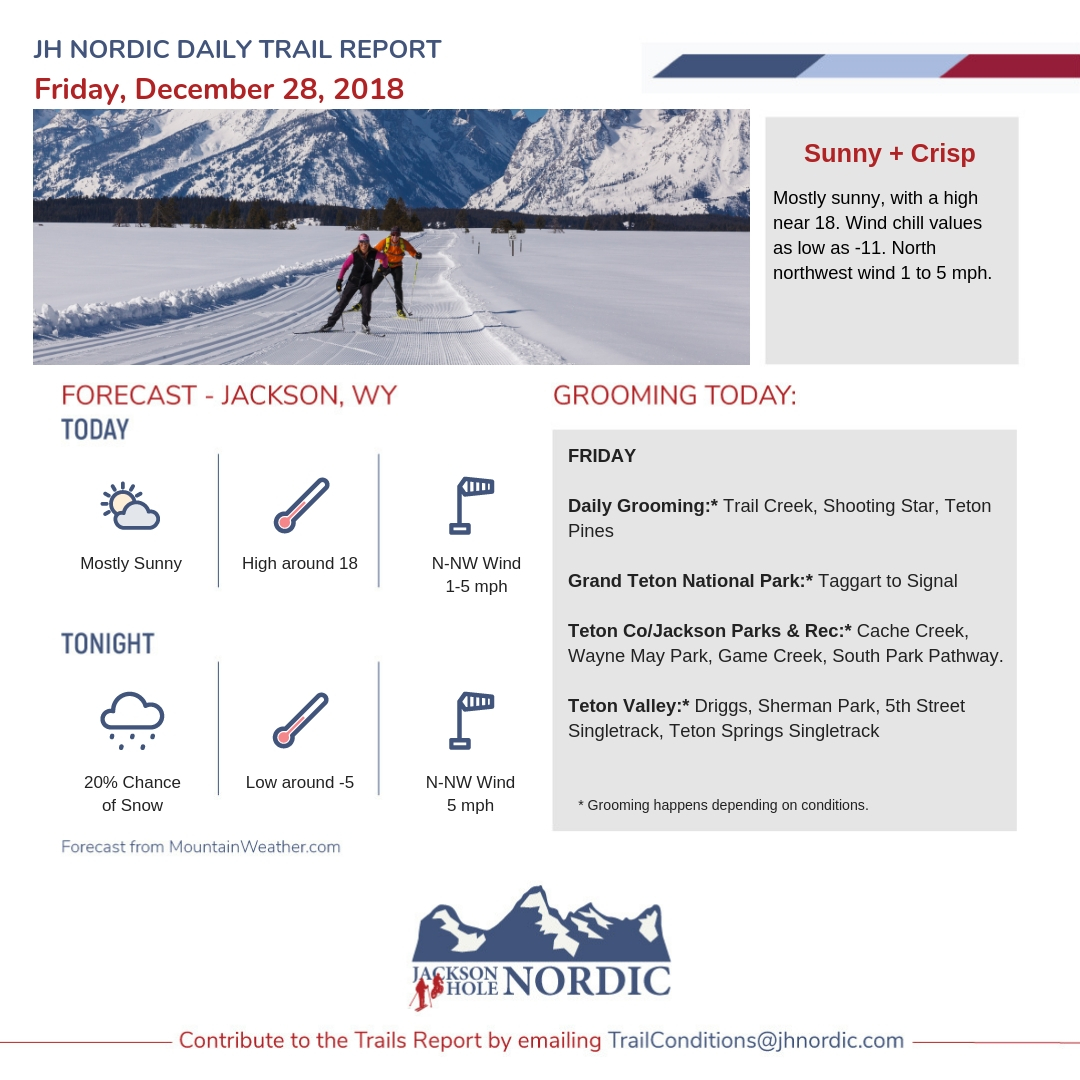 ---
NEW!
JH Nordic Travel Report:
Day Trip to Alta, WY
12/27/2018
Looking for a new groomed trail, that's dog/friendly, groomed 4 days/ week, easy access?
A few friends from Wilson decided to check out Alta's 12 km skate and classic track. Often overlooked on the way to Targhee or Teton Canyon, Alta has excellent rolling trails among the farm lands on Teton Valley, groomed double wide for skate and classic track by TVTAP.
On a clear day, the views of the Grand and Middle Tetons are striking. Locals and dogs were friendly, and many lunch options in nearby Driggs.

The trail loops around architectural irrigation wheels in a pastoral setting.
---

In spite of the government shutdown, grooming will continue on Fridays and Tuesdays, thanks to the support of Grand Teton National Park Foundation and community support.
Note that there are no services in GTNP in winter, although Dornan's is open for lunch, drinks. Please take care not to walk on the groomed trail between Taggart and Signal Mountain, and remind others courteously not to walk on the trails. The normal Trail signs are in for repair after last weeks wind storm, so visitors may not be aware that the groomed trail is reserved for Nordic skiers.
---
Status of USFS Winter Operations
A note from the Forest Service: As you know, the Forest Service is included in the Government Shutdown. Therefore, the majority of our folks are furloughed and the offices are closed. However, we will be able to provide limited services with a focus on public safety. This includes:
The BT Avalanche Center will continue to issue forecasts
Plowing will continue at Granite, Gros Ventre, Mosquito Creek and Cache Creek (but may not be as frequent)
Snow ranger patrols will continue on a limited basis (this includes Cache and Game and our snowmobile patrols)
Jay will continue to cover Teton Pass
The ambassadors will continue covering Cache and Game (since they are not technically FS volunteers)
Thank you for your support of our winter program and your patience. Hopefully we will return to full operations soon.
---
MARK YOUR CALENDARS!
---

***THIS SATURDAY***
Betty Woolsey Classic – 2k, 5k, 12k
Saturday, December 29
Trail Creek Nordic Center
Wilson WY (off Hwy 22)
9am-12pm
The 2018 Betty Woolsey Classic Race will be at Trail Creek Nordic Center on the Old Pass Road above Wilson Wyoming.  Start time is 10 AM with race distances of 3km, 5km, and 10km.  Registration fee is $15.  Come on out for a fun day of Nordic racing!
---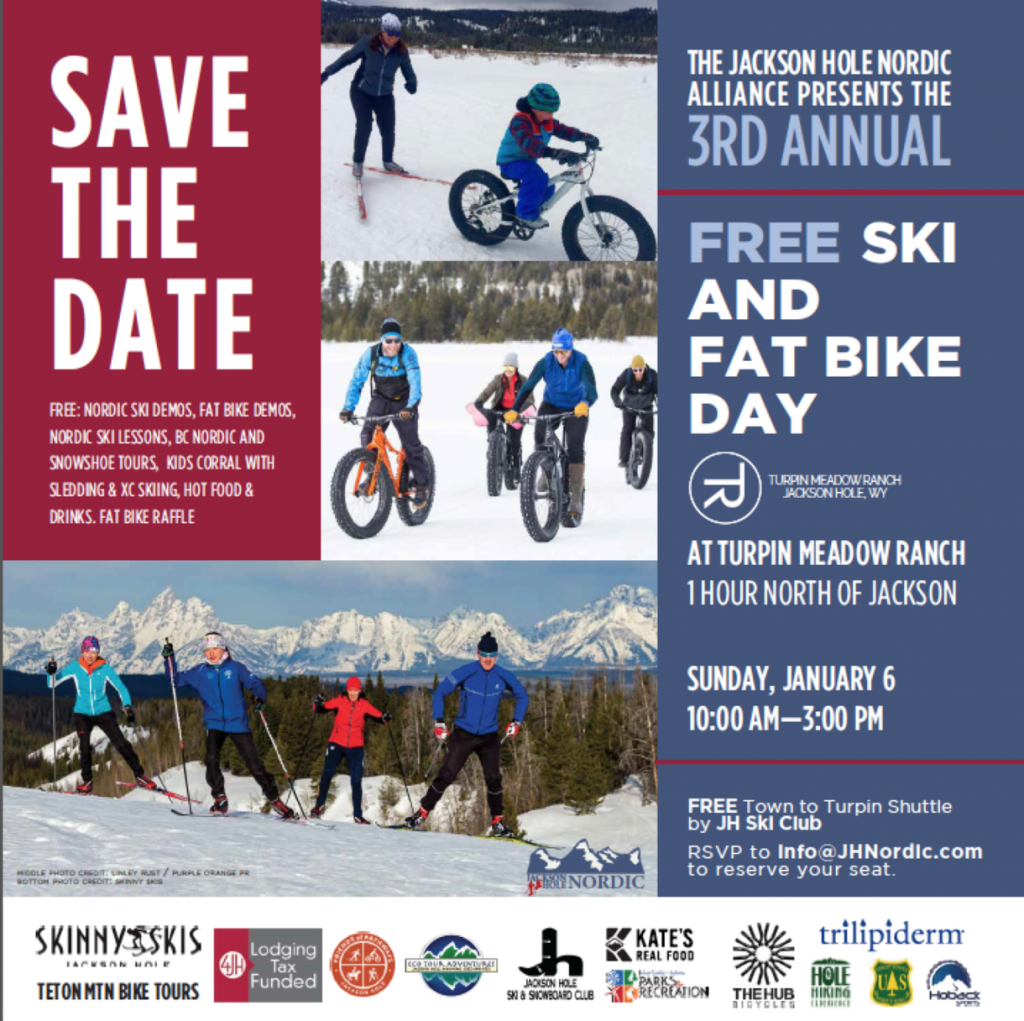 Countdown to Jackson Hole Nordic Alliance's Annual Free Ski and Fat Bike Day at Turpin Meadow Ranch on Sunday, January 6th, 10 am – 3 pm
A little under 2 weeks to go!
Remember:
FREE Nordic Ski & Fat Bike Demos
Nordic Ski Lessons for the newbies
Backcountry Nordic & Snowshoe tours
Kids Corral with Sledding & XC skiing
You can bring the whole family including the dog, just be sure to have your pup on a leash and clean up after them
Don't forget we have a Free shuttle to Turpin Ranch from Jackson, email info@jhnordic.com to reserve your seat
This free event benefits Friends of Bridger-Teton USFS, towards Cache Creek trail access and trail ambassadors.
---
GROOMING REPORTS
---
***Betty Woolsey Race Saturday 10 AM***
The course is official; click on the map above to get a larger version of the map for the 2018 Betty Woolsey Classic Race.  There is something for everybody with 10K, 5K, 3K, and 1/2K versions.  If the current forecast holds you can expect tracks to be set Friday evening with 10 AM start time temps in the upper single digits with a chance of light snow starting about race time.  Should be an interesting race with rock hard tracks receiving a dusting and warming significantly as the race proceeds, the leader might have to work pretty hard.  Registration fee which supports Trail Creek and the JHSC Nordic program is $15.
Today's grooming was a Pisten Bully best line skate pass of the Betty Woolsey Course while yesterday's classic tracks were untouched as they are still quite nice.  11:15 conditions were kind of sunny with continuous .005 inch per hour snowfall, calm, and a temperature of -10ºC/14ºF.  The course is quite nice today, skaters should be very happy and the classic tracks while not best line like they will be for the race, are also pretty nice.
Groomer's choice for today is the Betty Woolsey Race Course.
---
Shooting Star Grooming Report
Last Updated: 12/26 @ 9am
The recent snows have freshened up the trails and skiing should be excellent. Bundle up as temperatures are expected to be cooler through Saturday. Get outside and enjoy!
---
Last Updated: 12/26 @ 5pm
Back up and groomed! We were able to drag the small groomer around to refresh the skate lane. Classic tracks are holding up. Come out and enjoy the beautiful weather during this holiday break!
Buy Your Turpin Meadows Trail Pass!
---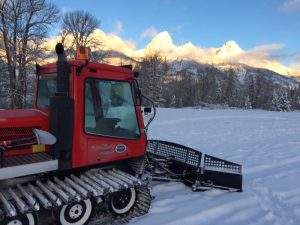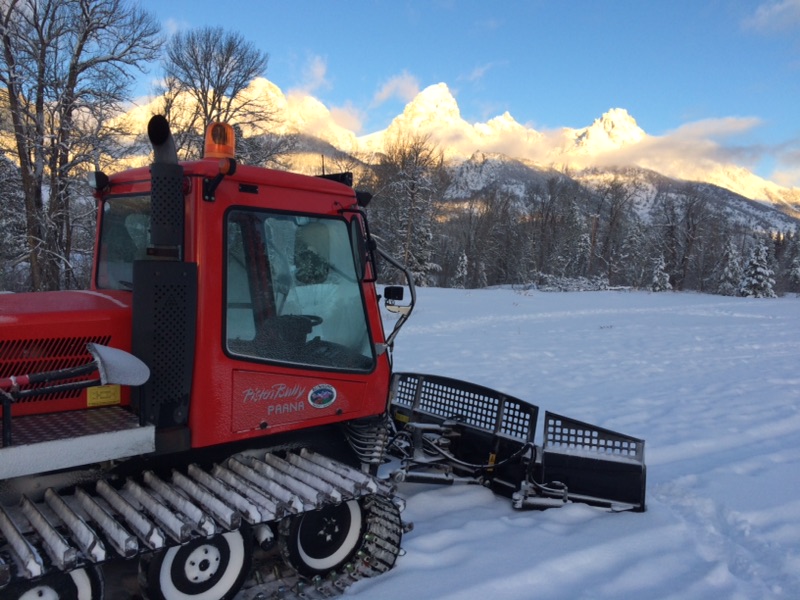 Grand Teton National Park Grooming Report
Last Updated: 12/27 @ 8am
Friday grooming – Taggart to Signal Mtn – is on schedule in the morning , thanks to the support of the GTNP Foundation and community support!
---
Teton Pines Grooming Report
Last Updated: 12/26 @ 7pm
Conditions are great at Teton Pines! All of our trails are groomed daily for both skate and classic. Wax recommendations for the day can be found on our Facebook page or by calling us at (307)733-1733.
---
The levee and Stilson are finished and in great shape. I will be finished with the school fields around 10:30.
Cross Country/Fat Bike 15k: XC OPEN (Last groomed AM 12/25/2018), Fat Bike OPEN.
It's time to get those last days in on the mountain before 2018 becomes 2019! Powder-preserving temperatures, additional accumulations of snow, and the promise of occasional sunshine through the next several days will provide the conditions needed to send it right into the New Year! Today, skies will be cloudy with colder temperatures. Winds will remain light and variable. C'mon up, the mountain is waiting!
---

Alta Track
Grooming Schedule: Tuesday, Thursday, Saturday, Sunday
Last Updated: 12/27 @ 12PM
Skate: Good  |  Classic: Excellent
Groomed all trails and reset classic track. About a half inch of snow fell on the track by the time I finished up at 10am.
Driggs
Grooming Schedule: Monday, Wednesday, Friday
Last Updated: 12/26 @ 2PM
Skate: Fair  |  Classic: Poor
Skating possible both loops. Classic OK south loop. More snow, please!
Sherman Park
Grooming Schedule: Monday, Wednesday, Friday
Last Updated: 12/26 @ 7PM
Skate: Good  |  Classic: Not Set
Groomed Sherman Park Nordic trail Wednesday afternoon. Enjoy!
Teton Canyon
Grooming Schedule: Monday, Wednesday, Saturday and Sunday
Last Updated: 12/26 @ 6AM
Skate: Fair |  Classic: Fair
Wednesday: Plan to reset both skate and classic tracks this morning. Guessing track will be a bit soft with a few inches new snow. Finish by 10am.
Teton Springs
Grooming Schedule: Tuesday, Thursday, Saturday
Last Updated: 12/26 @ 12PM
Skate: Excellent |  Classic: Excellent
Reset all trails over about 4″ of fresh snow.
5th Street Singletrack
Grooming Schedule: Monday, Wednesday, Friday
Last Updated: 12/21 @ 10PM
Singletrack: Fair
Pulled the singletrack roller around the loop today. It's thin out there, but definitely rideable.
Teton Springs Singletrack
Grooming Schedule: Monday, Wednesday, Friday
Last Updated: 12/21 @ 3PM
Singletrack: Fair
It's blowing snow. Groomed the short route out to Sherman Springs, but it's probably blown in by now. Also groomed the Sherman Springs access road out to 9500.
Southern Valley Single Track
Grooming Schedule: As Needed
Last Updated: 12/26 @ 8PM
Singletrack: Good
A couple of tricky spots over near pole canyon.
Rammell Mountain Road to Indian Meadows
Grooming Schedule: As Needed
Last Updated: 12/19/2018 7:51:17
Singletrack: N/A
Comments: Groomed Today
For more info on Teton Valley grooming, visit their grooming page.
---
Pinedale Nordic Grooming Report
Last Updated: 12/26 @ 9AM
Half Moon Tie-In, Kelly Park, Kelly Tie-In, Upper & Lower Surveyor, Tree Loop, Moose Ridge, Flatline, Heart Attack and Old Road Trail have all been groomed this morning. About 1″ of new snow. 12F degrees. Lots of deer and moose both up above – give them their space.
---
UPCOMING EVENTS
---

2019 TRIPLE CROWN RACE SERIES
Register by January 1
1) Skinny Skis 27th Annual Moose Chase Nordic Ski Race
2) FCExcavation 37th Annual Jackson Town Downhill
3) Rendezvous River Sports 44th Annual Karen Oatey Pole Pedal Paddle
_________________________________________
The Triple Crown celebrates Jackson Hole's winter sports traditions and recognizes our region's heartiest athletes.
Do you have the grit and determination to race the entire series? Over $10,000 in Cash and Prizes!
---
New Nordic Master's Program
Thursday January 3
11-12:30: Classic Technique for All
Dates: Jan 3, Jan 17, Jan 31, Feb 14, Feb 28
Trail Pass + Nordic coaching on Tips & Technique, alternating Classic cross-country and skate skiing.
$150 for 6 clinics, $100 for 6 clinics for existing pass holders.
Drop-in clinic and trail pass: $35
Clinic only:  $30.
More info? Contact Nancy at info@jhnordic.com. 650-464-6000