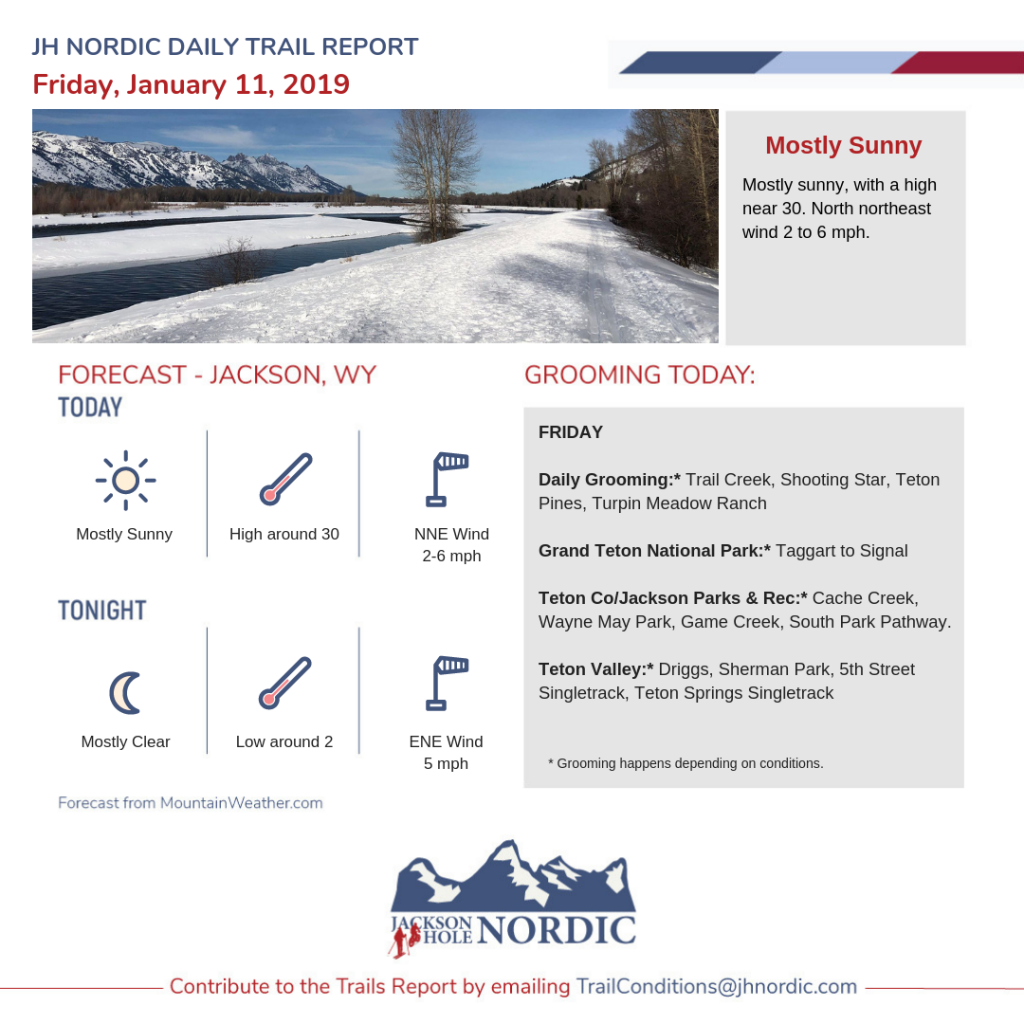 ---
Good Times on the Park Road
Fresh snow in groomed trail, soft but still enjoyable for skate and classic. Nice double class track still in place from Tuesday's grooming.
We crossed xc ski campers from Wyoming Catholic College, Lander, returning from 3 nights snow camping, a freshman tradition.
Visited the historic Lucas Fabian cabins just off the groomed trail approx 2.5 miles out from the trail head. Saw a young female moose bedded down behind one cabin, who was very calm in spite of the conversation of us 5 nordic skiers some 40 ft away.
Also crossed a few dogs pulling their owners on ski and foot!
Post ski lunch at Dornan's…perfect, quiet , snowy day in the Park.
---
Chamber Mixer Next Week!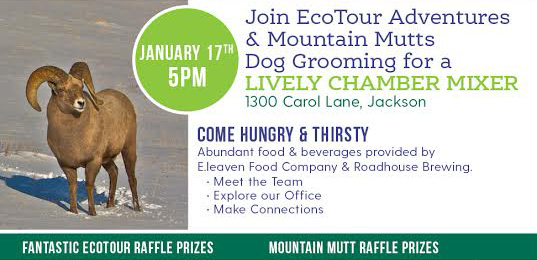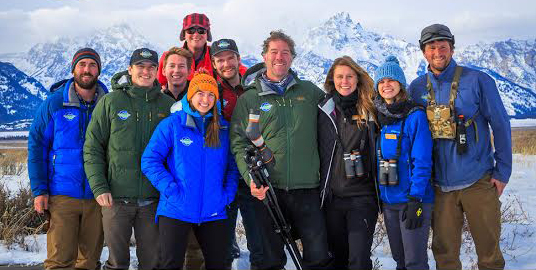 ---
Tribute to Sean O'Malley and Nordic News
Sean O'Malley, one of the early members of Jackson Hole Nordic Alliance who also previously published the local Nordic News is retiring from Teton County at the end of January 2019. We value Sean's sparkle and local knowledge that he put into this and wanted to commemorate his contributions over the years to the Nordic community by looking back at an all-time favorite Nordic News issue from 2005.

Last Updated: 1/10
Wilson Winter Sports!
What a beautiful site to see; rows of Nordic skis poised and ready to transport a bus load of our local school kids on an educational and exciting ski journey.  You can see this spectacle for yourself if you make it out mid-day on Tuesdays or Thursdays for the next few weeks.
You can see your own beautiful views if you grab your skis and come on out to Trail Creek for a great Nordic ski today.  As of 11:30 AM moderate snow was falling with calm winds and a temperature of -8ºC/18ºF.  The forecast only calls for an inch or two so even skaters should be able to make pretty good speed throughout the day.  For grooming today the Pisten Bully basically made a pass through all trails, touching up either skate or classic tracks whichever needed the most attention.  All in all whatever your technique wherever you want to go you will find nice skiing.  You might find more tracks than usual today as the moose seemed to be extra active today.
Groomer's choice for today is Armin's.
---
Turpin Meadow Ranch Grooming Report
Last Updated: 1/10 @ 3pm
All trails were groomed on 1/10 and are looking great! We are expecting a few inches of snow during the afternoon and evening and will groom first thing Friday morning. Our 4 miles of fat bike single track is groomed and ready as well. Come ski, bike, and have lunch with us in the Buffalo Valley on what is shaping up to be a beautiful weekend!
Buy Your Turpin Meadows Trail Pass!
---
Last Updated: 1/10
9:50am: The school fields, the levee, and Stilson are groomed and should ski nicely today. They should be much firmer than Tuesday's grooming right after the storm.
---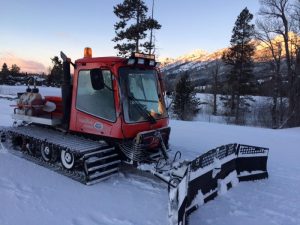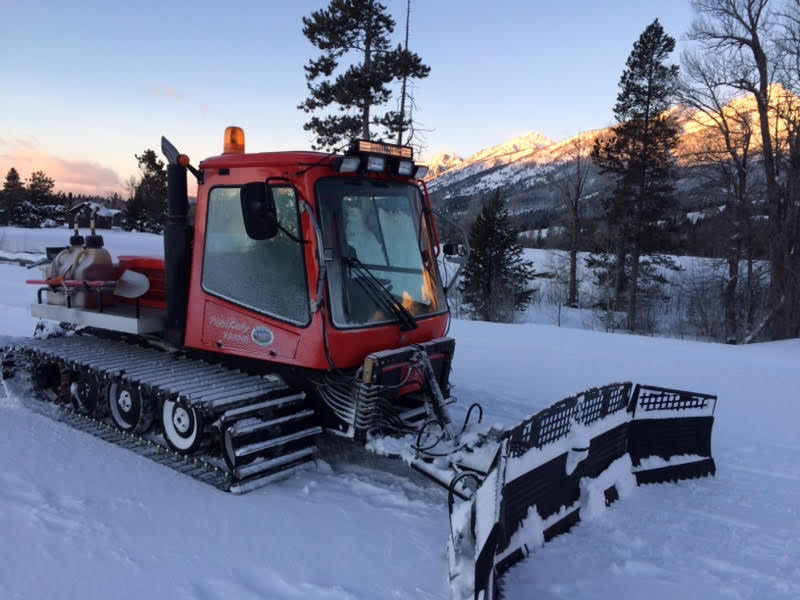 Grand Teton National Park Grooming Report
Last Updated: 1/8

Taggart to South Jenny
It is a beautiful bluebird day out there.  Get your skis out and go from Taggart Lake to South Jenny today.
Grooming resumes this morning 1/10
---
Teton Pines Grooming Report
Last Updated: 1/7 @ 6pm
We are fully groomed for both skate and classic and expect great skiing conditions through the weekend! Check our Facebook page or give us a call for the current wax recommendations.
---
Shooting Star Grooming Report
Last Updated: 1/8 @ 8am

The weather has finally calmed! Plenty of new snow accumulated on the trails, so expect softer conditions today that should gradually firm up throughout the week. Outlook is for warmer temperatures and mostly sunny skies. Get out and enjoy!
---
Grand Targhee Grooming Report
Last Updated: 1/10 @ 8am
The last series of storms that passed through Targhee has left some pretty unique, rideable wind features all over the mountain. Dip off the groomers and find yourself some waves to ride! This tide will keep rising with 1-3″ expected throughout the day. Mostly cloudy skies w/ occasional snow showers, light winds, and a high of 28 will prevail today. Surf's up!
Cross Country/Fat Bike 15k: XC OPEN (Last groomed AM 1/10/2019), Fat Bike OPEN.
---
Pinedale Nordic Trail Report
Last Updated: 1/9 @ 9am
CCC Ponds groomed this morning for both Classic and Skating. A lot of wildlife in the area – both deer and moose. Keep a handle on your dogs. Please pick up after your pets – we appreciate it.

---

Alta Track
Grooming Schedule: Tuesday, Thursday, Saturday, Sunday
Last Updated: 1/10 @ 12pm
Skate: Fair |  Classic: Good
I'll be picking up where Tristan left off this morning, grooming this new snow for all you afternoon skiers! I have limited time so I'll be focusing on the south part of the trail system and probably only the skate as the classic tracks are probably not filled in yet. I'll be starting around 1:15 and should be done by 2:30 at the latest.
Driggs
Grooming Schedule: Monday, Wednesday, Friday
Last Updated: 1/9 @ 2pm
Skate: Fair  |  Classic: Good
Very soft this afternoon. Skating creates deep cuts in the snow. Classic is good, especially in the south loop.
Sherman Park
Grooming Schedule: Monday, Wednesday, Friday
Last Updated: 1/9 @ 11:30am
Skate: Fair |  Classic: N/A
Scraped the top layer with the drag, rolled over it. Came out fairly good
Teton Canyon
Grooming Schedule: Monday, Wednesday, Saturday and Sunday
Last Updated: 1/9 @ 6am
Skate: Excellent |  Classic: Good
Got the trail back in order today. Finished grooming skate and classic around 12 noon. Will be soft in drifted spots.
Enjoy!
Teton Springs
Grooming Schedule: Tuesday, Thursday, Saturday
Last Updated: 1/10 @ 9am
Skate: Excellent  |  Classic: Excellent
Groomed the course twice, leaving the classic track alone. Great ski conditions, with a skater mentioning that the course was nice and firm.
5th Street Singletrack
Grooming Schedule: Monday, Wednesday, Friday
Last Updated: 1/7 @ 8am
Singletrack: Good
Cut through the wind drifts and buffed our the singletrack. Should set up nicely!
Teton Springs Singletrack
Grooming Schedule: Monday, Wednesday, Friday
Last Updated: 1/8 @ 10am
Singletrack: Fair
Groomed from TVTAP trailhead to the gate at Sherman Springs (most direct route).
Southern Valley Single Track
Grooming Schedule: As Needed
Last Updated: 1/8 @ 6:30am
Singletrack: Fair
Groomed
Upper and Lower Ladyslipper
Nemo
Grumpy out and back
Powerline
Sherman Springs
**TETON SPRINGS HAS ONLY BEEN GROOMED TO GATE ACCESS**
For more info on Teton Valley grooming, visit their grooming page.
---

Join Teton County / Jackson Parks and Recreation and The Cougar Fund on a fun guided cross-country ski tour in Grand Teton National Park this Saturday. Learn about local wildlife, see animal tracks and signs, explore animal adaptations and more. Tour covers 3 – 6 miles of rolling off-trail terrain. These tours do not include ski instruction; basic cross-country ski skills are required! Participants must provide their own skis and Skinny Skis has generously offered to provide rental skis at 50% off for this program.
Moose Wilson Corridor Ski Tour
(tours start and finish at Rec Center Lobby, transportation provided)
Saturday, January 12th
9 am- 1 pm
Fee: 18 and older $30, under 18 $15