Sean O'Malley, one of the early members of Jackson Hole Nordic Alliance who also previously published the local Nordic News is retiring from Teton County at the end of January 2019. We value Sean's sparkle and local knowledge that he put into this and wanted to commemorate his contributions over the years to the Nordic community by looking back at an all-time favorite Nordic News issue from 2005.
---
Jackson Hole Nordic News
April 8, 2005
What's Inside…
Results
Crust Report
Race Schedule
Ask The Wax Doctor
Quote de Jour
Thank You
Small Print
Results
Pole Pedal Paddle
The 30th anniversary had some of the best Nordic ski conditions in recent memory – fast but not too icy. Jim Mitchell, who perhaps should be made to start in Victor, smoked every leg – easily winning the Masters Individual Class and beating all the Recreation Class youngsters as well. In fact, he had the fastest Recreation Class time – period. Oh, and he had the second fastest Nordic leg too. Not bad for a guy with gray hair.
500k of classic skiing across Finland and a flat tire didn't seem to slow Jim Roscoe down … as he took 2nd in the Masters (just ahead of Dick Weinbrandt) and was 3rd overall among the Recreational Class Individual men. Jim Curran continues his comeback with 4th overall on the Nordic leg, while young Willie Neal had the fifth fastest time followed closely by coach/ski archer Dave Bergart and Jay Petervary (who placed 3rd in the Racing Men's individual). Stephanie Williams (see the better pic in the JH News) flew to 10th overall despite the increasingly sloppy conditions for the racing class skiers. Hats off to Mark Byerly (11th) and Aaron Pruzan (17th) for strong efforts from guys who do not spend nearly enough time on the tracks each winter …
If you want to slice and dice the results … go to: http://www.polepedalpaddle.com/
Another great timing effort by dozens of volunteers and timing wizard Ernie Page of Summit Systems Timing.
---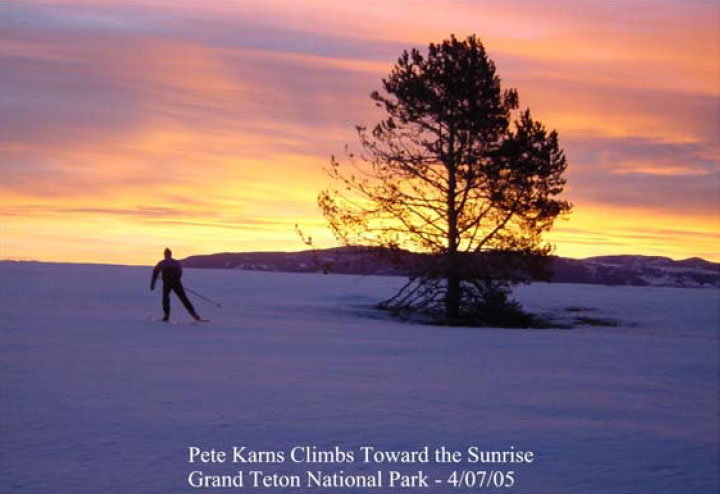 Crust Conditions
The snow is retreating quickly but the skating conditions continue to hover between Superb and Mind Boggling. Let's hope this latest low pressure system doesn't spoil things for too long. Skating on Jenny the other day felt like we were going downhill – no matter which direction we choose.
Not only is the skiing (and biking) in GTNP wonderful … but so is the wildlife viewing. Just when you think you have the Park to yourself, you have to share it with all kinds of critters. The elk are migrating, the grouse are strutting, and the trumpeters, geese, and sandhills are all making their presence known. No telling what you might run into on an early morning ski …
---
Upcoming Events
Summer
Race Schedule
You're safe for a little while …
Ask The Wax Doctor
Dear Mr. O'Klister – With the demise of Vioxx and the other cox-2 inhibitors like Bextra and Celbrex … what am I going to do about that sore hip I developed this winter?
Sign me,
Gimping around the Track
Dear Gimper,
As you know, Mr. O'Klister is not a real doctor – though I'm sure I could play one on television.
Having said that, have you noticed that the only thing higher than real estate prices in our little community is our per capita consumption of Advil, aspirin, and ibuprofen? It seems that most people I know are either injured, recovering from an injury, or about to get injured – and pounding ice and aspirin in response. When it comes to playing in pain, whether from nagging aches or good ol' blunt force trauma, Jackson Hole and surroundings must lead the nation. Go big or go home, dude.
Hmmm, is it ironic or perfectly sensible that the title sponsor for the Pole Pedal Paddle is the Orthopaedic Associates? It's obviously time for the massage therapists, nutritionists, acupuncturists, rolfers, chiropractors, and other body work specialists to step up …
Anyway, based on a highly scientific and reliable poll that I conducted yesterday morning at Pearl Street Bagels; 17% of all cross country skate skiers suffer from Nasty Hip (this is a well known medical term), 23% of all climbers have blown elbows or bad hair, 47% of all alpine skiers have new ACL's or have taken up snowboarding, 99% of all professional football players have suffered career-ending trauma or want to do an ad with Nicolette Sheridan, and 327% of all mountain bikers have spent time in the ER.
Personally, I've found that the cox-2 inhibitors aren't nearly as effective at masking the pain of overworked poling muscles – as going over the handlebars of my mountain bike each spring. My first lead at City of Rocks will often accomplish the same thing. And when my elbows are blown from too much crimping at the Climbing Gym – I switch to running or road biking. And when my calves complain or my butt's too sore … It must be time to ski again!
Who needs the drug merry-go-round when you can do it with sports?! So hold the Bextra and go do something new … (and get some body work while you are at it).
---
Quote de Jour – Some words to live by …
Forever Young
May God bless and keep you always,
May your wishes all come true,
May you always do for others
And let others do for you.
May you build a ladder to the stars
And climb on every rung,
May you stay forever young.
May you grow up to be righteous,
May you grow up to be true,
May you always know the truth
And see the lights surrounding you.
May you always be courageous,
Stand upright and be strong,
May you stay forever young.
May your hands always be busy,
May your feet always be swift,
May you have a strong foundation
When the winds of changes shift.
May your heart always be joyful,
May your song always be sung,
May you stay forever young.
Forever young, forever young,
May you stay forever young.
By Bob Dylan
---
Season Ending Thank You and Congratulations – In no particular order and forgetting too many people:
Dave Adams, who once again did a masterful job of organizing the Sandbag Series. He herded the cats and, as usual, created a scoring system unfathomable to anyone but a PhD.
Hats off to everyone who supported the Sandbag Series this winter – either as racers or sponsors – we had a big year.
Thanks to event organizers like Katie Colonel, Dan & Melissa Streubel, Scott McGee, Drew Barney, Parks & Rec, and others – there's more to holding a race than starting the watch!
A deep bow to my favorite trail groomer – Steve Swan.
Atta boy/girl to Erich and Chris Wilbrecht for spurring the purchase of the Ginzugroomer with a big donation and challenge grant.
Congratulations to head coaches Ali Deines and Walt Berling, to their assistant coaches, and to the junior racers – what a year! Ali has brought new energy into a program already brimming over from Walt's efforts.
Kudos to a number of Nordic parents for raising $4,000 in support of the High School program.
Congratulations to Skinny Skis on their 30th anniversary … and a big thank you for their continued great support of the Nordic community.
And finally, a personal thank you to Michael Pearlman of the JH News & Guide for some very flattering coverage – anyone who can make me look good and Walt look normal … earns and "A" for writing.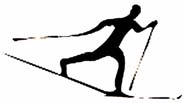 Sean O'Malley, Editor

---
Small Print
If this is your first issue of the Nordic News … well, it may be your last until next fall.
While I may send out an update or two if something particularly interesting comes along … in general, my enthusiasm for writing about skiing melts away with the snow. Undoubtedly, you are not too excited to read about it anymore either. So, don't hold your breath between issues.
Anyway, it's been a great ski season. Thanks for your kind words and continued willingness to stay involved and/or read this stuff. See you next season!
Remember, if you change your email address … and you want to see the JH Nordic News in your email box … keep me updated.