---
This Month at a Glance
---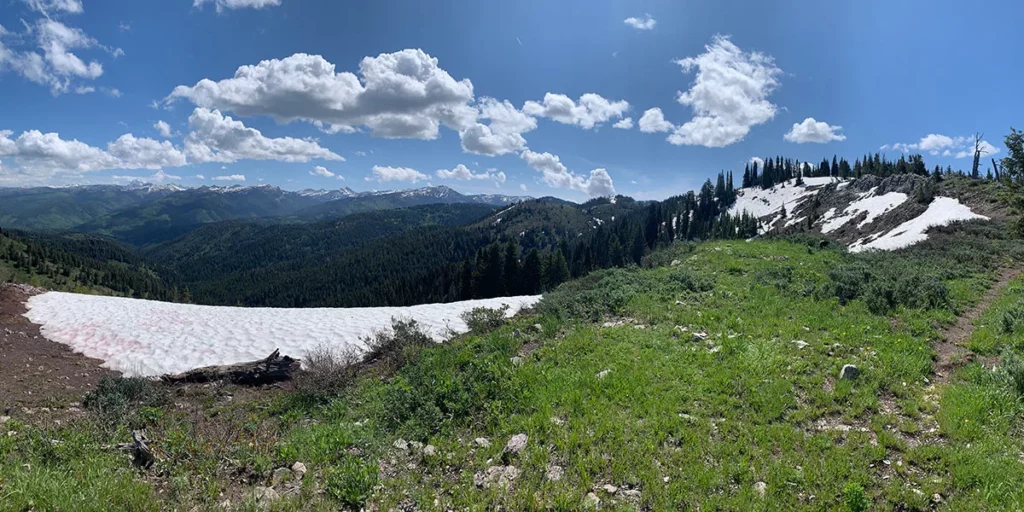 By The Hole Hiking Experience
It's already an epic flower year in the Tetons!
Summers are short in the Rocky Mountains and they certainly are sweet with millions of acres of wild country to explore. We are experiencing an "El Niño" weather pattern, when warmer ocean temperatures off the coast of South America bring wetter than average conditions across Northwest Wyoming. The snow line is slowly climbing up the mountains and the daily rain showers are making the wildflowers very happy! While snow continues to linger in the high country, peak blooms can be enjoyed below 8,500 feet.
Pet Protocols – Protecting Our Water
As more people feel the pull to visit and live in Jackson, there is an increasing need to tread lightly and educate newcomers on how to limit impact on nature. We recently shared the trail with a new local who enjoys sharing nature with his dog and did not know the protocol or importance of picking up after his pet. The following facts are important to know and share.
---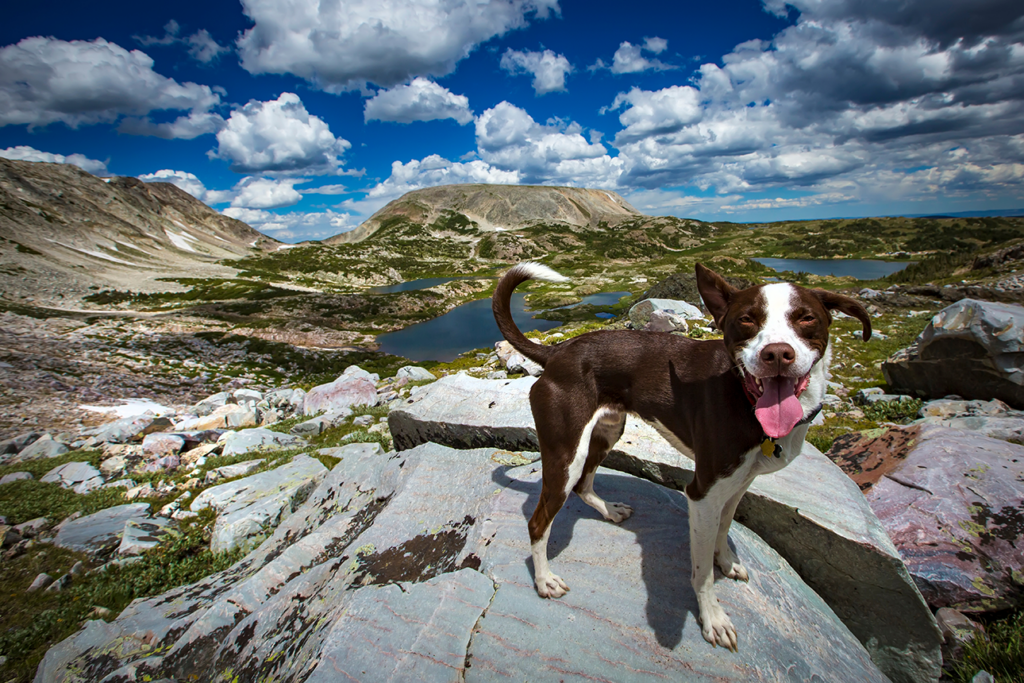 If our pets could talk, they might tell us summer season is their favorite time of year. There is just so much out there for them to explore and smell!
However, it can be a bit confusing to decipher exactly where in the Jackson Hole area dogs are welcome to explore with their owners. Luckily for your canine friends, it's possible to customize the JH Nordic trail directory to search for only dog-friendly trails.
With this interactive feature, even the most seasoned local dog owners can find a new trail to explore with their dog(s).
---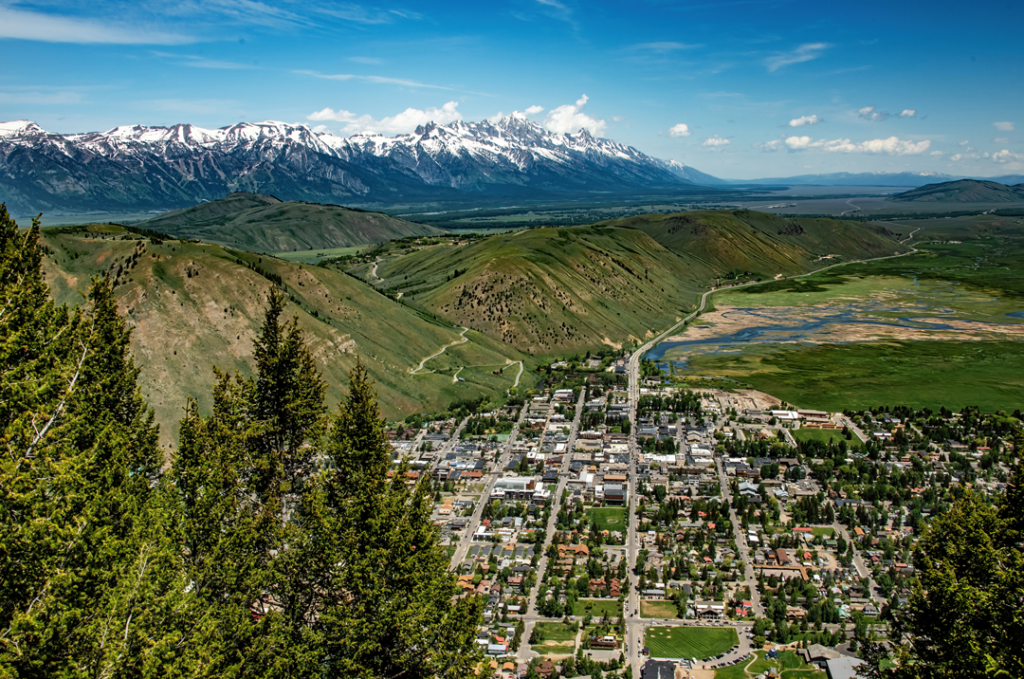 June has been unseasonably rainy, one can only hope the sun will emerge so we can all enjoy the hikes and the outdoor events we love! June and July are packed full of outdoor events in Jackson/Teton Valley (rain be damned). Mark your calendars for Summer fun in the Tetons.
---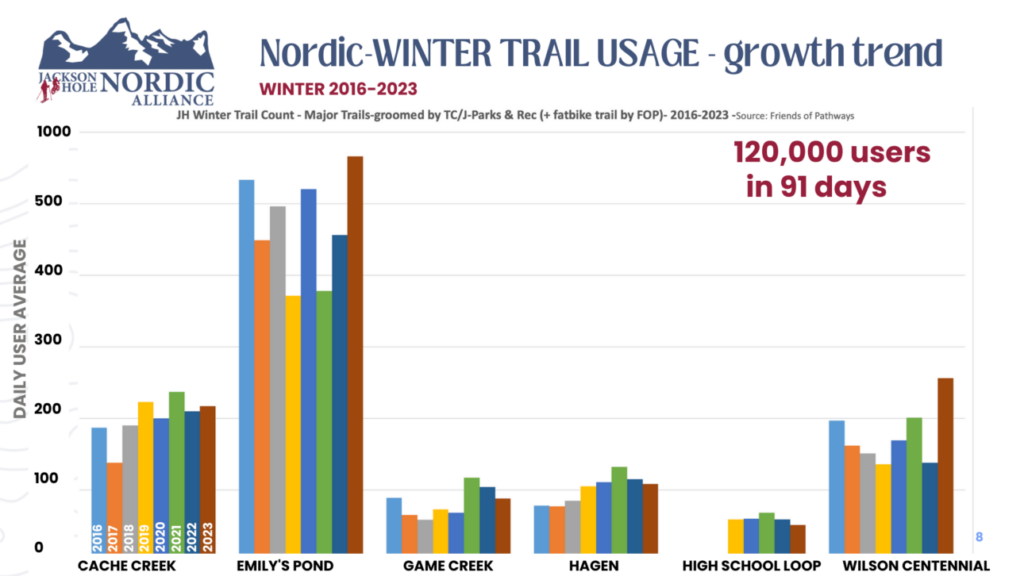 Winter Recap 2022/23
What a winter we had!
We've noticed the numbers of increased considerably on the trail systems in Jackson/Teton Valley/Grand Teton National Park. We wanted to share the growth trend with you all so you can see what we track and share in the excitement and responsibly we all have to make our trails accessible and friendly.
---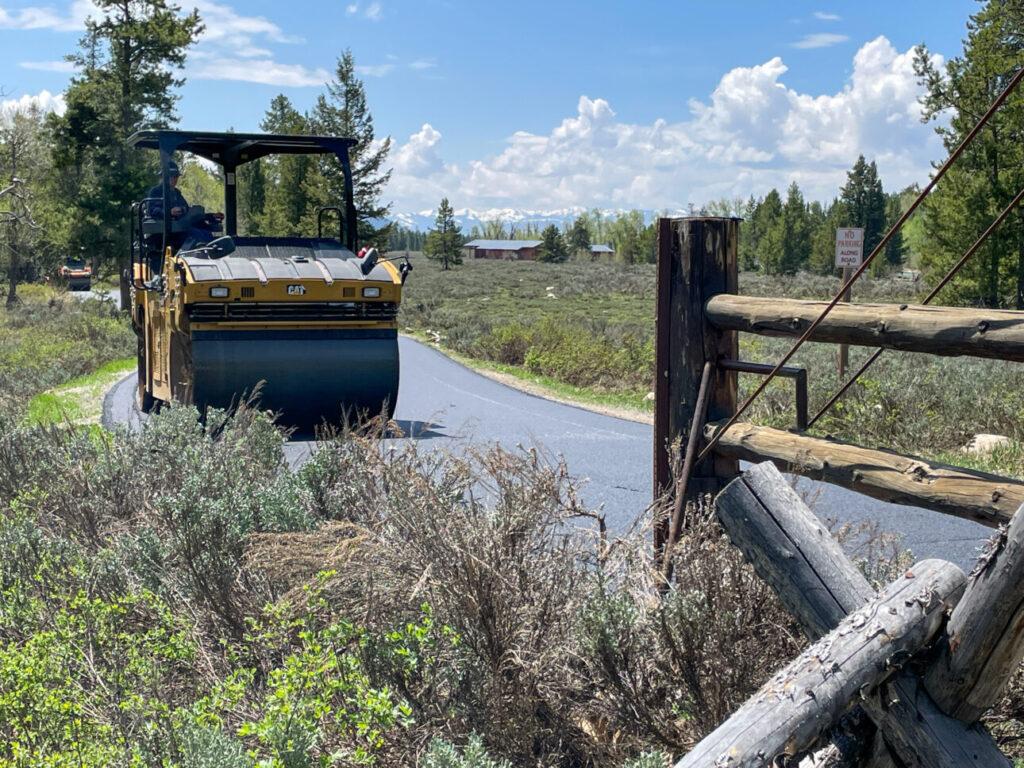 Due to rainy, wet conditions this spring, construction progress was slowed on the Moose-Wilson Road and the road opening schedule has been delayed. The construction of the southern portion of Moose-Wilson Road will continue between the Granite Canyon Entrance and the Laurance S. Rockefeller Preserve (LSRP), opening to weekend traffic only through late July. The road closure is necessary to assure public safety during construction.
The National Park Service is working in partnership with the Western Federal Lands Highway Division (WFLHD) to provide as much public access as possible along the Moose-Wilson corridor this summer.
---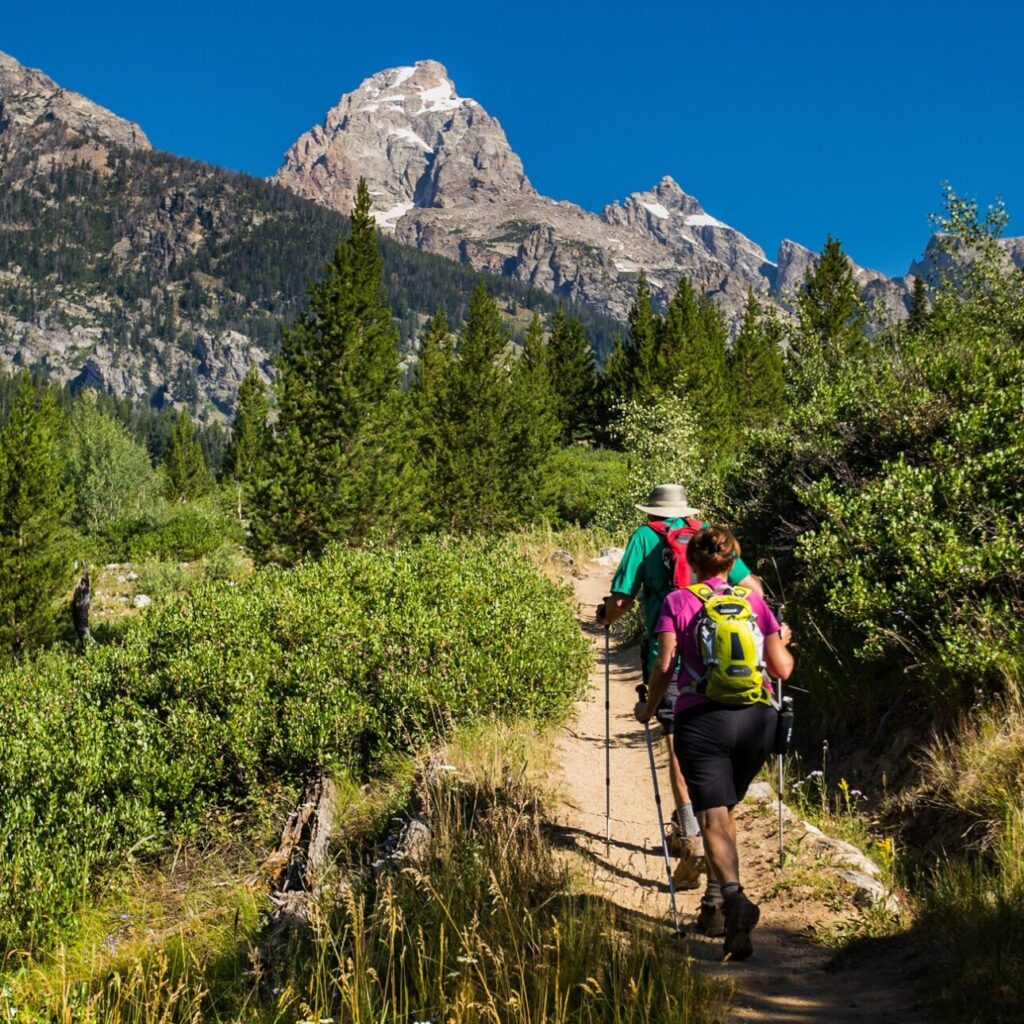 Grand Teton offers incredible hiking opportunities, and with over 250 miles of trails to choose from, there are options ranging from short walks to backcountry excursions. Stop at a visitor center to talk to a ranger about the best trail options for you and the latest trail conditions.
Hiking in Grand Teton National Park can be a challenging experience due to the rugged nature of the landscape, including high elevation, steep trails, and extreme and sudden weather changes.
---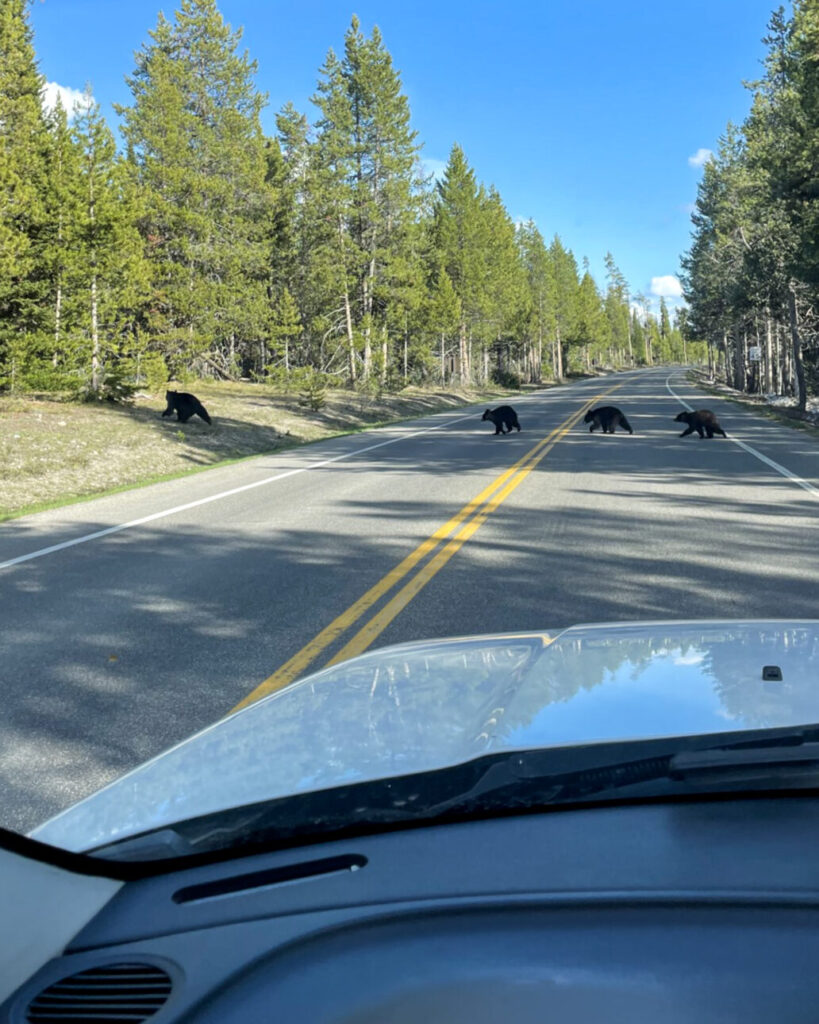 To protect wildlife, park officials ask visitors and local residents to practice vigilance and slow down while driving in Grand Teton National Park. Seeing wildlife in their natural habitat is one of the many unique opportunities that make the park a special, awe-inspiring place. With the Fourth of July weekend approaching, one of the busiest times of the summer, motorists are urged to do their part to protect these animals.
On Wednesday, a yearling male black bear was struck by a vehicle along Highway 89 in the northern part of the park and had to be euthanized due to the extent of its injuries. The young bear was likely one of the triplets recently weaned from a family group many visitors had the opportunity to observe this spring. The individual(s) who hit the bear fled the scene.
In the last week alone, three deer and the yearling black bear were hit by vehicles traveling on park roads. About 75–100 large animals are struck by vehicles each year in Grand Teton.
---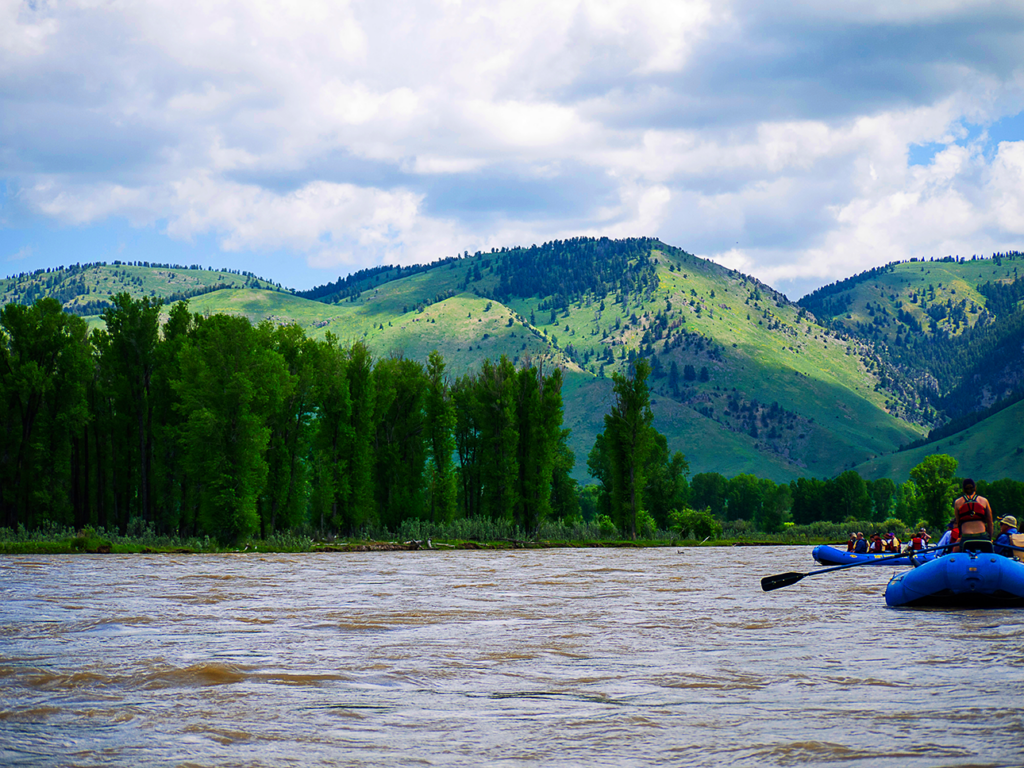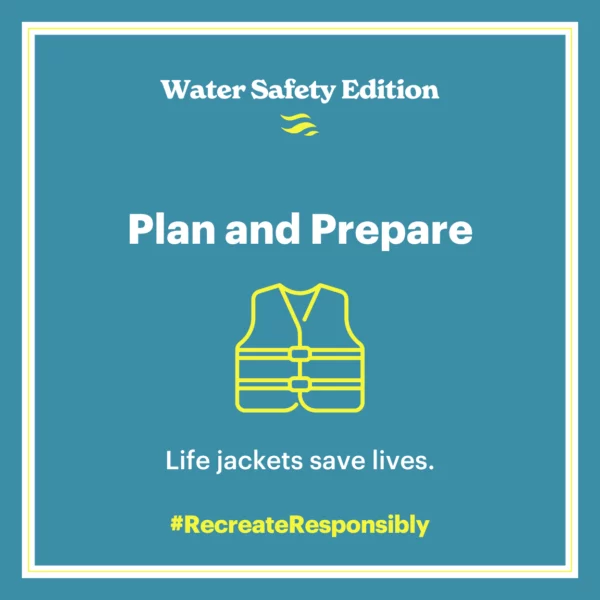 This year, Jackson Hole experienced an abundance of snow, breaking records! So, what does this mean for everyone who loves spending time on the water? Well, with that high amount of snowpack melting off will quickly runoff through the rest of the month June for the next few months making its way down the mountains rapidly. The currents in the water can be much stronger than they appear, and the conditions can change unexpectedly. Knowing how to have fun responsibly on the water is essential, taking necessary measures to remain safe.
---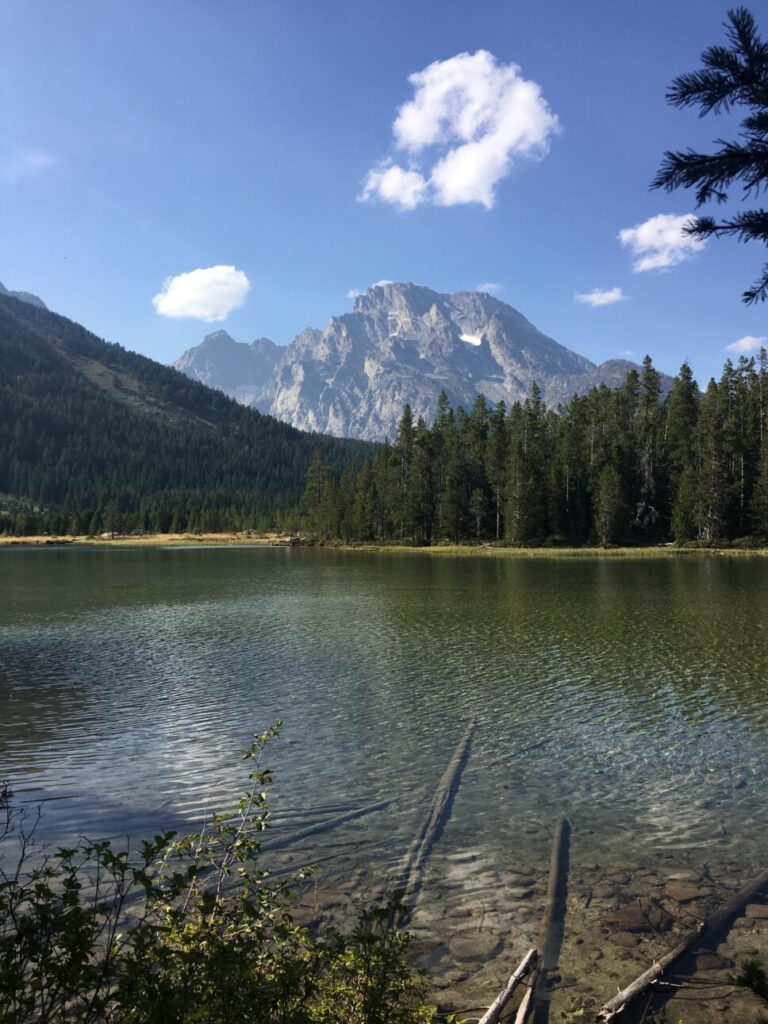 As the last remaining snow recedes further up the mountain tops, it's safe to say that ski season is officially over.
It's a bitter-sweet time of year for skiers, especially the Nordic community. Few activities compare to the rush of gliding through a snow-covered alpine forest. It can be challenging to find a summer activity that provides the same quality workout as a solid session of cross-country skiing.
But the summer season can be as valuable a time as any for Nordic athletes. It's important to embrace the current season so that when ski season is upon us again, you'll be ready for it.
---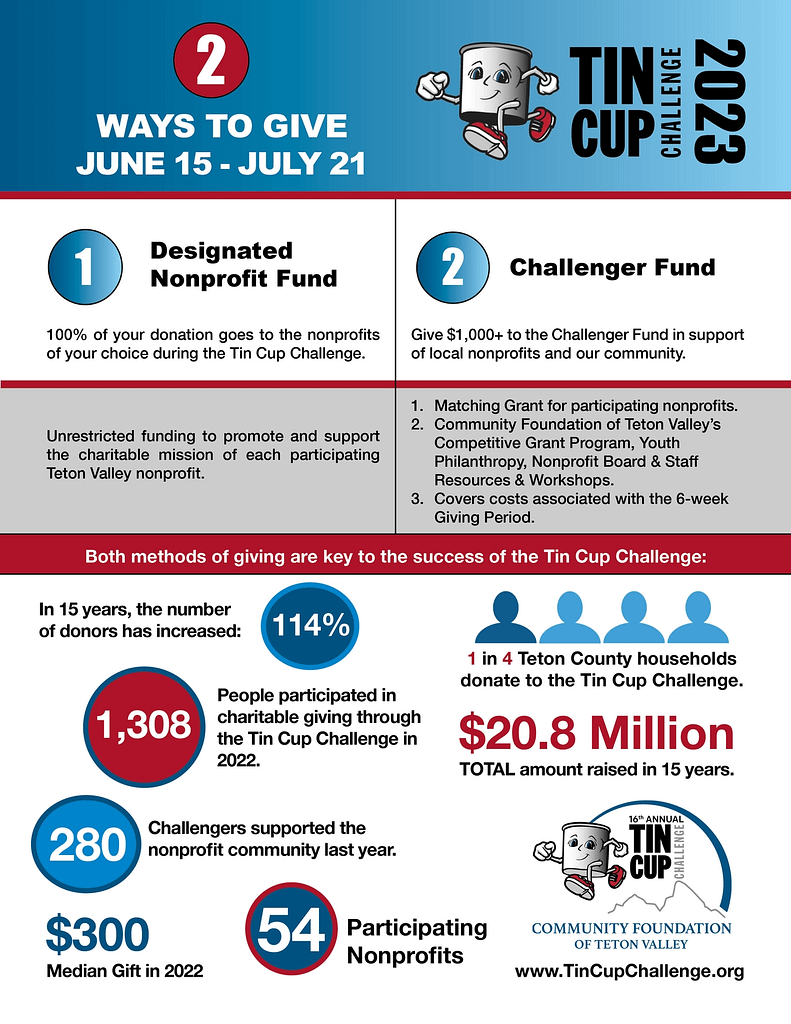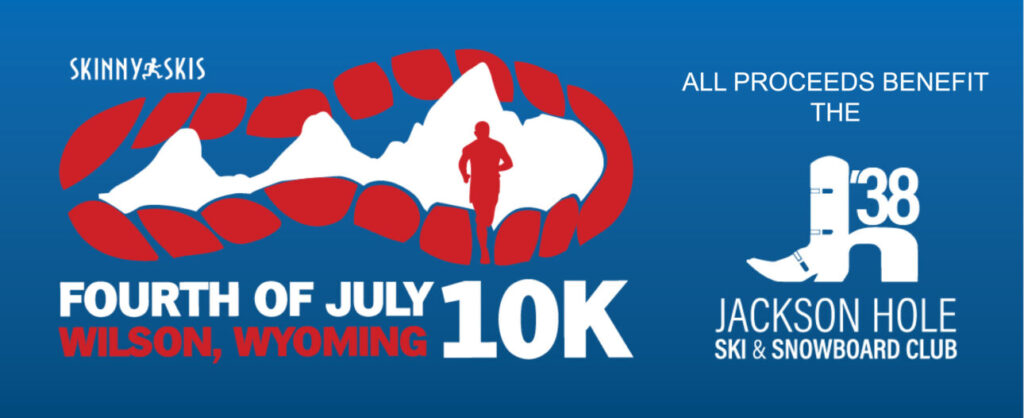 July 4, 2023
7–7:45AM: Bib pickup in Owen Bircher Park
8AM: 10K runners start
8:05AM: 5K walkers start
9:30AM: Awards and Raffle in Owen Bircher Park
Get a healthy start, a bit of competition, and a fun morning with family and friends! The race begins at 8AM for all participants, with timed 10K and 5K runs and a 5K walk category.*
Please pre register online. Family, friends, strollers, dogs on leashes, and donations are welcome!
Awards, and a raffle with AMAZING prizes donated by Skinny Skis, follow the race at 9:30.
---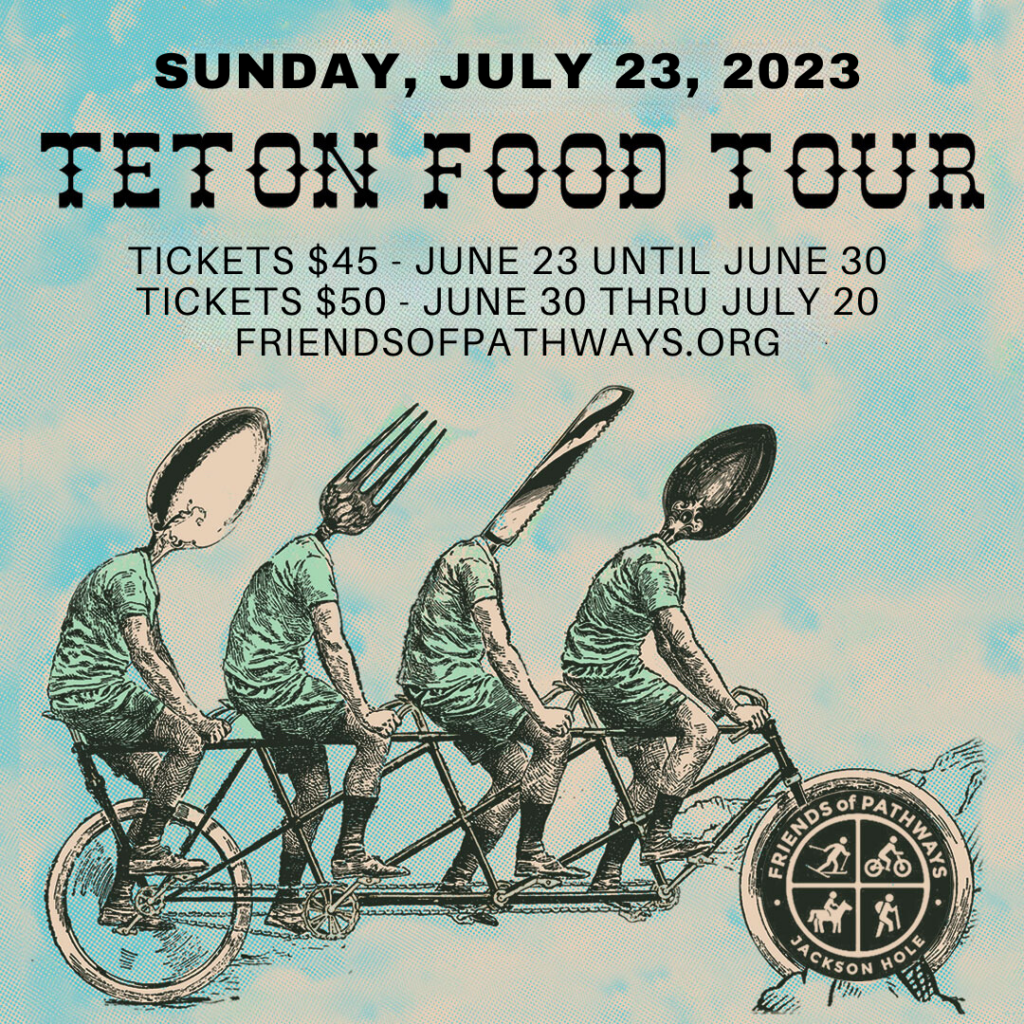 July 23, 2023
12:30pm – 5:00pm
For 2023, participants will begin their bike ride at Bodega in Teton Village and travel south along the pathway with food and drink stops at Snake River Ranch, The Aspens, and at Owen Bircher Park in Wilson. This will be the second year we start at Bodega and the first year we will end at Owen Bircher. If you plan to drive to the event, we highly encourage you to park at the Stilson Lot, and meet us with your bike at Bodega.
---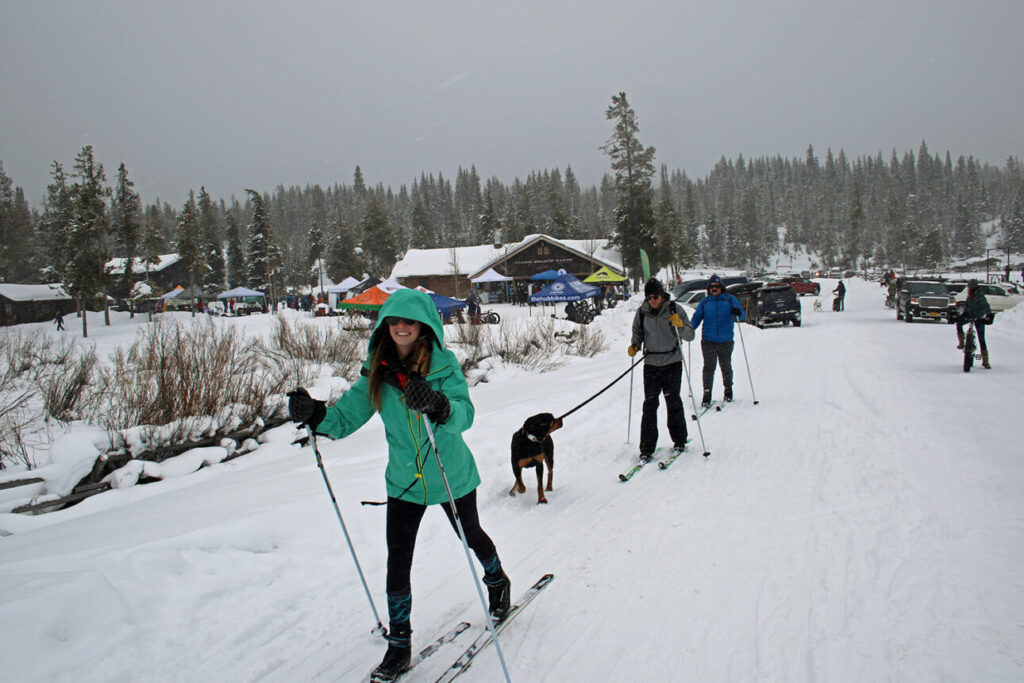 Save the Date
JHNordic Alliance 6th Annual Free Ski, Fat Bike & Snowshoe Day
Saturday, January 7th, 2024
Turpin Meadow Ranch
Fun, Free Community Day – with Raffle benefiting local Nordic Alliance non-profit
Free trail pass, free skate & classic XC ski demo gear, free fat bike demos, free Nordic ski lessons, free BackCountry Nordic Ski & Snowshoe tours, Kids Corral (2-5 yr olds), Bridger-Teton USFS wildlife and wilderness info, Kates Bars, Lunch, snacks, hot & cold drinks.
---
---
We'd love to hear about your outdoor adventures. What are you doing to stay healthy, safe, respectful of community health guidelines – send pictures or post on FB and Insta – #JHNordic