---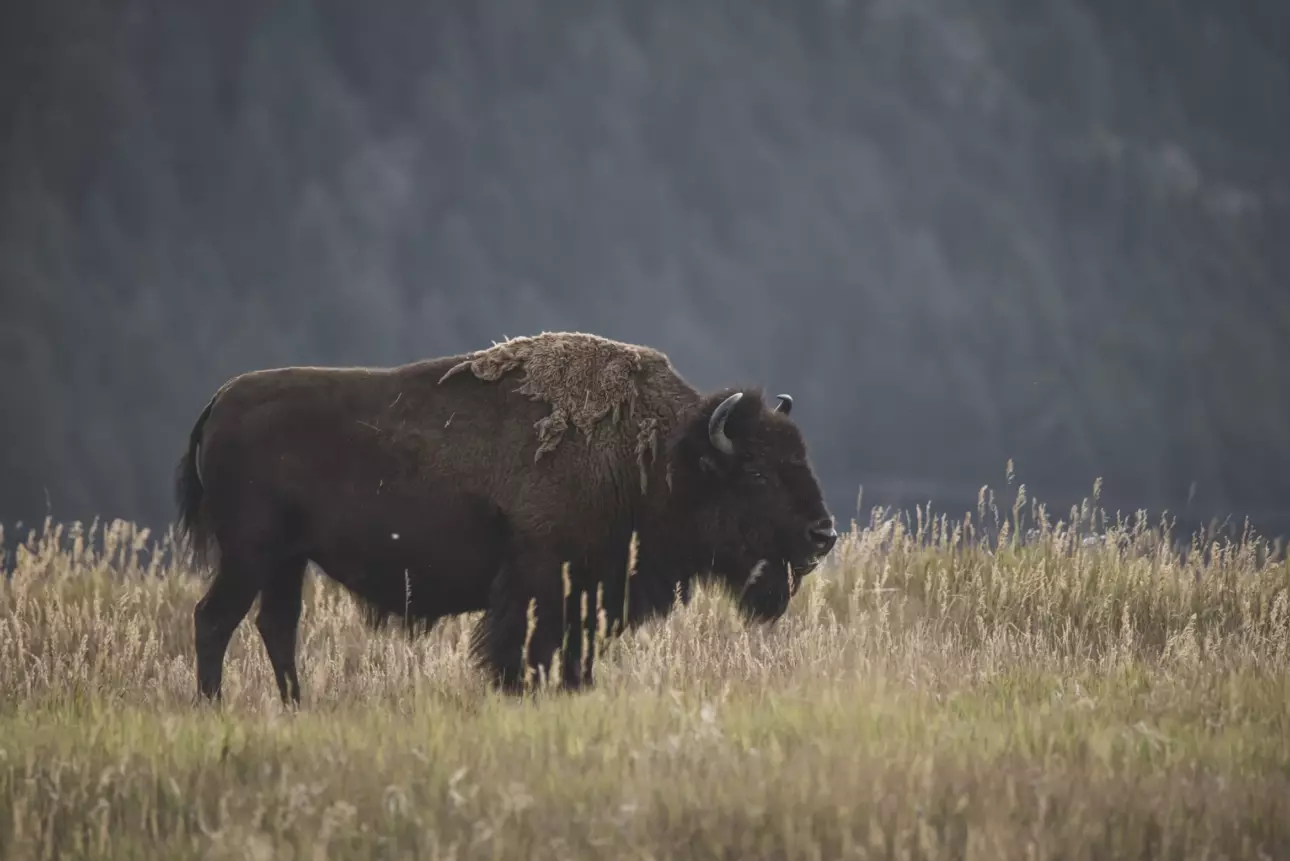 Heading into Fall
September begins with cooler nights, shorter days, foliage changing, and abudant wildlife. It is fall already! This is a wonderful time for those hikes on your must-hike list for the season! Enjoy Jackson Hole and Teton Valley's extensive trail network, public lands, open spaces, and wildlife. Need ideas? Check out our trails page.
Keep in mind that during this time in the fall the wildlife will be increasingly abundant on the trails and in the valleys with the rutting season. Take extra care to respect wildlife by staying alert and giving them space. And as always, don't forget to #RecreateResponsibly whether on the trails in town or camping in the backcountry.
---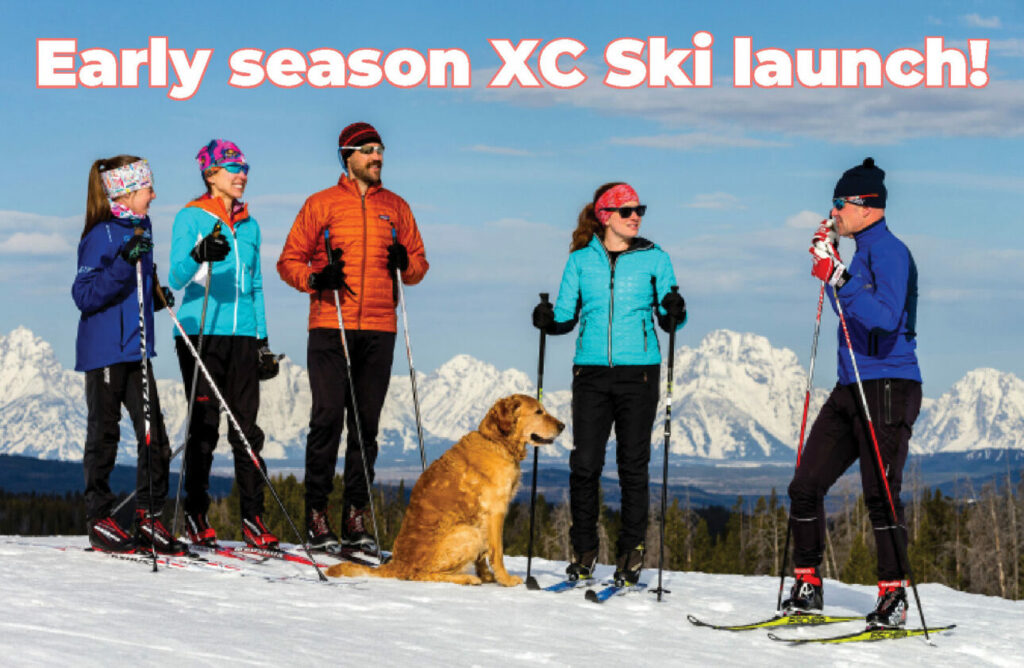 Ski Season is right around the corner
Get a jump on the winter season with Skinny Skis!
XC rental sale of last year's gear will happen September 17th! General touring skis & boots, skate skis, and skin skis (No metal edge, kids, or BC skis, skate or combi boots, or poles). Sale is first come first serve – no holds.
Looking for new gear? The ski wall going up September 7th. Take advantage of early '22/'23 arrivals from Fischer, Salomon, Madshus, & Rossignol.
On September 3rd summer gear will be on sale with 15% off storewide, including items already on sale – summer apparel, footwear camping & backpacking, running vests, and more!
---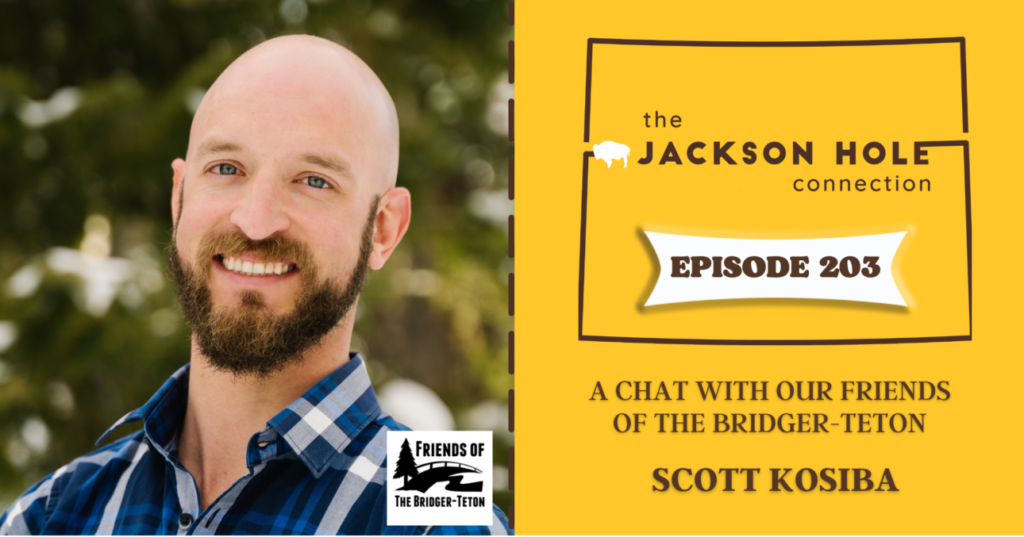 Scott Kosiba is the Executive Director of Friends of Bridger-Teton. Originally from Michigan, the study of Sage-grouse brought Scott out to Wyoming in 2010.
In this episode, Scott shares the story of what brought him out to Wyoming and what it is like living in the Pinedale area. He talks about the increase in visitation to the Bridger-Teton area and the impact it has had on the public lands. Scott dives into some of the bigger initiatives that they have accomplished, including installing and maintaining vault toilets at Shadow Mountain. He then explains the three different types of camping on the Bridger-Teton land. Stephan and Scott also touch on fire and bear safety, tagging photos responsibly, and how volunteers can make a big difference.
---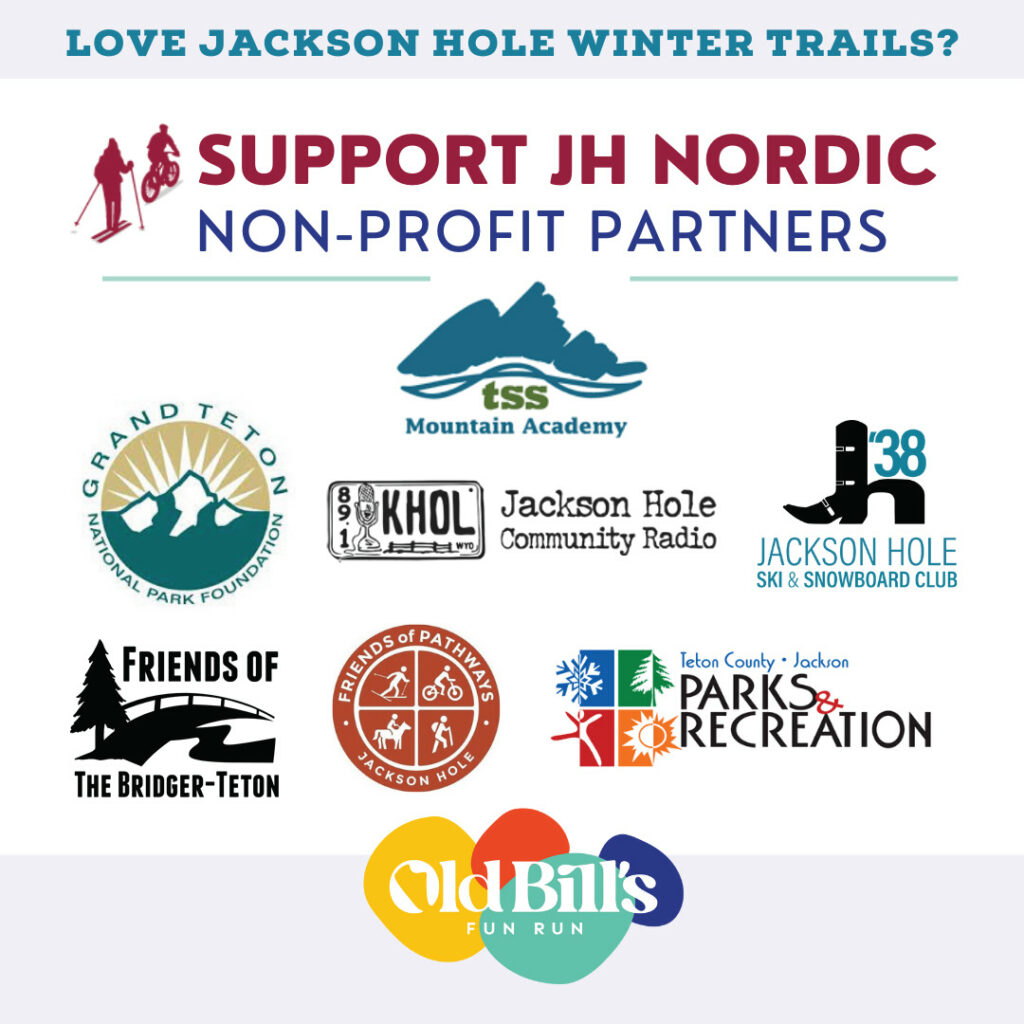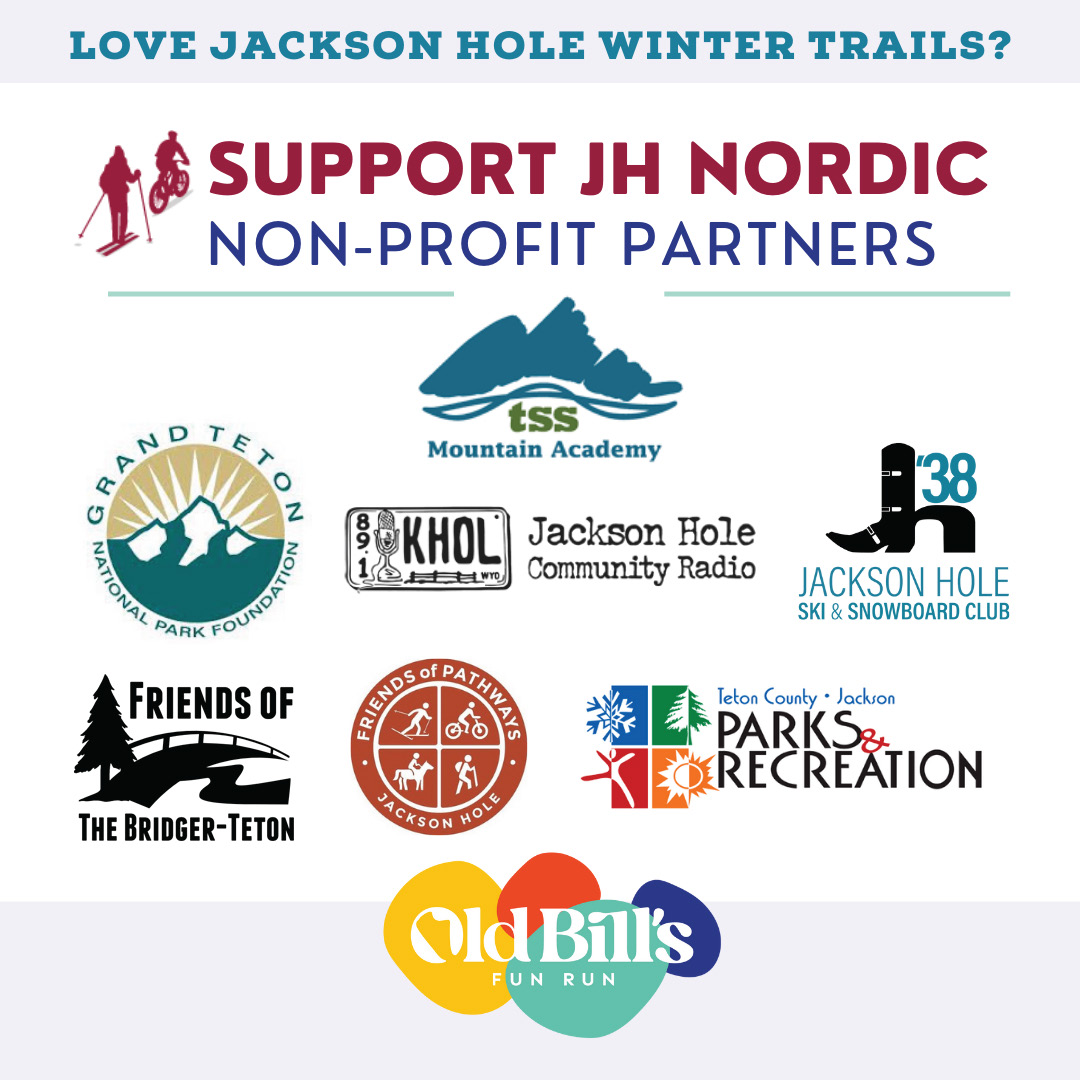 Join us at Jackson Elementary School Fields, 8 am – Noon on September 10th for Old Bill's Fun Run! JH Nordic encourages giving to our JH Nordic Alliance partners listed above. Sept 16th at 5 pm is the last day to give through Old Bill's Fun Run!
---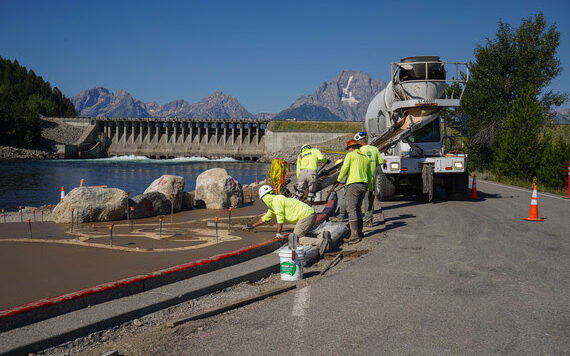 As previously planned, the southern portion of the Moose-Wilson Road from Granite Canyon Entrance to the Laurance S. Rockefeller Preserve will close to all access the day after Labor Day, September 6. This section of road will reopen to winter activity in December, through March 2023. The closure is needed because the road is too narrow to safely allow construction equipment and visitor traffic.
The northern section of the road will remain open to the Laurance S. Rockefeller Preserve and Death Canyon Trailhead from the north, via Moose, WY.
The road will be temporarily closed in the fall from September 12-16 while road striping operations occur to improve cyclist safety in the area. The work is contingent on dry weather and closure dates may change. New road signs are also planned to be installed this fall. Laurance S. Rockefeller Preserve Access Road The access road to the Laurance S. Rockefeller Preserve is tentatively planned to temporarily close September 26-30 to overlay the roadway with new asphalt to repair the existing asphalt surface.
---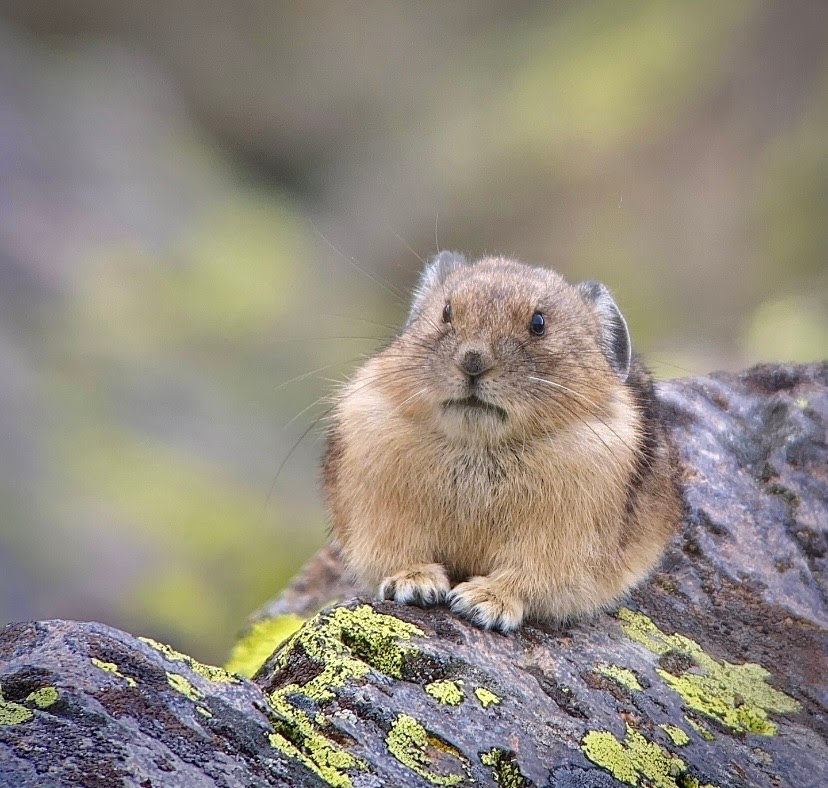 EcoTour Adventures: Pika and climate change in the Fall
Pika, small mountain-dwelling mammals, are extremely sensitive to temperatures. They have an internal body temperature of 104°F and cannot tolerate temperatures above 77°F for more than thirty minutes, at which point they will succumb to the heat. They spend most of their summer days utilizing rock crevices to keep cool. Because of this, the are considered early warning signs for climate change in the Rocky Mountain West.
Jackson Hole EcoTour Adventures is open for business in Grand Teton and Yellowstone National Parks! 307-690-9533 info@jhecotouradventures.com
---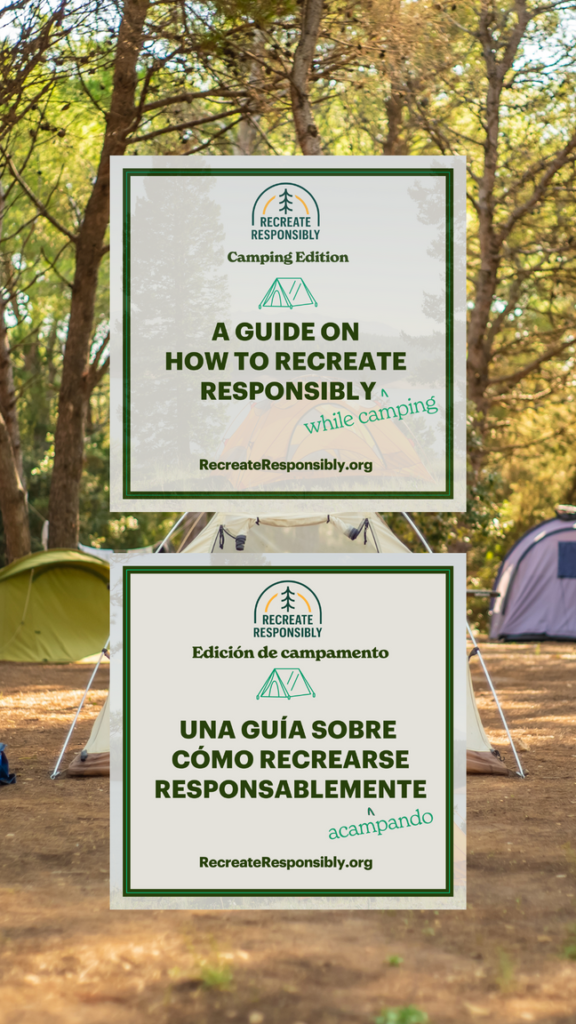 #RecreateResponsibly Camping Edition for the Fall
Spending a night under the stars can be life-changing–and we change what's around us too! When we set up camp in a tent, cabin, RV, or other structure, we in essence become a temporary residence of our camping or glamping location–we become a part of that "ecosystem."
#CampResponsibly = adopting an 'ecosystem mentality.' An ecosystem mentality means to understand the interconnectedness of, and our impact on, our surroundings. We can have a positive impact on the places we camp. Whether camping on public or private land, in a park or a forest, in the desert or on the beach, or anywhere else, these concepts will help everyone work together to care for the places we stay!

Fall is Full of Events!
Mark your calendar so you don't miss out on all the wonderful fall events coming up! Explore the highlighted events below or find more events on our website at https://jhnordic.com/events/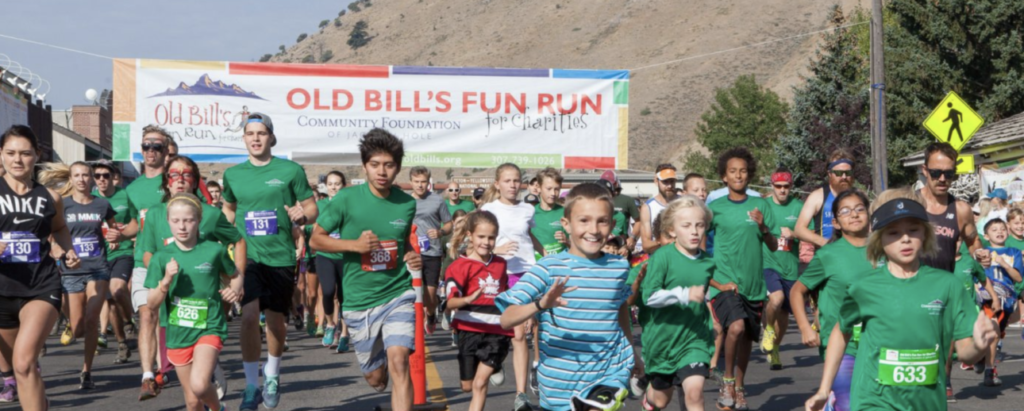 Saturday, September 10, 2022
Jackson Elementary School Fields
This run has no finish line. There are no podiums or medal ceremonies. It ends as it started, together, united in greater purpose. Here, every step, every pace, every individual spin of the wheel represents a collective spirit — a shared vision of a more vibrant and enriched community for all. Old Bill's Fun Run exemplifies the very best of Jackson Hole. In this marathon of generosity lies the opportunity for meaningful contribution, for altruism amplified by the kindness of
others, and for the singular drive to make a difference.
Old Bill's 2022 Giving Season: August 12-September 16
Run Day: September 10, 2022 at Jackson Elementary School Fields on Willow Street (new location!)
Runner Registration opens online on August 12.
---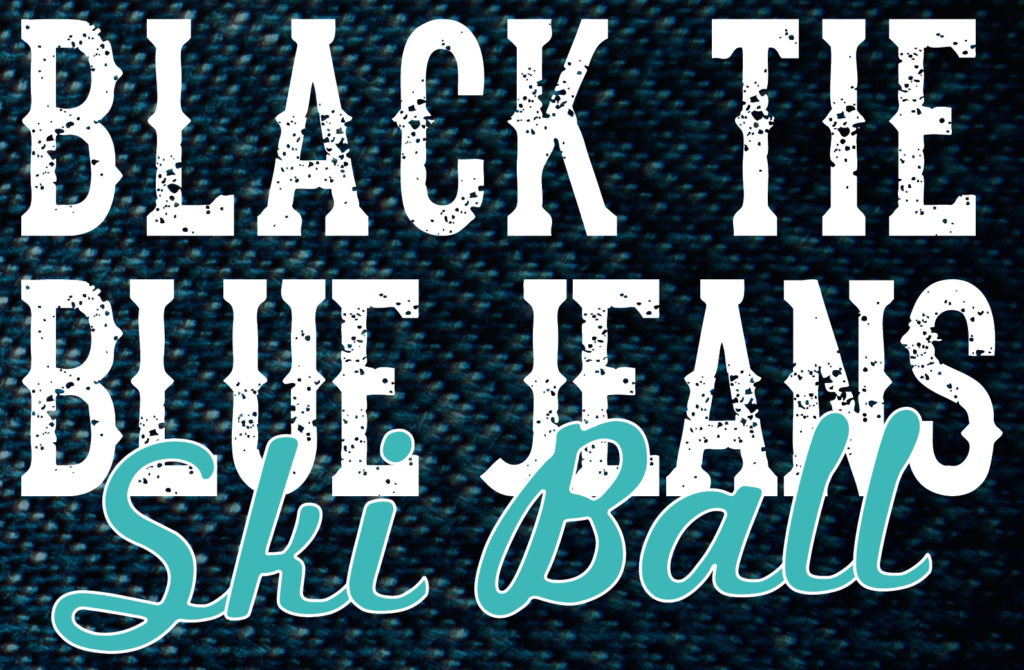 September 24, 2022
Bridger Gondola
We invite you to our annual celebration, which will also kick off JHSC's 84th season of winter sports training. The "Ski Ball" is commonly referred to as the best party of the year in Jackson Hole. This incredible evening is the ideal way to celebrate the coming of winter while supporting the 500 kids of the JHSC.
---

October 14, 2022
Heritage Arena
Turn your gear into cash AND snag deep discounts on new & used gear: Nordic, alpine, freeski, snowboard, backcountry & more!
---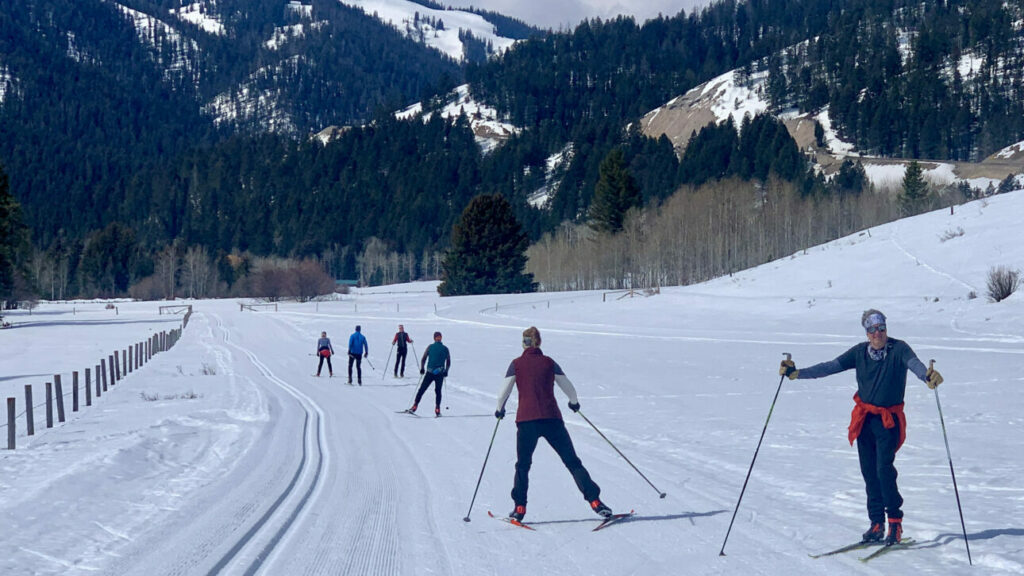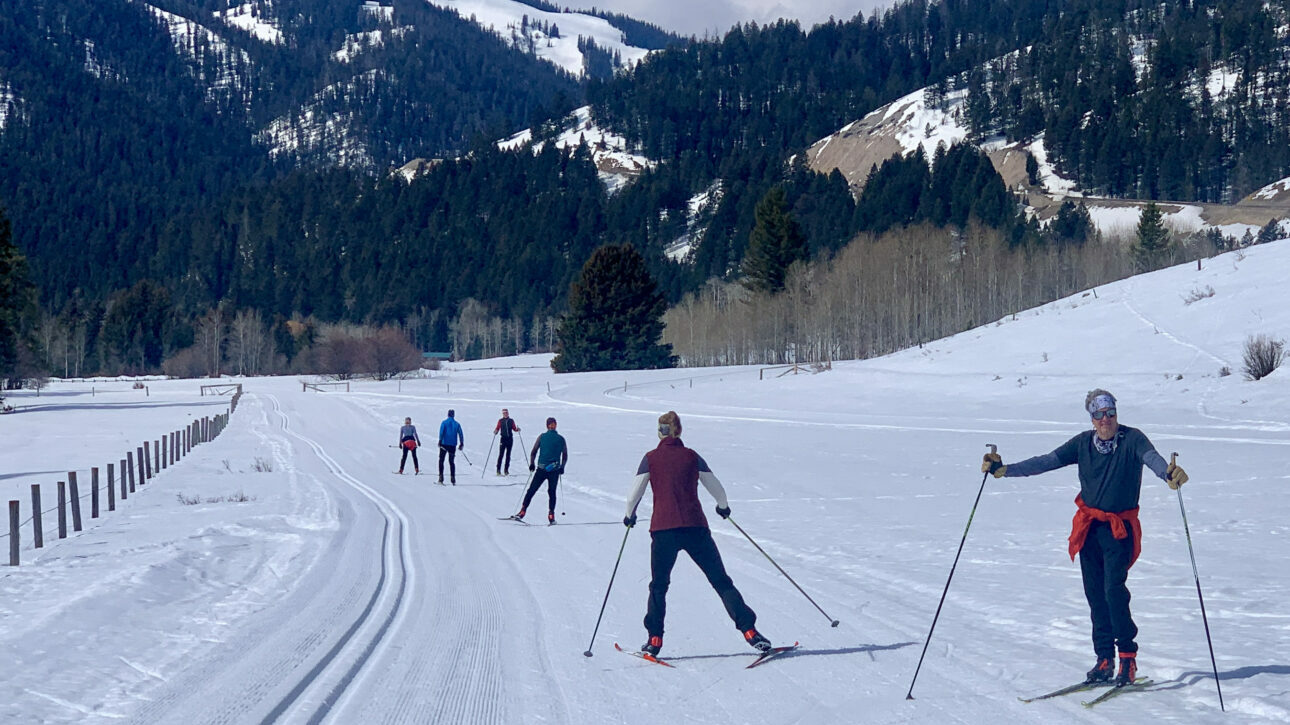 Thursdays -from Mid December to late February
Join us this winter season to increase your ski speed, stamina, and strength. Work on your technique and form with professional tips and exercises from USSA certified coaches. Stay and ski all day with your clinic ski pass at Teton Pines Nordic Center or Trail Creek Nordic Center (we will ski at both locations through out the winter to provide a variety of terrain and technique).
More information to come.
---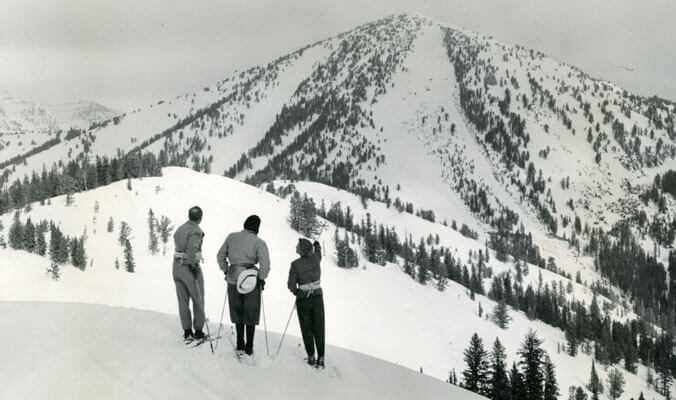 December 26, 2022
Trail Creek Nordic Center
Come work off your Christmas feast in style! This community event offers distances for every age and ability, 10 AM start time with a mass start classic format.
Racers can choose from 0.5k, 3k, 5k, and 10k options.
---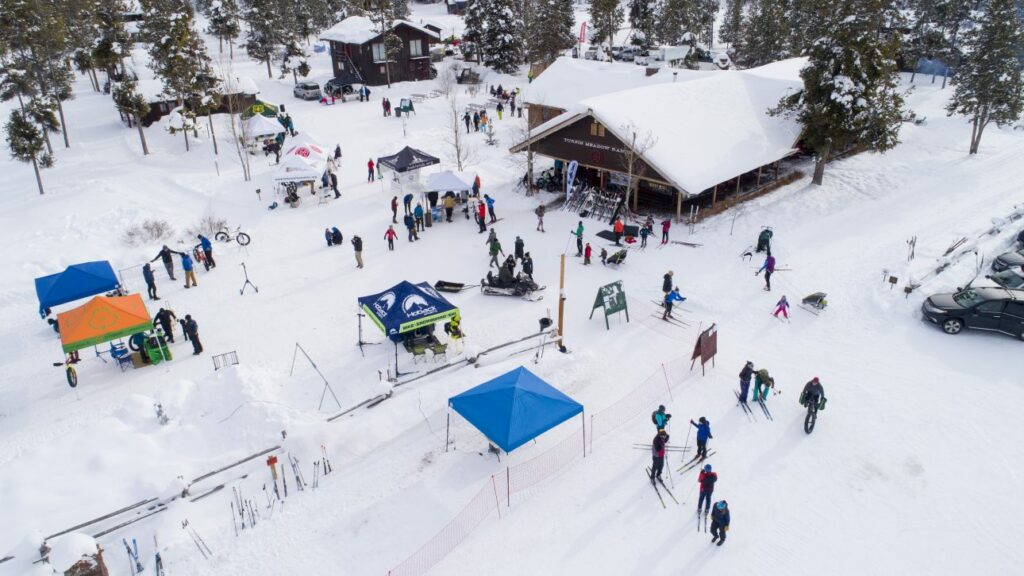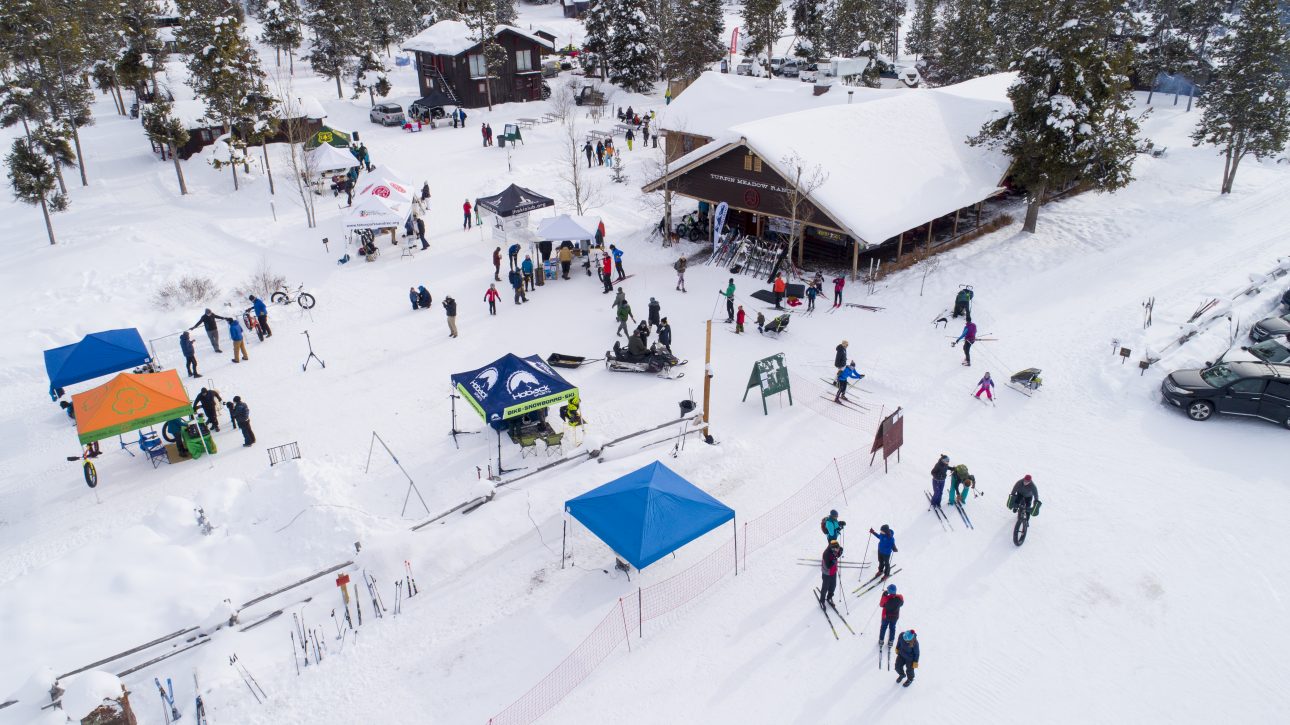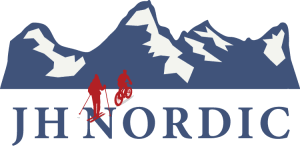 Turpin Meadow Ranch
Sunday January 8th, 2023
Fun, Free Community Day – with Raffle benefiting local Nordic Alliance non-profit.
Free trail pass, Free skate & classic XC ski demo gear, Free fat bike demos, free Nordic ski lessons, Free BackCountry Nordic Ski & Snowshoe tours, Kids Corral (2-5 yr olds), Bridger-Teton USFS wildlife and wilderness info, Kates Bars, Lunch, snacks, hot & cold drinks.

Sponsored by the JH Nordic Alliance members.
Family. Friends, visitors, dogs (on leash) welcome.
Bring your own skis and bikes recommended to use between free demos and tours .
---
---
---
We'd love to hear about your outdoor adventures, what your doing to stay healthy, safe, respectful of community health guidelines – send pictures or post on FB and Insta – #JHNordic