There are two types of cross country skiing: Classic and skate skiing
Discover winter trails on jhnordic.com/trails and filter out the difficulty, groomed/untracked, dog-friendly, and more.
Visit jhnordic.com/resources for cross country ski lessons and rentals information in Jackson Hole
What you should wear when you cross country ski to comfort and preparedness
A little pre-planning for a winter trip to Jackson Hole can help you discover the sense of wonder the season has to offer. Though the area is famous for its alpine ski resorts, cross country ski opportunities abound, allowing you to immerse yourself in the beauty of a snow-covered landscape. Little experience is needed to discover the exhilaration of winter travel on snow-covered trails, which range from flat and easy to steep and heart-pumping. Regardless of the difficulty of the trail you choose or your experience level, you'll be guaranteed stunning scenery, a nice break from crowds and lines, and even signs or sightings of wildlife.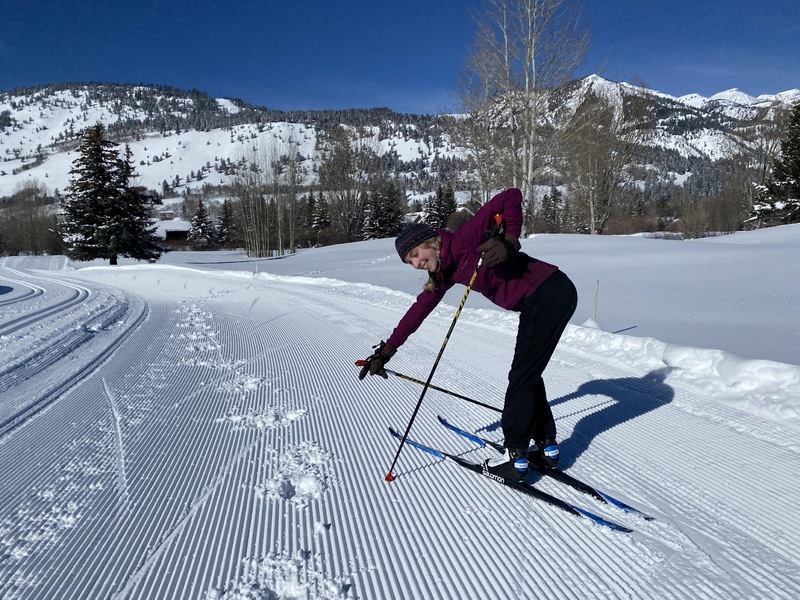 Getting Started
There are two types of cross country skiing: classic and skate skiing. Both are done on groomed ski tracks but require different body movements to move you forward.
Classic Cross-Country Skiing
Many visitors to the valley enjoy classic cross country skiing, where the skis are parallel with one another and the movement is similar to walking. It's easy to learn and skiers can enjoy at any age, from youngsters to seniors. If you can walk, you can classic ski! As you develop skills and get more comfortable, you may want to consider booking a lesson to help you progress from a casual shuffle to a long kick-and-glide stride — a faster and thrilling way to cover ground while exploring.
Skate Skiing
You can also challenge yourself to try skate skiing, which uses a side-to-side motion similar to ice skating or rollerblading. Your skis angle outward in a "V" shape as you move, with the tails of the skis close together and the tips farther apart. For this, groomed trails are wider and have the wavy look of corduroy. When skiing on groomed trails, you'll see the classic parallel tracks alongside the skating corduroy lane.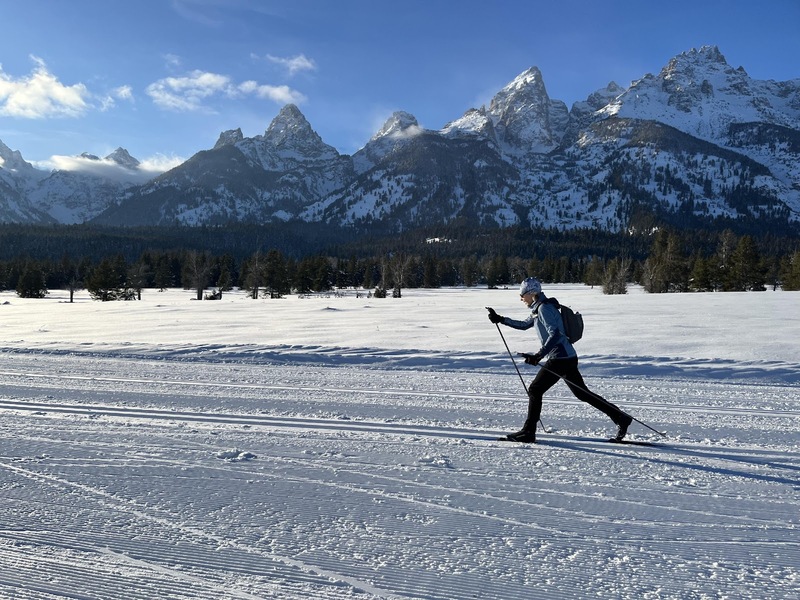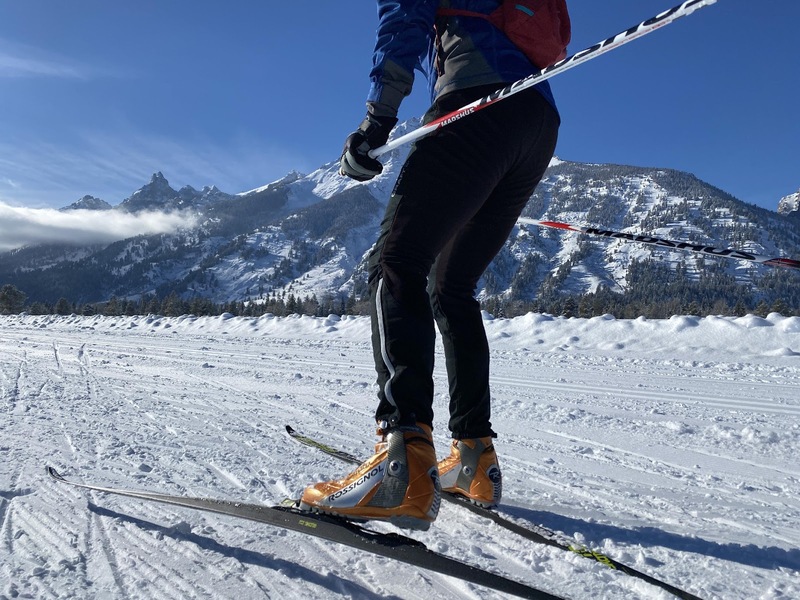 Both classic and skate ski lessons are available throughout the winter at Teton Pines Nordic Center, Shooting Star, and Turpin Meadow Ranch. Additionally, Teton Valley, Idaho on the west side of the Teton Range provides cross country skiing lessons at Grand Targhee Nordic Center and the Teton Nordic Ski School on various Teton Valley trails and pathways. The JH Nordic web site, a valuable resource for your cross-country ski planning, lists lesson locations and contact information.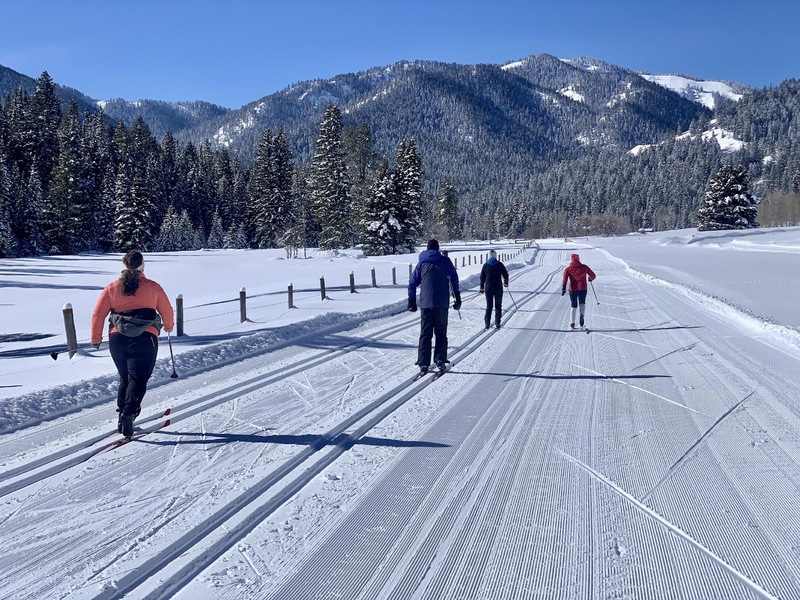 Additionally, winter events may include free cross country lessons, such as JH Nordic Alliance's Free Ski, Fat Bike, and Snowshoe Day at Turpin Meadow Ranch in early January.
Those with more experience may wish to participate in the Nordic Masters Recreational and Race ski clinics held from late December through February at Teton Pines and Trail Creek Nordic Centers.
Where to Start: What You'll Need
All that you need to prepare for a cross-country adventure is a pair of skis, poles, and boots. The equipment is lightweight and easy to transport.
Ski shops in Jackson, Wilson, Teton Village, Moose, Moran (Turpin Meadow Ranch), and Driggs offer daily gear rentals. The JH Nordic web site provides a list of rental shops, locations, and contact information. Note that cross country rental gear can be in high demand during peak holiday visitation, so if you have equipment of your own, consider bringing it along.
Where to Start: Layering
Next, you'll need to pair your gear with breathable, lightweight clothing for layering along with some wind protection in order to be ready to hit the trails. Cross-country skiing is an aerobic sport that can generate plenty of body heat, so it's not necessary to bundle up like you would for an alpine ski outing. It's important your clothing both protects you from the elements and allows sweat to move away from your body.
This keeps you from overheating and later getting wind chill when you slow down or stop. Rather than wearing one heavy layer for warmth, it's better to wear two lightweight layers for versatility (we recommend merino wool or wicking tech fabric). Items with features such as zip necks, vents, or side zippers give you even more options to find a comfortable temperature as you exercise. Don't forget to include a thin neck gaiter and a headband or lightweight beanie, too. Ski shops that rent cross-country gear often carry a nice selection of winter clothing to choose from.
It's a good idea to carry a small backpack or waist pack, so you'll have a place to store any extra layers before or after you need them. When the sun breaks through a cloud layer or the wind picks up, you may find yourself changing in and out of clothing in order to adapt to the changing conditions. A pack will also give you a place to carry water to keep you hydrated as you exercise, sun screen, and a snack.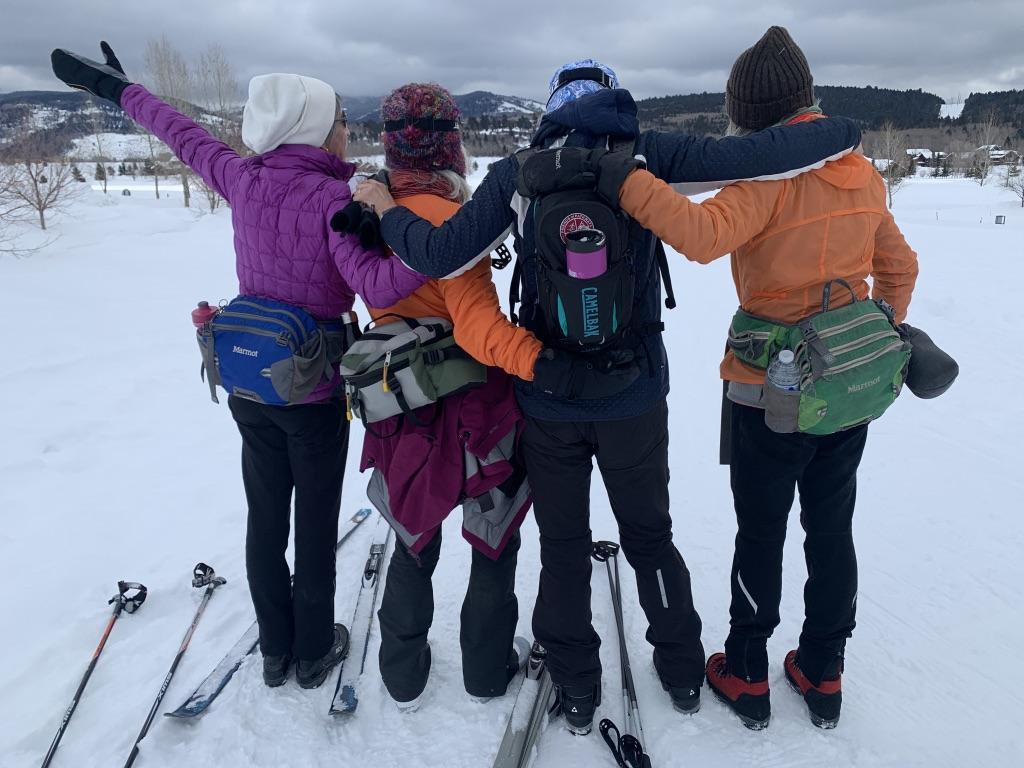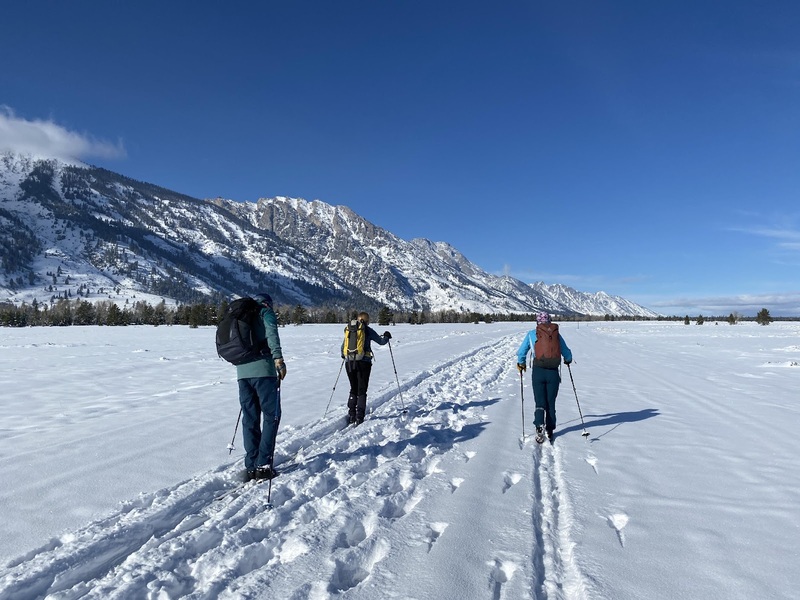 Time to Ski
Once you've made the necessary preparations, it's time to head out on a ski adventure. Now you get to decide which of the many trails to explore. Part 2 of this Beginner's Guide series offers suggestions for fun, easy terrain to start out on.