Sign up for all 10 clinics or 5 Skate ski or 5 Classic ski only
Hosted by Masters Coach Scott Horn and Jackson Hole Ski Club Nordic team coaches, these fun, informative, practiced based clinics are back for Season 5!
There will be 10 clinics, starting with 2 clinics in December, then running every Thursday in January and February from 11am-12:30pm. The Nordic Masters clinics will focus on skate ski and classic cross country skiing every other week.
Joining all 10 clinics is your best approach to developing your full Nordic skiing technique, balance, stride, stamina, and overall fitness while having fun in a small group. For those who only wish to focus on one technique, we are offering a Skate Ski Clinic series of 5 clinics or a Classic Cross country series of 5 clinics (see dates below).
Work on your technique and form with professional tips and exercises from USSA certified coaches. Stay and ski all day with your clinic ski pass at Teton Pines Nordic Center or Trail Creek Nordic Center (we will ski at both locations through out the winter to provide a variety of terrain and technique).
There will be two-three coaches and 2-3 small groups per clinic, and plenty of outdoor space to stay socially distanced. Meet local nordic skiers, bring your friends and family. We ask that everyone wear a mask.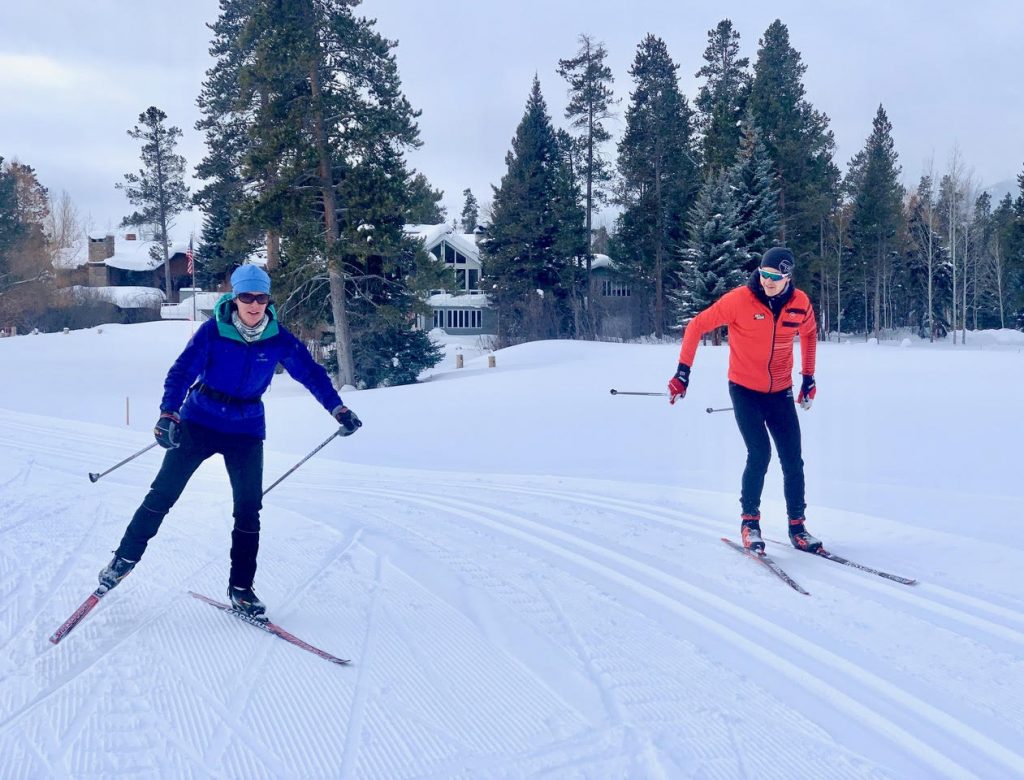 Ski Clinic Dates
Weekly on Thursdays starting Dec 15th, 2022 – Feb 16th, 2023.
Thurs. Dec 15 – Classic cross country ski –Teton Pines
Thurs. Dec 22 -Skate ski –Teton Pines
Thurs. Dec 29 -No class
Thurs. Jan 5 – Classic cross country ski
Thurs. Jan 12 – Skate ski
Thurs. Jan 19 – Classic cross country ski
Thurs. Jan 26 – Skate ski
Thurs. Feb 2 – Classic cross country ski
Thurs. Feb 9 – Skate Ski
Thurs. Feb 16 – Classic cross country ski
Thurs Feb 23 – Skate Ski
Ski Clinic Pass Rates
Season Pass to all 10 clinics – $375 – includes day passes to Teton Pines and Trail Creek for clinic days
Classic Only or Skate Only clinics – total of 5 clinics – $200 – includes day passes to Teton Pines and Trail Creek for clinic days
Single Clinic Drop-in rate – $50 per clinic – includes a day pass to Trail Creek or Teton Pines
*Clinic season pass – includes a free JHNordic buff!
When signing up on the JH Ski Club registration site, "Create Account" on the left side to get started.
(When you log in, go to the Dashboard, then follow the blue Account Setup Wizard. Add yourself both as the participant and the parent. As JH Ski & Snowboard Club is a youth organization, the registration system is set up for parents registering their children.)
BYO mask. You are not required to ski with a mask, but will need one to access anything inside.
The Teton Pines Nordic Center, located at Teton Pines Country Club, off Moose-Wilson Road, Wilson. Nordic Trails access on the southside (back) of the Clubhouse, with retail staff serving at the door. The plan is to stay outside, use your vehicle as your "basecamp". Bathrooms are available inside. Please sign-in and sign the waiver upon arrival.
Trail Creek Nordic Trails, Trail Creek Rd., Wilson (off Hwy 22, 1 mile west of the Wilson Post Office). Meet at the JH Ski Club Nordic cabin. Groomed and maintained by the local non-profit JH Ski & Snowboard Club Nordic Program. Please consider purchasing a season pass, buying a daily pass when skiing here outside of clinics, and making a contribution toward local youth ski programs.
Ski rentals and waxing available at Teton Pines Nordic Center, at the lower level workshop and Skinny Skis. (We encourage 1st time beginners to take a lesson or 2 before joining these clinics )
For more Masters Nordic clinic info click here, or email: Info@JHNordic.com or info@jhskiclub.org.