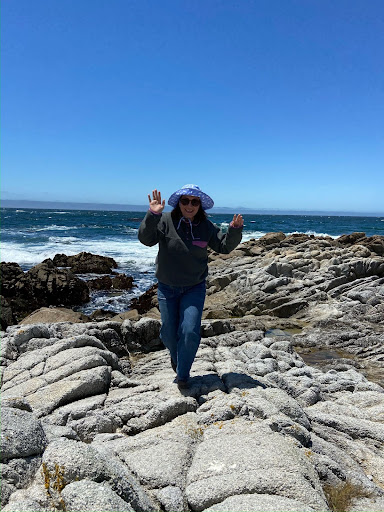 A little background from Tulah:
Hello friends! I am serving as an AmeriCorps member for Teton Science Schools and JH Nordic Alliance for this Fall 2022 season. I couldn't be more excited to be here and a part of the team! Originally I am from Brooklyn, NYC, and am a big fan of trying all the fun restaurants (I especially love trying Korean and Vietnamese food), having picnics and disc-throwing sessions with friends in Prospect Park, and people watching on the subway. I graduated from Grinnell College, a small liberal arts school in central Iowa, in 2019 and received my Bachelor's degree in Sociology. 
Though I did not grow up doing many outdoor sports, I have moved to a couple of rural, mountainous areas since graduating, and have learned so much about hiking, camping, snowshoeing, biking, and of course – downhill and nordic skiing! Below is a photo of me in the San Luis Valley of Colorado (where I served a year-long AmeriCorps term at a rural school) trying Nordic skiing for the first time in Winter 2020. Let's just say I wasn't a natural at it, but I did have a lot of fun. I also lived in a small town in the Adirondack mountains of upstate NY last year and got to hit the Nordic trails there as well once I found a pair of pre-loved skis at a thrift store.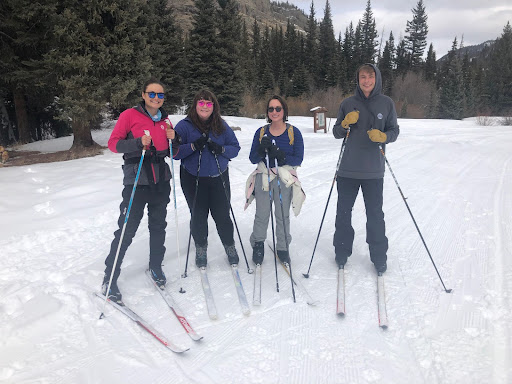 What is your AmeriCorps service program like?
My AmeriCorps service term for the Fall 2022 is split between working as a field educator for the Teton Science Schools (TSS), and working with the JH Nordic team. AmeriCorps is an independent agency of the federal government through which you can volunteer to work for a huge variety of organizations, with the goal to "to improve lives, strengthen communities, and foster civic engagement through service and volunteering". As a TSS AmeriCorps field educator, I take students out from visiting schools into Grand Teton National Park for a field trip almost everyday they are visiting and teach them lessons about the Greater Yellowstone Ecosystem ecology, conservation and stewardship, leadership, being an engaged citizen, and lots more! It's been a wonderful experience so far, learning how to make education that much more impactful and transformative through place-based learning. 
What are you most looking forward to for your time in the Tetons?
I am most looking forward to trying new things, seeing new places, and meeting amazing people! Recently, Nancy (founder of JH Nordic) took me mountain biking for my first time, and I had a blast. The community in the Tetons is so inspiring, with people of all ages getting out there and exploring, and working with JH Nordic and TSS is the perfect bridge to become more involved in the community!