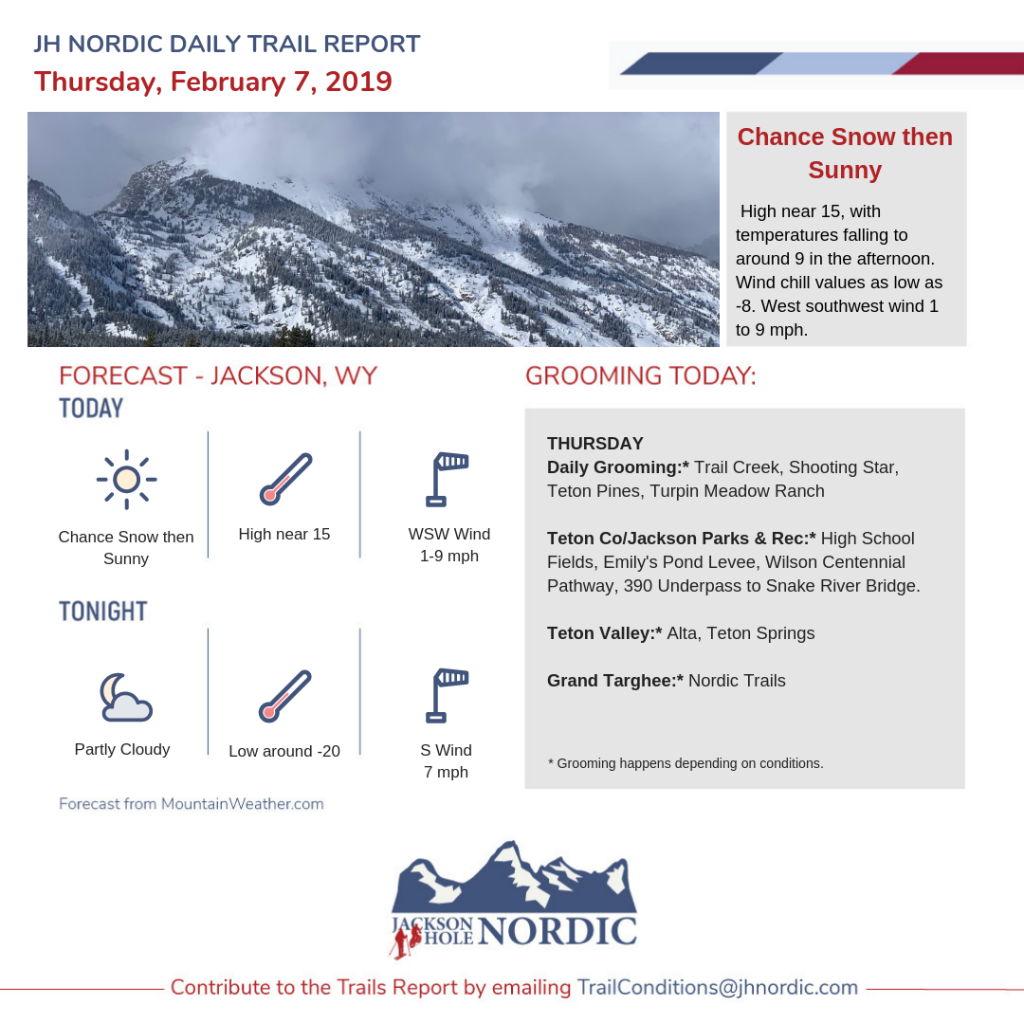 ---
Thank you for continually sharing your photos with us
of Nordic skiing in Jackson Hole
---
Wildlife Wednesday from JH Ecotour Adventures
Recent Wildlife Sightings
Did you know some owls are already starting to prepare for nesting season?  Both Great Horned and Great Gray (photo top left) Owls begin vocalizing around nest sites in mid to late winter which has contributed to some great observations recently. Read more.
Winter Wildlife Closures
While the recent snowstorm brought big smiles to many powder skiing enthusiasts, for many of our wild neighbors it came as yet another challenge in their yearly struggle for survival. Read more.
---
Beware of Avy Danger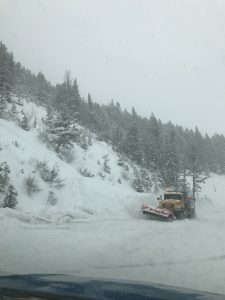 Please practice caution on the nordic trails such as upper Cache creek and others with steep slopes adjacent. We recommend wearing an Avy beacon, bringing probe and shovel as well as a trained and competent partner if you do choose to venture into the backcountry or even groomed trails in some cases.
On Sunday at about 1pm, a slide in Cache Creek near Noker Mine Draw narrowly missed two skiers but caught, carried (150 feet), and completely buried a third in the party. Only a hand was visible above the snow. All in the party made it out safely.
Be safe out there!

Last Updated: 2/6
Catching Up!
A lot of progress was made today at Trail Creek with the Pisten Bully managing to reach nearly every major trail in one mode or another.  No snow today and 1:15 PM conditions of mostly cloudy, calm, and -8ºC/18ºF.
Now if you are the kind of person who likes the same restaurant with the same menu item every time then your best bet for today will be the close field or Woolsey Woods which are on their second day of full width grooming and looking quite nice.  If on the other hand your favorite dining experience is stumbling onto that back roads diner serving a very delicious rendition of some exotic cuisine, then the rest of the trails are your meal ticket today.
First time double pass grooming happened today in the East Fields, Homesite, Suicide, and Armin's.  Most every major trail received at least one pass today.  Conditions are still a bit on the rustic side but whether you are skating or classic skiing you should find plenty to fill you up.  Look for the entire Moose Chase course to receive double Pisten Bully passes in the morning.
Groomer's choice for today is to choose your menu.
---
Turpin Meadow Ranch Grooming Report
Last Updated: 2/5
We've been getting lots of great snow with this most recent storm, our 
daily 
grooming has our trails looking great. Don't take my word for it, come up and experience it yourself! As an incentive, we have a BOGO night 50% off special going on now through March 10 with our larger chalet units (4 or 5 beds), great for groups. Come 
play and stay
!
Last Updated: 2/6
11:10am: Three Creek Pathway is groomed and in nice shape. It might be a bit soft but the classic track is nice. Once again Game Creek will not be groomed because low elevation avy danger is rated as considerable.
8:40am: Wayne May Park is groomed. Most grooming was for the special Olympics which will occur at the Park all day today and till early tomorrow afternoon. If you are heading up to Cache make sure to stop by and cheer on the athletes!
7:00am: Cache Creek is groomed. Expect the trail to still be soft. Skiers should be fine as long as it is given time to set up. Walkers will break through. Game Creek will not be groomed today because of low elevation avy danger that is rated considerable.
---
Grand Teton National Park Grooming Report
Last Updated: 2/5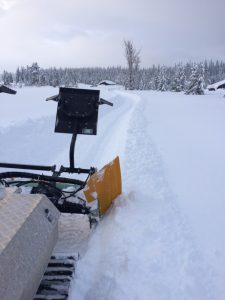 Wow, look at all that snow in Grand Teton National Park.  Taggart to South Jenny will take several passes to get the trail back in shape.
---
Teton Pines Grooming Report
Last Updated: 1/29
Conditions are great at Teton Pines! We groom daily, so come out and enjoy our beautiful track and the sunny days this week! Wax recommendations: Glide: Swix LF7(purple); Grip: Swix Blue/Blue Extra
---
Shooting Star Grooming Report
Last Updated: 2/6

Trails are in great shape. Get outside and enjoy the snowy winter backdrop created from the past storm. Outlook is for colder weather and some possible sunshine through Saturday. Have fun!
Next Update: Saturday
---
Grand Targhee Grooming Report
Last Updated: 2/6
More Teton powder for you to enjoy with another 6″ falling in the past 24 hours. This storm cycle has refreshed the mountain
and powder turns are still to be had. It's the middle of the week and time to decide – work or play – maybe it's time for a break,
but skiing and snowboarding keep you feeling young and alive…Head to the mountain for another day of snowy turns. Bundle up as the temps have dropped. Wind chill could dip as low as -10 today. NOAA is calling for a 60% chance of snow with 1″ possible
and a high near 12 degrees.
Cross Country/Fat Bike 15k: XC OPEN (Last groomed AM 2/5/2019), Fat Bike CLOSED.
---
Pinedale Nordic Trail Report
Last Updated: 2/5
All trails above groomed this morning except Powerline, Flatline and Heart Attack. 8″ of new snow from yesterday. 27F degrees, overcast, slight breeze. Road plowed and snow packed. Parking areas plowed. Expect soft conditions again today. Classic skiing would be my choice.
---
Alta Track
Grooming Schedule: Tuesday, Thursday, Saturday, Sunday
Last Updated: 2/6 @ 2pm
Skate: Fair |  Classic: Good
I finished rolling the track this morning and set the classic track as well. There's a lot of new snow out there so it will be quite soft. The classic track should be really good. We have begun setting the race course for the Alta Vista race this Saturday so there a few small changes in how the track is laid out but it should all flow just fine. Enjoy!
Driggs
Grooming Schedule: Monday, Wednesday, Friday
Last Updated: 2/6 @ 3pm
Skate: Fair  |  Classic: Good
Groomed and set tracks for all three loops. A little soft for skating.
Sherman Park
Grooming Schedule: Monday, Wednesday, Friday
Last Updated: 2/6 @ 1pm
Skate: Good |  Classic: N/A
Multiple laps and the track is reset. Still a bit soft but not bad.
Teton Canyon
Grooming Schedule: Monday, Wednesday, Saturday and Sunday
Last Updated: 2/6 @ 8am
Skate: Fair |  Classic: Fair
Wednesday: After a cold night with no new snow, I plan to use Ginzu to reset both classic and skate tracks. Will start around 9 am. Rolled the new snow the past 2 afternoons, however I recon the track will remain quite soft.
Teton Springs
Grooming Schedule: Tuesday, Thursday, Saturday
Last Updated: 2/6 @ 8am
Skate: Good |  Classic: Good
Reset trails this morning with the Ginzu. The trails are getting more firm with each groom.
5th Street Singletrack
Grooming Schedule: Monday, Wednesday, Friday
Last Updated: 2/5 @ 11pm
Singletrack: Poor
Trail is snowmobiled in, but not groomed. Planning to roll it out tomorrow…stay tuned!
Teton Springs Singletrack
Grooming Schedule: Monday, Wednesday, Friday
Last Updated: 1/24 @ 7pm
Singletrack: Good
All Singletrack in Teton Springs is groomed. Enjoy!
Southern Valley Single Track
Grooming Schedule: As Needed
Last Updated: 2/5 @ 11pm
Singletrack: Good
It's all good in the hood! Trails may be a little soft if temperatures don't drop. Please use discretion.
Alta Vista Freestyle Nordic Race 2019:
9th Annual Alta Vista Freestyle Race
When: Saturday, February 9th
Where: Alta, WY – Alta Nordic Track
This is a beautiful trail race across the foothills of the Tetons. There is something for everyone and fun for all. Come enjoy a very family oriented race in Alta, WY on TVTAP's Alta Nordic Trail. It is a freestyle race, so either skate or classic skiing is allowed. Kids can choose between the 1/2k, 2.5k, or 6k. The big kids and adults can choose to take on the 10k, or do two laps to conquer the 20k race. For more information and to register: https://tvtap.org/alta-skate-race/
---
Special Olympics – Nordic Ski & Snowshoeing
When: February 6-7
Where: Teton Pines Nordic Center, Wilson WY
Contact Chris Hamann, LJHS Nordic Coach chamann63@gmail.com for more information; volunteers welcome 9am-1pm on 8th & 9th
www.sowy.org
---
Send us your event dates, stories, photos
Follow JHNordic on Facebook, Instagram @JHNordic, #JHNordic
Sign up for Daily or Once a Week JH Nordic Trail ConditionReports to know what's groomed, what's happening first thing every morning – or just Saturdays.