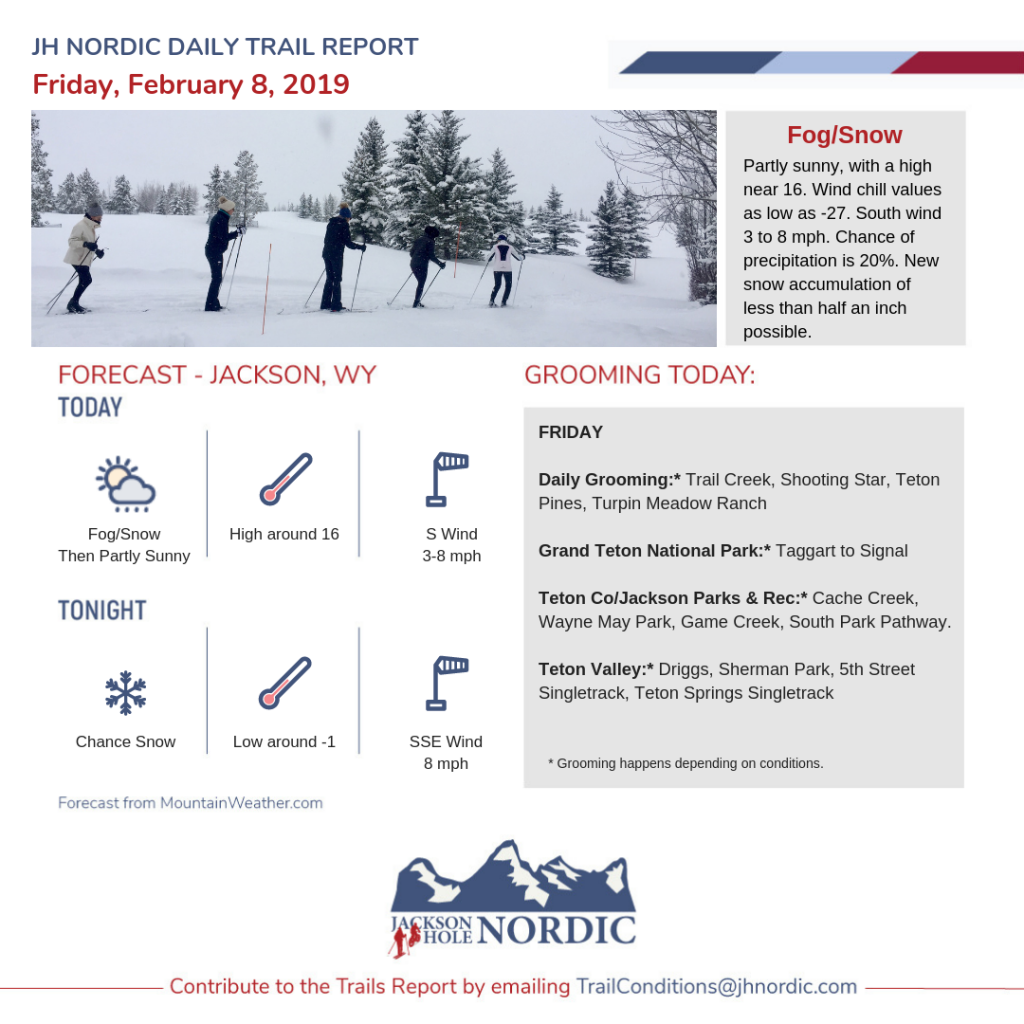 ---
Thank you for continually sharing your photos with us
of Nordic skiing in Jackson Hole
---
Trail Report: Alta
Alta is a beautiful place to ski, especially when the Tetons are in view! Flat with gentle hills, enough to get a great work out. Dog friendly…See info, map and elevation profile here. Photo credit: Derek N.
---
Moose Chase Nordic Ski Race
The Jackson Hole Ski & Snowboard Club is proud to present the 27th Annual Skinny Skis Moose Chase Nordic Ski Race on February 16th at Trail Creek Nordic Center in Wilson, WY.  This premiere Nordic race includes a 30k, a 15k, 5k, 3k, and a free 1/2k.   Competitors can skate or classic ski the course.  The Moose Chase is the first event of the JHSC's Triple Crown Series.  Register early for best pricing!
---
Cache Creek Update
2/6 – Hagen and Hagen Highway groomed a bunch over the last 3 days and they are in good shape.  Everything else is buried and will take some time to put back in.

Last Updated: 2/7
Busy Weekend!
Decisions, decisions, decisions…  Area Nordic racers are going to be spread over 700 miles of the Rocky Mountain west with all the possible venues this weekend.  Starting from the east to the west, high school racers are off to Casper for Wyoming High School Nordic racing Friday and Saturday, area Sandbaggers will surely show up at the Spud Chase over in Teton Valley Saturday, and our IMD racers are off today for the third and final junior national qualifier at Bogus Basin Saturday and Sunday.  If you've got a bit of the "Valley Fever" and a road trip sounds good, there are plenty of possibilities this weekend.  If you can't get away, at least you should find plenty of space on your local Nordic Trail.
As of 1 PM it is partly cloudy and breezy with a temperature of -11ºC/12ºF.  Today's grooming was double Pisten Bully passes with fresh classic tracks of the entire Moose Chase course.  A few minor connectors were put in for the first time but tracks have firmed up nicely since recent storms.  There is some moderate drifting going on in the fields but the woods sections should stay nice all day.
Groomer's choice for today is Homesite.
---
Turpin Meadow Ranch Grooming Report
Last Updated: 2/7
Our trails are firm, fast, and groomed daily. Those who've been skating have been flying and for winter cyclists, you will find our single track is full of flow. We have 
tours
 going out everyday for snowshoeing and classic skiing, come up and join in the fun! Also, Valentines is just a week away, do you have plans? We do! Make your 
reservation
 today!
Last Updated: 2/7
8:25am: The school fields and the levee are groomed and in good shape. Both should be much firmer than Tuesday as long as they are given some time to setup. I am heading to Stilson shortly and should be done around 11:00.
---
Grand Teton National Park Grooming Report
Last Updated: 2/5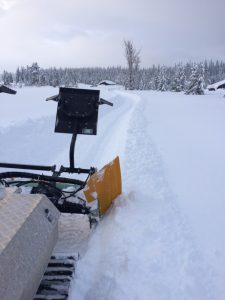 Wow, look at all that snow in Grand Teton National Park.  Taggart to South Jenny will take several passes to get the trail back in shape.
---
Teton Pines Grooming Report
Last Updated: 1/29
Conditions are great at Teton Pines! We groom daily, so come out and enjoy our beautiful track and the sunny days this week! Wax recommendations: Glide: Swix LF7(purple); Grip: Swix Blue/Blue Extra
---
Shooting Star Grooming Report
Last Updated: 2/6

Trails are in great shape. Get outside and enjoy the snowy winter backdrop created from the past storm. Outlook is for colder weather and some possible sunshine through Saturday. Have fun!
Next Update: Saturday
---
Grand Targhee Grooming Report
Last Updated: 2/7
The powder's been light and deep enough these last few days for the fabled snowdragons to emerge; you can see these elusive creatures tearing down the slopes, an arc of snow crescendo-ing on every turn. There's an explosion of light powder then they're gone, fading into the snowscape, leaving behind only a set of deep tracks. With an additional 3″ overnight, many of these tracks will be refilled. Bundle up, aim tips downhill, and disappear through those clouds of snow as you slide and slash down the mountain!
Cross Country/Fat Bike 15k: XC OPEN (Last groomed AM 2/7/2019), Fat Bike OPEN.
---
Pinedale Nordic Trail Report
Last Updated: 2/5
All trails above groomed this morning except Powerline, Flatline and Heart Attack. 8″ of new snow from yesterday. 27F degrees, overcast, slight breeze. Road plowed and snow packed. Parking areas plowed. Expect soft conditions again today. Classic skiing would be my choice.
---
Alta Track
Grooming Schedule: Tuesday, Thursday, Saturday, Sunday
Last Updated: 2/6 @ 11pm
Skate: Good |  Classic: Good
Finished up grooming shift at 11pm (Wednesday night). Left the classic track alone as it looked really good (Ned set it today). Pulled the Ginzu groomer for two laps on entire trail system (skate lane only).
Track is still a little soft, but not bad considering all the new snow we just received.
Several minor changes have been made at intersections for Saturday's Alta Vista race.
I plan on rolling the kids hill tomorrow (before afternoon Nordic practice).
Have fun and stay warm!
Driggs
Grooming Schedule: Monday, Wednesday, Friday
Last Updated: 2/6 @ 3pm
Skate: Fair  |  Classic: Good
Groomed and set tracks for all three loops. A little soft for skating.
Sherman Park
Grooming Schedule: Monday, Wednesday, Friday
Last Updated: 2/6 @ 1pm
Skate: Good |  Classic: N/A
Multiple laps and the track is reset. Still a bit soft but not bad.
Teton Canyon
Grooming Schedule: Monday, Wednesday, Saturday and Sunday
Last Updated: 2/7 @ 4pm
Skate: Good |  Classic: Good
Thursday afternoon: Reset both classic and skate tracks, finally starting to firm up a bit.
Teton Springs
Grooming Schedule: Tuesday, Thursday, Saturday
Last Updated: 2/7 @ 7am
Skate: Fair |  Classic: Good
Groomed trails this past M, TU & W this week. I skate skied last night which was bit soft but okay. The classic trails were mostly skied and looked the best. About a half-inch of new snow has fallen overnight. I will plan to groom again tonight for F & SA skiing.
5th Street Singletrack
Grooming Schedule: Monday, Wednesday, Friday
Last Updated: 2/5 @ 11pm
Singletrack: Poor
Trail is snowmobiled in, but not groomed. Planning to roll it out tomorrow…stay tuned!
Teton Springs Singletrack
Grooming Schedule: Monday, Wednesday, Friday
Last Updated: 1/24 @ 7pm
Singletrack: Good
All Singletrack in Teton Springs is groomed. Enjoy!
Southern Valley Single Track
Grooming Schedule: As Needed
Last Updated: 2/5 @ 11pm
Singletrack: Good
It's all good in the hood! Trails may be a little soft if temperatures don't drop. Please use discretion.
Alta Vista Freestyle Nordic Race 2019:
9th Annual Alta Vista Freestyle Race
When: Saturday, February 9th
Where: Alta, WY – Alta Nordic Track
This is a beautiful trail race across the foothills of the Tetons. There is something for everyone and fun for all. Come enjoy a very family oriented race in Alta, WY on TVTAP's Alta Nordic Trail. It is a freestyle race, so either skate or classic skiing is allowed. Kids can choose between the 1/2k, 2.5k, or 6k. The big kids and adults can choose to take on the 10k, or do two laps to conquer the 20k race. For more information and to register: https://tvtap.org/alta-skate-race/
---
Special Olympics – Nordic Ski & Snowshoeing
When: February 6-7
Where: Teton Pines Nordic Center, Wilson WY
Contact Chris Hamann, LJHS Nordic Coach chamann63@gmail.com for more information; volunteers welcome 9am-1pm on 8th & 9th
www.sowy.org
---
Send us your event dates, stories, photos
Follow JHNordic on Facebook, Instagram @JHNordic, #JHNordic
Sign up for Daily or Once a Week JH Nordic Trail ConditionReports to know what's groomed, what's happening first thing every morning – or just Saturdays.