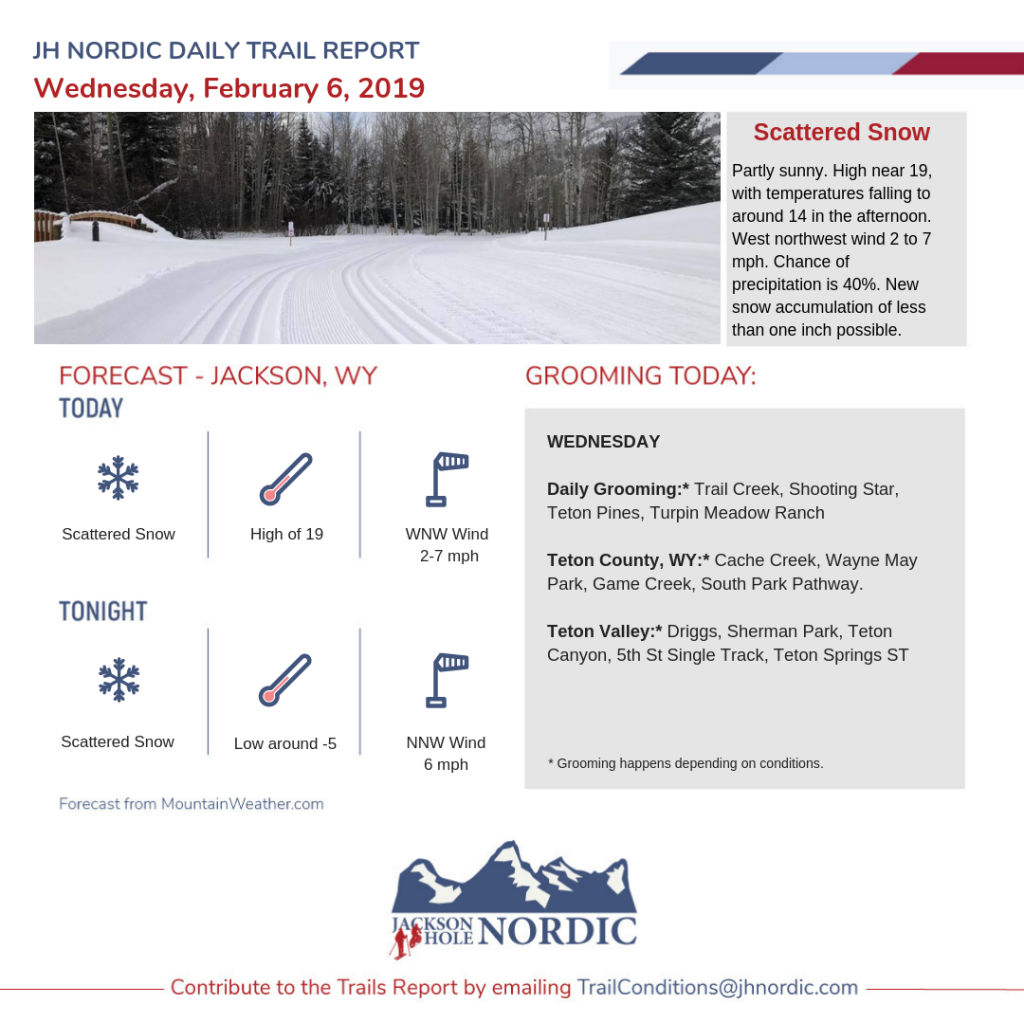 ---
Thank you for continually sharing your photos with us
of Nordic skiing in Jackson Hole
---
Beware of Avy Danger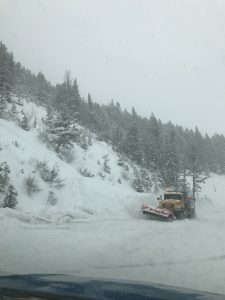 Please practice caution on the nordic trails such as upper Cache creek and others with steep slopes adjacent. We recommend wearing an Avy beacon, bringing probe and shovel as well as a trained and competent partner if you do choose to venture into the backcountry or even groomed trails in some cases.
On Sunday at about 1pm, a slide in Cache Creek near Noker Mine Draw narrowly missed two skiers but caught, carried (150 feet), and completely buried a third in the party. Only a hand was visible above the snow. All in the party made it out safely.
Be safe out there!

Last Updated: 2/5
Playing in the Snow!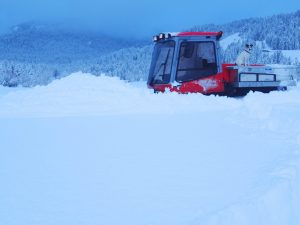 Yes that Pisten Bully really does have tracks; they're just doing their job holding up the rest of the groomer and in the process sinking deep into all the new snow we have been receiving.  Another 16 inches was shoveled off the deck this morning combined with yesterday's 14 and the approximate10 the day before puts us up into the "heck of a lot of snow" range.  If you are interested, here is a short video showing what it is like to drive a Pisten Bully through more than 40 inches of fresh snow.
In spite of all the recent snow, there are some reasonable skiing conditions at Trail Creek this afternoon.  As of 1:45 PM a strange color has appeared in the sky that is perhaps blue and the current temperature is -2ºC/28ºF.  About 4 inches of additional snow fell during this morning's grooming which consisted of multiple Pisten Bully passes through the close field, Woolsey Woods, Moose Loop, and Outward and Homeward Bound.  While somewhat soft skate lanes and fresh classic tracks will greet you in those sections, the Pisten Bully did also venture back and up to the Boiler.  This was untouched snow which required lifting the tiller for the first pass but on the way back the tiller was dropped without a classic track.
Skiing is soft but should be enjoyable.  If the snow lets up hopefully we can continue to catch up tomorrow.
Groomer's choice for today is Moose Loop.
---
Turpin Meadow Ranch Grooming Report
Last Updated: 2/5
We've been getting lots of great snow with this most recent storm, our 
daily 
grooming has our trails looking great. Don't take my word for it, come up and experience it yourself! As an incentive, we have a BOGO night 50% off special going on now through March 10 with our larger chalet units (4 or 5 beds), great for groups. Come 
play and stay
!
Last Updated: 2/5
1:40pm: the school fields are groomed and in good shape. They may be a bit soft but they should set up nicely by tomorrow. A reminder that Game Creek cannot be groomed if the low elevation avalanche danger is considerable or above. This might be the case for tomorrow.
10:00am: The levee is groomed but expect very soft conditions until I can get back out on it Thursday. I will be heading to May Park next to pack some areas for tomorrow's Special Olympics. After I finish there I will head to the school fields in the afternoon.
8:30am: I started at Stilson today to make sure I had a parking spot. I will be behind my usual schedule because I am having to track pack everything then come back and groom it. There is about 30" in the trails on the West Bank since I groomed last! Heading to the levee now.
---
Grand Teton National Park Grooming Report
Last Updated: 2/5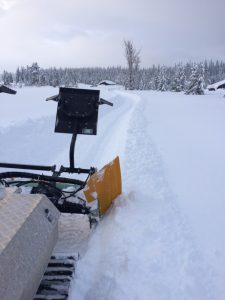 Wow, look at all that snow in Grand Teton National Park.  Taggart to South Jenny will take several passes to get the trail back in shape.
---
Teton Pines Grooming Report
Last Updated: 1/29
Conditions are great at Teton Pines! We groom daily, so come out and enjoy our beautiful track and the sunny days this week! Wax recommendations: Glide: Swix LF7(purple); Grip: Swix Blue/Blue Extra
---
Shooting Star Grooming Report
Last Updated: 2/1

Soak up the sunshine today as the weather outlook is looking very snowy beginning tomorrow. Overall the skiing should continue to be very delightful. Enjoy!
Next Update: Sunday
---
Grand Targhee Grooming Report
Last Updated: 2/5
Another 14″ in 24 hours with 6″ falling since lifts have closed, and it is dumping! 28″ storm total and
we're still tracking. NOAA is calling for 90% chance of snow today with a possible 4-8″. What a
powder run…Grab the Java, your surfing tools, and head to the mountain!
Cross Country/Fat Bike 15k: XC OPEN (Last groomed AM 2/5/2019), Fat Bike CLOSED.
---
Pinedale Nordic Trail Report
Last Updated: 2/5
All trails above groomed this morning except Powerline, Flatline and Heart Attack. 8″ of new snow from yesterday. 27F degrees, overcast, slight breeze. Road plowed and snow packed. Parking areas plowed. Expect soft conditions again today. Classic skiing would be my choice.
---
Alta Track
Grooming Schedule: Tuesday, Thursday, Saturday, Sunday
Last Updated: 2/5 @ 6pm
Skate: Good |  Classic: Not set
There's a lot of snow out there! I rolled everything south of the 6-way junction today. I did not set the classic track, but did three complete passes to establish a skate lane. I will go out tomorrow to finish the track.
Driggs
Grooming Schedule: Monday, Wednesday, Friday
Last Updated: 2/5 @ 8am
Skate: Fair  |  Classic: Fair
Groomed Monday night
Sherman Park
Grooming Schedule: Monday, Wednesday, Friday
Last Updated: 2/4 @ 7pm
Skate: Poor  |  Classic: N/A
Well my attempt at grooming didn't go so well. Snow underneath was saturated and not very supportive so I go stuck numerous times and only completed one lap with just the machine and one with roller. Waiting for colder temps to set things up to hopefully reclaim the track…Sorry!
Teton Canyon
Grooming Schedule: Monday, Wednesday, Saturday and Sunday
Last Updated: 2/5 @ 3pm
Skate: Fair |  Classic: Not set
Tuesday afternoon: Another 8 inches on top of yesterday's foot. Made 4 more passes with the roller, which should allow me to use Ginzu tomorrow morning to set classic and continue to pack down track, assuming not too much more snow falls tonight. 60 inches on the stake.
Teton Springs
Grooming Schedule: Tuesday, Thursday, Saturday
Last Updated: 2/5 @ 9am
Skate: Good |  Classic: Good
Reset all trails with the roller. Set classic track.
5th Street Singletrack
Grooming Schedule: Monday, Wednesday, Friday
Last Updated: 1/24 @ 10am
Singletrack: Good
Packed in nicely. Go spin out those ski legs!
Teton Springs Singletrack
Grooming Schedule: Monday, Wednesday, Friday
Last Updated: 1/24 @ 7pm
Singletrack: Good
All Singletrack in Teton Springs is groomed. Enjoy!
Southern Valley Single Track
Grooming Schedule: As Needed
Last Updated: 1/28 @ 12pm
Singletrack: Good
Corduroy goodness.
Alta Vista Freestyle Nordic Race 2019:
9th Annual Alta Vista Freestyle Race
When: Saturday, February 9th
Where: Alta, WY – Alta Nordic Track
This is a beautiful trail race across the foothills of the Tetons. There is something for everyone and fun for all. Come enjoy a very family oriented race in Alta, WY on TVTAP's Alta Nordic Trail. It is a freestyle race, so either skate or classic skiing is allowed. Kids can choose between the 1/2k, 2.5k, or 6k. The big kids and adults can choose to take on the 10k, or do two laps to conquer the 20k race. For more information and to register: https://tvtap.org/alta-skate-race/
---
Special Olympics – Nordic Ski & Snowshoeing
When: February 6-7
Where: Teton Pines Nordic Center, Wilson WY
Contact Chris Hamann, LJHS Nordic Coach chamann63@gmail.com for more information; volunteers welcome 9am-1pm on 8th & 9th
www.sowy.org
---
Send us your event dates, stories, photos
Follow JHNordic on Facebook, Instagram @JHNordic, #JHNordic
Sign up for Daily or Once a Week JH Nordic Trail ConditionReports to know what's groomed, what's happening first thing every morning – or just Saturdays.