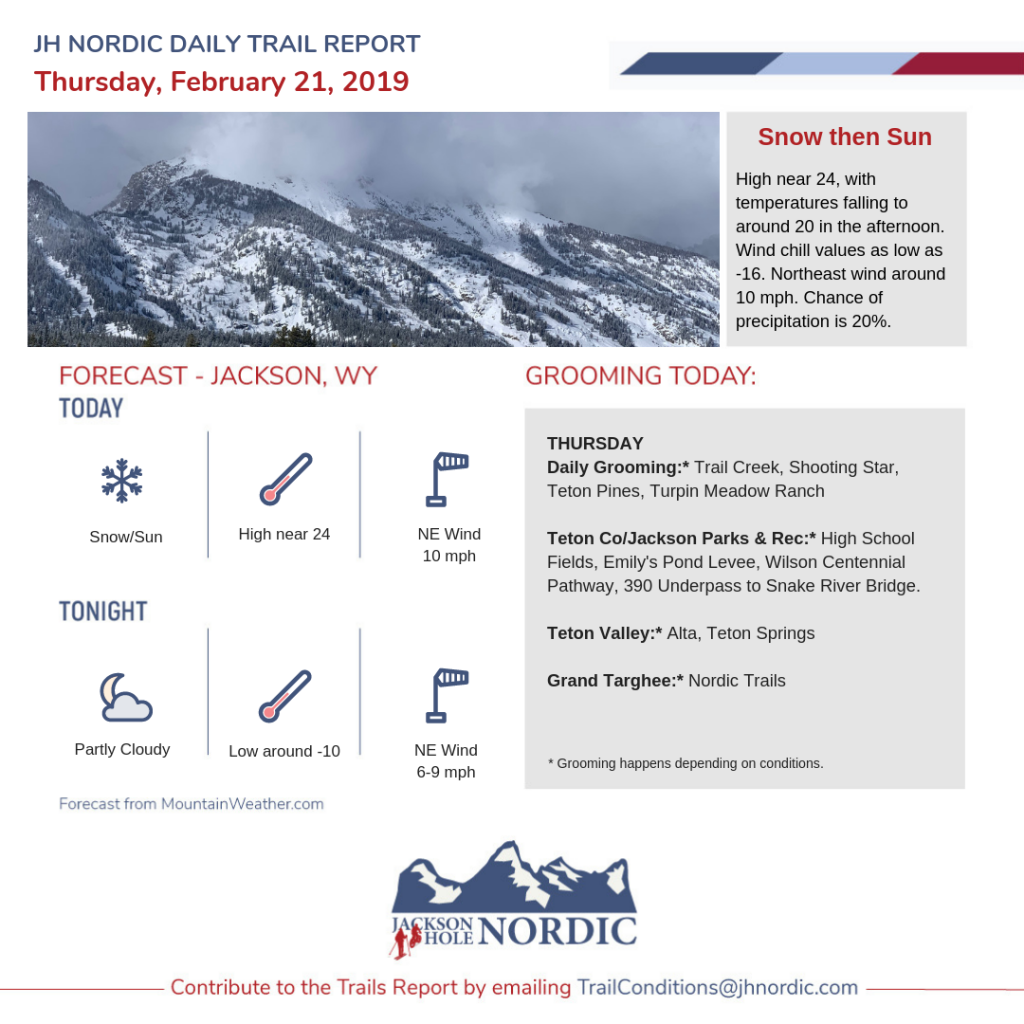 ---
Thank you for continually sharing your photos with us
of Nordic skiing in Jackson Hole
---
Ski Report: Gros Ventre River Classic Crust Cruise
We ran out of time today but decided to give the crust a try.  Drove up to Gros Ventre Junction and skied NE up along the river and it was amazing.  We had our fish scales and encountered a very solid crust under 3-4 inches of light powder.  While we could punch our poles through, we never broke through.
Top that off with a nearly full moon and it made for a very memorable ski.  It would still be tough skating but classic skis were awesome and snow shoes would probably be working well too. – Steve S.
---
Then vs. Now
Taggart to Jenny route:  "I hope Geraldine Lucas had a good roof engineer." Photos below show the Lucas Fabian cabins taking on a lot more snow since January.
Photo on the leftL JH Nordic | Photo on the right: Bruce M. taken by Martha B.
---
Request that WYDOT Keep Pathway Open

On Thursday evening, WYDOT will host an open house to present initial construction plans for expansion of Highway 22. In 2023, the intersection at Highway 22 and 390 "the Village Road", will be expanded and the existing bridge over the Snake River will be replaced with a new four-lane bridge.
WYDOT will be hosting a public open house about the expansion project on Thursday, February 21, from 5-7pm at the Springhill Marriott Suites on Glenwood in Jackson. If you believe the pathway should be open during construction, please attend to learn about WYDOT's highway expansion plans.
If you can't attend, please email Bob Hammond (bob.hammond@wyo.gov), WYDOT Resident Engineer, and Keith Compton (keith.compton@wyo.gov), WYDOT District Engineer and request that the pathway remain open during construction.
---
Cache Creek Update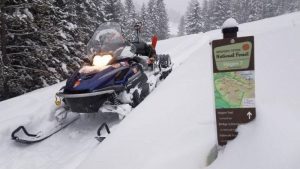 Trails are in excellent condition after a few days of cooler weather. Thank you to the Teton Science School the Teton Science School and group from Boise who helped to get Lower Ferrins into great shape earlier this week. If you are enjoying the trails, consider supporting the program with a gift to Winter Single Track Grooming.

Last Updated: 2/20
Anatomy of a Fall!
Many thanks to JHNordic.com for contributing these fascinating images and also thanks to Elijah for agreeing to participate in this demonstration; below is a fascinating time lapse sequence from the Moose Chase of a fall in action, amazing pictures…
You'll also find plenty of nearly amazing skiing today at Trail Creek.  We are busy in preparation mode for the IMD Youth Championships coming up this weekend.  The field is a maze of trails with jumps, banked turns, and intersections that will all hopefully make sense as the events go forward on Saturday and Sunday.   A map of the courses can be found here.
In addition to race prep, a single Pisten Bully pass was made throughout the woods with extensive grooming including fresh classic tracks in Woolsey Woods and on Moose Loop.  While about 3 inches have fallen in the last 24 hours, all in all everything is skiing quite nicely and it would be a great day for you to head out for a great Nordic ski!
Groomer's choice for today is Moose Loop.
---
Turpin Meadow Ranch Grooming Report
Last Updated: 2/20
With a little more snow falling we've been having dust on crust conditions which has made for pleasant and speedy skis. The trails continue to groom great daily. Our fat bike single track is groomed everyday also so they are super firm. We hope to see you soon!
---
Teton Co./Jackson Parks & Rec Grooming Report
Last Updated: 2/20
7:50am: Cache Creek and Wayne May Park are groomed and in good shape. I will be heading to Game Creek shortly and at the earliest will be done at 11:00. Depending on if there is avalanche debris to clear it may take much longer.
11:10am: Game Creek is groomed and in ok shape. Expect a few rough spots and it to be rather soft. It's going to take at least one more day grooming before I can get it back to where it was before the storms.
---
Grand Teton National Park Grooming Report
Last Updated: 2/19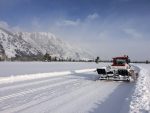 The sun is coming up in GTNP –  Grooming from Taggart to South Jenny this morning
---
Teton Pines Grooming Report
Last Updated: 2/18
Conditions are great! The temps will be chilly this week so make sure you use your cold wax. Stay tuned for information on our spring sale coming up soon! Wax recommendations for the rest of this week: Glide Swix LF6(Blue); Grip Swix Blue. Visit our website at tetonpinesnordiccenter.com or call (307) 733-1733
---
Shooting Star Grooming Report
Last Updated: 2/20
Get out and enjoy some Nordic skiing during the current dry/cold weather pattern. Conditions should remain solid over through Friday. Outlook is another potential snow system to begin Saturday.
Next update: Saturday
---
Grand Targhee Grooming Report
Last Updated: 2/20
You guessed it, more snow! 2″ thus far, and more on the way. It's going to be a cold one, so bundle up, but don't let that stop you from getting those turns in. Groomers or off-piste; you pick your poison today, or should I say soul fuel. Both will cure those mid-week blues. And, I'd bet there's still plenty of powder stashes out there too, if that's what you're into.
Cross Country/Fat Bike 15k: XC OPEN (Last groomed AM 2/19/2019), Fat Bike OPEN.
---
Pinedale Nordic Trail Report
Last Updated: 2/16 @ 9am
All trails above groomed this morning. About 1-2 inches of new snow overnight. 21F degrees. Road is plowed. Little breezy. Should be pretty good skiing. Also did the CCC trails last night – might be a little blown in today.
---
Alta Track
Grooming Schedule: Tuesday, Thursday, Saturday, Sunday
Last Updated: 2/21 @ 5pm
Skate: Not Set  |  Classic: Not Set
Driggs
Grooming Schedule: Monday, Wednesday, Friday
Last Updated: 2/19 @ 7am
Skate: Fair  |  Classic: Fair
Groomed Monday evening
Sherman Park
Grooming Schedule: Monday, Wednesday, Friday
Last Updated: 2/14 @ 11am
Skate: Fair |  Classic: N/A
Made a number of laps to reset the track Thursday am. It is a bit wet and soft but fair and skiable.
Teton Canyon
Grooming Schedule: Tuesday, Thursday, Saturday
Last Updated: 2/20 @ 7am
Skate: Good|  Classic: Good
Plan to begin grooming 8:30am.
Teton Springs
Grooming Schedule: Monday, Wednesday, Saturday and Sunday
Last Updated: 2/17 @ 7pm
Skate: Excellent  |  Classic: Excellent
Set all tracks Sunday night, and all should set up nice overnight. All should be excellent skiing.
5th Street Singletrack
Grooming Schedule: Monday, Wednesday, Friday
Last Updated: 2/20 @ 8pm
Singletrack: Good
Last groomed on Monday. Holding up and riding well.
Teton Springs Singletrack
Grooming Schedule: Monday, Wednesday, Friday
Last Updated: 2/17
Singletrack: Poor
Marked conditions as poor due to windblown hardpack that will breakdown with traffic
Southern Valley Single Track
Grooming Schedule: As Needed
Last Updated: 2/19 @ 11pm
Singletrack: Good
Groomed
Powerline to Pole Canyon
Nemo
Grumpy
Upper Ladyslipper
West Yellowstone Rendezvous 2019 Race – 2K, 5K, 10K, 25K classic, 25K & 50K freestyle 
When:  Saturday, March 2
Where: Rendezvous Trails, West Yellowstone, MT
www.skirunbikemt.com/rendezvous-race.html
---
US College Ski Association (USCSA) Championships – Nordic Races

When: Sunday, March 10
Where: Trail Creek Nordic Center, Trail Creek Road – off Hwy 22, Wilson WY
jhskiclub.org/event/uscsa-national-champs
---
Send us your event dates, stories, photos
Follow JHNordic on Facebook, Instagram @JHNordic, #JHNordic
Sign up for Daily or Once a Week JH Nordic Trail ConditionReports to know what's groomed, what's happening first thing every morning – or just Saturdays.