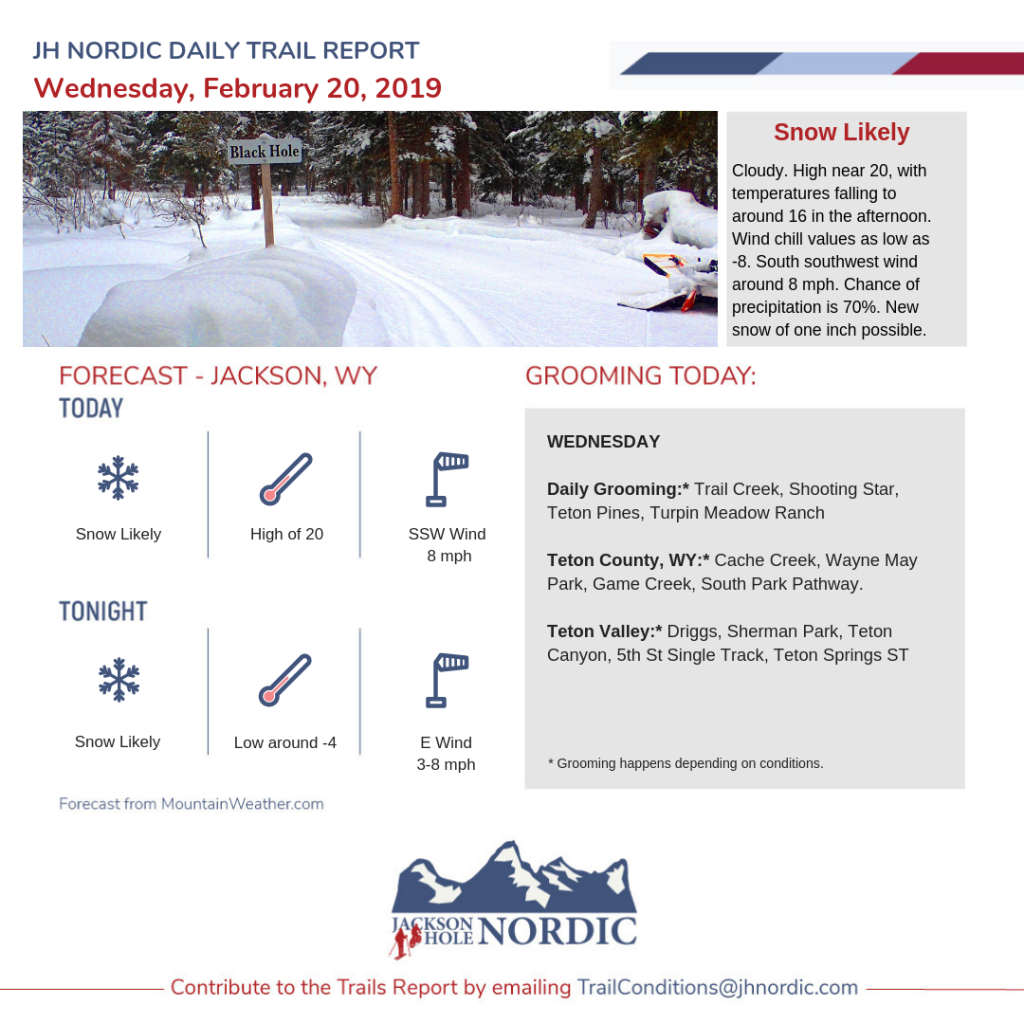 ---
Thank you for continually sharing your photos with us
of Nordic skiing in Jackson Hole
---
Game and Cache Creek Update
Jackson Ranger District/Bridger-Teton National Forest
Both Game and Cache Creek areas have had lower levels of use on most days recently and that may continue especially with the colder temperatures. Wildlife sightings, especially moose have been a daily occurrence now in the Cache Creek area. Skiers and those with dogs should be very aware of this fact when recreating on the popular trails around town. Last week there was a report of a dog in an east Jackson neighborhood who had an altercation with a moose and unfortunately the dog was killed. Just a reminder to always have your dog at your side or on leash to avoid any unfortunate experience with wintering wildlife, in and around the Jackson area. Be safe out there while enjoying the winter environment!
---
Touring at Taggart
It was a gorgeous day on Sunday.  Many, many folks enjoying the sun and fresh snow in the park. Here are a few pics of our day touring up to Taggart Lake.
– George D.
Thanks for the photos!

Last Updated: 2/19

Who Needs a Groomer?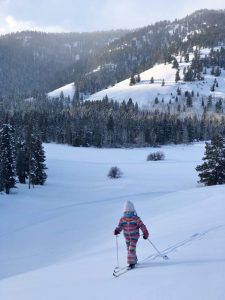 Something magical has happened in the past few days; a lovely crust has developed just under a few inches of light powder on top of the feet of snow base we currently have, opening up hundreds of square miles of Nordic adventure for the valley's cross country skiers.  While skaters will struggle a bit, classic skiers like one of Coach Kathy's Teewinots are able to go almost anywhere.  These conditions should last until the next big snow.
Today at Trail Creek was a busy day, preparing for the weekends IMD Youth Competition.  We are happy to report the Pisten Bully was back online today charging through tons of snow.  Today's grooming began with a total rework of the National Forest trails complete with fresh classic tracks.  The rest of the woods trails received a best line skate pass although the classic tracks there are mostly nice as well.  The fields then received extensive grooming with new trails and recently abandoned trails all being whipped into shape for the weekend's festivities.  The map below pretty much highlights what was done.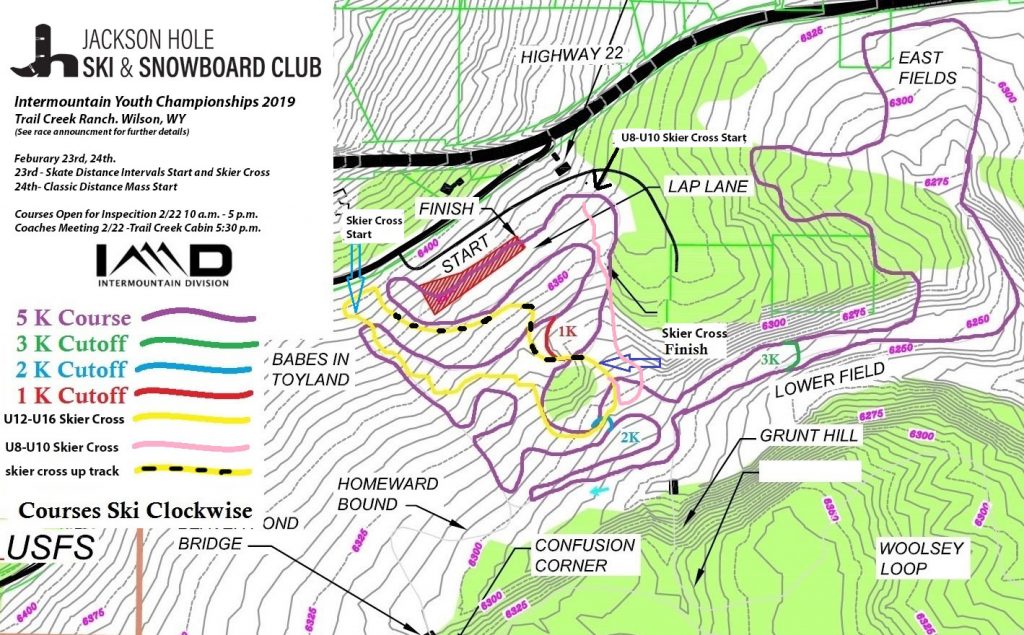 While all trails will be open through Friday, please limit your weekend activities to spectating (which you could do on skis) or skiing in the woods.
Groomer's choice for today is the National Forest Trails.
---
Turpin Meadow Ranch Grooming Report
Last Updated: 2/17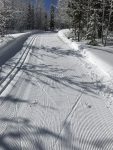 One avid Turpin trail user gave us huge compliment saying "these are the best Nordic trails in the country!" Come visit and become our next biggest fan. We have incredible trails, rental gear available, delicious food, and a cozy lodge. Get up here before the season is over, only 3 more weeks!
---
Teton Co./Jackson Parks & Rec Grooming Report
Last Updated: 2/19
8:30am: The school fields and the levee are groomed. Both are in good shape. Like usual the best skiing at the levee is once you get past the mile marker. Both trails are firm. I am heading to Stilson now and should be done around 10:45.
---
Grand Teton National Park Grooming Report
Last Updated: 2/19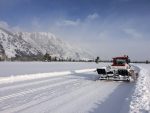 The sun is coming up in GTNP –  Grooming from Taggart to South Jenny this morning
---
Teton Pines Grooming Report
Last Updated: 2/18
Conditions are great! The temps will be chilly this week so make sure you use your cold wax. Stay tuned for information on our spring sale coming up soon!
Wax recommendations for the rest of this week: Glide Swix LF6(Blue); Grip Swix Blue
Visit our website at tetonpinesnordiccenter.com or call (307) 733-1733
---
Shooting Star Grooming Report
Last Updated: 2/16
Weather has finally calmed and the Nordic skiing should be great. Expect the trails to have a few quirky spots, as it will take a few days to work in the recent snowfall. Take a break from all the shoveling and go for a xcski!
Next Update: Wednesday
---
Grand Targhee Grooming Report
Last Updated: 2/19
A sneaky 2″, and it's still coming down! The holiday weekend is over, and for many that means it's time to head back to work –
but not you, you have snow to ski. There'll be live music tonight at the Trap featuring Calle Mambo from 3-6pm. Pair some jams
with the Tuesday night Taco and Tequila specials and you've got yourself some funky and fun après. Temperatures will remain low today, with a high near 7 degrees. Winds will switch North and range from 5-8 mph.
Cross Country/Fat Bike 15k: XC OPEN (Last groomed AM 2/19/2019), Fat Bike OPEN.
---
Pinedale Nordic Trail Report
Last Updated: 2/16 @ 9am
All trails above groomed this morning. About 1-2 inches of new snow overnight. 21F degrees. Road is plowed. Little breezy. Should be pretty good skiing. Also did the CCC trails last night – might be a little blown in today.
---
Alta Track
Grooming Schedule: Tuesday, Thursday, Saturday, Sunday
Last Updated: 2/19 @ 12am
Skate: Good |  Classic: Good
Driggs
Grooming Schedule: Monday, Wednesday, Friday
Last Updated: 2/19 @ 7am
Skate: Fair  |  Classic: Fair
Groomed Monday evening
Sherman Park
Grooming Schedule: Monday, Wednesday, Friday
Last Updated: 2/14 @ 11am
Skate: Fair |  Classic: N/A
Made a number of laps to reset the track Thursday am. It is a bit wet and soft but fair and skiable.
Teton Canyon
Grooming Schedule: Tuesday, Thursday, Saturday
Last Updated: 2/18 @ 7am
Skate: Good|  Classic: Good
Heading out to groom 0730. Should be done by 10am.
Teton Springs
Grooming Schedule: Monday, Wednesday, Saturday and Sunday
Last Updated: 2/17 @ 7pm
Skate: Excellent  |  Classic: Excellent
Set all tracks Sunday night, and all should set up nice overnight. All should be excellent skiing.
5th Street Singletrack
Grooming Schedule: Monday, Wednesday, Friday
Last Updated: 2/5 @ 11pm
Singletrack: Poor
Trail is snowmobiled in, but not groomed. Planning to roll it out tomorrow…stay tuned!
Teton Springs Singletrack
Grooming Schedule: Monday, Wednesday, Friday
Last Updated: 2/17
Singletrack: Poor
Marked conditions as poor due to windblown hardpack that will breakdown with traffic
Southern Valley Single Track
Grooming Schedule: As Needed
Last Updated: 2/19 @ 11pm
Singletrack: Good
Groomed
Powerline to Pole Canyon
Nemo
Grumpy
Upper Ladyslipper
West Yellowstone Rendezvous 2019 Race – 2K, 5K, 10K, 25K classic, 25K & 50K freestyle 
When:  Saturday, March 2
Where: Rendezvous Trails, West Yellowstone, MT
www.skirunbikemt.com/rendezvous-race.html
---
US College Ski Association (USCSA) Championships – Nordic Races

When: Sunday, March 10
Where: Trail Creek Nordic Center, Trail Creek Road – off Hwy 22, Wilson WY
jhskiclub.org/event/uscsa-national-champs
---
Send us your event dates, stories, photos
Follow JHNordic on Facebook, Instagram @JHNordic, #JHNordic
Sign up for Daily or Once a Week JH Nordic Trail ConditionReports to know what's groomed, what's happening first thing every morning – or just Saturdays.