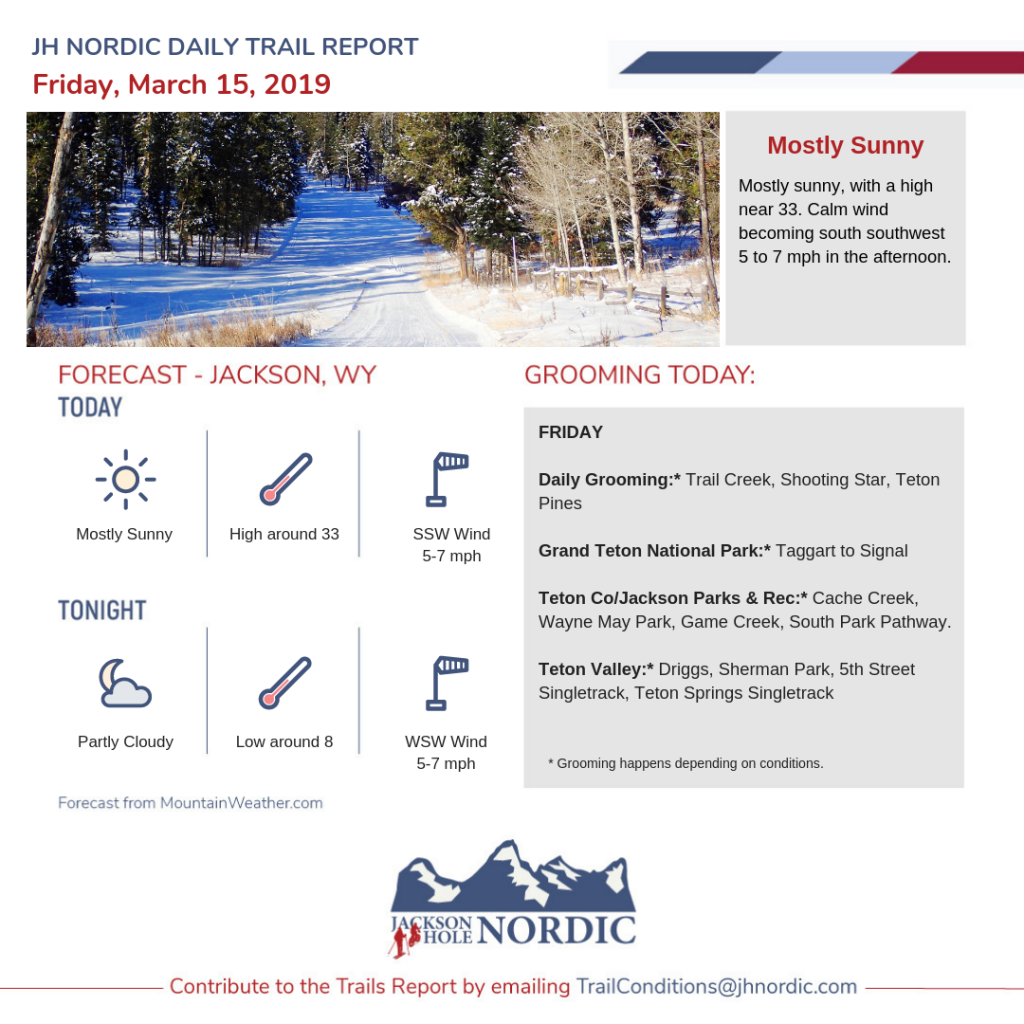 ---
Thank you for continually sharing your photos with us
of Nordic skiing in Jackson Hole
---
Trail Report – White Grass Ranch
Nordic Thursdays – Whitegrass Ranch – GTNP by classic XC skis -fun to explore rarely visited areas of open space in GTNP.
Tracks from Death Canyon Rd/Moose-Wilson Rd trailhead were firm, slippery. Once we got up to the summer dirt road section, we crossed over into the edge of the meadow, following the orange markers for a softer ski (vs the summer road, which was hard, in rolling waves , tracks set by AT skis heading to Mt. Albright.
Whitegrass Ranch is a historic group of cabins, a former famous dude ranch set above a vast meadow, near the summer Death Canyon Trailhead. It was renovated a few years ago with historic preservation expertise from GTNP and regional preservation National Parks staff, and now serves as a National Parks Historic Preservation training center in the summer. An easy classic XC ski from the intersection of the Moose-Wilson Road & Death Canyon road (access visa Moose. The views across the central Jackson Hole Valley and the northern Gros Ventre Range are spectacular, as are views to the west of Beuck Mtn, Statuc Peak, Mt Albright and Maverick.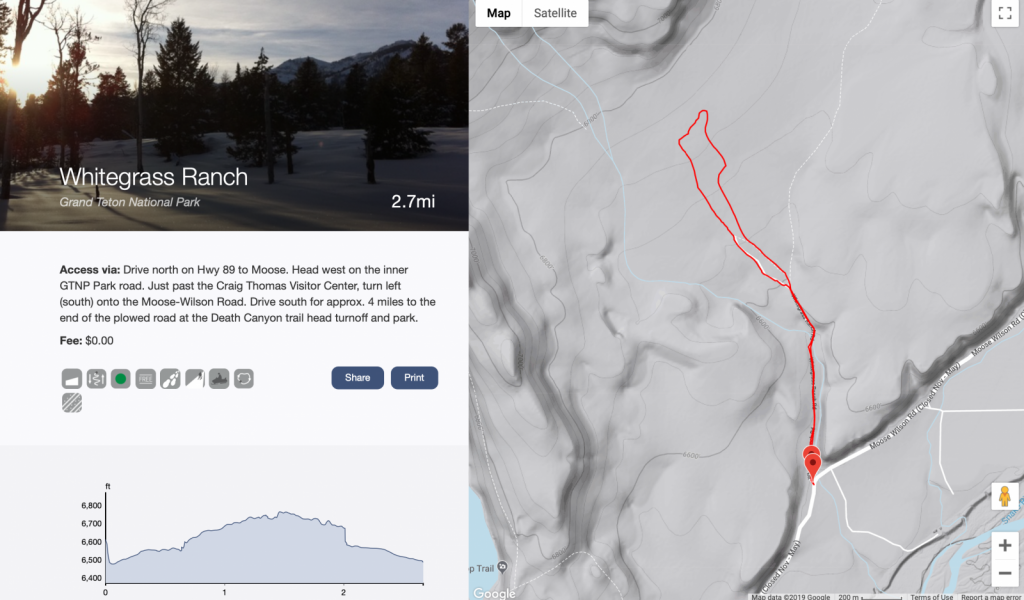 ---
Yesterday's Junior Nordic Race in Anchorage
Images below are from yesterdays classic sprint qualifier. Elijah Weening, Sam Johnson, Bridger Stiles, & David king all moved on to the sprint quarter finals. All kids raced their best with 10th's of seconds determining the span of five to ten places – very tight.
Mass start classic on Friday and team relays on Saturday.
---
End of season grooming updates:
Monday March 11 – Last day for grooming (and lunch) at Turpin Meadow Ranch
Friday March 15 -Last day for GTNP grooming-Taggart to Signal Mtn (Teton park road)
Wednesday March 20th – Last day – Teton Pines Nordic grooming
Saturday -March 30th -Last grooming day for TC/J Parks & Rec trail grooming
Sunday March 31st – Trail Creek grooming -last day
You can also reference:  https://jhnordic.com/grooming/

Last Updated: 3/14
Rest Day!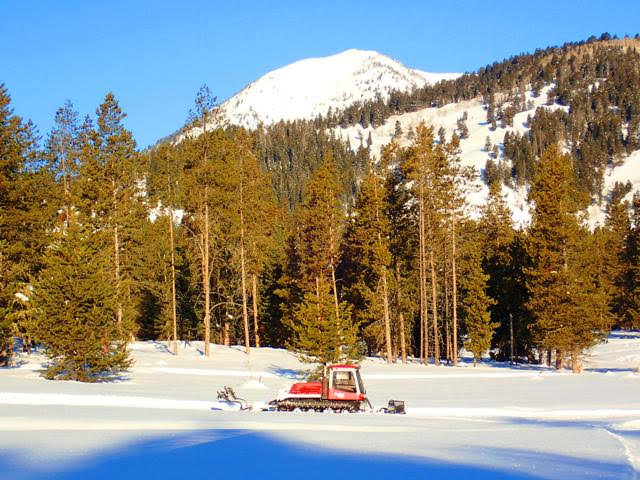 No racing today at Trail Creek although if you come out to enjoy the bountiful sunshine in our glorious fields you will quite likely run into a few of our collegiate racers, doing a practice run in preparation for the final two days of racing.  In addition to lots of sunshine, and perhaps a racer or two, you will find calm winds, a 10 AM temperature of -4ºC/24ºF, and a just plain beautiful spring skiing day.
Today's very early morning grooming did double skate only Pisten Bully passes on all of the USCSA race courses with single best line Pisten Bully skate passes on Woolsey, Outward/Homeward Bound, and Saturday's Sandbag Final Course.  There are still pretty good classic tracks in the woods although the Woolsey area is looking a bit like a feedlot with all the moose and elk poop on the trails.  The rest of the trails however, should ski very nicely today.
Coach Kathy was out yesterday and shot the great racing images below.
Groomer's choice for today is a restful Nordic ski.
---
Last Updated: 3/10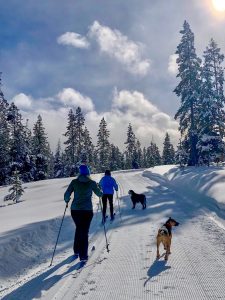 *Thanks for a wonderful winter Jackson and JH Nordic Alliance!
Last call: this was the closing weekend for Turpin's winter season. Monday March 11 is the last day that trails will be groomed and lunch will be served this winter.
Big thanks to Turpin for hosting the Annual JH Nordic Alliance Free Nordic Ski, Fat Bike, Snowshoe day in January. Mark your calendar for the 4th Annual Free event next year on Sunday, January 5th 2020!!
---
Grand Teton National Park Grooming Report
Last Updated: 3/12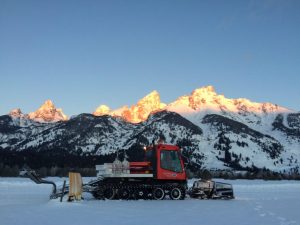 Watching the sunrise over the Tetons this morning as we head to Signal Mountain.  Enjoy the sunshine today.
---
Teton Pines Grooming Report
Last Updated: 3/2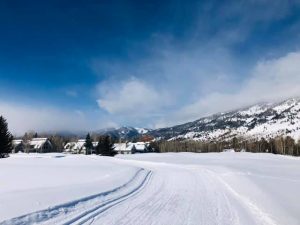 Come out and ski!! The sun is out and the skate skiing is awesome!! The classic track is groomed but the skate conditions are better. The next few mornings will start with cold temps so we recommend waiting until mid-morning once things soften up. March is here, so expect the freeze thaw cycle to continue for the remainder of the season. We are open 9am-4pm daily. Please give us a call at: (307)733-1733 with questions.
---
Shooting Star Grooming Report
Last Updated: 3/13
FYI…Our black sand operation is complete. Thanks for your patience.
Nordic Conditions continue to be very nice and should boast fast skiing. Look for light snow today followed up by warmer & sunnier weather. Be advised that Spring conditions are beginning. For the remainder of the season expect the track to be ever changing based on temperatures and sun exposure. Firm/icier conditions will generally last through the early afternoon and then gradually soften as temperatures warm. Overall, skiing should be very enjoyable!
Next Update: Saturday
---
Grand Targhee Grooming Report
Last Updated: 3/14
The snow is also ultra-light and soft due to the colder temperatures. Get up early and ski off what wasn't skied yesterday, then start getting into that sunny-skies/warm weather mindset with sunglasses, goofy outfits, old school planks and the penchant for fun that inevitably arrives this time of year!
Cross Country/Fat Bike 15k: XC OPEN (Last groomed AM 3/14/2019), Fat Bike CLOSED.
Alta Track
Grooming Schedule: Tuesday, Thursday, Saturday, Sunday
Last Updated: 3/14 @ 2pm
Skate: Good  |  Classic: Good
Ginzu groomed the entire Alta Track. Reset classic tracks and buffed out the 2 inches of snow (from yesterday) that was on the skate lanes. Finished up around 3pm (Thursday). Should set up nicely and be skiing pretty well!
Driggs
Grooming Schedule: Monday, Wednesday, Friday
Last Updated: 3/13 @ 4pm
Skate: Fair  |  Classic: Good
Tomorrow should be great. Classic tracks looks good. Skating soft, but may set nicely tonight. All loops groomed.
Sherman Park
Grooming Schedule: Monday, Wednesday, Friday
Last Updated: 3/13 @ 3pm
Skate: Good |  Classic: N/A
Teton Canyon
Grooming Schedule: Tuesday, Thursday, Saturday
Last Updated: 3/13 @ 6am
Skate: Good  Classic: Good
Heading out to groom 8am. Should be done around 10:30. Planning to set both classic tracks and skate lane.
Teton Springs
Grooming Schedule: Monday, Wednesday, Saturday and Sunday
Last Updated: 3/14 @ 7am
Skate: Good |  Classic: Excellent
Groomed out the 4-6 inches of new powder last night. Classic has been reset and looks great. Skate combed out nicely, but it'll be quite soft and bumpy in a few places.
Yeti's Loop
Grooming Schedule: As Needed
Last Updated: 3/13 @ 2am
Skate: Excellent  |  Classic: Excellent
Just finished grooming the Yeti. It always takes longer than anticipated…so much hair. Anyways, classic track is set for counter-clockwise skiing and the skate lane should be amazing. The trail is rather narrow so pay attention and stay in control.
Don't forget about the orange donate button.
Enjoy!
5th Street Singletrack
Grooming Schedule: Monday, Wednesday, Friday
Last Updated: 3/1 @ 8am
Singletrack: Not set
Trails closed for wildlife. Please respect closure till snow recedes.
Thanks
Teton Springs Singletrack
Grooming Schedule: Monday, Wednesday, Friday
Last Updated: 3/8 @ 7pm
Singletrack: Poor
Did two passes earlier today and got it established again, then it started snowing…
Southern Valley Single Track
Grooming Schedule: As Needed
Last Updated: 3/11 @ 3pm
Singletrack: Excellent

---
US College Ski Association (USCSA) Championships – Nordic Races

When: March 12-16
Where: Trail Creek Nordic Center, Trail Creek Road – off Hwy 22, Wilson WY
---
Shuttled Skate Ski from Signal Mountain to Bradley-Taggart 
When: Tuesday, March 12
Where: Meet at the Bradley-Taggart parking area
Professional Nordic skier Scott McGee and park ranger Elizabeth Maki will lead the group on a shuttled skate ski adventure from Signal Mountain to Bradley-Taggart on 14-miles of freshly groomed corduroy. GTNPF.org
---
Rendezvous River Sports Karen Oatey Pole-Pedal-Paddle (PPP) – part of the Triple Crown series
When: Saturday, March 23
Where: Nordic leg: Shooting Star Nordic Trail – Access via Shooting Star maintenance access road -1 mile south of Teton Village
jhskiclub.org/triplecrown
---
Send us your event dates, stories, photos
Follow JHNordic on Facebook, Instagram @JHNordic, #JHNordic
Sign up for Daily or Once a Week JH Nordic Trail ConditionReports to know what's groomed, what's happening first thing every morning – or just Saturdays.