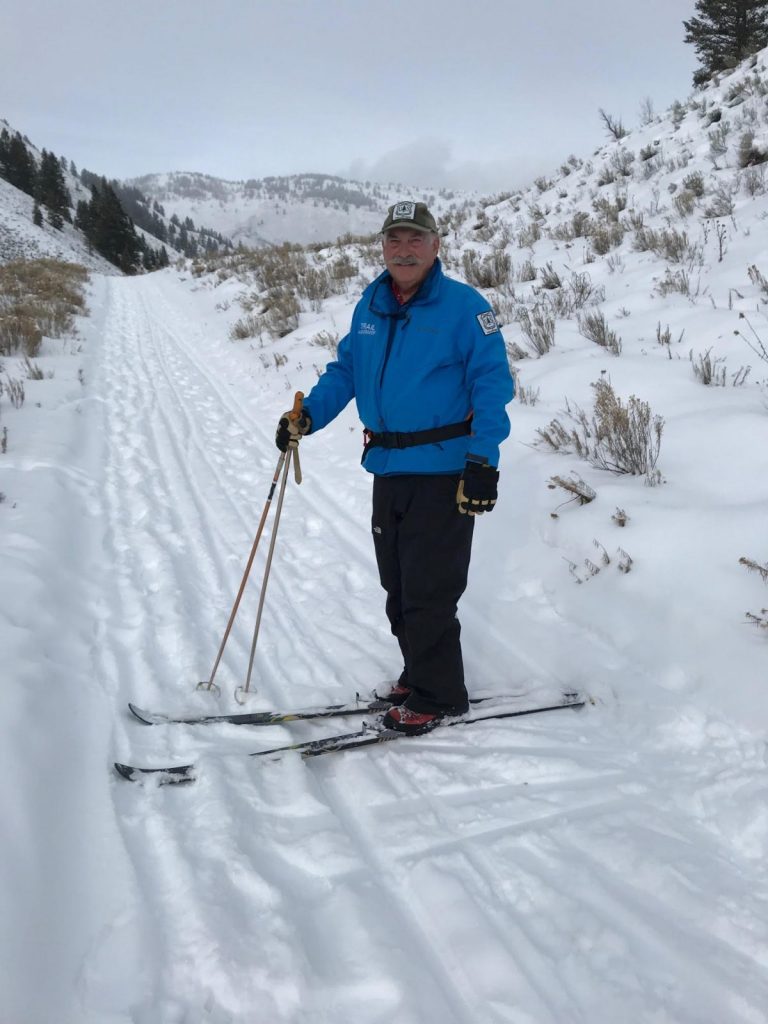 Al has been participating in the Winter Trail Ambassador Program for the last 3 years since the program's inception. He is an avid XC skier and regularly patrols Game Creek, Nelson/Putt-Putt Trail and Cache Creek Areas. Al has lived in Jackson Hole for 45 years. He worked for 8 seasons as a park ranger in GTNP and then was employed for 35 years by Teton County, the majority of it as the parks superintendent for the Teton County/Jackson Parks and Rec. Dept., retiring in the spring of 2014.
When Al was asked why he became a Winter Trail Ambassador he explained: "When I was with the Parks and Rec. Dept. we used to groom snowmobile trails for the State of Wyoming. One of the trails I groomed was Cache Creek up to Noker Mine Draw. Later on, I managed the department's winter trail grooming program for many years. Because of this history I have a special attachment to these trails and wish to have a hand in their stewardship.
I continue to be an ambassador because I think the program is making a positive impact on the user's experience despite increasing numbers of users. Additionally, since winter is my favorite season being a winter trail ambassador fits with my passion not only to ski Cache and Game Creeks but also to ski tour around the valley while at the same time giving back, in a small way, to the community that has given so much to me. In my role as an ambassador I enjoy talking with folks out on the trails. When asked what the most rewarding and most challenging aspects of the ambassador program are, Al said; "I find it most rewarding that the presence of ambassadors out on the trails contributes to maintaining the environmental quality of these two drainages and, by making positive trail user contacts, helps to educate users on trail etiquette and the importance of protecting wildlife when we are in such close proximity to these animals on their critical winter range".
Finally, Al shared that the program can continue to be improved by further providing awareness and education to users of these special places through effective signage, public service announcements and social media outlets.
Please respect Winter Wildlife Closures and Don't Poach the Powder (Crucial Winter Range is closed to all human activity from December 1st through April 30th) annually
Obey the posted Leash Zones (trailhead parking areas of Cache Creek, Game Creek, the first 1.3 miles of the Game Creek Trail and the entire Putt-Putt Trail
Control your dog, always carry a leash, pick up after your dog and when confronted by wildlife on the trail consider turning back
Do not ride (Fat Bikes & snowmobiles) on the groomed XC ski track
E-bikes are not allowed on winter use trails
Share the trails and always respect others recreating in the forest