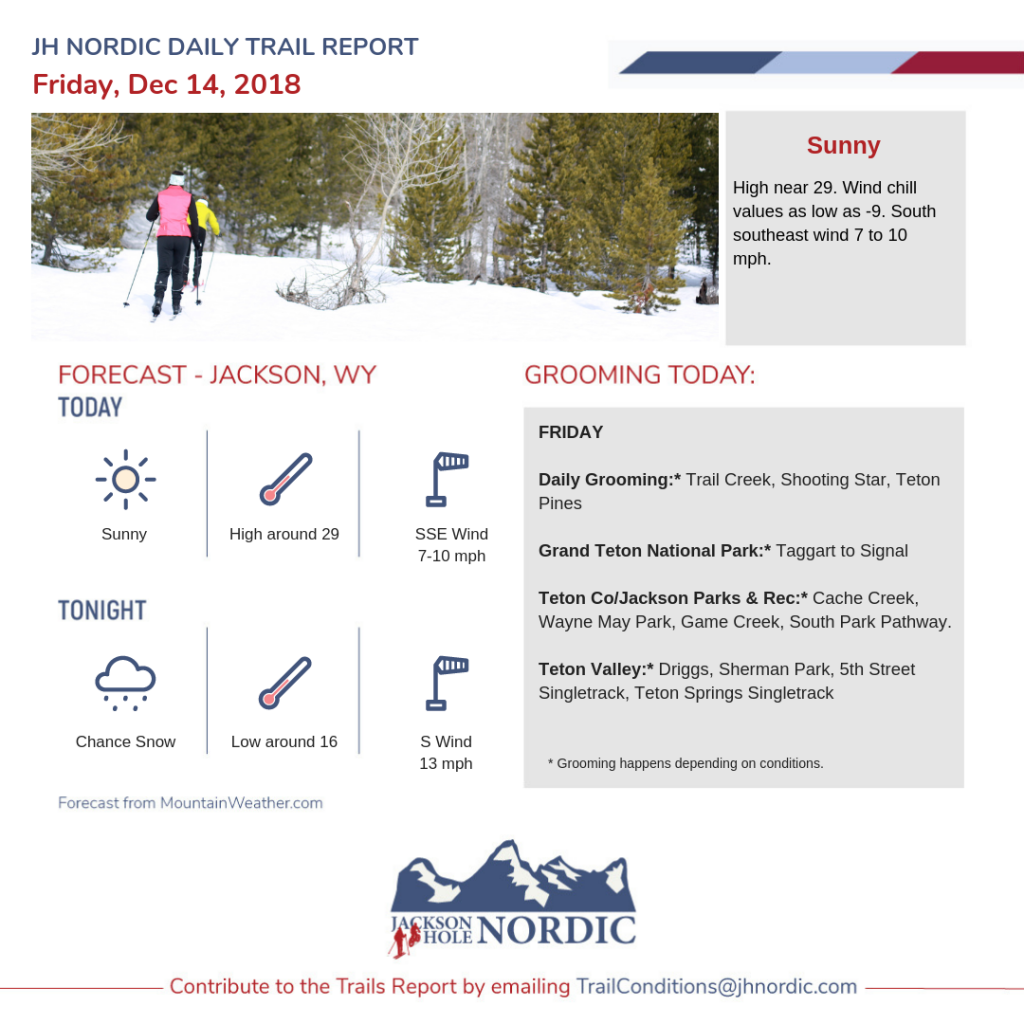 ---
Turpin Meadow Ranch Opens Today!
Head out to Turpin today for their opening day of the winter season!
---
Lesley Williams-Gomez and Mike Piker talk updates on winter recreation in the Forest – fat bikes, skiing, dog etiquette and more in this sound clip from KHOL.  http://www.891khol.org/forest-service-winter-updates/
---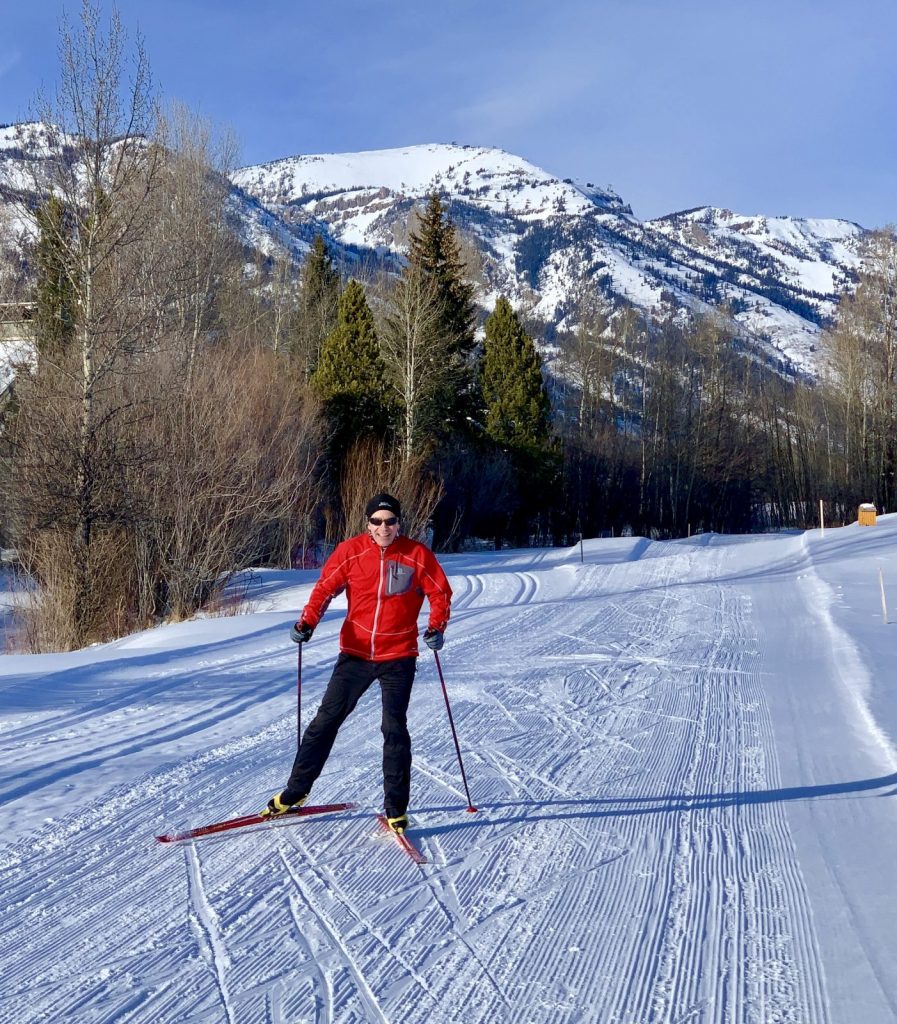 New! Recreation Nordic Master's Program
Starts Dec 20th, 11am-12:30pm at Teton Pines Nordic Center.
Tips, technique, fun- Meets every 2 weeks from Dec 20-Feb 28. Masters Nordic instructor coaches, daily groomed Nordic Trails,  Skate and Classic Nordic .
Dates: Dec 20, Jan 3, Jan 17, Jan 31, Feb 14, Feb 28
First clinic: Dec 20th, sign in at Teton Pines Nordic Center shop at 10:45a to be on the snow at 11.
Trail Pass + Nordic coaching – Tips & Technique, alternating Classic cross-country and skate skiing: 
-$150 for 6 clinics at Teton Pines with coaching, includes Teton Pines Nordic day Trail pass for each clinic
-$100 for 6 clinics for existing Teton Pines Nordic Pass holders. 
-Season Passes and 10 punch cards available for adults and seniors separately from Teton Pines Nordic Center.
Drop-in clinic and trail pass: $35
Clinic only:  $30.
Alternate Thursdays: the Rec Masters group will plan independently to visit other regional Nordic trails , no coaching, car pool, pay-as you go (i.e. GTNP, Trail Creek, Cache , Game, Teton Canyon, Targhee, etc.)
More info? Contact Nancy at info@jhnordic.com. 650-464-6000
---
GROOMING REPORTS
---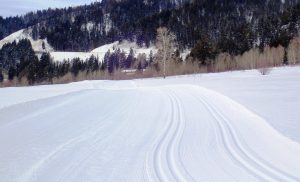 Last updated: 12/13
Double Classic Tracks!
Today at Trail Creek was a catch up day with the result being that most of yesterday's lovely snow has been transformed into some very nice ski tracks.  As of 12:15 PM the temperature is -9ºC/16ºF with a very thin overcast, calm winds, and the most classic tracks we have had yet this year plus double classic tracks throughout the close field.
The Pisten Bully was able to make quick work of the soft stuff; making double passes complete with fresh classic tracks nearly everywhere.  While the corduroy and classic tracks are nice and crisp, the skate lanes might be just a smidge soft yet.  About 20% of the classic tracks are still from late in yesterday's grooming.  While we are getting really close for the East Fields, the ruler is still not quite at the 24 inches usually required although negotiations are ongoing.
Groomer's choice is Homesite.
 Click Here to Buy your Trail Creek Pass!
---
Shooting Star Grooming Report
Last Updated: 12/12
The recent snow accumulations allowed us to set the classic tracks today. Although our snowpack is still on the lower side, we expect to continue setting the classic tracks for the foreseeable future. Anticipate snow showers today with occasional drifting. Outlook is for calmer weather tomorrow and conditions should continue to firm up through Friday. Next update will be Saturday. Have fun.
Below are some other details:
Classic tracks won't be set on holes 1 & 2 until more snow accumulates.
Tight corners may be soft/rough as its difficult for the grooming equipment to navigate through them(Example: Sharp Turn from 8 Green to 9 Tees)
Early Season Conditions Persist (Rocky/grassy/Inconsistent profile depth & compaction)
Enjoy!
---
Grand Teton National Park Grooming Report
Last Updated: 12/14
There are no groomed tracks in the park as of Wednesday.  A foot of snow fell and no one had skied beyond the Cottonwood Creek Bridge.
Grooming is scheduled from Taggart to Signal today.
---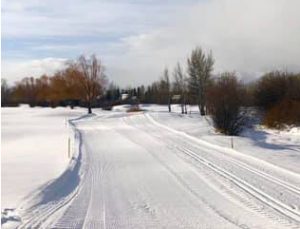 Last Updated: 12/11
We have great conditions that will get even better with Wednesday's new snow. The wax recommendation for Wednesday is Swix LF 7(violet). We have received lots of new items from Swix, Craft, Bjorn Daehlie, Salomon, and Skida, so come see us to get outfitted with the latest nordic gear! We are open 9am-4pm daily!
---
Last Updated: 12/13
8:30am: The school fields and the levee are finished and in great shape. Both classic and skate lanes should ski well. Stilson will be done around 11:00am.
9:50am: The Pistenbully is currently broken down. The main loop at Stilson is finished and a skate lane to Wilson is in good shape. I will update once we have a time frame for the Pistenbully to be repaired. As of now I will take the roller out tomorrow.
6:50pm: The Pistenbully is fixed thanks to our snowcat mechanic, Berg! I have to pick it up tomorrow morning so all trails will be finished a bit later than usual.
Cross Country/Fat Bike 15k: XC OPEN (Last groomed AM 12/12/2018), Fat Bike OPEN.
---

Alta Track
Grooming Schedule: Tuesday, Thursday, Saturday, Sunday
Last Updated: 12/13/2018 10:53:57
Skate: Good  |  Classic: Good
Comments: Andy went out Wednesday night to roll out the new snow and set the track. I went out this morning to reset the classic track on some wind affected loops. I made a couple of passes to widen the trail where last night's wind created minor drifting. Conditions are firm and groomed generally flat.
Driggs
Grooming Schedule: Monday, Wednesday, Friday
Last Updated: 12/6/2018 20:45:13
Skate: Poor  |  Classic: Not Set
Comments:Plowed a bunch of snow in the ditches and rolled out the trail to establish a base. The base depth is more shallow than the mowed grass. I'd recommend waiting till we get a few more inches of snow before skiing the Driggs Track. Let it snow!!!
Sherman Park
Grooming Schedule: Monday, Wednesday, Friday
Last Updated: 12/11/2018 20:49:31
Skate: Fair  |  Classic: Not Set
Comments: Got the park rolled out this evening! It will be a good base for more snow to come tomorrow. It's good to be skiing in Victor!
Teton Canyon
Grooming Schedule: Monday, Wednesday, Saturday and Sunday
Last Updated: 12/13/2018 7:52:43
Skate: Good |  Classic: Good
Comments:Thursday: Yesterday made 4 passes with the roller to compact the 8-12 inches of new snow. This morning plan to use the Ginzu to reset both skate and classic tracks. After cold night, think both should turn out well, if not a bit soft. Finish by 11am.
Teton Springs
Grooming Schedule: Tuesday, Thursday, Saturday
Last Updated: 12/13/2018 10:24:29
Skate: Good |  Classic: Good
Comments: I rolled out about 6″ of fresh snow from yesterday's storm. It packed well, but will remain soft for a bit. There is still some vegetation poking through, but the coverage is good overall and everything is very skiable. I laid out the classic track and the skate track; they should be nice once they set up a bit. Keep an eye out for two beautiful swans on one of the ponds near the track. Enjoy!
Teton Springs Singletrack
Grooming Schedule: Monday, Wednesday, Friday
Last Updated: 12/9/2018 21:12:02
Singletrack: Excellent
Comments: Ran drag 1x on loop
5th Street Singletrack
Grooming Schedule: Monday, Wednesday, Friday
Last Updated: 12/1/2018 10:26:20
Singletrack: Excellent
Comments: Rode-in 5th St. this AM. Fast, fun and tight! Start north of skatepark for 1mi figure-8. Happy Global Fatbike day! Go grab a demo bike from local shops.
Southern Valley Single Track
Grooming Schedule: As Needed
Last Updated: 12/9/2018 21:11:12
Singletrack: Good
Comments: Ran drag 2x on upper Ladyslipper to Grumpys intersection
For more info on Teton Valley grooming, visit their grooming page.
---
Last Updated: 12/13
Half Moon Tie-In, Kelly Park, Kelly Tie-In, Upper & Lower Surveyor, Tree Loop, Moose Ridge, Flat Line and Old Road Trail all groomed this morning. Also Heart Attack has been packed, but it is not recommended yet. A couple of inches of new snow. Cold this morning. 1F at the Nordic Equipment Building as of the time of this report, was -20F earlier this morning in Lower Surveyor Park.
This Nordic Ski Trail grooming report is courtesy of the Sublette County Recreation Board.
---
UPCOMING EVENTS
---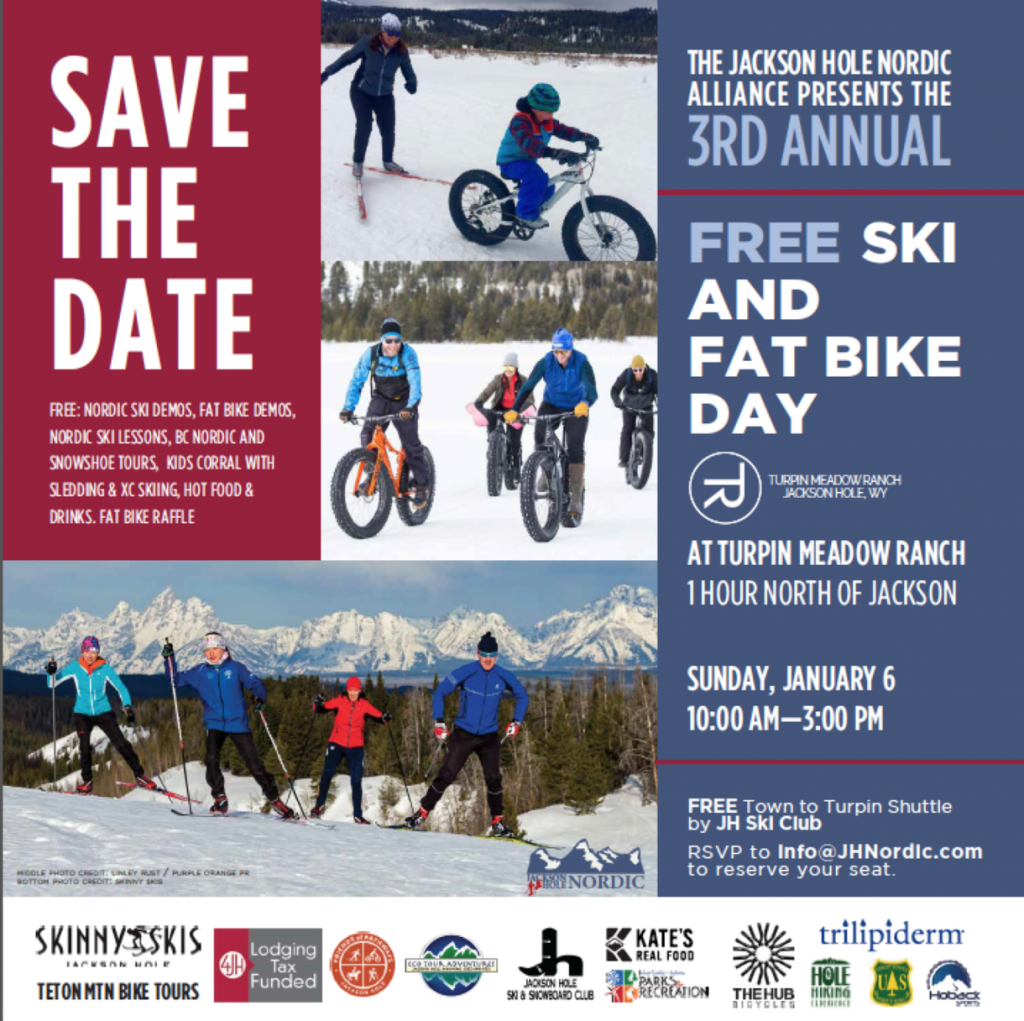 For more events, visit our events page.