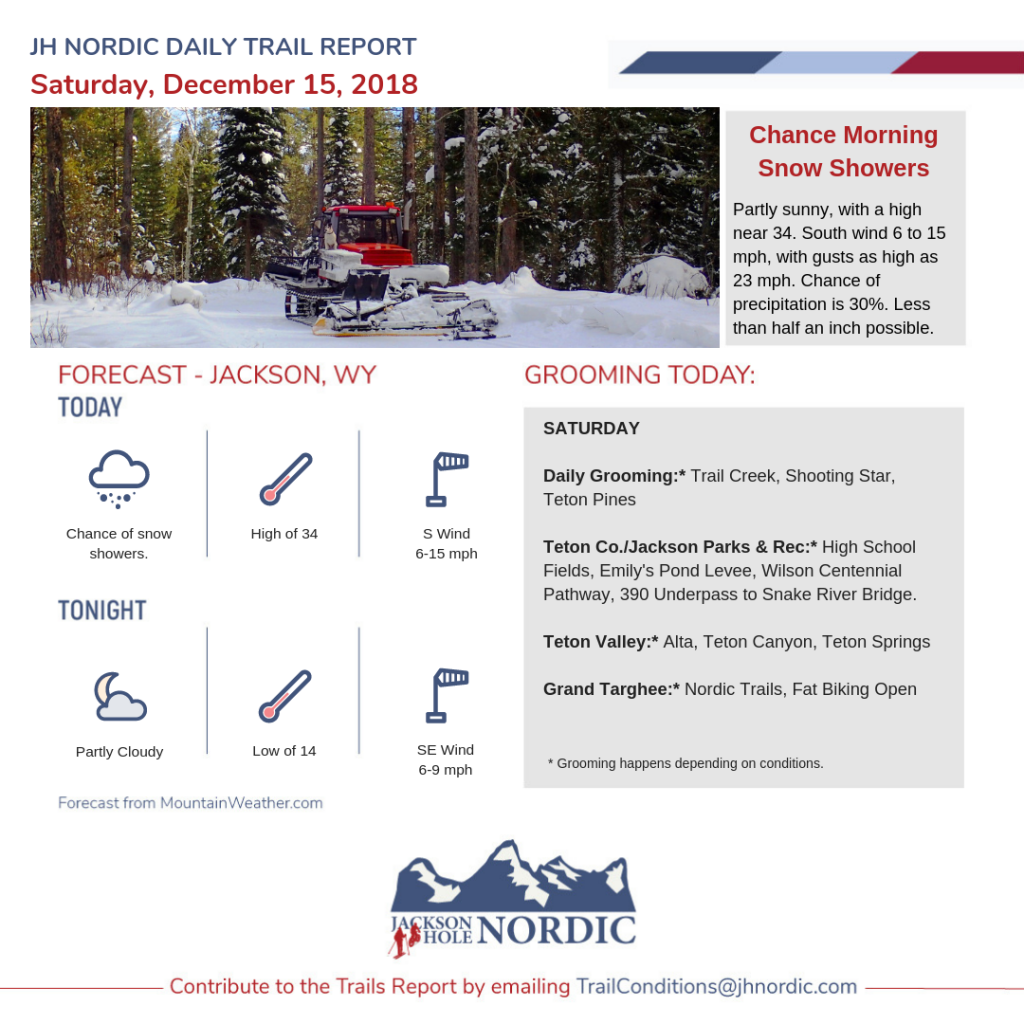 ---
JHSC Club and Community Nordic Update
Happenings of the JHSC Nordic Program, Trail Creek Nordic Center, and Local Nordic Community
In the wild and crazy Nordic world of the Jackson Hole Ski and Snowboard Club, and the wonderful supporting community, sometimes it's hard to keep track of what is actually going on.  In an effort to make information flow, about every two weeks this season an update will be posted.  Welcome to the first edition! Read More.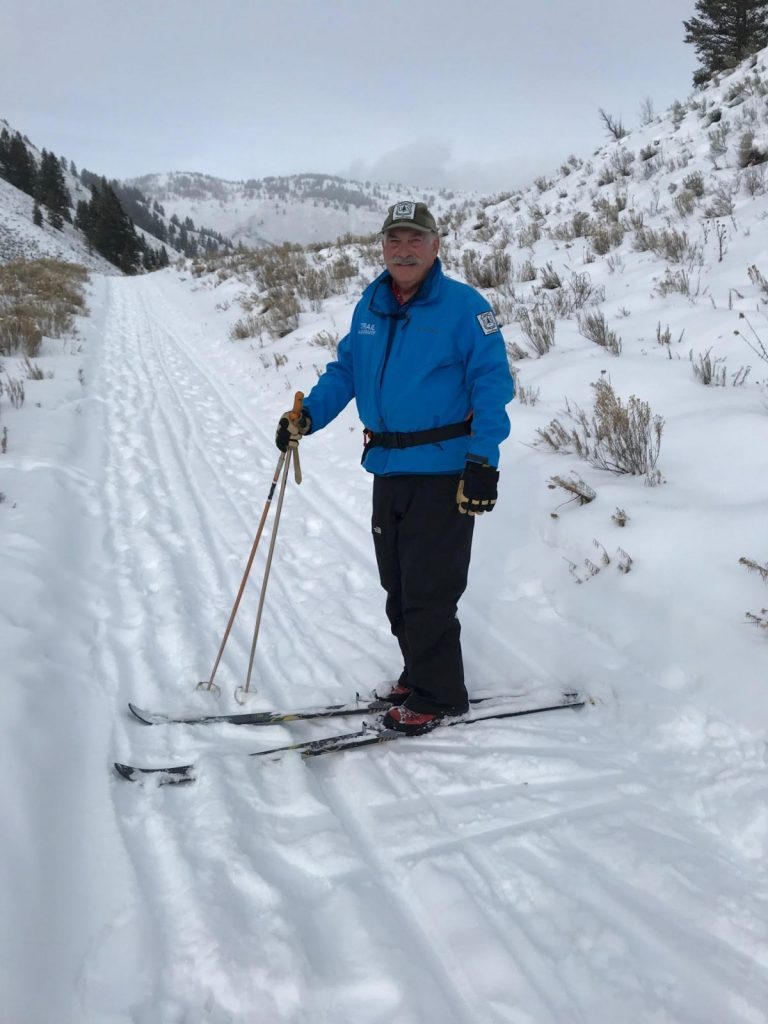 ---
Winter Trail Ambassador Spotlight: Al Zuckerman
Al has been participating in the Winter Trail Ambassador Program for the last 3 years since the program's inception. He is an avid XC skier and regularly patrols Game Creek, Nelson/Putt-Putt Trail and Cache Creek Areas. Al has lived in Jackson Hole for 45 years. He worked for 8 seasons as a park ranger in GTNP and then was employed for 35 years by Teton County, the majority of it as the parks superintendent for the Teton County/Jackson Parks and Rec. Dept., retiring in the spring of 2014.
---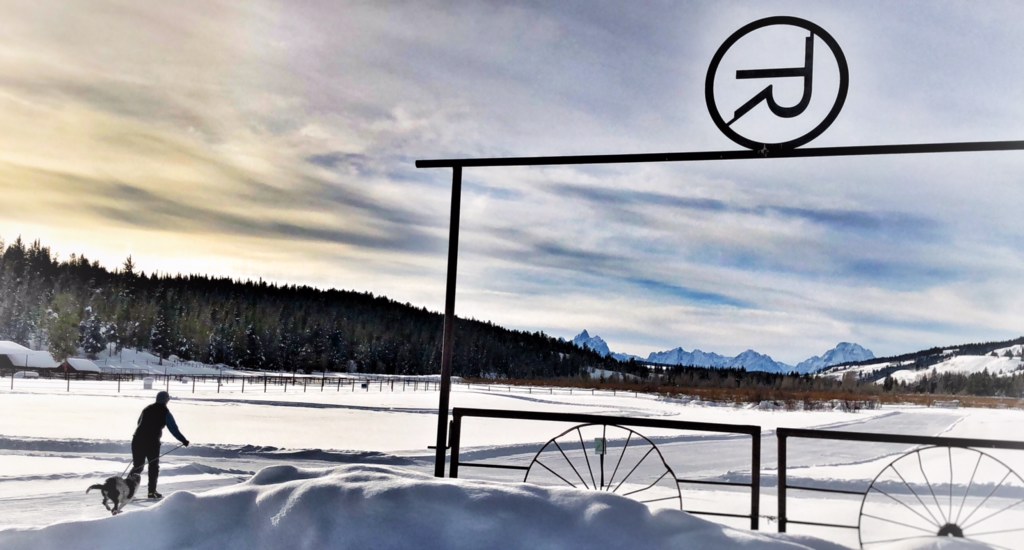 Turpin Meadow Ranch Opening Weekend!
We are proud to say that all of our trails have been groomed, including our fat bike single track! The summer homes loop is thin on the far side from the ranch and there are willows poking up in places. In general we'd all love more snow but the views of the Teton and Absaroka Mountains can't be beat. The lodge is decorated for the season and the staff is ready to serve you! 
---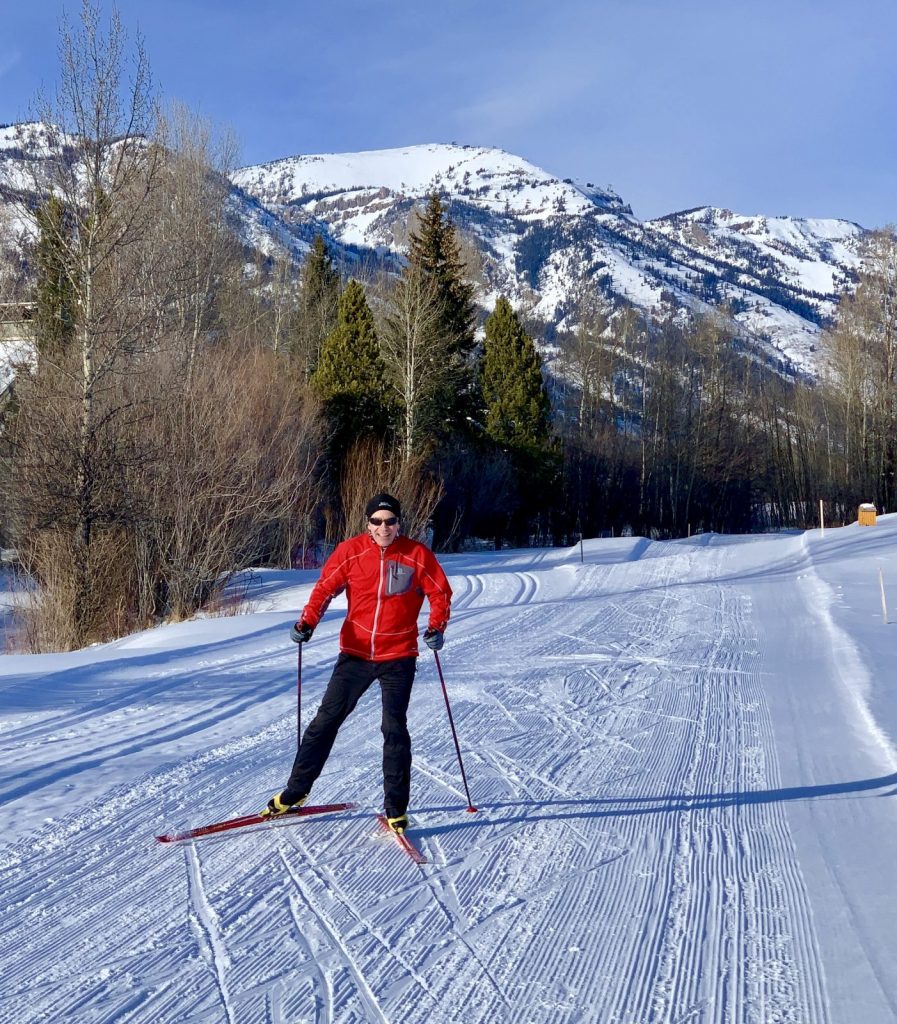 New! Recreation Nordic Master's Program
Starts Dec 20th, 11am-12:30pm at Teton Pines Nordic Center.
Tips, technique, fun- Meets every 2 weeks from Dec 20-Feb 28. Masters Nordic instructor coaches, daily groomed Nordic Trails,  Skate and Classic Nordic .
Dates: Dec 20, Jan 3, Jan 17, Jan 31, Feb 14, Feb 28
First clinic: Dec 20th, sign in at Teton Pines Nordic Center shop at 10:45a to be on the snow at 11.
Trail Pass + Nordic coaching – Tips & Technique, alternating Classic cross-country and skate skiing: 
-$150 for 6 clinics at Teton Pines with coaching, includes Teton Pines Nordic day Trail pass for each clinic
-$100 for 6 clinics for existing Teton Pines Nordic Pass holders. 
-Season Passes and 10 punch cards available for adults and seniors separately from Teton Pines Nordic Center.
Drop-in clinic and trail pass: $35
Clinic only:  $30.
Alternate Thursdays: the Rec Masters group will plan independently to visit other regional Nordic trails , no coaching, car pool, pay-as you go (i.e. GTNP, Trail Creek, Cache , Game, Teton Canyon, Targhee, etc.)
More info? Contact Nancy at info@jhnordic.com. 650-464-6000
---
GROOMING REPORTS
---
Last updated: 12/14
At Trail Creek, benign weather made it possible for the grooming to occur earlier than normal today, which also accommodated incoming family.  The recent snowfall has pretty much all been tamed into some really nice skiing, so that all that was needed was a buff-out of the skate lanes by the Pisten Bully.  A few classic tracks were also touched up and, all in all, today should be a great day to ski with firm and fast tracks all around.
With forecast highs to be in the 20's and really nice conditions, it's a great Friday to kick off early and head on out to Trail Creek for an awesome Nordic ski!
 Click Here to Buy your Trail Creek Pass!
---
Shooting Star Grooming Report
Last Updated: 12/12
The recent snow accumulations allowed us to set the classic tracks today. Although our snowpack is still on the lower side, we expect to continue setting the classic tracks for the foreseeable future. Anticipate snow showers today with occasional drifting. Outlook is for calmer weather tomorrow and conditions should continue to firm up through Friday. Next update will be Saturday. Have fun.
Below are some other details:
Classic tracks won't be set on holes 1 & 2 until more snow accumulates.
Tight corners may be soft/rough as its difficult for the grooming equipment to navigate through them(Example: Sharp Turn from 8 Green to 9 Tees)
Early Season Conditions Persist (Rocky/grassy/Inconsistent profile depth & compaction)
Enjoy!
---
Grand Teton National Park Grooming Report
Last Updated: 12/14
Bluebird day in the Tetons.  Grooming in Grand Teton National Park.  Taggart Lake trail head to Signal Mountain.  No snow in the immediate forecast should make for nice cross country skiing all weekend long.
---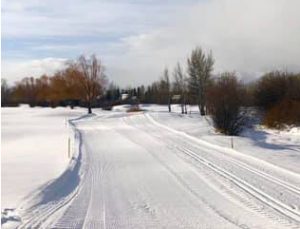 Last Updated: 12/11
We have great conditions that will get even better with Wednesday's new snow. The wax recommendation for Wednesday is Swix LF 7(violet). We have received lots of new items from Swix, Craft, Bjorn Daehlie, Salomon, and Skida, so come see us to get outfitted with the latest nordic gear! We are open 9am-4pm daily!
---
Last Updated: 12/14
7:00am: We are currently having another issue with the Pistenbully. Once again I will have to roll Cache and May Park. If there is no new snow at Game I will not be doing anything there. If I try to roll it I will make things worse.
10:30am: I only rolled Cache Creek today. All other trails are still in good shape from the last grooming so I didn't want to ruin them with our snowmobile groomer. I will update once the Pistenbully is fixed and I can resume grooming.
Cross Country/Fat Bike 15k: XC OPEN (Last groomed AM 12/13/2018), Fat Bike OPEN.
---

Alta Track
Grooming Schedule: Tuesday, Thursday, Saturday, Sunday
Last Updated: 12/13/2018 10:53:57
Skate: Good  |  Classic: Good
Comments: Andy went out Wednesday night to roll out the new snow and set the track. I went out this morning to reset the classic track on some wind affected loops. I made a couple of passes to widen the trail where last night's wind created minor drifting. Conditions are firm and groomed generally flat.
Driggs
Grooming Schedule: Monday, Wednesday, Friday
Last Updated: 12/14/2018 12:50:59
Skate: Fair  |  Classic: Fair
Comments: Heading out to set the classic track. Skate track set yesterday, should be good for the weekend.
Sherman Park
Grooming Schedule: Monday, Wednesday, Friday
Last Updated: 12/11/2018 20:49:31
Skate: Fair  |  Classic: Not Set
Comments: Got the park rolled out this evening! It will be a good base for more snow to come tomorrow. It's good to be skiing in Victor!
Teton Canyon
Grooming Schedule: Monday, Wednesday, Saturday and Sunday
Last Updated: 12/13/2018 7:52:43
Skate: Good |  Classic: Good
Comments:Thursday: Yesterday made 4 passes with the roller to compact the 8-12 inches of new snow. This morning plan to use the Ginzu to reset both skate and classic tracks. After cold night, think both should turn out well, if not a bit soft. Finish by 11am.
Teton Springs
Grooming Schedule: Tuesday, Thursday, Saturday
Last Updated: 12/13/2018 10:24:29
Skate: Good |  Classic: Good
Comments: I rolled out about 6″ of fresh snow from yesterday's storm. It packed well, but will remain soft for a bit. There is still some vegetation poking through, but the coverage is good overall and everything is very skiable. I laid out the classic track and the skate track; they should be nice once they set up a bit. Keep an eye out for two beautiful swans on one of the ponds near the track. Enjoy!
Teton Springs Singletrack
Grooming Schedule: Monday, Wednesday, Friday
Last Updated: 12/9/2018 21:12:02
Singletrack: Excellent
Comments: Ran drag 1x on loop
5th Street Singletrack
Grooming Schedule: Monday, Wednesday, Friday
Last Updated: 12/1/2018 10:26:20
Singletrack: Excellent
Comments: Rode-in 5th St. this AM. Fast, fun and tight! Start north of skatepark for 1mi figure-8. Happy Global Fatbike day! Go grab a demo bike from local shops.
Southern Valley Single Track
Grooming Schedule: As Needed
Last Updated: 12/9/2018 21:11:12
Singletrack: Good
Comments: Ran drag 2x on upper Ladyslipper to Grumpys intersection
For more info on Teton Valley grooming, visit their grooming page.
---
Last Updated: 12/14
Groomed the Golf Course this morning. Chilly right now, -3F degrees. The trails up above should be in good shape. 
This Nordic Ski Trail grooming report is courtesy of the Sublette County Recreation Board.
---
UPCOMING EVENTS
---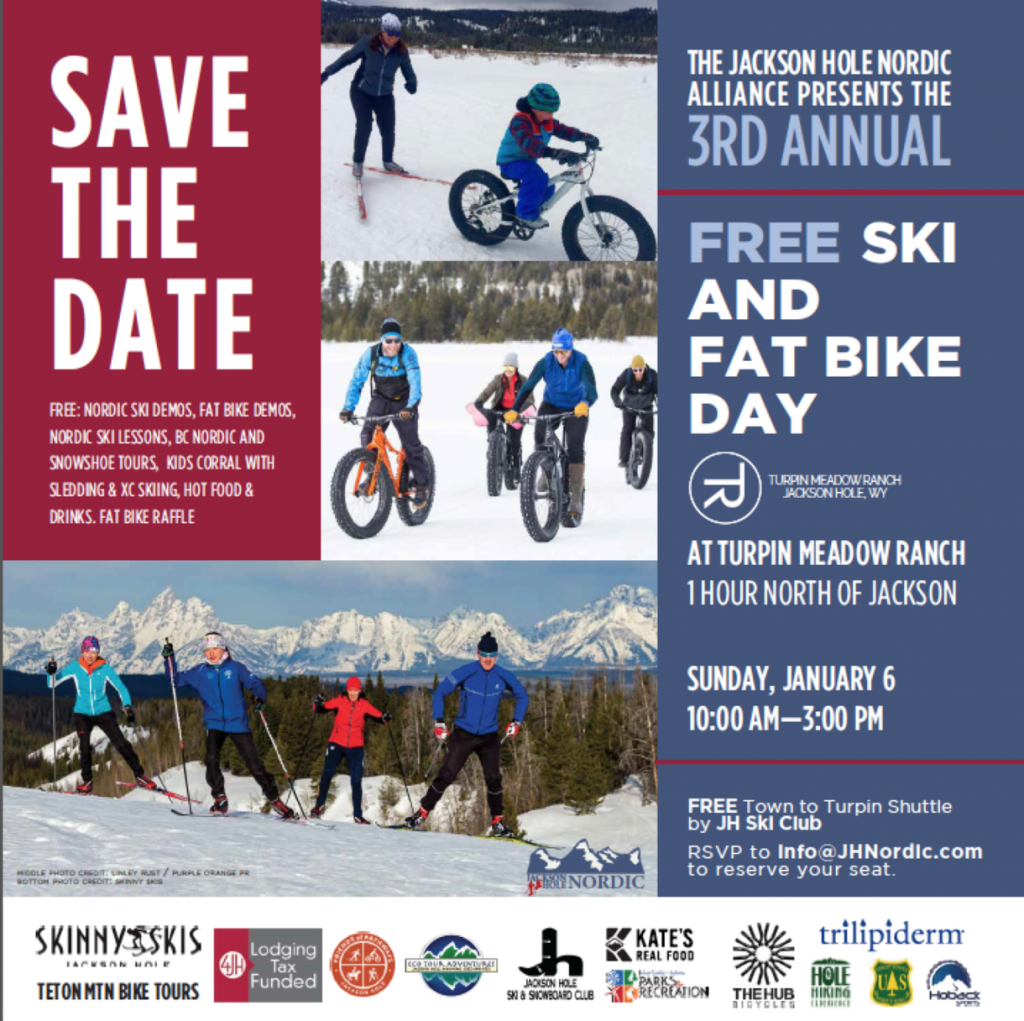 For more events, visit our events page.