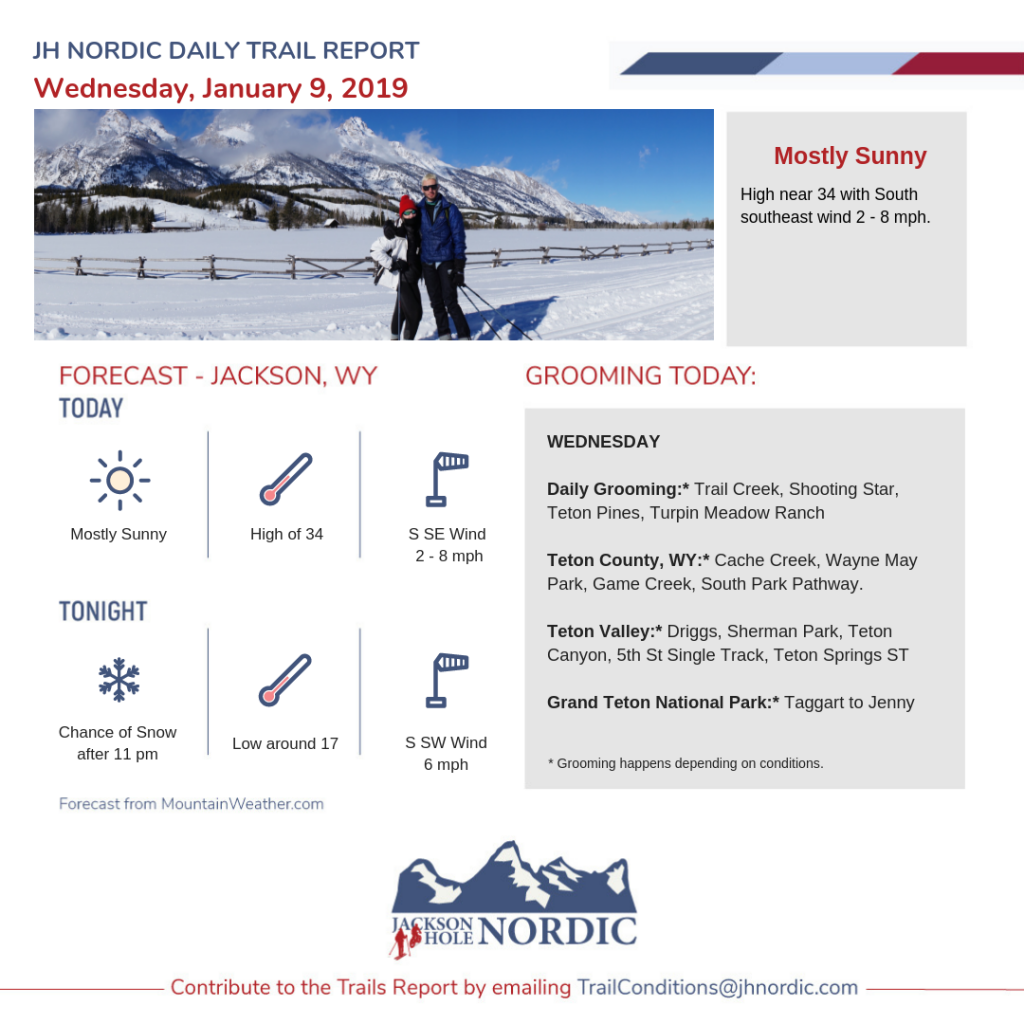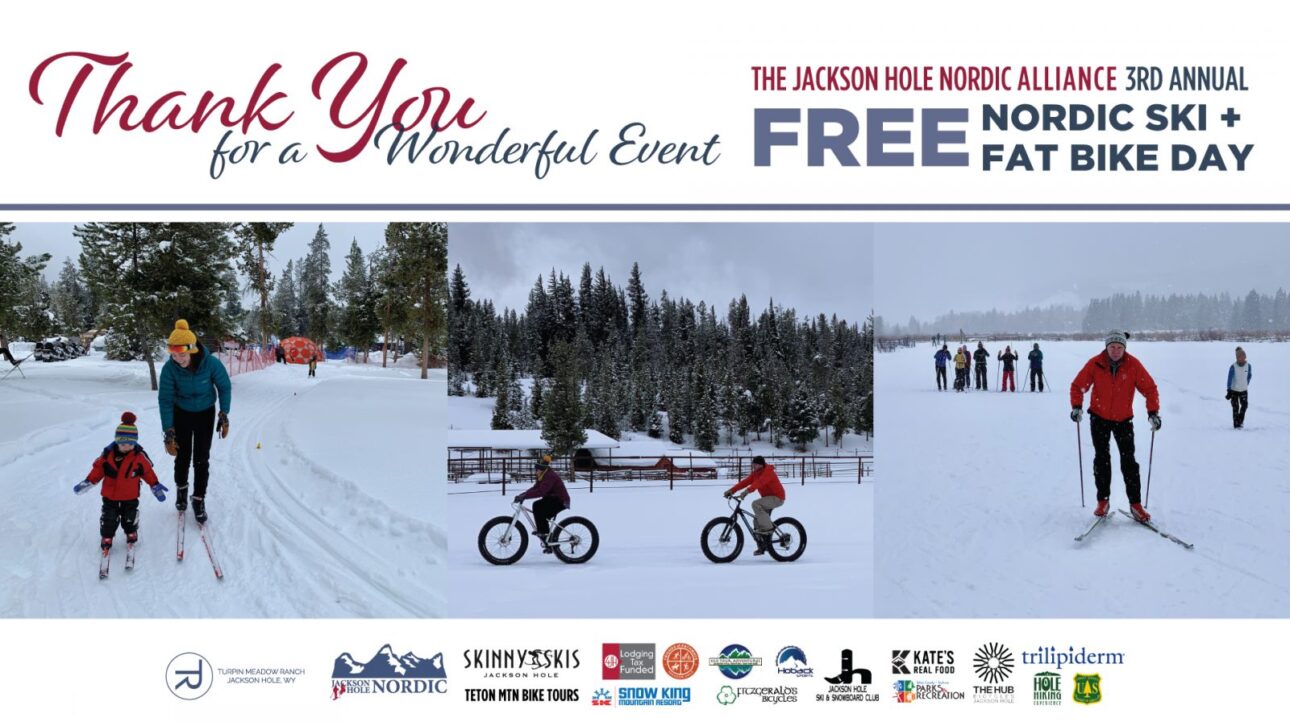 ---
A Jackson Hole Nordic Legend is Stepping Down
Sean O'Malley, one of the early members of Jackson Hole Nordic Alliance who also previously published the local Nordic News is retiring from Teton County at the end of January 2019. We value Sean's sparkle and local knowledge that he put into this and wanted to commemorate his contributions over the years to the Nordic community by looking back at an all-time favorite Nordic News issue from 2005. 
---
NEW! GTNP Grooming 3 Days a Week Starting Sunday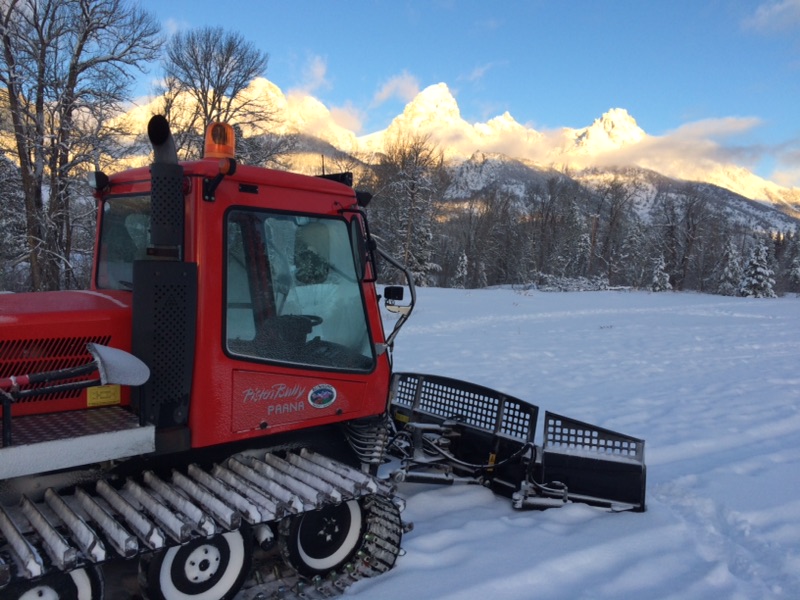 Thanks to generous support from Community Foundation of Jackson Hole, State of Wyoming Recreational Trails Program, Skinny Skis, Dornan's, and many individuals, GTNPF is pleased to add a third day of grooming per week for the remainder of the winter season.
The 14-mile stretch of road between Taggart Lake Trailhead and Signal Mountain in Grand Teton National Park will be groomed three times per week starting on Sunday, January 6. Adding another day to the previous Tuesday and Friday schedule will provide more consistent snow surfaces, especially for Nordic skiers. This winter marks the sixth consecutive season Grand Teton National Park Foundation (GTNPF) has funded regular grooming of the Teton Park Road.The road will be groomed between Taggart Lake Trailhead and South Jenny Lake on Tuesdays and Sundays, and the entire length to Signal Mountain on Fridays. When deep snow limits many park users' abilities to explore Grand Teton, the groomed road creates easy access for cross country skiers, snowshoers, and walkers.
"We are pleased to be able to provide this resource to park visitors during winter," Grand Teton National Park Foundation President Leslie Mattson said. "Grand Teton is spectacular this time of year and we hope people will take advantage of this unique opportunity to explore the park."
Grooming will continue through mid-March. Be sure to check current conditions before you go, especially during stormy periods as grooming is weather and condition dependent. For updates visit www.gtnpf.org or follow GTNPF on Facebook, Instagram, or Twitter.
---
Nordic Recreational  Master clinic
Jan 17th: Skate
The Nordic Masters Rec Program worked on classic Nordic ski fundamentals on Jan 3rd, including longer glide, diagonal stride, climbing short hills, strengthening the kick, keeping the head and vision high. Coaches Scott Horn and Cody Downard provided tips to refine everyone's technique, with group exercises and personal attention.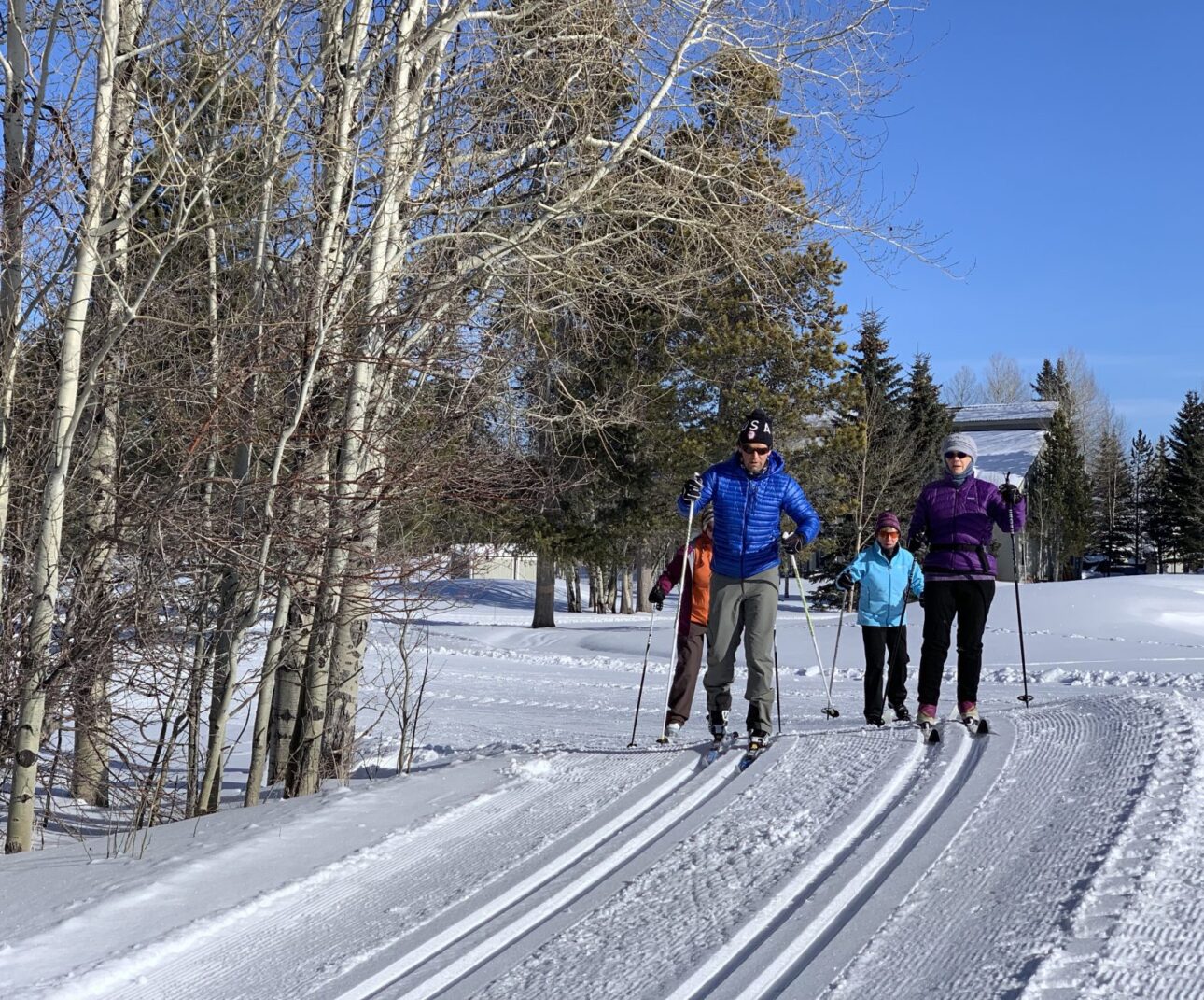 Next clinic will focus on Skate technique -Join us on Thursday, January 17th at 11am-12:30pm at Teton PInes Nordic Center.  Come a few minutes early to sign in upstairs in the Nordic Center shop. If it will be your first clinic, bring payment (cash or check). Please RSVP to info@jhnordic.com so we may plan for the right number of coaches.
Feel free to stay after to skate around the well-groomed trails at 
Teton
Pines
 Nordic. The class is open to all (except first-time beginners).
Mark your calendar for our upcoming dates:
Jan 17th – Skate | Jan 31st – Classic | Feb 14th – Skate | Feb 28th – Classic
Trail Pass + Nordic coaching -Tips & Technique, alternating Classic cross-country and skate skiing: 
-$100 for 4 clinics at 

Teton

 

Pines

 with coaching, includes 

Teton

 

Pines

 Nordic day Trail pass for each clinic.
-$80 for 4 clinics for existing 

Teton

 

Pines

 Nordic Pass holders. 
-Season Passes and 10 punch cards available for adults and seniors separately from 

Teton

 

Pines

 Nordic Center.
Drop-in clinic and trail pass: $35 Clinic only: $30
---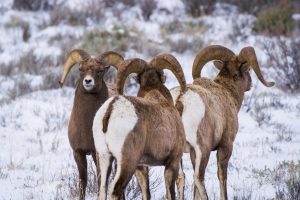 Take some time to read "Nature News," a blog by the lovely Cathy Shill. On it, you will find monthly nature insights from Jackson Hole!
---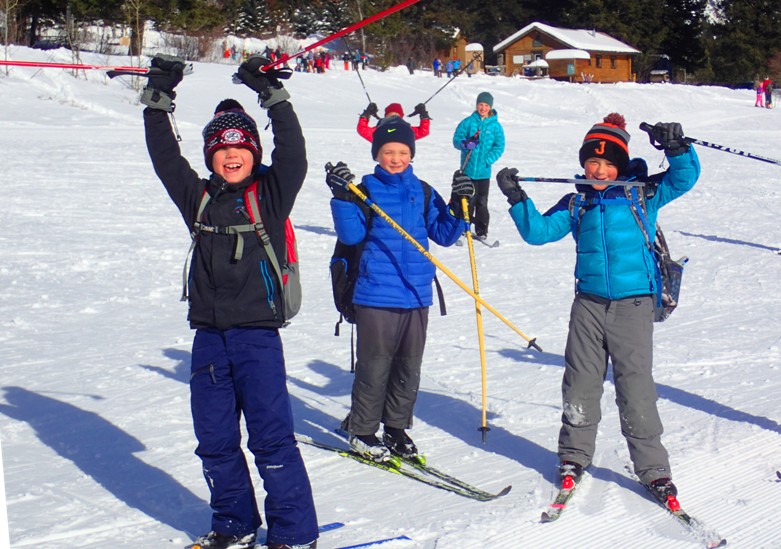 A Very Very Busy Tuesday!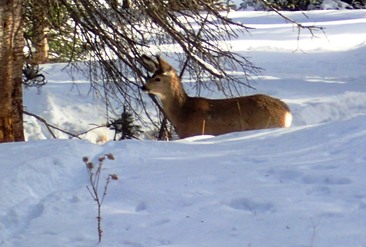 Today is just one of those glorious days at Trail Creek; there were thousands of tons of snow from the recent snowfall just waiting to be compacted into firm corduroy and not only were there several friendly moose wandering around, but a very tame doe and twin fawns were hanging out in the Armin's region, trying to find their way through the deep snow.  Then before noon the first edition of Wilson Winter Sports showed up (the image above is some of the kids playing catch the groomer, perhaps not the safest thing, but this is Wyoming) and finally a full assortment of Ski Club teams will be ripping over the trails in just a few hours, truly a very busy day!
Today's grooming pretty much got caught up on everything with all major trails being groomed either today or yesterday.  While Armin's and one of the inner close field loops has a berm in the middle, everything else pretty much has received both skate and classic tracks and while the skate lanes are a bit soft yet, they will ski nicely.  As of 1 PM the sun is shining, the winds are calm, the temperature is –9ºC/16ºF, and it is a really nice day to ski.
Groomer's choice for today is the East Fields.
---
Turpin Meadow Ranch Grooming Report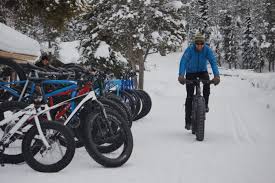 Last Updated: 1/7 @ 4pm  
We received at least 3-4 inches of new snow on 1/7! We have groomed throughout the day and we will groom the afternoon/evening of 1/7 once the wind dies down. Our trails in the flats (Summer Homes Loop, Riverside, and Willows Trails) could potentially be slightly wind blown after grooming but we are expecting the wind to subside in the early evening. This is a great chance to come try our trails in the hills if you haven't yet as they are holding up great during this storm! There will be limited grooming 1/8 and 1/9 but we will be back to daily grooming on 1/10. Come out and see us!
Buy Your Turpin Meadows Trail Pass!
---
Avalanche hazard is considerable at the lower elevations today so Cache Creek will not be groomed. If avalanche is lowers to moderate grooming in Cache and Game will resume on Wednesday. Be safe out there!
---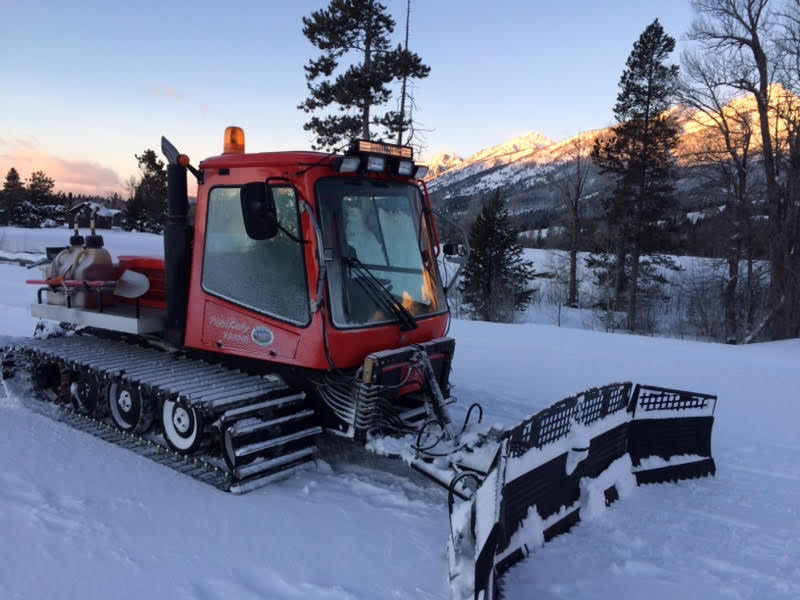 Grand Teton National Park Grooming Report
Last Updated: 1/8
Taggart to South Jenny
It is a beautiful bluebird day out there.  Get your skis out and go from Taggart Lake to South Jenny today.  @grandtetonfoundation @jhnordic
---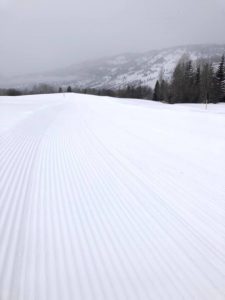 Teton Pines Grooming Report
Last Updated: 1/7 @ 6pm
We are fully groomed for both skate and classic and expect great skiing conditions through the weekend! Check our Facebook page or give us a call for the current wax recommendations.
---
Shooting Star Grooming Report
Last Updated: 1/8 @ 8am

The weather has finally calmed! Plenty of new snow accumulated on the trails, so expect softer conditions today that should gradually firm up throughout the week. Outlook is for warmer temperatures and mostly sunny skies. Get out and enjoy!
---
Grand Targhee Grooming Report
Last Updated: 1/8 @ 8am
The storm has subsided. With minimal people on the hill yesterday, those 7″ we've received in the last 48 hours are still looking pretty fresh. Yes, high winds have made for wind lips and blown snow, but the wind has died and sunny skies will dominate the day. A search and destroy mission is in order, because where it's good it's realllllly good!
Cross Country/Fat Bike 15k: XC OPEN (Last groomed AM 1/6/2019), Fat Bike CLOSED.
---
Pinedale Nordic Trail Report
Last Updated: 12/31 @ 10am
All trails above groomed this morning, with the exception of Powerline. About 6″ of new snow at White Pine on upper trails. 9F degrees. Road and parking lot plowed.

---

Alta Track
Grooming Schedule: Tuesday, Thursday, Saturday, Sunday
Last Updated: 1/6 @ 11am
Skate: Good |  Classic: Fair
It's all groomed, but the snowfall was increasing as I finished, so I imagine the track will get even softer through the day. I packed down 3″ of new snow with the roller and reset the classic track; it's nice out there. Enjoy!
Driggs
Grooming Schedule: Monday, Wednesday, Friday
Last Updated: 1/8 @ 7am
Skate: Good  |  Classic: Good
I groomed early in the evening on the 7th.
Sherman Park
Grooming Schedule: Monday, Wednesday, Friday
Last Updated: 1/7 @ 5pm
Skate: Good |  Classic: N/A
Sorry for the late entry…gave the track a reset this afternoon. With cold temps the track might set up nicely but will still be soft in spots. Will try and cleN up my mistakes tomorrow!?
Enjoy with the nice weather
Cheers
Teton Canyon
Grooming Schedule: Monday, Wednesday, Saturday and Sunday
Last Updated: 1/8 @ 6:30am
Skate: Fair |  Classic: Fair
Tuesday: Made 4 passes with the roller Monday afternoon. This morning will make a couple passes with the Ginzu to reset skate and classic tracks.
Teton Springs
Grooming Schedule: Tuesday, Thursday, Saturday
Last Updated: 1/8 @ 1pm
Skate: Fair |  Classic: Not Set
I rolled the course twice to tame the drifts; classic track is not set and the ride for skate will still be bumpy.
5th Street Singletrack
Grooming Schedule: Monday, Wednesday, Friday
Last Updated: 1/7 @ 8am
Singletrack: Good
Cut through the wind drifts and buffed our the singletrack. Should set up nicely!
Teton Springs Singletrack
Grooming Schedule: Monday, Wednesday, Friday
Last Updated: 1/8 @ 10am
Singletrack: Fair
Groomed from TVTAP trailhead to the gate at Sherman Springs (most direct route).
Southern Valley Single Track
Grooming Schedule: As Needed
Last Updated: 1/8 @ 6:30am
Singletrack: Fair
Groomed
Upper and Lower Ladyslipper
Nemo
Grumpy out and back
Powerline
Sherman Springs
**TETON SPRINGS HAS ONLY BEEN GROOMED TO GATE ACCESS**
Rammell Mountain Road to Indian Meadows
Grooming Schedule: As Needed
Last Updated: 12/19/2018 @ 8am
Singletrack: N/A
Comments: Groomed Today
For more info on Teton Valley grooming, visit their grooming page.
---

Join Teton County / Jackson Parks and Recreation and The Cougar Fund on a fun guided cross-country ski tour in Grand Teton National Park this Saturday. Learn about local wildlife, see animal tracks and signs, explore animal adaptations and more. Tour covers 3 – 6 miles of rolling off-trail terrain. These tours do not include ski instruction; basic cross-country ski skills are required! Participants must provide their own skis and Skinny Skis has generously offered to provide rental skis at 50% off for this program.
Moose Wilson Corridor Ski Tour
(tours start and finish at Rec Center Lobby, transportation provided)
Saturday, January 12th
9 am- 1 pm
Fee: 18 and older $30, under 18 $15