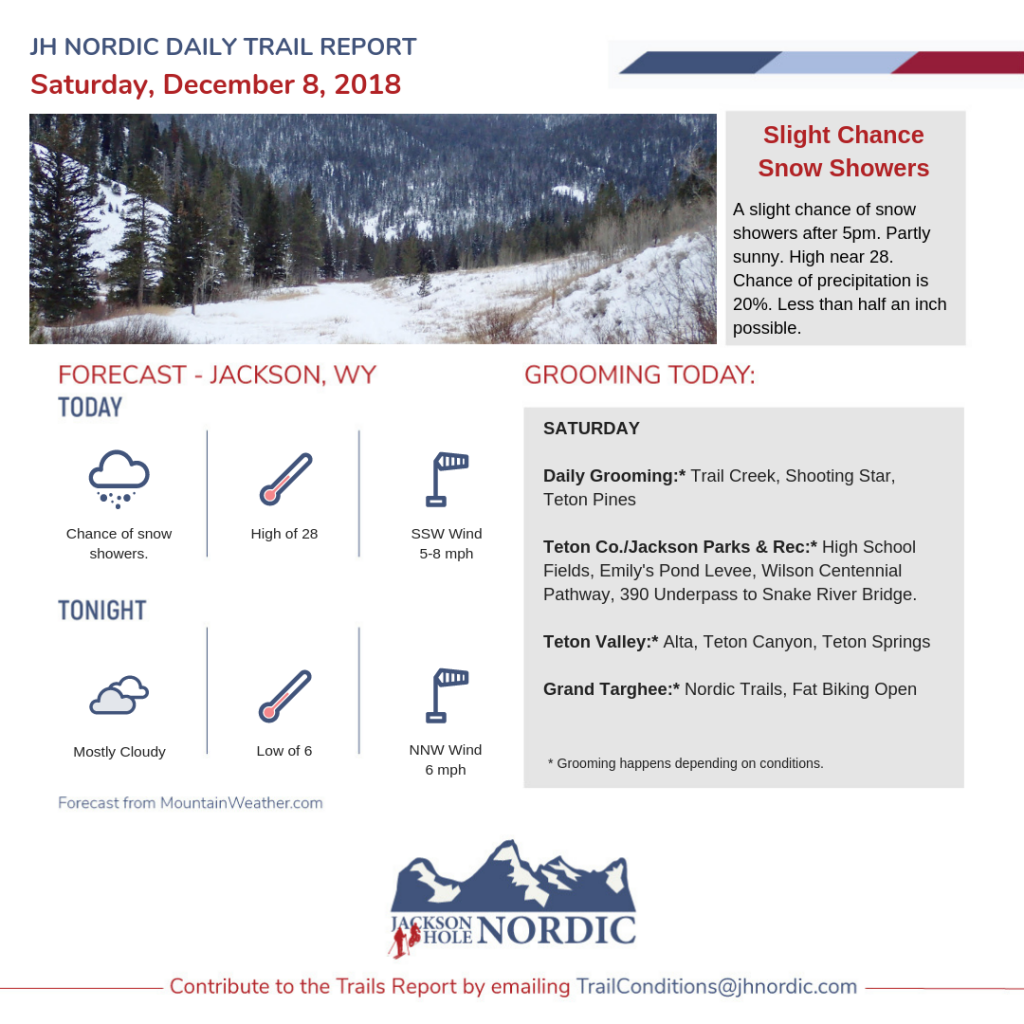 ---
SKI REPORTS
---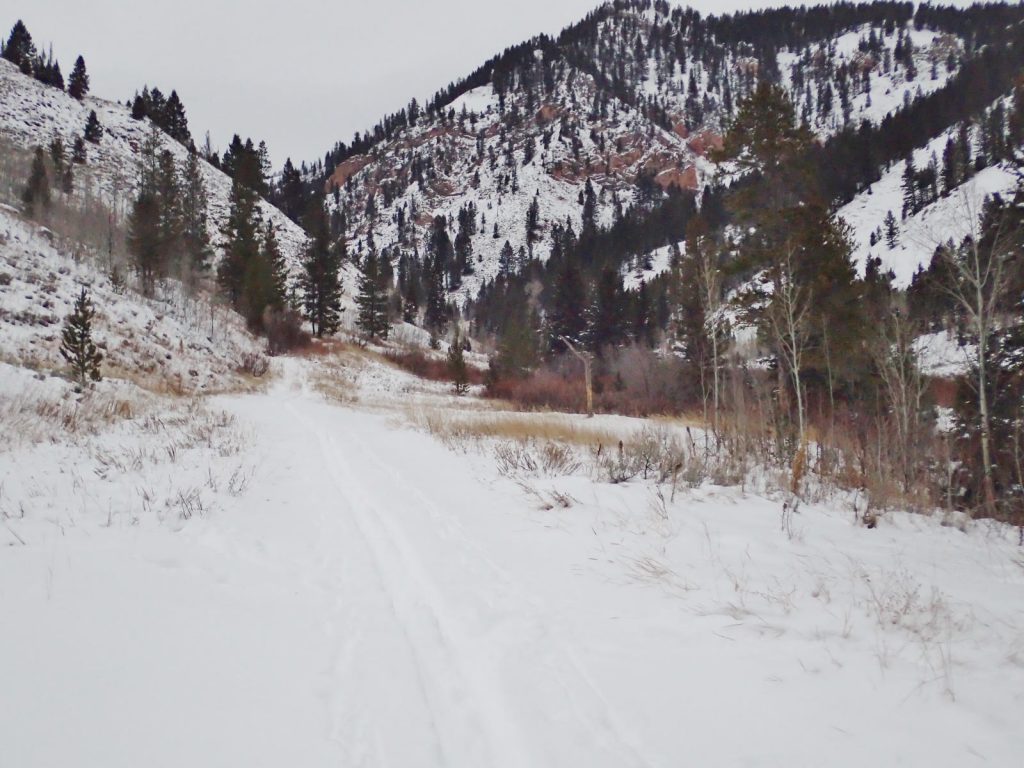 Peaceful Skiing up Bull Creek
Had a nice ski tonight up Bull Creek Canyon.  The link is from a past ski, didn't get that far tonight.  It is on the north side of the Hoback Canyon about a mile before you get to the road to Granite Hot Springs.  With a high clearance 4 wheel drive you could drive in about 100 yards although with an SUV or Subaru you would want to park at the road.  There was a foot path for a few hundred yards and then we broke trail.
This canyon probably gets skied a dozen times a year, it is always peaceful and scenic and it is unusual as some of the canyon walls are quite reddish in color.  There was about a foot of nice snow and while a good work out heading up, the ski down was great. -Steve
---
Enter to win the ULTIMATE WINTER GETAWAY Giveaway
Pack your bags + get ready to head to Jackson, WY for a 5 day/4 night winter adventure for two!
Follow the accounts + tag two friends below for additional opportunities to win.
@jacksonholeecotours
@anvilhotel
@gloriettajackson
@tetonraptorcenter
@mavenbuilt
@WildlifeArtJH
@PalateJacksonHole
@JHNordic
@TetonMountaineering
Click the link below to see full giveaway details + additional entries to win.
http://www.jhecotouradventures.com/insights/giveaway-contest
#anvilexplorer #myjhecotour
---
GROOMING REPORTS
---

Last updated: 12/7
Brilliant Day!

Once again the valley is overwhelmed with abundant sunshine and not only is the temperature (-10ºC/14ºF @11:25) a bit higher, but the humidity is substantially lower than yesterday, making today a great day for a Nordic ski!  While the lack of fresh snow has continued, chances for snow showers are returning beginning as soon as Saturday night.
While there are some amongst the ranks of Trail Creek skiers who don't appreciate moose deposits on our trails, the majority will probably be glad to know that our resident herd seems to be moving in for the winter with 5 separate sightings during today's grooming.  Enjoy and respect!  One final word of warning, the Black Hole bridge had some minor flooding from ice dams in the past few days so you might encounter a small icy patch on the approach.
Today's grooming at Trail Creek was Pisten Bully skate grooming on all currently groomed trails.  While the snow has become very firm, thanks to the cool temps and weak December sun you will find no ice (except by the Black Hole bridge) and only easily edge able snow.  There are a few grouser tracks and grooming ridges showing up on some sections, but all in all skating is nice.  Pretty good classic tracks can be found on about half of the trails (close field, Woolsey Woods, Armin's, Moose Loop, and Olympic).
 Click Here to Buy your Trail Creek Pass!
---
Shooting Star Grooming Report
Last Updated: 12/6
Nordic conditions are all time for early December! We've been grooming this past week with the snowcat and harvesting snow to fill shallow spots. Trails should ski pretty smooth and firm. Have fun and be sure to apply some cold weather wax to your skis! Next update will be Saturday.
Below are some other details:
Tight corners may be soft/rough  as its difficult for the grooming equipment to navigate through them(Example: Sharp Turn from 8 Green to 9 Tees)
Early Season Conditions Persist (Rocky/grassy/Inconsistent profile depth & compaction)
Be aware of soft spots
No Classic Track will be set until snowpack increases
Conditions will improve as more snow accumulates
Grooming frequencies may vary depending on snow conditions
Enjoy!
---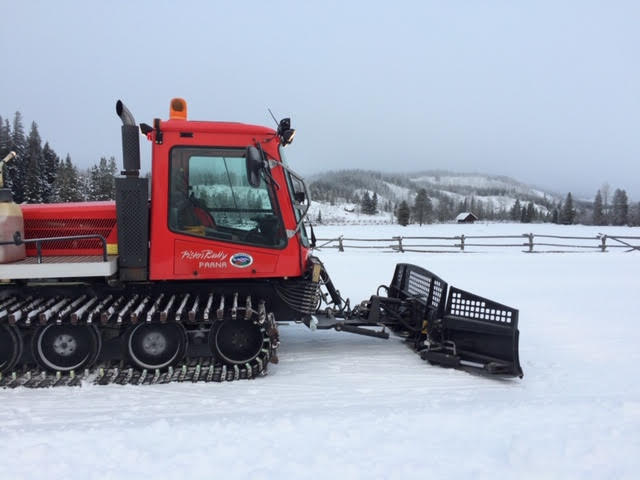 Grand Teton National Park Grooming Report
Last Updated: 12/7
Chilly and foggy out this morning.  We are grooming Grand Teton Park Road – Taggart Lake to Jenny Lake.
---
Last Updated: 12/3
We have excellent conditions at the Pines with all of our trails open and groomed daily for skate and classic. We offer daily lessons in both techniques. Open 9am-4pm daily. Please visit our website/Facebook page for more information, or give us a call: (307)733-1733. Wax recommendation for Tuesday Dec 3-Friday Dec 7: Glide wax: Swix LF6, Kick/Grip: Swix Blue Extra.
---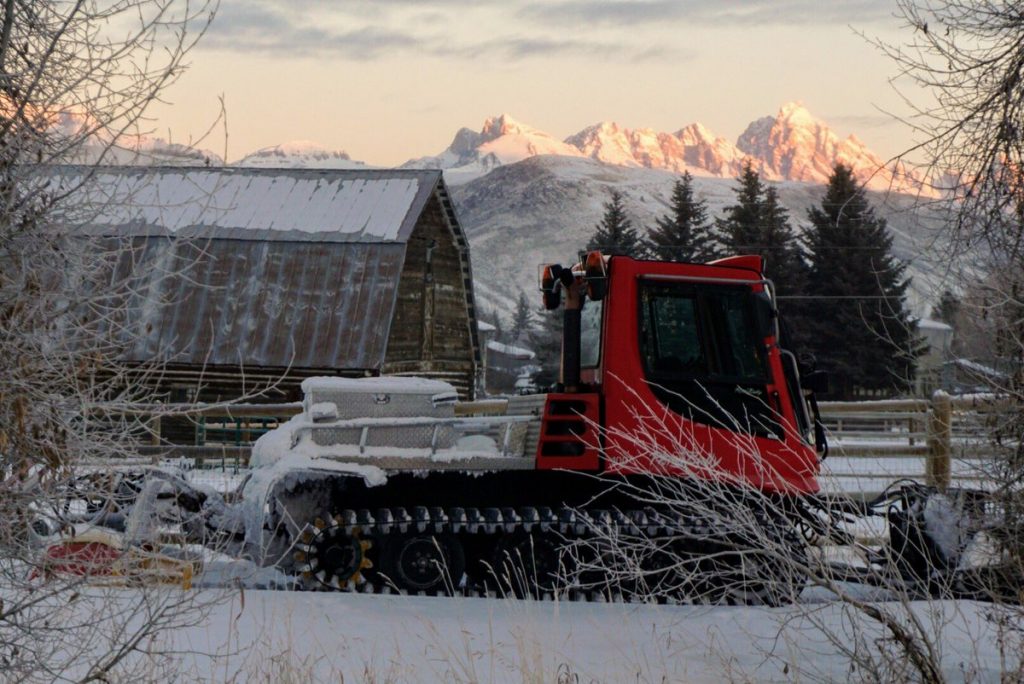 Last Updated: 12/7
8:10am: Cache Creek and Wayne May Park have been groomed with the Pistenbully this morning. Both are in good condition. I will be done with Game Creek around 11am.
11:00am: Game Creek is finished and in relatively good shape. There are some uneven spots that I can't do anything about until some more snow but 95% of the trail is in great shape.
Cross Country/Fat Bike 15k: XC OPEN (Groomed AM 12/6/2018)
---

Alta Track
Grooming Schedule: Tuesday, Thursday, Saturday, Sunday
Last Updated: 12/7/2018 21:00:52
Skate: Good  |  Classic: Good
Comments: I groomed up the track on Friday night so it could set up overnight. I tried to reset the classic track but realized after a little while that I was doing more harm than good, so I left it. The skate track is quite variable: really firm in some spots and remarkably soft in others. The southern loops are fairly firm and smooth. The northern loops are soft in spots and a bit lumpy. The entire track is definitely skiable, just be prepared for a variety of conditions. Enjoy!
Driggs
Grooming Schedule: Monday, Wednesday, Friday
Last Updated: 12/6/2018 20:45:13
Skate: Poor  |  Classic: Not Set
Comments:Plowed a bunch of snow in the ditches and rolled out the trail to establish a base. The base depth is more shallow than the mowed grass. I'd recommend waiting till we get a few more inches of snow before skiing the Driggs Track. Let it snow!!!
Sherman Park
Grooming Schedule: Monday, Wednesday, Friday
Last Updated: 11/19/2018 11:06:49
Skate: Not Set  |  Classic: Not Set
Comments: Coming Soon!
Teton Canyon
Grooming Schedule: Monday, Wednesday, Saturday and Sunday
Last Updated: 12/7/2018 17:33:59
Skate: Good  |  Classic: Fair
Comments: Friday: Decided to groom late afternoon while the temperature was about 32. Softer snow allowed skate track to turn out nicely. Classic tracks still in fairly good shape from Wednesday's groom. Not planning to groom tomorrow unless more than an inch of new snow falls overnight.
Teton Springs
Grooming Schedule: Tuesday, Thursday, Saturday
Last Updated: 12/2/2018 5:12:19
Skate: Poor |  Classic: Poor
Comments: Saturday, 12/1 Teton Springs was groomed for the first time this year. I'm giving the trail a "poor" condition due to the amount of vegetation poking through the groomed surface in a few areas. Most of the trail is in good condition. We need one more storm and the trail will be great.
Ski carefully as the base depth is only a few inches deep.
Teton Springs Singletrack
Grooming Schedule: Monday, Wednesday, Friday
Last Updated: 12/3/2018 19:36:51
Singletrack: Excellent
Comments: Groomed the back gravel path and the west and south return trails
5th Street Singletrack
Grooming Schedule: Monday, Wednesday, Friday
Last Updated: 12/1/2018 10:26:20
Singletrack: Excellent
Comments: Rode-in 5th St. this AM. Fast, fun and tight! Start north of skatepark for 1mi figure-8. Happy Global Fatbike day! Go grab a demo bike from local shops.
Southern Valley Single Track
Grooming Schedule: As Needed
Last Updated: 12/3/2018 19:34:45
Singletrack: Good
Comments: Groomed upper and lower Ladyslipper to the powerline crossing. Both on great shape
For more info on Teton Valley grooming, visit their grooming page.
---
Last Updated: 12/7
Upper Surveyor Park groomed for both classic and skating. Lower Surveyor flat groomed. 10F degrees with slight breeze. Pretty nice right now. All other trails are not recommended.
---
UPCOMING EVENTS
---
Racing opportunities abound "over the hill" on December 8th with both the 2018 Fat Bike Race #1 and Nordic Tune-Up Race 2018 happening.  Click on either link for times and registration information.
---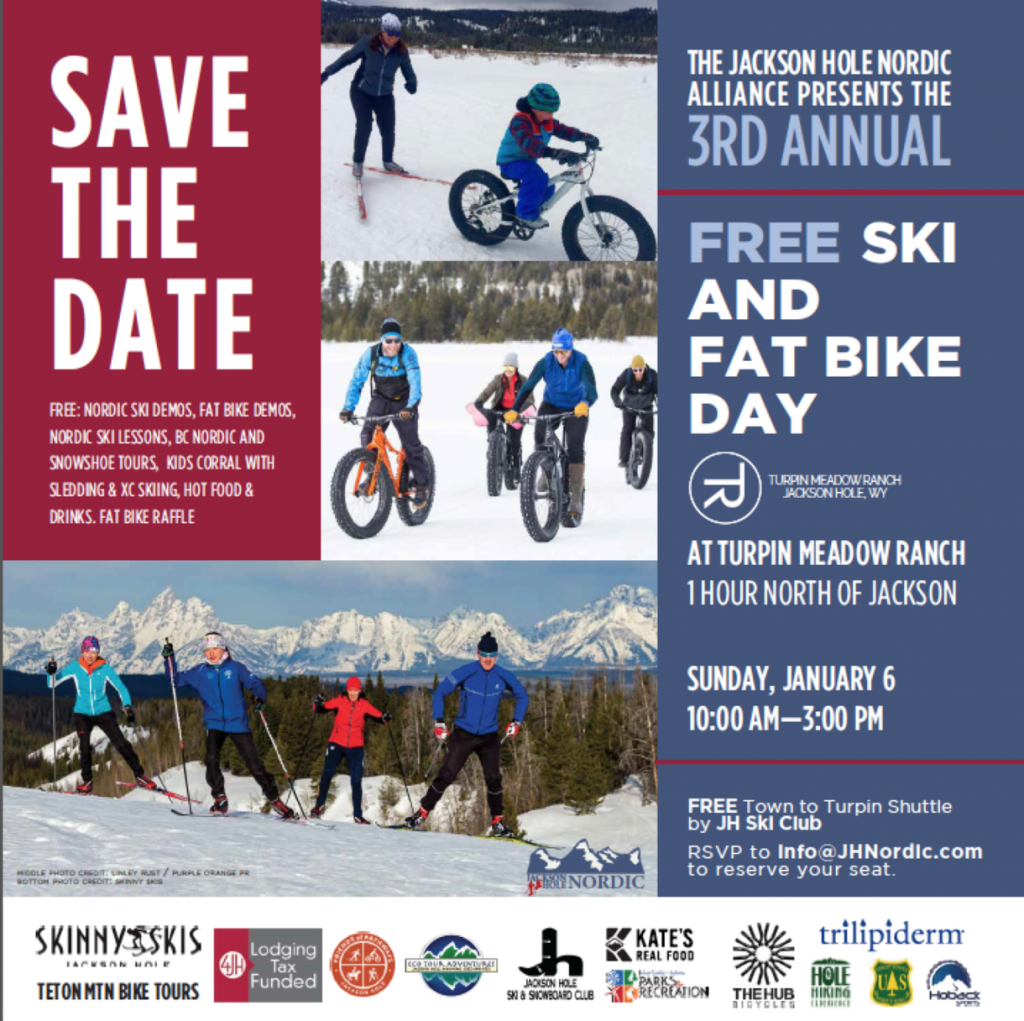 For more events, visit our events page.