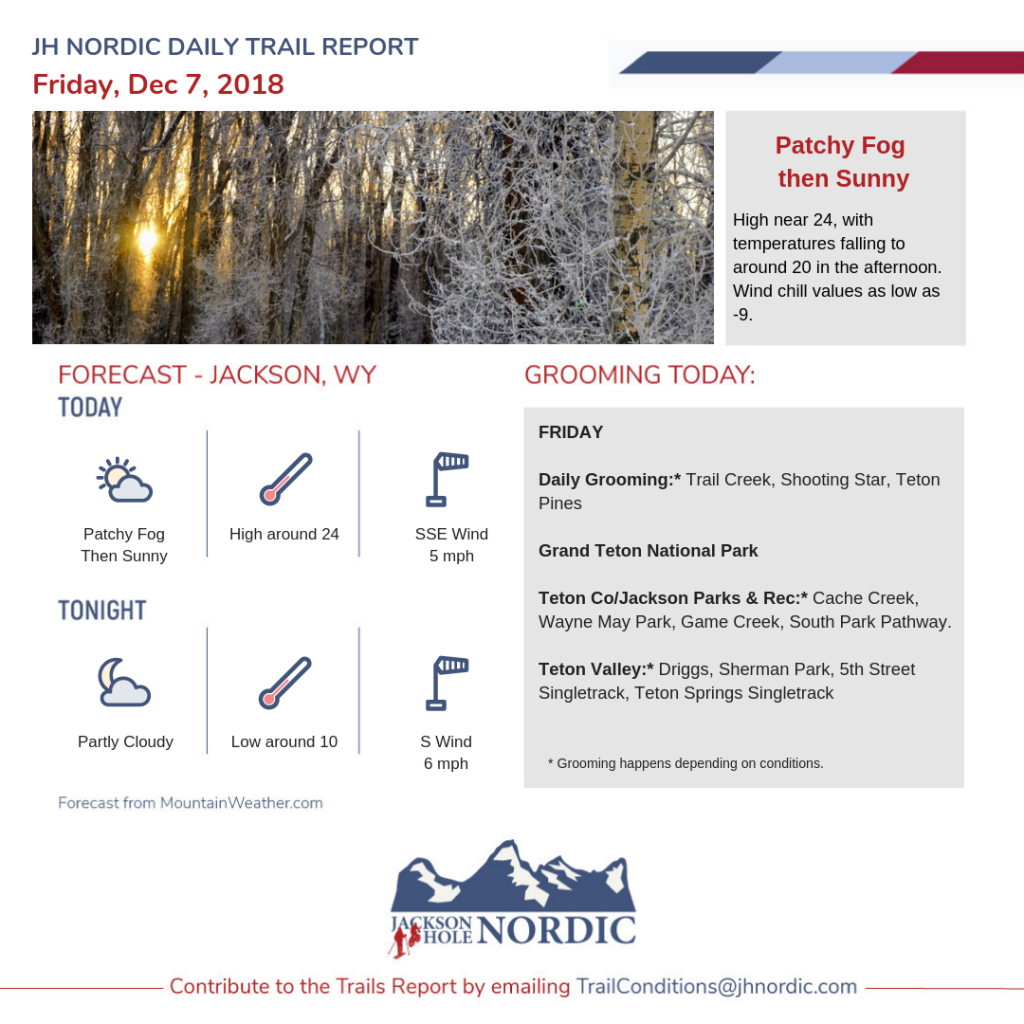 ---
SKI REPORTS
---
Good Conditions Up Game Creek
A local skier reported skiing up Game Creek today, with excellent conditions, nice grooming . Grooming extends approx 1 mile north of the little wooden bridge over the creek on the west side of Game Creek valley. Wonderful to visit a favorite canyon valley close to town, yet so wild.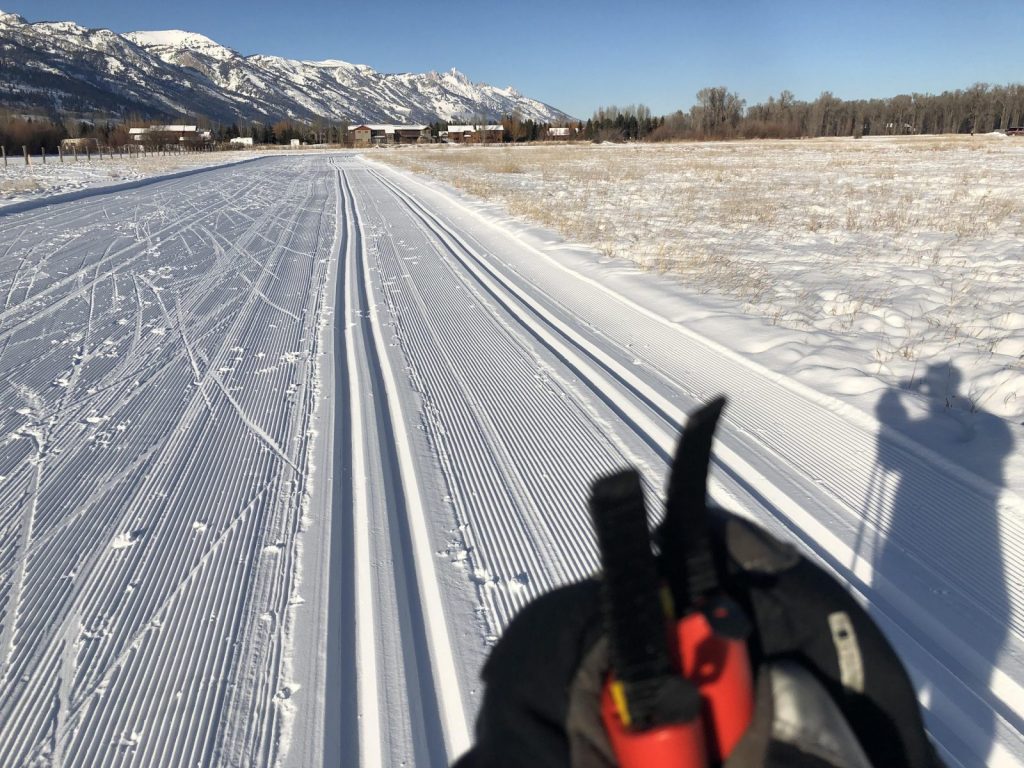 Promising Start to the Season
on the Wilson Centennial Trails
"It's terrific to have grooming start early with the great valley snow we have this year. Both classic and skate tracks are very firm, with just a bit of grass showing that's easy to ski around.
It was great skiing, green/blue kick wax, and (almost) warm mid-afternoon. The combination of mowing the field in the fall, then rolling snow first chance, then setting tracks early is the way to go." – Tim
---
GROOMING REPORTS
---

Last updated: 12/6
Bluebird Day!

It's a glorious day today at Trail Creek with nearly endless sunshine and not a puff of wind.  While you might grumble a bit about the 11:30 AM temperature of -14ºC/7ºF temperature, dig into your Wyoming fortitude, layer up, and have a great Nordic ski!
Today's grooming was a mixture of techniques with the Ginzu Groomer  making a best line skate pass throughout the woods and the Pisten Bully making multiple skate passes on the 2.5 K race course in the close field.  Skating should be quite nice everywhere and there are pretty good classic tracks in the close field, Woolsey Woods, Armin's, Moose Loop, and Olympic.  Temps are forecast to rise into the 20's this afternoon which if it happens should make for some really nice skiing.
Groomer's choice for today is an up and back (Gut Flop is pretty thin) on Cle's Climb.
 Click Here to Buy your Trail Creek Pass!
---
Shooting Star Grooming Report
Last Updated: 12/6
Nordic conditions are all time for early December! We've been grooming this past week with the snowcat and harvesting snow to fill shallow spots. Trails should ski pretty smooth and firm. Have fun and be sure to apply some cold weather wax to your skis! Next update will be Saturday.
Below are some other details:
Tight corners may be soft/rough  as its difficult for the grooming equipment to navigate through them(Example: Sharp Turn from 8 Green to 9 Tees)
Early Season Conditions Persist (Rocky/grassy/Inconsistent profile depth & compaction)
Be aware of soft spots
No Classic Track will be set until snowpack increases
Conditions will improve as more snow accumulates
Grooming frequencies may vary depending on snow conditions
Enjoy!
---
Grand Teton National Park Grooming Report
Last Updated: 12/4
Grand Teton National Park road was groomed from the Taggart Lake parking lot to Jenny Lake.
---
Last Updated: 12/3
We have excellent conditions at the Pines with all of our trails open and groomed daily for skate and classic. We offer daily lessons in both techniques. Open 9am-4pm daily. Please visit our website/Facebook page for more information, or give us a call: (307)733-1733. Wax recommendation for Tuesday Dec 3-Friday Dec 7: Glide wax: Swix LF6, Kick/Grip: Swix Blue Extra.
---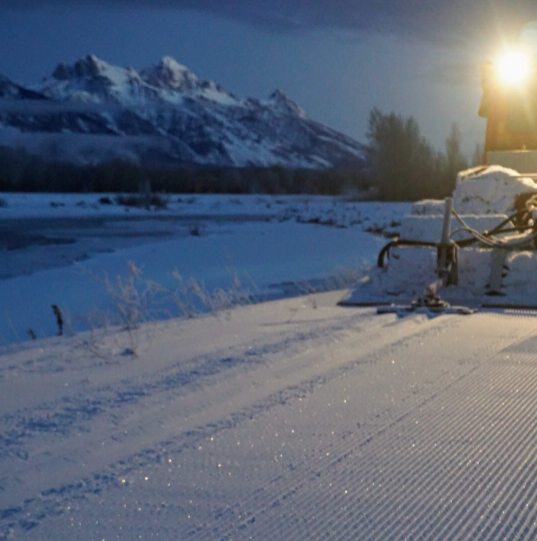 Last Updated: 12/6
9:00am: The school fields and the levee have been groomed with the Pistenbully. Both are in great shape. I am just about to start Stilson and should be done around 11:00am.
10:10am: Stilson is done and in good shape for both classic and skate skiing. Tomorrow Cache, May, Game, and Three Creek Pathway will be groomed.
Cross Country/Fat Bike 15k: XC OPEN (Groomed AM 12/6/2018)
---

Alta Track
Grooming Schedule: Tuesday, Thursday, Saturday, Sunday
Last Updated: 12/5/2018 18:31:27
Skate: Good  |  Classic: Good
Comments:We got the ginzu hooked up today and groomed the entire track Wednesday afternoon. It smoothed up quite a bit but still has a few lumpy spots. Overall, it's really good for this early in the season. If you see Randy, give him a big "Thank You!" for all of his efforts setting up and staking out the track.
Driggs
Grooming Schedule: Monday, Wednesday, Friday
Last Updated: 12/6/2018 20:45:13
Skate: Poor  |  Classic: Not Set
Comments: Plowed a bunch of snow in the ditches and rolled out the trail to establish a base. The base depth is more shallow than the mowed grass. I'd recommend waiting till we get a few more inches of snow before skiing the Driggs Track. Let it snow!!!
Sherman Park
Grooming Schedule: Monday, Wednesday, Friday
Last Updated: 11/19/2018 11:06:49
Skate: Not Set  |  Classic: Not Set
Comments: Coming Soon!
Teton Canyon
Grooming Schedule: Monday, Wednesday, Saturday and Sunday
Last Updated: 12/6/2018 19:30:41
Skate: Good  |  Classic: Good
Comments:Thursday afternoon: Conditions in the canyon have remained good the past couple days with the cold temperatures. Skate track is firm and both classic tracks are in nice shape. Will groom again Saturday morning.
Teton Springs
Grooming Schedule: Tuesday, Thursday, Saturday
Last Updated: 12/2/2018 5:12:19
Skate: Poor |  Classic: Poor
Comments: Saturday, 12/1 Teton Springs was groomed for the first time this year. I'm giving the trail a "poor" condition due to the amount of vegetation poking through the groomed surface in a few areas. Most of the trail is in good condition. We need one more storm and the trail will be great.
Ski carefully as the base depth is only a few inches deep.
Teton Springs Singletrack
Grooming Schedule: Monday, Wednesday, Friday
Last Updated: 12/3/2018 19:36:51
Singletrack: Excellent
Comments: Groomed the back gravel path and the west and south return trails
5th Street Singletrack
Grooming Schedule: Monday, Wednesday, Friday
Last Updated: 12/1/2018 10:26:20
Singletrack: Excellent
Comments: Rode-in 5th St. this AM. Fast, fun and tight! Start north of skatepark for 1mi figure-8. Happy Global Fatbike day! Go grab a demo bike from local shops.
Southern Valley Single Track
Grooming Schedule: As Needed
Last Updated: 12/3/2018 19:34:45
Singletrack: Good
Comments: Groomed upper and lower Ladyslipper to the powerline crossing. Both on great shape
For more info on Teton Valley grooming, visit their grooming page.
---
Last Updated: 12/6
Golf Course groomed for both Classic and Skating. 0F degrees. Use caution, there are some areas of thin coverage. Access Golf Course trails either at the Club House or from the Ice Rink, walk across the street towards the Golf Course and you will see the trail.
This Nordic Ski Trail grooming report is courtesy of the Sublette County Recreation Board.
Related Links:
X-C Ski Trail Map – (356K PDF)
---
UPCOMING EVENTS
---
Racing opportunities abound "over the hill" on December 8th with both the 2018 Fat Bike Race #1 and Nordic Tune-Up Race 2018 happening.  Click on either link for times and registration information.
---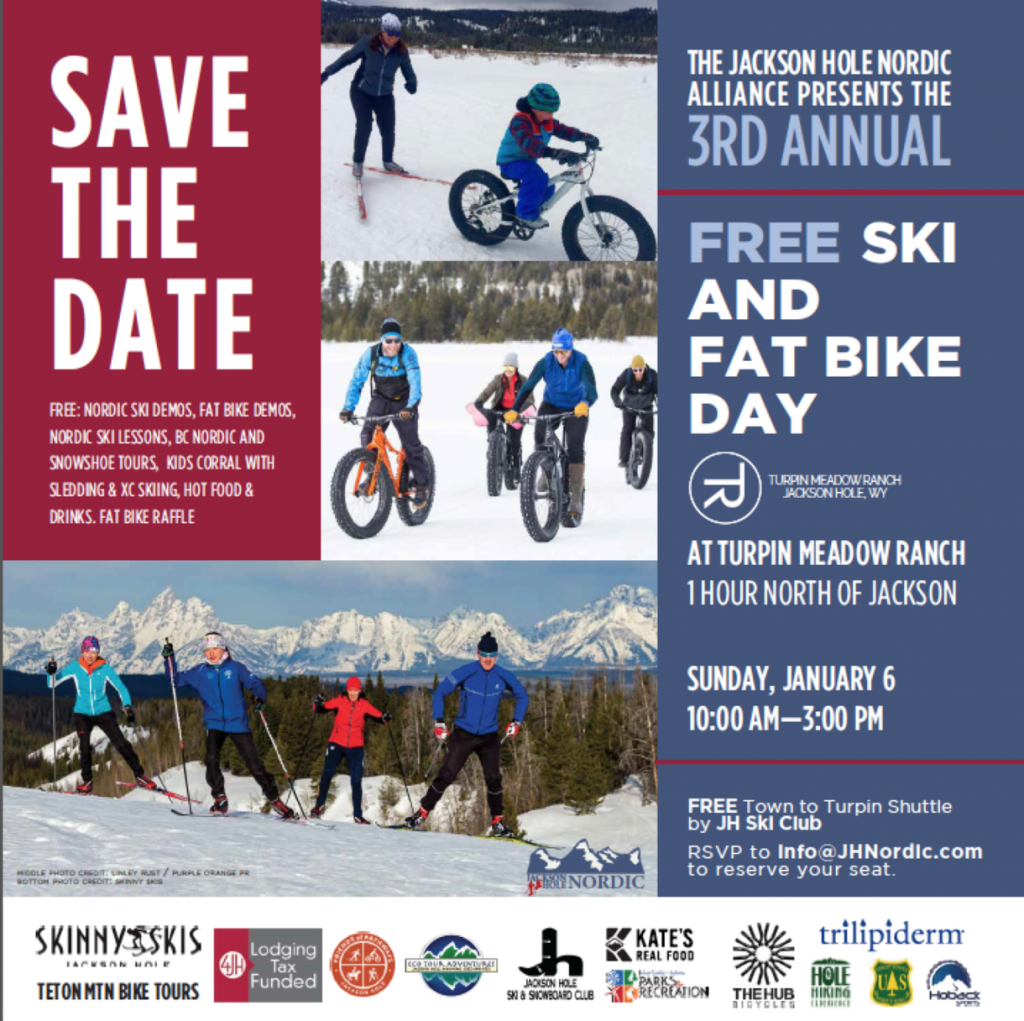 For more events, visit our events page.