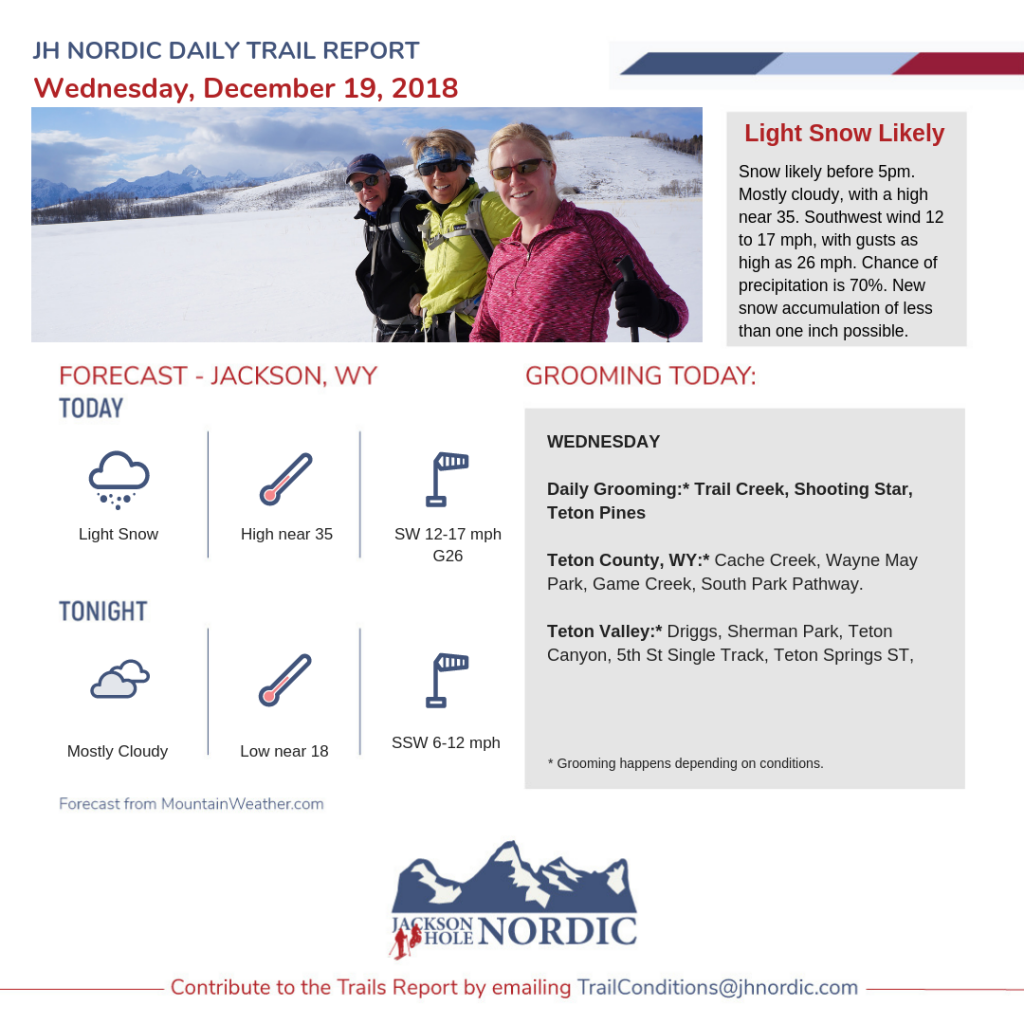 ---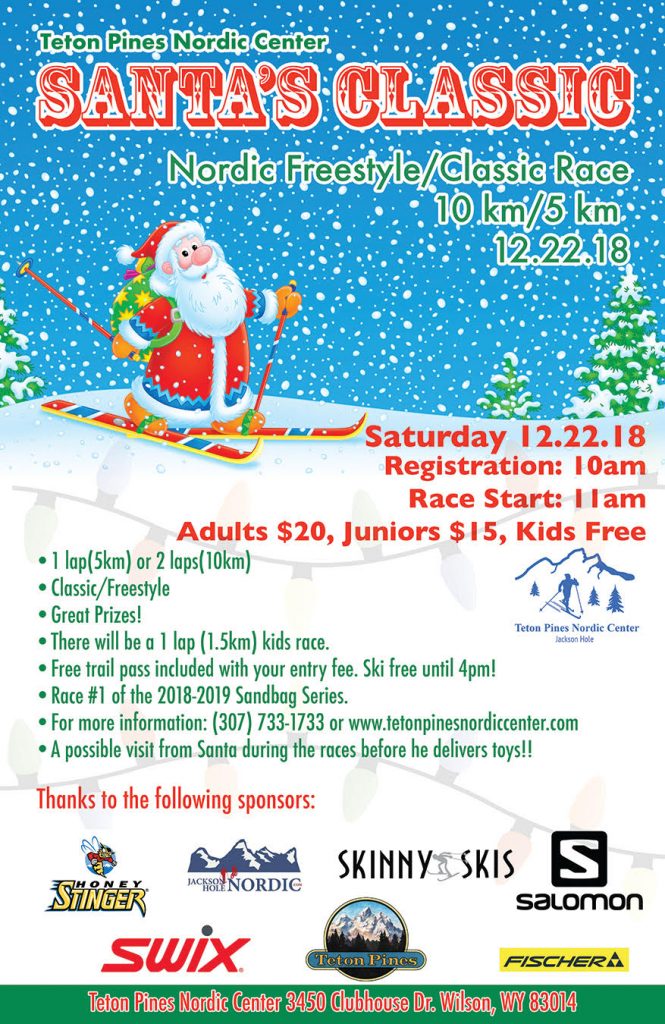 Upcoming Event: Santa's Classic
Don't miss Santa's Classic this weekend at Teton Pines! Start time has been moved back to 11am. Register for the 5k or 10k Nordic/Freestyle race for adults and the 1.5k race for the kiddos.
Stick around after the race and head to the Restaurant to warm up with soup and chili! Also, a ski pass is included with your entry fee so you can ski free until 4pm!
For more information, call 307-733-1733 or visit www.tetonpinesnordiccenter.com
---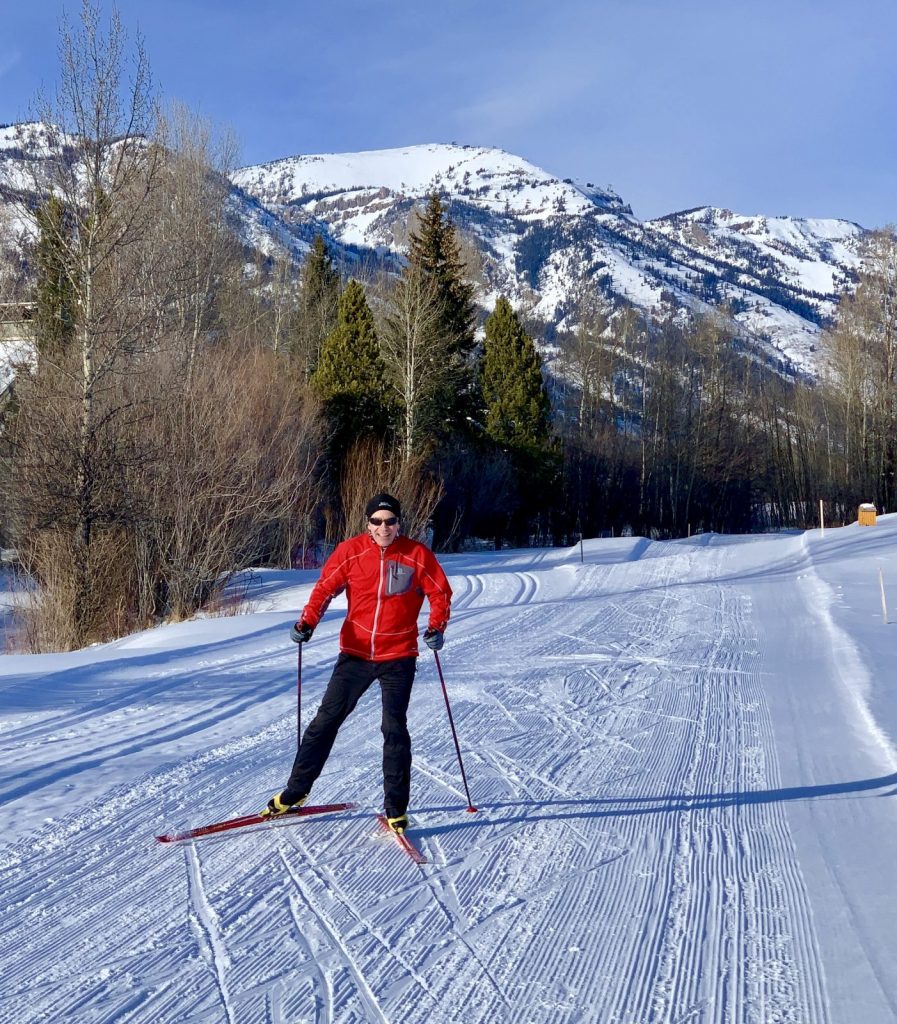 New! Recreation Nordic Master's Program
Starts Dec 20th, 11am-12:30pm at Teton Pines Nordic Center.
Tips, technique, fun- Meets every 2 weeks from Dec 20-Feb 28. Masters Nordic instructor coaches, daily groomed Nordic Trails,  Skate and Classic Nordic .
Dates: Dec 20, Jan 3, Jan 17, Jan 31, Feb 14, Feb 28
First clinic: Dec 20th, sign in at Teton Pines Nordic Center shop at 10:45a to be on the snow at 11.
Trail Pass + Nordic coaching – Tips & Technique, alternating Classic cross-country and skate skiing: 
-$150 for 6 clinics at Teton Pines with coaching, includes Teton Pines Nordic day Trail pass for each clinic
-$100 for 6 clinics for existing Teton Pines Nordic Pass holders. 
-Season Passes and 10 punch cards available for adults and seniors separately from Teton Pines Nordic Center.
Drop-in clinic and trail pass: $35
Clinic only:  $30.
Alternate Thursdays: the Rec Masters group will plan independently to visit other regional Nordic trails , no coaching, car pool, pay-as you go (i.e. GTNP, Trail Creek, Cache , Game, Teton Canyon, Targhee, etc.)
More info? Contact Nancy at info@jhnordic.com. 650-464-6000
While it doesn't look to be an epic event, if forecasts hold true Trail Creek looks to be picking up five or six inches in the next 24 hours. As of 11:15 AM we are sitting under a rather boisterous sky with a few flakes falling at a warm 1ºC/33ºF, there was a peak of sunshine every now and then, and while it was calm at the cabin complicated clouds were racing over the ridges.  About a half inch of snow has fallen since yesterday's grooming.
Today's grooming was Pisten Bully best line skate grooming on almost all trails with fresh classic tracks on Armin's.  There is also a 1K classic sprint course in the close field that you are welcome to check out.  If you make it out in the next hour you might be lucky enough to catch up with a bunch of JHSC coaches in a training session which could be quite spectacular.
Groomer's choice is Armin's.
---
Shooting Star Grooming Report
Last Updated: 12/18
The trails received some extra blade work this morning to buff out a few soft spots that formed from this past weekend's weather and the course should ski well for the majority of the day.  Outlook is calling for a winter weather system to pass through later this afternoon and linger through Thursday. Once the storm arrives expect possible drifting and snow accumulations to occur. Next update will be Friday. Enjoy!
---
Last Updated: 12/16
With beautiful days and light snow in the forecast now is a great time to head up to Turpin. The fat bike trails are in great condition and only one biker has been on them since opening! If you're looking for some winter solitude this week come and get it on our trails.
---
Grand Teton National Park Grooming Report
Last Updated: 12/17
Groomed Taggart to South Jenny. Snow expected on Wednesday. Next grooming is Friday morning.
---
Last Updated: 12/16
The conditions are great at the Pines! With new snow in the forecast, we should be set for a great Holiday season! We have lots of great gifts available in the shop–pants, jackets, base layers, gloves, hats, skate skis, classic skis, boots, poles, bindings and lots more! Come see us from 9am-4pm! Wax report for 12/17: Glide: Swix LF 7, Grip/Kick: Swix Blue Extra/Violet Special
---
Last Updated: 12/15
8:45am: The levee and Stilson are finished and in great shape. The Pistenbully is once again back up and running! The School fields will be done around 10:30.
It's time to warm up those off-piste muscles, because a storm is brewing. Snow is expected to fall all throughout the day with highs nearing 27. Winds will sit in the high teens, blowing WSW. Come tonight, NOAA has Targhee sitting in a Winter Weather Advisory.
Cross Country/Fat Bike 15k: XC OPEN (Last groomed AM 12/18/2018), Fat Bike OPEN.
---

Alta Track
Grooming Schedule: Tuesday, Thursday, Saturday, Sunday
Last Updated: 12/18/2018 9:20:28
Skate: Good  |  Classic: Fair
Comments: Groomed with the ginzu on Monday night and reset the classic track. The skate lanes seemed to set up overnight despite the warm temps. The classic track is a little crumbly in places but still skiable.
Driggs
Grooming Schedule: Monday, Wednesday, Friday
Last Updated: 12/14/2018 12:50:59
Skate: Fair  |  Classic: Fair
Comments: Heading out to set the classic track. Skate track set yesterday, should be good for the weekend.
Sherman Park
Grooming Schedule: Monday, Wednesday, Friday
Last Updated: 12/17/2018 9:26:01
Skate: Fair  |  Classic: N/A
Comments: With quickly warming temps and thin snow cover in the park I am holding off on grooming, though skiing should be alright. Will hopefully get on it as soon as we get some more snow.
Teton Canyon
Grooming Schedule: Monday, Wednesday, Saturday and Sunday
Last Updated: 12/17/2018 7:55:27
Skate: Excellent |  Classic: Fair
Comments: Monday: The track has set up quite firm with warm days and cold nights. Plan to reset skate track this morning and leave classic alone until new snow arrives. Finish by 10am.
Teton Springs
Grooming Schedule: Tuesday, Thursday, Saturday
Last Updated: 12/18/2018 12:41:14
Skate: Good |  Classic: Fair
Comments: Will be training a volunteer on a new grooming snowmobile this afternoon at Teton Springs. Should start grooming around 1:30pm
Teton Springs Singletrack
Grooming Schedule: Monday, Wednesday, Friday
Last Updated: 12/9/2018 21:12:02
Singletrack: Excellent
Comments: Ran drag 1x on loop
5th Street Singletrack
Grooming Schedule: Monday, Wednesday, Friday
Last Updated: 12/1/2018 10:26:20
Singletrack: Excellent
Comments: Rode-in 5th St. this AM. Fast, fun and tight! Start north of skatepark for 1mi figure-8. Happy Global Fatbike day! Go grab a demo bike from local shops.
Southern Valley Single Track
Grooming Schedule: As Needed
Last Updated: 12/18/2018 13:20:41
Singletrack: Excellent
Comments: Conditions are phenomenal right now. Firm and fast! Upper and Lower Lady Slipper from the Grumpy trail to Pole Canyon are riding, as well as the Powerline Road from Pole Canyon to Mike Harris. Nemo trail is groomed and riding great! The Grumpy Loop is not groomed, but packed in and rideable for the advanced riders — lots of moose traffic in that region, so be on alert. The back path behind Teton Springs is groomed.
For more info on Teton Valley grooming, visit their grooming page.
---
Last Updated: 12/15
Half Moon Tie-In, Kelly Park, Kelly Tie-In, Upper & Lower Surveyor, Tree Loop, Moose Ridge, and Old Road Trail all groomed this morning. 14F degrees. Nice day. Should be exceptional skiing. Headed to pack the CCC trails now.
This Nordic Ski Trail grooming report is courtesy of the Sublette County Recreation Board.
---
UPCOMING EVENTS
---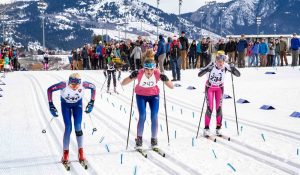 Junior National Qualifier Week!
Thursday, December 20
The first mega-racing event of the season takes place beginning Thursday this week when bus loads of valley Nordic youth travel to Bozeman, MT for the first junior national qualifier of the season.  If you are at all inclined to view the spectacle it would be an opportune time to not only see some great Nordic racing, but perhaps take advantage of a little sales tax-free Montana Christmas shopping.  This race and two more qualifiers later in the season will determine who makes it to nationals this year.  To see these events and more click on JHSC, Trail Creek, and Community Nordic Calendar.
---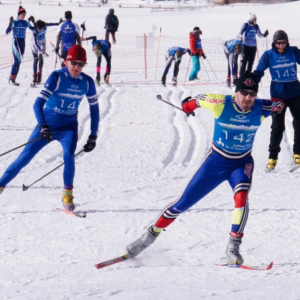 Betty Woolsey Classic – 2k, 5k, 12k
Saturday, December 29
Trail Creek Nordic Center, Wilson WY (off Hwy 22) – 9am-12pm
---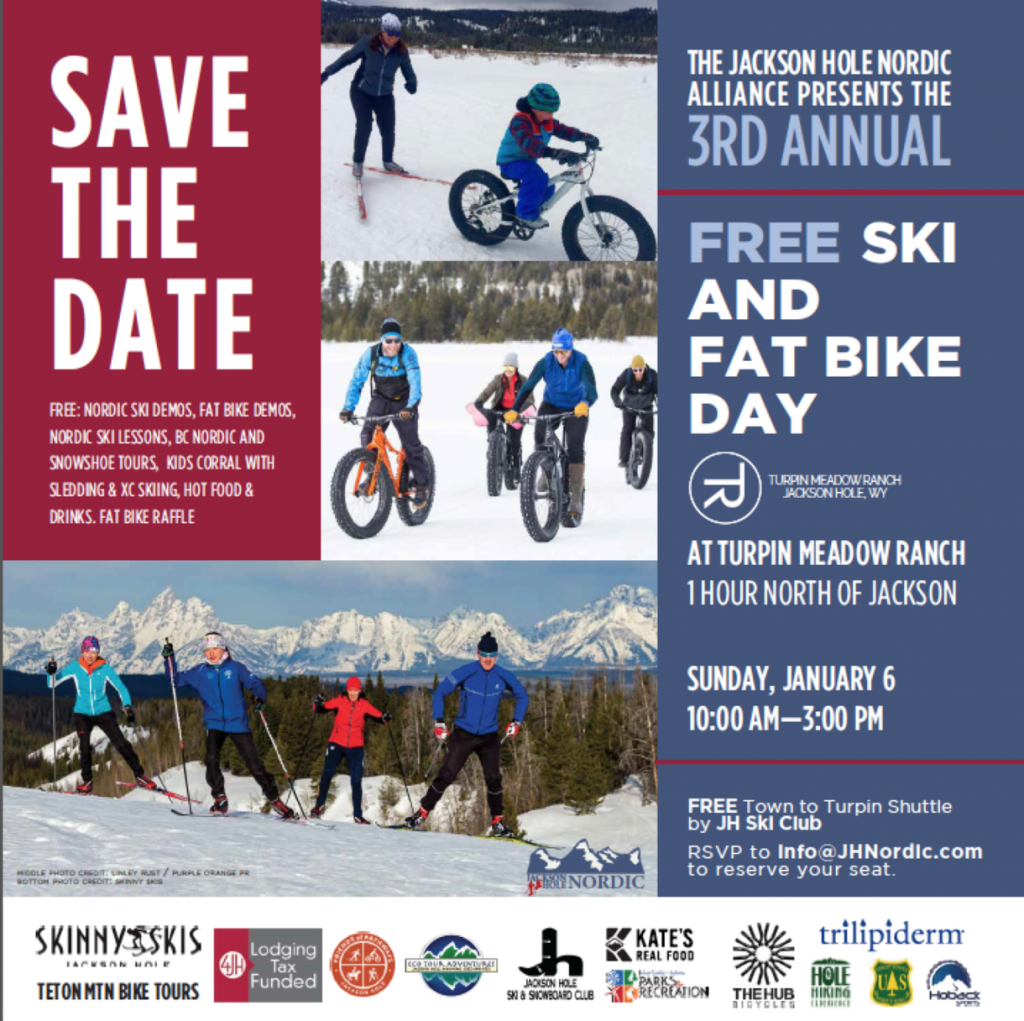 Countdown to Jackson Hole Nordic Alliance's Annual Free Ski and Fat Bike Day at Turpin Meadow Ranch on Sunday, January 6th, 10 am – 3 pm
A little under 3 weeks to go!
Remember:
FREE Nordic Ski & Fat Bike Demos
Nordic Ski Lessons for the newbies
Backcountry Nordic & Snowshoe tours
Kids Corral with Sledding & XC skiing
You can bring the whole family including the dog, just be sure to have your pup on a leash and clean up after them
Don't forget we have a Free shuttle to Turpin Ranch from Jackson, email info@jhnordic.com to reserve your seat
For more events, visit our events page.