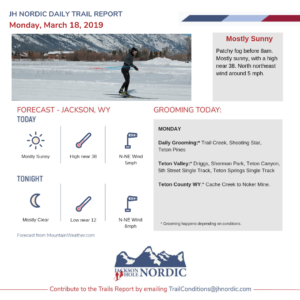 ---
Thank you for continually sharing your photos with us
of Nordic skiing in Jackson Hole
---
Junior Nationals in Anchorage Yesterday

Images are from yesterdays classic sprint qualifier. Elijah Weening, Sam Johnson, Bridger Stiles, & David king all moved on to the sprint quarter finals. All kids raced their best with 10th's of seconds determining the span of five to ten places – very tight. Mass start classic on Friday and team relays on Saturday.
---
Last Day of USCSA Races!
 
Congratulations to all who participated!
---
End of season grooming updates:
Monday March 11 – Last day for grooming (and lunch) at Turpin Meadow Ranch
Friday March 15 – Last day for GTNP grooming-Taggart to Signal Mtn (Teton park road)
Wednesday March 20th – Last day – Teton Pines Nordic grooming
Saturday -March 30th -Last grooming day for TC/J Parks & Rec trail grooming
Saturday March 30rd – Trail Creek grooming -last day
You can also reference:  https://jhnordic.com/grooming/

Last Updated: 3/17
We Made It!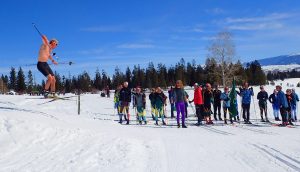 Ten races and thousands of training days; we've made it nearly to the end of the season, and sincere thank you goes out to all the volunteers and supporters that have contributed to a fantastic season. NO, we aren't done skiing yet, but the races are done and the youth programs have wrapped up for the year. Last week's amazing events finished up the racing season in grand style; enjoy some images of all the festivities below.
In addition to the USCSA event yesterday, a small but dedicated group of skiers finished the citizen racing season on a beautiful day as well, pictured below are the podium finishers of this year's Sandbag Season Finale.
Today at Trail Creek the majority of the grooming focused on bringing back woods trails that had been abandoned recently because of the racing agenda. You will discover lots of fresh classic tracks with some trails a little soft and some a little firm, but all in all some nice skiing. The fields were largely untouched today, but as the afternoon warms should ski nicely. The best line double classic track from yesterday's races is still all through the East Fields and could be an afternoon treat for classic skiers today.
Grooming is tentatively scheduled to continue to March 30th although the intensity will drop off somewhat for the last two weeks. Weather forecasts call for substantial warming moving forward which could result in afternoon grooming later in the week. The time of year to watch the thermometer for planning your ski outing is upon us. Next scheduled grooming will be Tuesday morning with probably a Wednesday afternoon after that. 1:00 PM conditions are sunny, calm and -2ºC/28ºF.
---
Last Updated: 3/10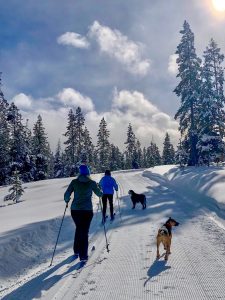 *Thanks for a wonderful winter Jackson and JH Nordic Alliance!
Last call: this was the closing weekend for Turpin's winter season. Monday March 11 is the last day that trails will be groomed and lunch will be served this winter.
Big thanks to Turpin for hosting the Annual JH Nordic Alliance Free Nordic Ski, Fat Bike, Snowshoe day in January. Mark your calendar for the 4th Annual Free event next year on Sunday, January 5th 2020!!
---
Teton Co./Jackson Parks & Rec Grooming Report
Last Updated: 3/16
9:15: The levee is groomed and in good shape. It is very firm as of now. Stilson will be done by 9:30 but classic tracks will be very shallow because of how firm the trails are after the recent free thaw cycles. The school fields will be done around 11:00.
---
Grand Teton National Park Grooming Report
Last Updated: 3/15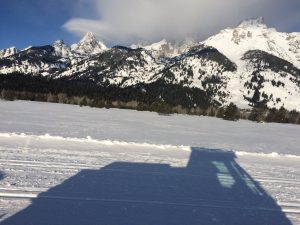 Last day of Grooming GTNP – Taggart Lake Trailhead to South Jenny Lake, Bar B Bar and Spring Creek Ranch. We hope you all are able to get out and enjoy the sunshine and fresh tracks today and over the weekend. Thanks for a good season everyone!
---
Teton Pines Grooming Report
Last Updated: 3/17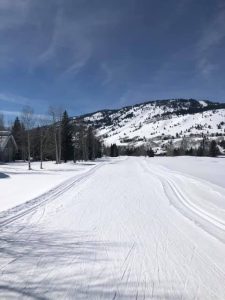 Due to conditions like this, we are staying open for a bit longer!! Come ski with us through Friday March 22. We will watch the weather and our track conditions and remain open as long as we can! The temps are staying colder than originally forecasted which is allowing us a bit more time.
---
Shooting Star Grooming Report
Last Updated: 3/17
FYI…Our black sand operation is complete. Thanks for your patience.
Nordic conditions are amazing and should boast great skiing for days to come! Enjoy the great weather!
Next Update: Wednesday
---
Grand Targhee Grooming Report
Last Updated: 3/17
No need to head to the beaches for Spring Break; after a long, cold, snowy Winter things will be downright sunny and warm this week at Grand Targhee!
Cross Country/Fat Bike 15k: XC OPEN (Last groomed AM 3/16/2019), Fat Bike OPEN.
---
Pinedale Nordic Trail Report
Last Updated: 3/15 @ 9am
CCC Ponds and Golf Course groomed this morning. 4F degrees, a little chilly. Due to wildlife restrictions at the CCC trails, this will be the last grooming until next season.
---
Alta Track
Grooming Schedule: Tuesday, Thursday, Saturday, Sunday
Last Updated: 3/16
Skate: Good  |  Classic: Excellent
I cleaned up the skate lane late Saturday night. It should set up well overnight. I left the classic lane since it is firm and clean. Enjoy!!
Driggs
Grooming Schedule: Monday, Wednesday, Friday
Last Updated: 3/15 @ 3pm
Skate: Good  |  Classic: Good
Sherman Park
Grooming Schedule: Monday, Wednesday, Friday
Last Updated: 3/15 @ 7pm
Skate: Good |  Classic: Not set
Teton Canyon
Grooming Schedule: Tuesday, Thursday, Saturday
Last Updated: 3/17
Skate: Excellent | Classic: Excellent
Reset the skate track, left the classic alone as it is in solid condition. Once it sets up overnight, should be great 👍🏼 by the morning. Enjoy!
Teton Springs
Grooming Schedule: Monday, Wednesday, Saturday and Sunday
Last Updated: 3/17
Skate: Excellent |  Classic: Good
Reset the skate lane. Did a couple of test runs of resetting Classic… no go. The tracks are a little beat up, but should still be quite good. ☘️ 🇮🇪 🍺
Yeti's Loop
Grooming Schedule: As Needed
Last Updated: 3/13 @ 2am
Skate: Excellent  |  Classic: Excellent
Just finished grooming the Yeti. It always takes longer than anticipated…so much hair. Anyways, classic track is set for counter-clockwise skiing and the skate lane should be amazing. The trail is rather narrow so pay attention and stay in control.
Don't forget about the orange donate button.
Enjoy!
5th Street Singletrack
Grooming Schedule: Monday, Wednesday, Friday
Last Updated: 3/1 @ 8am
Singletrack: Not set
Trails closed for wildlife. Please respect closure till snow recedes.
Thanks
Teton Springs Singletrack
Grooming Schedule: Monday, Wednesday, Friday
Last Updated: 3/8 @ 7pm
Singletrack: Poor
Did two passes earlier today and got it established again, then it started snowing…
Southern Valley Single Track
Grooming Schedule: As Needed
Last Updated: 3/11 @ 3pm
Singletrack: Excellent

Teton County Winter Grooming & Plowing Community Open House
When: March 25
Where: 4H Extension Bldg, 255 W Deloney Ave, Jackson
Hosted by TC/J Parks & Recreation – come provide your feedback on winter trails – grooming, plowed, other TetonParksandRec.org
---
Rendezvous River Sports Karen Oatey Pole-Pedal-Paddle (PPP) – part of the Triple Crown series
When: Saturday, March 23
Where: Nordic leg: Shooting Star Nordic Trail – Access via Shooting Star maintenance access road -1 mile south of Teton Village
jhskiclub.org/triplecrown
Send us your event dates, stories, photos
Follow JHNordic on Facebook, Instagram @JHNordic, #JHNordic
Sign up for Daily or Once a Week JH Nordic Trail ConditionReports to know what's groomed, what's happening first thing every morning – or just Saturdays.