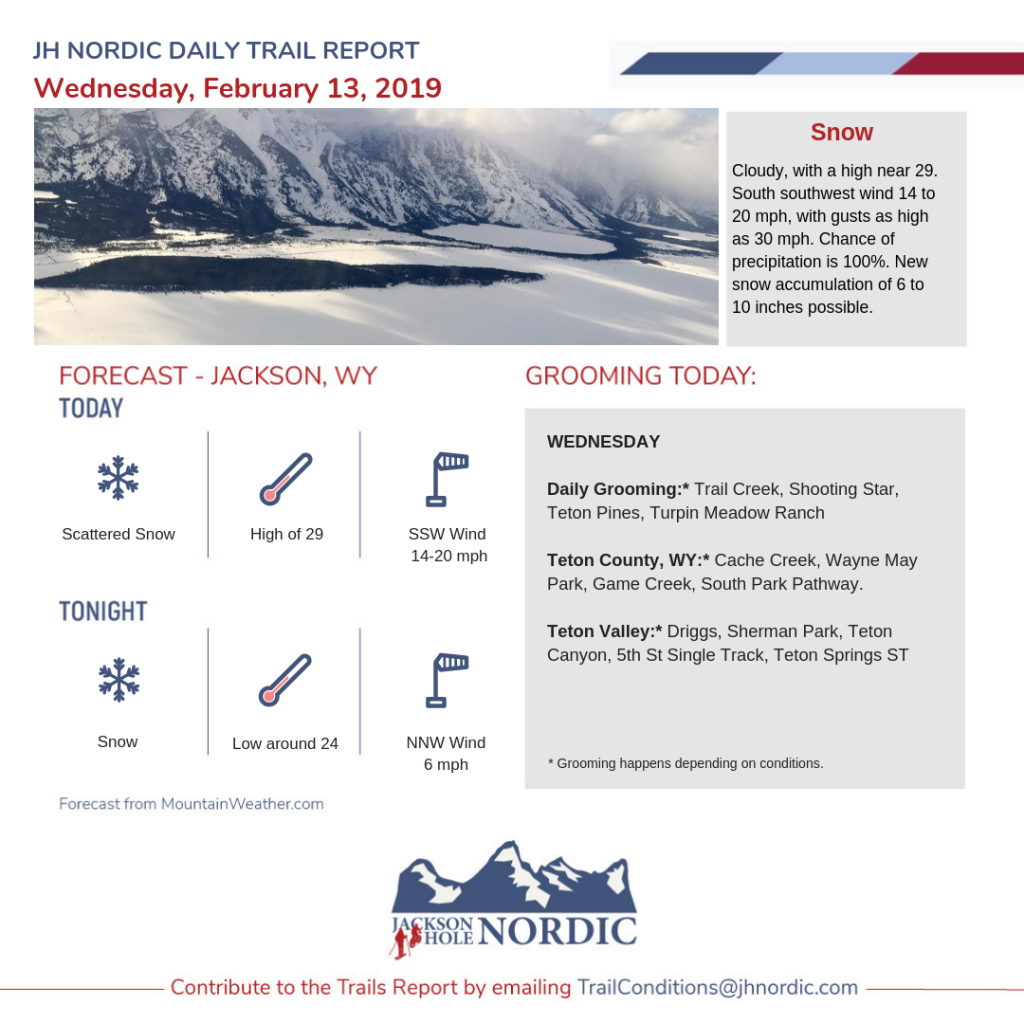 ---
Thank you for continually sharing your photos with us
of Nordic skiing in Jackson Hole
---
Dogs on the Trails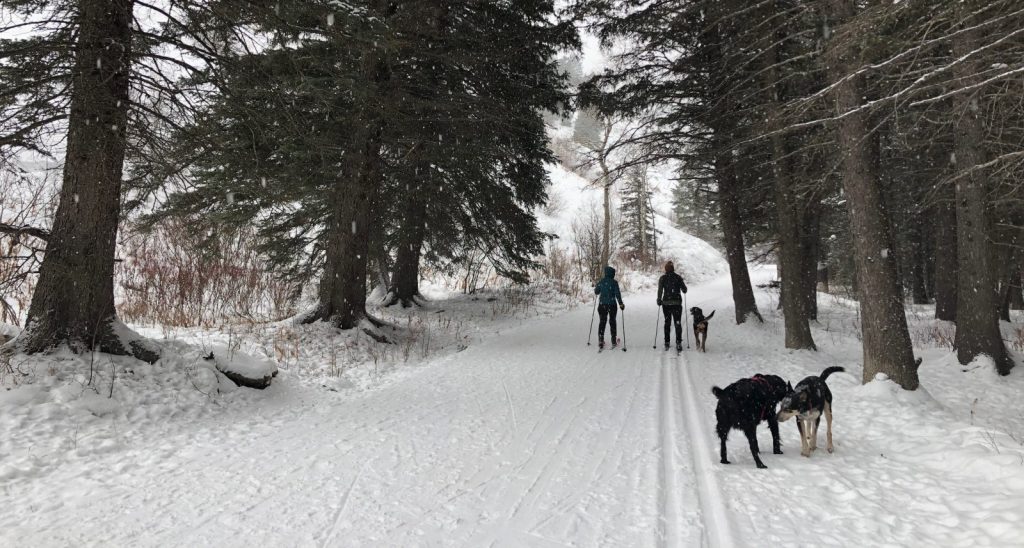 Just a friendly remainder, please remember to clean up after your pets in dog friendly areas, specifically the Wilson Centennial Trail. There are lots of mutt mitt stations along the trail to aid in clean-up. We encourage dog owners to make the extra effort to keep our trails clean so they can remain dog friendly.
For those looking for dog-free trails, check out Teton Pines, Trail Creek, Grand Targhee and skier tracked trails in Grand Teton National Park.
---
Nordic Recreational Masters Clinic
Join us this Thursday for classic ski tips, technique, and fun!
11a -12:30pm at Teton Pines Nordic Center.
Please come at 10:45 to sign in, to be on the snow at 11.
Coaching by Scott Horn, JH Ski Club Master Racer & Instructor
Our schedule will now be:
Feb 14th -Classic Ski
Feb 28th – Skate Ski (last clinic for 2019)
If you haven't paid for the full series , you can still join the program, and simply pay on a drop-in basis.
Drop-in: $35 -includes full day trail pass and Master's clinic; $30 for Teton Pines nordic pass holders
Please RSVP to info@jhnordic.com so we can be sure to have an extra coach as need, bring a friend if you like. See you there!
Photos from our last session. Fun in the snow! Great tips for balance, timing, better glide, and more…
---
Cache Creek Fat Bike Update
2/11: We groomed Hagen, Hagen Highway, and lower Ferrins last night and will probably go out every night this week with the snow forecast to keep things open.
---
Did you know you can search for the perfect trail on JHNordic.com? Head over to the trails page on our website, and select your difficulty, region, length, and access (dog friend, fat bike access etc.), then press "search" to explore new trails that fit your ideal criteria.


Last Updated: 2/12
Looking for Grunts?!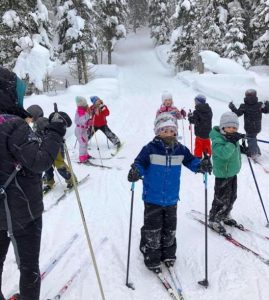 From Coach Kathy, "I told the Lollipoppers there was a family grunts living under the bridge. And then we worked on herringbone and grunted all the way to the top. Beautiful snow! ".  Wee little ones learning to ski is always an amazing thing.
Speaking of amazing things, JHSC qualified seven athletes for Junior Nationals in Alaska; Sam Johnson, Elijah Weenig, Kate Brigham, Natalie O'Brien, David King, Bridger Stiles, Mason Wheeler after the conclusion of the Intermountain Division Nordic racing season last weekend in Idaho.  Way to go skiers!
Even more amazing things are in store for you today if you make it out to Trail Creek.  As of 12:15 PM the sun was shining, the wind was calm, and the temperature was a very Nordic friendly -3ºC/27ºF.  Today's grooming was double Pisten Bully passes of the Moose Chase Course complete with fresh classic tracks. Conditions have firmed nicely with some really nice skiing today.
You will notice a new trail going into the A frame cabin in the woods which is for our gracious hosts the Seiferts who will be coming to stay for a while beginning Saturday.  Make sure to wave if you see them as much of what we ski on is their property.
An interesting note was received by one of our long time members who has a great knowledge of snow; "Base Study Plot information at JH Resort:  Depth: 50", avg: 33" we have 151% of normal while total snowfall: 118", avg: 112".   We are 105% of norm.  Difference between depth and snowfall could be explained by temps. The cold, light density snow has not yet settled."
If you've been out you can't help noticing how deep the snow is, one of the main differences this year is that we just haven't had a thaw yet this winter.  Thanks for the report.
Groomer's choice for today is to just get out and enjoy this top 10 Day.
---
Turpin Meadow Ranch Grooming Report
Last Updated: 2/9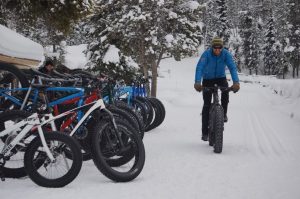 What builds endurance, strength, coordination, and is lots of fun? Nordic skiing, snowshoeing and fat biking at Turpin, that's what! Our trails continue to be firm and fast. We're open until March 10, that's only 4 weeks away. Don't miss an opportunity to enjoy this special place, be here now!
---
Teton Co./Jackson Parks & Rec Grooming Report
Last Updated: 2/12
8:00am: The school fields and the levee have been groomed and both are in great shape. I am heading to Stilson shortly and should be done around 10:30.
10:00am: Stilson is finished and in good shape although there are a few rough spots. The trail was completed drifted in at spots from last nights winds which can lead to challenging grooming. I got it level again after lots of laps and should be ready for next storm.
---
Grand Teton National Park Grooming Report
Last Updated: 2/12
Wind Blown tracks can be taken care of with our PistenBully Paana.  Brandon is working on it right now.  Taggart Lake Trailhead to South Jenny this morning. Have fun out there.
---
Teton Pines Grooming Report
Last Updated: 2/12
Teton Pines Nordic Center will be groomed early on Thursday, as it looks like more snow is coming on Wed into Thursday.
---
Shooting Star Grooming Report
Last Updated: 2/9
The moose are out and taking advantage of the amazing Nordic conditions. Be on the lookout for these fuzzy guys as they seek refuge from the deep snow. The course received extensive blade work over the last few days to assist w/leveling the track. Expect softer skiing to remain as plenty of the white stuff is expected to accumulate through all next week. Enjoy!
Next Update: Wednesday
Note: Track in excellent condition, thanks to Friday intensive grooming.
---
Grand Targhee Grooming Report
Last Updated: 2/12
Déjà vu! Another 8″ in 24 hours, just for you! We've officially surpassed the 300″ mark and that means it's time to celebrate! Slash some pow, flash a smile and say thank you Mother Nature for your tidings! And then of course, head to open mic night at the Trap from 3-6pm and boogie woogie. Like the snow dance, but better.
Cross Country/Fat Bike 15k: XC OPEN (Last groomed AM 2/12/2019), Fat Bike CLOSED.
---
Pinedale Nordic Trail Report
Last Updated: 2/12
Flat groomed the golf course this morning. Should be fair skiing. There may be some areas with soft spots on the trail. Apologize for no classic track – waiting for parts on the snowmobile groomer.
---
Alta Track
Grooming Schedule: Tuesday, Thursday, Saturday, Sunday
Last Updated: 2/12 @ 1pm
Skate: Fair |  Classic: Fair
Driggs
Grooming Schedule: Monday, Wednesday, Friday
Last Updated: 2/11 @7pm
Skate: Fair  |  Classic: Fair
Monday evening groom session. There was so much snow it was hard to know where the old track was…
Sherman Park
Grooming Schedule: Monday, Wednesday, Friday
Last Updated: 2/12 @ 6pm
Skate: Good |  Classic: N/A
Groomed it Tue evening. If we get a big dump I'll lap it again tomorrow night.
Teton Canyon
Grooming Schedule: Tuesday, Thursday, Saturday
Last Updated: 2/11 @ 7am
Skate: Fair |  Classic: Fair
Monday: Running a bit late this morning. Plan to start grooming about 9am. Will use roller to pack down new snow and set both classic and skate tracks. Should finish by 11am.
Teton Springs
Grooming Schedule: Monday, Wednesday, Saturday and Sunday
Last Updated: 2/12 @ 9am
Skate: Good |  Classic: Good
Reset all tracks this morning. Groomed out pretty dry snow with many drifts. It may be soft, but it looks like a nice day to get out.
5th Street Singletrack
Grooming Schedule: Monday, Wednesday, Friday
Last Updated: 2/5 @ 11pm
Singletrack: Poor
Trail is snowmobiled in, but not groomed. Planning to roll it out tomorrow…stay tuned!
Teton Springs Singletrack
Grooming Schedule: Monday, Wednesday, Friday
Last Updated: 1/24 @ 7pm
Singletrack: Good
All Singletrack in Teton Springs is groomed. Enjoy!
Southern Valley Single Track
Grooming Schedule: As Needed
Last Updated: 2/5 @ 11pm
Singletrack: Good
It's all good in the hood! Trails may be a little soft if temperatures don't drop. Please use discretion.
Skinny Skis Moose Chase Nordic Ski Race – 27th Annual

When: Saturday, February 16
Where: Trail Creek Nordic Center
-30K, 15K, 5K, 3K, 2K Freestyle * – part of the Triple Crown Race series
jhskiclub.org/triplecrown
---
West Yellowstone Rendezvous 2019 Race – 2K, 5K, 10K, 25K classic, 25K & 50K freestyle 
When:  Saturday, March 2
Where: Rendezvous Trails, West Yellowstone, MT
www.skirunbikemt.com/rendezvous-race.html
---
Send us your event dates, stories, photos
Follow JHNordic on Facebook, Instagram @JHNordic, #JHNordic
Sign up for Daily or Once a Week JH Nordic Trail ConditionReports to know what's groomed, what's happening first thing every morning – or just Saturdays.