Teton Park Road Converts to Over-Snow Access
Due to recent snow accumulation and anticipated snowfall, the status of Teton Park Road, Moose-Wilson Road, and Signal Mountain Summit Road within Grand Teton National Park has been changed from wheeled access to over-snow access. The designated portions of these roads are now ready to accommodate winter recreation, and use of the roads by wheeled vehicles is prohibited for the season.
The status has been changed to over-snow access and approved winter season activities such as cross-country skiing, skate skiing, and snow-shoeing become possible. Snow bikes are not permitted on roads designated for over-snow access. Snow bikes are allowed on all roadways open to motor vehicle use in Grand Teton National Park.
The 14-mile section of the Teton Park Road between the Taggart Lake Trailhead and Signal Mountain Lodge will be groomed approximately twice-weekly beginning Tuesday, December 4 and continuing through mid-March. The road is scheduled to be groomed on Tuesday and Friday mornings, though the schedule is dependent on snow and weather conditions. For grooming updates, visitors can call the park's road information line at 307-739-3682. Grooming is made possible through the financial support of Grand Teton National Park Foundation and its donors with important support from a Federal Highway Administration Recreational Trails Program grant managed by the State of Wyoming.
Generally, pets are only permitted along park roadways open to motor vehicle use. However, pets are allowed on the over-snow access portions of the Teton Park Road and Moose-Wilson Road by special exception. For the safety of wildlife, pets, and visitors in wildlife habitat, pets must be leashed at all times. Pet owners are required to pick up waste.
The park road was groomed yesterday 11/30.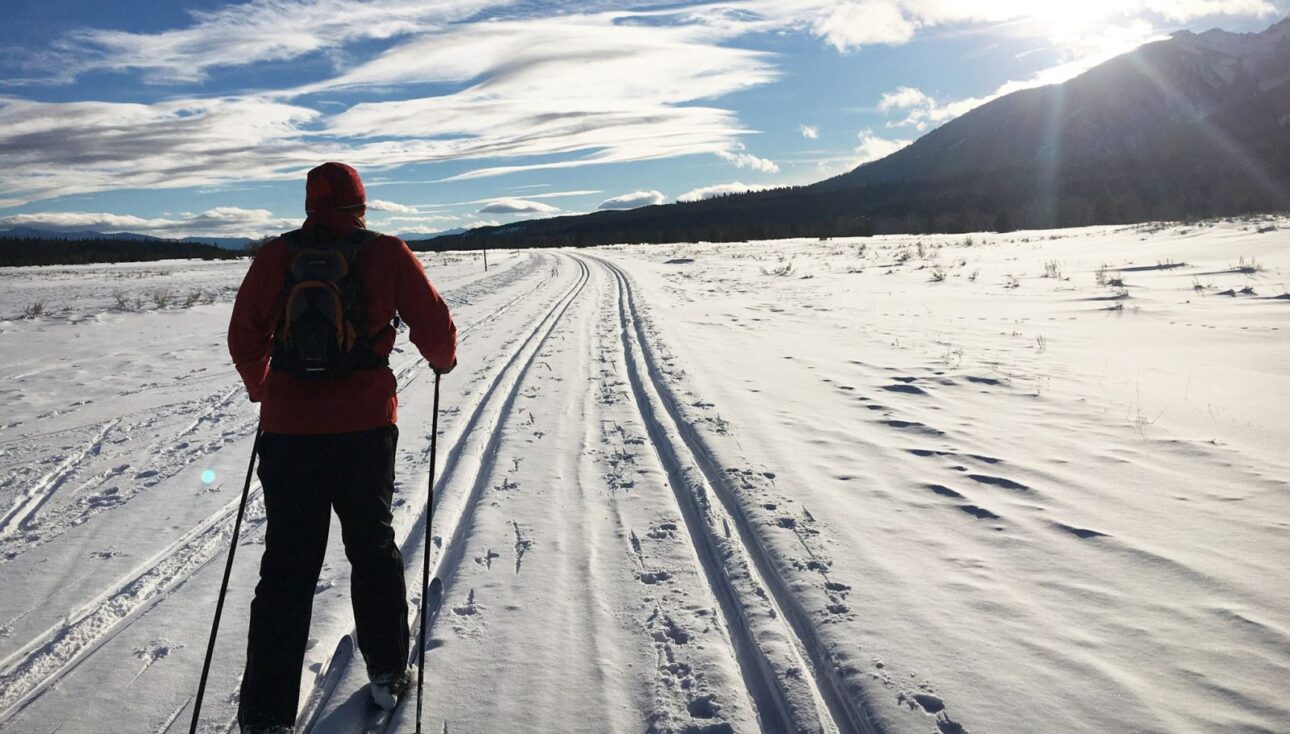 ---
Jackson Hole featured in Outside Magazine as Fat Biking Heaven
"Fat biking is booming in Jackson, and with good reason. What better way to give your ski legs a break and take in epic Teton views? That's right, "groomed" fat biking is here, meaning whenever there's high pressure in Jackson, there's usually rideable packed trails to rip on."
---
Cache Creek Singletrack Trails Grooming Begins!
Friends of Pathways trails manager, Chris Owen, and local super volunteer, Kris Quandt, are revving up for Winter Singletrack Season! The crew started preparing the trails a few weeks ago and report that the conditions have been pretty good for the last few days. With colder temps hitting on Saturday, the trails should be ready to ride over the weekend.
Each year, Friends of Pathways trail staff groom about 12 miles of trail with a snowmobile roller and on snowshoes with a drag behind weighted sled. The main reason for this is to give all trail users space to spread out around the trailhead and not be crowded onto the groomed Cache Creek road.
After storm cycles, the groomers, Chris and Kris will be out to keep things packed down for all trail users. If you see them out there, be sure to thank them for all their hard work.
Winter Wildlife Closures Start Today
Remember that the Winter Wildlife Closures go into effect tomorrow December 1st and last through April 30th.  This means that all areas marked in purple on the map are closed to all human activities during these 5 months.  This includes many of the south facing, low elevation slopes where animals can find food to eat through the deep snowpack.  Please respect these closures and give wildlife space to survive the harsh winters here in Jackson.
Additionally, remember that December 1st starts the leash rule in Cache Creek, Game Creek and on Teton Pass. Dogs should be leashed at the trailheads until they pass the signs indicating that the leash can be removed.
Find maps and more detailed information on the Friends of Pathways Website
---
GROOMING REPORTS
---
Trail Creek Grooming Report
Last updated: 11/30
Shades of Russet in a Forest of Gray!
Currently at Trail Creek the winter migration of our ungulates has resulted in quite a few critters ghosting through our trees, giving you the opportunity for a little extra excitement on your next Nordic outing.  It is always an added bonus when you spot the warm reddish browns of our local elk, deer, and moose, usually moving silently through our gray winter forest.  Recent spotting indicate about a dozen elk, a handful of moose, and three or four whitetail deer are out and about.
If you are lucky enough to head out and about on Trail Creek's trails today you will be greeted by a few peaks of sunshine, a few flakes of snow, mostly calm winds, and as of 11:40 AM the temperature was -4ºC-/25ºF.  You will also discover that the Pisten Bully has been on almost all recently  groomed trails with double passes on all trails except for the Forest Service trails.  Trails on which classic tracks were set include the close field, Woolsey Woods, Moose Loop, and Armin's.  The inch or two of fresh snow set up very nicely today resulting in some crisp corduroy and very nice early season conditions.
Groomer's choice for today is Armin's.
 Click Here to Buy your Trail Creek Pass!
---
Shooting Star Grooming Report
Last Updated: 11/27
We're officially opened! The trails are good enough to dust off the skis and enjoy some exercise, but be aware that some early season trail Gremlins may exist. Below are some other noteworthy details:
All trails are officially open today, except for the out & back ranch loop behind 15 lake.
Early Season Conditions Persist (Rocky/grassy/Inconsistent profile depth & compaction)
Be aware of soft spots, especially in the middle…. The edges of the track will be firmer.
No Classic Track will be set until snowpack increases
Conditions will improve as more snow accumulates
Grooming frequencies may vary depending on snow conditions
Outlook is for some light snow over to the next few days. Depending on the type of snow, we may let it accumulate for a day to assist with coverage before the next grooming occurs. Enjoy!
---

Grand Teton National Park Grooming Report
Last Updated: 11/30
Started Grooming in Grand Teton National Park this morning. Taggart Lake to Signal Mountain. Get out and enjoy the tracks over the weekend!
---

Teton Pines Grooming Report
Last Updated: 11/26
Things are looking good at the Pines. We are fully open and groomed for the season. Conditions are awesome! Wax of the day: Glide: Swix LF6/7; Grip: Swix Blue Extra(a little warmer was possible this afternoon). We are open 9am-4pm daily.
---
Teton Co./Jackson Parks & Rec Grooming Report
Last Updated: 11/30
9:20am: The levee and Stilson were rolled with the snowmobile this morning. Grooming will resume next week following the grooming schedule that can be found on JHNordic.com/grooming. Monday Bushong will be grooming Cache Creek with a Pistenbully to Noker Mine Draw.
---
Grand Targhee Grooming Report
Last Updated: 11/30
With over 10 inches of fresh snow now groomed into the Nordic trails, and more snow overnight Friday, the Nordic trails are in excellent shape for both skate and classic. Fat Bike single track trails are also very good. Reminder that dogs are not allowed on nordic and fat bike trails. Be sure to purchase a trail pass. And after a huge overnight snowstorm, grooming may be slightly delayed, as the GTR groomers work to get all 3 trails systems open (alpine, nordic and fat bike).
---

Alta Track
Grooming Schedule: Tuesday, Thursday, Saturday, Sunday
Last Updated: 11/29/2018 10:03:58
Skate: Fair  |  Classic: Not Set
Comments: The Alta Track is rolled out. Still a few bumpy spots but is definitely skiable. We will continue to buff it out as we get more snow.
Driggs
Grooming Schedule: Monday, Wednesday, Friday
Last Updated: 11/19/2018 11:06:15
Skate: Not Set  |  Classic: Not Set
Comments: Coming Soon!
Sherman Park
Grooming Schedule: Monday, Wednesday, Friday
Last Updated: 11/19/2018 11:06:15
Skate: Not Set  |  Classic: Not Set
Comments: Coming Soon!
Teton Canyon
Grooming Schedule: Monday, Wednesday, Saturday and Sunday
Last Updated: 11/30/2018 9:35:58
Skate: Fair  |  Classic: Fair
Comments: Friday 9am: Rolled the 3-4 inches new snow. Set south classic and skate, both will be quite soft.
Teton Springs
Grooming Schedule: Tuesday, Thursday, Saturday
Last Updated: 11/19/2018 11:10:28
Skate: Not Set  |  Classic: Not Set
Comments: Coming Soon!
Teton Springs Singletrack
Grooming Schedule: Monday, Wednesday, Friday
Last Updated: 11/19/2018 11:10:28
Singletrack: Not Set
Comments: Coming Soon!
Southern Valley Single Track
Grooming Schedule: As Needed
Last Updated: 11/28/2018 12:44:59
Singletrack: Good
Comments:Powerline from Grumpy's to Pole Canyon and the Teton Springs gravel path are rolled to perfection. Grumpy, Upper and Lower Ladyslipper are Fat Biked in. Nemo should be open shortly once the logging operation has ceased. Hope to see everyone at our Global Fat Bike Day event this Saturday, Dec 1st, at Teton Springs.
For more info on Teton Valley grooming, visit their grooming page.
---
UPCOMING EVENTS
---

For more events, visit our events page.