Pilgrim Creek
3.9mi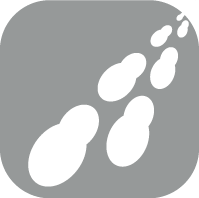 ---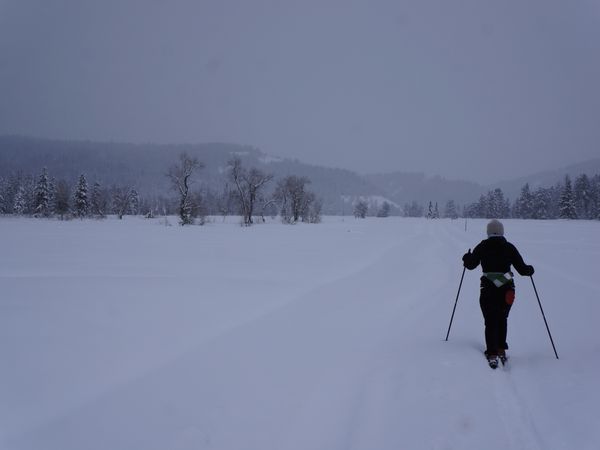 Access via: From Jackson Town Square, drive north on Hwy 89/191 to Moran Junction. Turn left at Moran, pass through Grand Teton Park Entrance (note Park fees apply), and continue west then north on Hwy 191. Pilgrim Creek is 3miles north of Jackson Lake Lodge on the right. Winter parking is a small pull off.
Fee: $0.00 - donations appreciated
---
Pilgrim Creek is a flat classic ski or snowshoe across open meadowlands surrounded by spruce, aspens and white bark pine. This trail description covers skiing along a snow-covered summer road, visible only by roadside markers. In the case of a whiteout, these road markers would be most useful.

The beauty of Pilgrim Creek is easy access from the road into open flat backcountry skiing very close to the Yellowstone and Teton Wilderness boundaries.

From the road head, the trail heads east for approx 2 miles. A park service cabin is seen on the right (south), at which point (2 miles in) the trail turns northeast and continues to the summer trailhead ( end of the summer access road). After a snowfall, breaking trail can be somewhat arduous , but the return trip is easy in ones ski tracks. This valley is a lovely tranquil area in northern Grand Teton National Park. and does not get many visits in the winter .

Note that in late fall (late Nov) or early spring (late March), bears may be in the area and not quite in hibernation ( fall) or just coming out (spring). If you visit this area in these fringe seasons, always travel in a group (4 minimum recommended) and carry bear spray.

Summer hike: the same applies for spring, summer and fall in the Pilgrim Creek area. Known as the home territory of famous grizzly bear "399", the trail network in and around Pilgrim Creek are big bear country. Do not travel alone (group of 4 recommended, carry bear spray, give bears a wide berth (100 yards or more), be alert for bear cubs and food sources such as fallen game.

Other trails in Grand Teton National Park