Mahogany Creek ID
5.7mi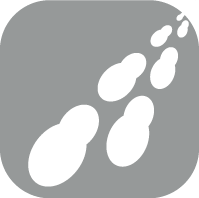 ---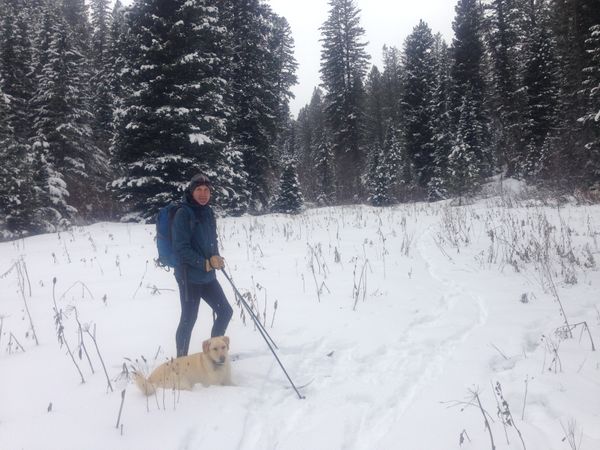 Access via: From Jackson Hole, head west over Teton Pass on WY Hwy22 , which becomes ID Hwy 33 to Victor ID. Continue north 1 mile to Cedron road. Turn left (Fitzgerald's Bicycles) on Cedrun, follow this west then north to Mahogany Creek Rd. (W. 3000 S) Turn left (west), drive 1 mile. Park on road-side.
Fee: $0.00
---
Mahogany Creek is one of the easily accessible, wild creek valleys in the Big Holes Mountains, located north of Patterson and Henderson and south of Horseshoe Canyons. The ski track is generally untracked or if there has not been snow for a while, may have a skier track.
We skied Mahogany in mid December, and followed a moose track most of the way, though we never saw any moose. The trail begins at the end of the snow-covered forest service road, at 6340 ft in elevation, and follows Mahogany Creek itself west for 3-4 miles. The winter ski or snowshoe trail is narrow for most of the way except for the occasional clearing, and follows a summer single-track mountain bike trail.
The trail climbs gradually on the north side of the creek, and at times has short 100-200 yard steeper climbs, testing one's arm strength and herringbone skill. Note that the uphill climbs on the way out make for some narrow, daring downhill's on the return. If you have climbing skins or "kicker" skins, these may be useful for both directions.
This trail is situated in National Forest, where dogs are allowed. However, please be respectful of wildlife. Our outing continued for 2 ¾ mile on the outbound, until we reached a dense grove of conifers. To continue deeper into the Big Holes, one can get around this conifer stand by climbing up the north hillside (south facing) a further 100 yards, at which point the terrain opens up again to the west at approx. 6750 ft elevation. Mahogany Creek is a quiet valley in winter, too narrow for snowmobiles, and a pleasant getaway in the forest.
Return via the same trail.

In summer, the ski track is a USFS dirt road, ideal fro an easy gravel or mountain bike ride. It is also accessible on foot for a walk.

Other trails in Teton Valley