Blacktail Butte-south
4.6mi








---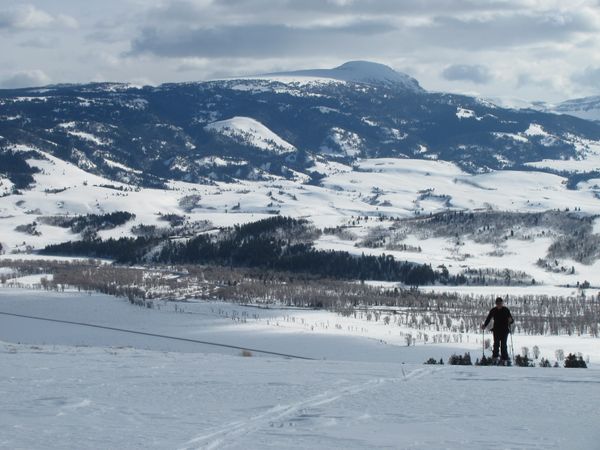 Access via: From Jackson, drive north on WY Hwy 89 6.8 miles to Gros Ventre Road junction. Turn right and drive 4.5 miles. Park in the pull-off/summer road entrance for the Gros Ventre campground.
Fee: $0.00
---
Cross Gros Ventre Road, and begin skiing north across snow-covered sagebrush meadows for ½ mile, aiming for the broad open drainage heading up on a north-northwest direction from the valley floor. As one starts to climb up this drainage, switchbacks may be necessary at times as the terrain climbs steeper up the gully. Continue climbing in the open slope up to where the tree line closes off the top of the gully and the open slope now continues to the left (west) up the ridge.

For skiers on skinny classic skis, depending on the snow quality, this can be challenging, as this south facing slope can have a sun or wind crust, making the traverses and switch-backs tricky to set an edge. Slightly wider BC cross-country skis are recommended, and kicker skins are useful to add extra grip to the steeper sections.

Continue up the ridge via a long series of climbing switchbacks until the ridge begins to flatten enough to ski straight up to the west. Since ski tracks are rare, use the goal of the natural summit as a compass, climbing up through the open ridge, then cutting through conifer forests passages in a westerly direction. Continue upward for approx. 1 mile, then just before the final summit, the ridge bends to the south (left) before flattening out. The views to the south across the southern Jackson Valley and western Gros Ventres Range are vast. Unfortunately, the trees block the view of the Tetons to the west. If the Teton view is important, ski south another 500 yards or so to a point where the trees end. This is the summertime lunch spot.

The descent can be made via the same trail, and depending on snow condition, can be rather fast and challenging. If the snow is stable and soft, after the initial ½ mile down from the summit, one can ski down the south faces or further skier's right to the southeast facing slopes. These lead down through a series of glades and progressive slopes that offer easier grades for the nordic skier.

Return to the base of the butte where your climb began, and ski out the flat last ½ mile to the parking area.

This area sees moose in winter and they should be by-passed in order not to cause them alarm. Also seasonal elk habitat, and even wolves have been seen on Blacktail.
Other trails in Grand Teton National Park