It's getting to be that time of year, the snow has arrived in Jackson Hole and it's time to brush the dust off of your nordic gear and hit some early season trails. Luckily for you JH Nordic has some great insight on the best trails to ski and fat bike while the winter is still young.
Without further ado, here, in no particular order, are our favorite trails to take advantage of this time of year: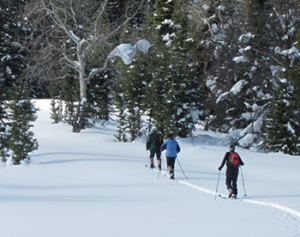 Teton Pass – South to Mt. Elly – 3.3mi
This scenic trail is easily accessible right off of the top of the Teton pass on WY Highway 22 just west of Wilson.  With a starting elevation of 8500 ft this intermediate trail is an early season treasure as it receives and holds the early snow much better than most lower elevation trails.  Boasting views of Mt. Glory and central Jackson Hole in the valley below to the east, the snow and skiing are not the only attraction of this "out and back" trail.  The trail leads you to the summit of Mt. Elly where 360 degree views of the Snake River Range, Black Canyon and Mt. Glory can be soaked in.
Grand Targhee Nordic Trails – 8.8mi
"The Ghee" as some call it, has an extensive set of nordic trails that are made up of four separate loops and are accessible pre-season but they likely will not be groomed yet. These trails are perfect for nordic skiers of any skill level and are well kempt, with clearly marked trail junctions.  These trails tend to build up a decent base much earlier than the valley floor in Jackson.
Togwotee Pass has plenty of trails that due to their higher elevation can make for great early season skiing.  These trails are tracked out by snowmobilers which make them easy to follow for the most part and a great one to take is the trail to Brooks Lake, where you can stop in at the lodge for a drink and a bite to eat before turning back.
Now that you have all you need to know about the places to be for nordic skiing this time of year, get out there and ski! WINTER IS HERE!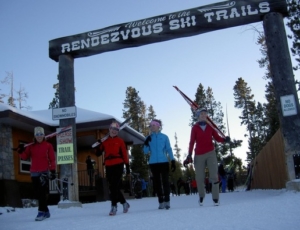 Yellowstone Ski Festival & West Yellowstone Rendezvous Trails
Aside from just these awesome local trails to hit with our first snows of the year, the Annual Yellowstone Ski festival kicks off on November 21st with the West Yellowstone Rendezvous Trails opening up to the public. The festival draws thousands of skiers from all over the US and Canada and is a great place to start off the season and brush up on your technique or attend a waxing clinic. Find out more about the festival on the official event page here.