Credit Image above: Powder Magazine
Live in a Ski Town While You're Too Injured to Ski
Kylie Mohr, a former Jackson local and a journalist at High Country News, wrote a blog on Powder Magazine in 2019 about living in a ski town and being too injured to go play. She grasps such a real quandary here in a ski town like Jackson Hole where the majority of the townees are here for one thing: to play in the mountains. But what happens when your fun turns into a pain (quite literally)? It just downright sucks to be on the sidelines while your buddies are having fun (Instagram posts don't help). We've been there, and we sympathize entirely. And while injured, skiers may feel overwhelmed and at a loss of how to move forward without some downhill time – Jackson Hole Nordic has a solution for those looking to complement their recovery efforts.
Nordic walking, a Low-impact Activity
Jackson Hole Nordic advocates for a steady recovery with Nordic skiing or Nordic walking. With low-impact activity on the joints, Nordic walking is the perfect activity for the previously active athlete or individual who has recently become sedentary. The main movement is a rhythmic swinging and pushing off with Nordic poles. It is important to note that you must use Nordic walking sticks, which create an extension of your arm. Ski poles or hiking poles would be too heavy and not produce the benefits one would be looking for with Nordic walking (though some seasoned Nordic walkers would find the effort amusing).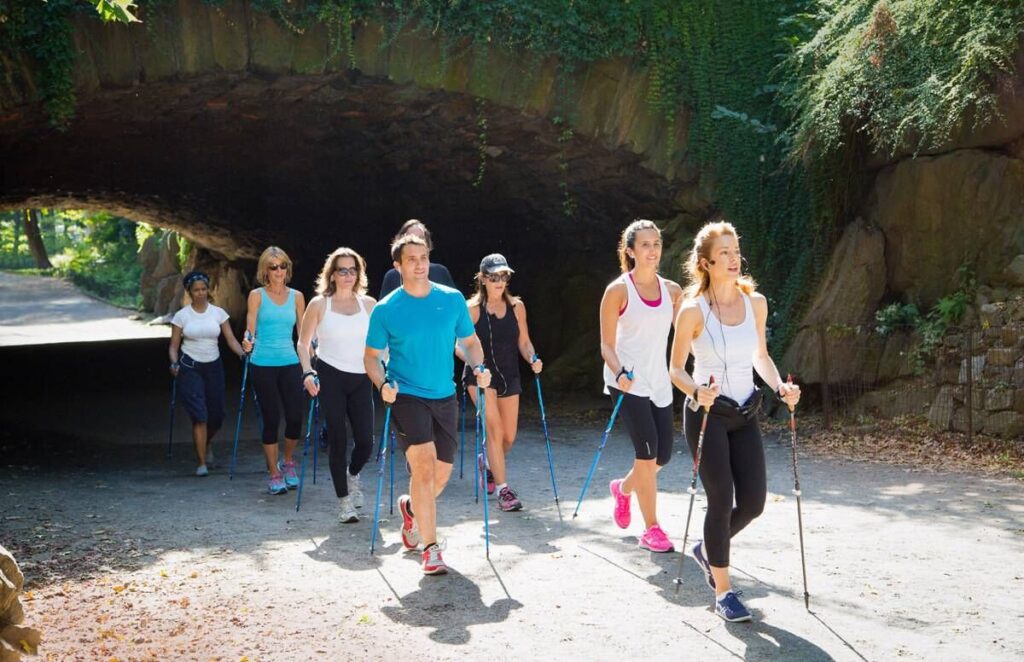 For the athletes that live off of downhill skiing, let us all tell you "This too shall pass" (Like a kidney stone, but this agonizing period without powder days will pass). As you attempt to fill your free time and not get so FOMO (fear of missing out), Nordic walking could be benefical. The form (which may initially feel awkward) takes some getting used to; focuses on gait training and propelling forward by engaging your glute muscles. The focus on pushing off of the poles while you are walking and correctly mastering that form, will cause one's core to become dynamically engaged, in addition to toning of the arms and legs. The mindfulness that Nordic walkers get while conditioning is a bonus to the exercise benefits, as one has to be more aware of their surroundings. The poles provide balance, stability, and just a slight enough amount of resistance that one must constantly focus on the correct form. The added focus on where your feet are going, how you position your arms, your core engaged, and pushing off each step from your glute muscles will ensure the proper alignment and prevent atrophy of forces that, otherwise, would've been idle.
Contact your nearest physical therapy clinic today to see if Nordic walking could be the right solution for you while you rehab from an injury! Jackson Hole Nordic is happy to answer any additional questions about the sport.
Rehabiliation is so important
Even though you would rather spend your free days flying down the many runs and thrilling terrain at Jackson Hole Mountain Resort or Snow King, we assure you that taking the time to rehab your body properly and potentially incorporate some Nordic walking will reap better benefits long-term when you are ready to hit the slopes once again. We look forward to seeing you on the trails, whether downhill skiing, Nordic skiing, or Nordic walking this next snow season. Take care, skiers!
"How To Live in a Ski Town While You're Too Injured to Ski," Powder Magazine by Kylie Mohr