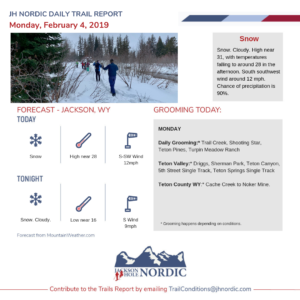 ---
Thank you for continually sharing your photos with us
of Nordic skiing in Jackson Hole
---
Highlights from the Hole Hiking Experience Blog
January: Nearing average snowfall, government shutdown, and the human-wildlife conflict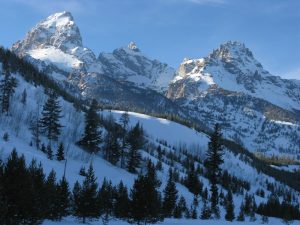 January weather was cold and snowy but annual snowfall lingers below average. We end the month at 84% of annual snowfall and a 76-inch base. The month brought a few good storms and valley snow is much deeper than last winter. With our proximity to Yellowstone and Grand Teton National Parks, the government shutdown pressures reach wide in our valley. Many people in our community have been affected by the shutdown. The month of February begins with a sense of relief with the government opening for three weeks.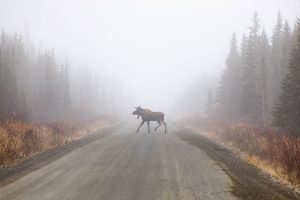 On a recent drive along the river corridor, a dark shadow caught my attention on the snow bank along the Teton Village Road (Highway 390). A garbage lid or bag? No, sadly, a dead moose calf. And being Friday, it would remain as a tragic reminder until Monday. Should I turn away or look and face this tragedy? My inclination was to turn away, but as I approached I chose to look. I wanted to acknowledge and honor this animal and its life, and to confront the human-wildlife conflict.
This road was built along the Snake River corridor, a prime moose habitat. There are many wildlife collisions on this road, so we have warning signs and cut-out moose silhouettes to make us more aware. The speed limit has been reduced at night but the moose are as black as the night. My heart is heavy but I am more aware and more conscious of life as I drive by and face this moose, honoring its life.
Click here to read the full blog.
---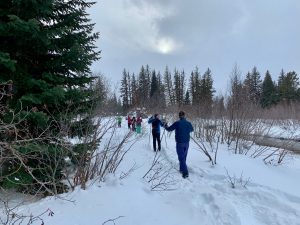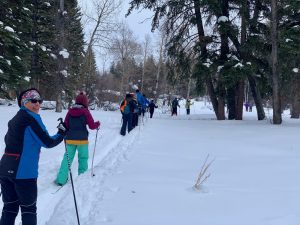 Field Report: XC Ski at Murie Ranch
Friendly community gathering at the Murie Ranch, connecting with nature in winter skiing into the woods by the beaver ponds. Moose and pine marten tracks were visible in the snow.
It felt as if Marty snd Olaus were there.
"In the midst of these busy winter days came Christmas, chopping, the skiing or snowshoeing a mile for mail or messages; all this we enjoyed, and gladly paid that price for the ineffable peach and beauty of this place which soon became deeply home.
The one feature we all freely admitted was a chore was the business of the light plant. There was one at our house, one for the Homestead where Weezy and Ade lived whenever they weren't away in Alaska or elsewhere on other government field work, and one at the house Buster and Frances had built for themselves. This latter was closed in the winter, so we had only two to worry about. But in winter there was an absolutely unlimited number of things that Ould go wrong with a gasoline engine generator-and they did- so we were all living each day with that nagging at the back of the mind. " Will she, wont she run tonight?"

– Wapiti Wilderness, by Maddy and Olaus Murie
---
Today: Bridger-Teton Open House
The Bridger-Teton National Forest is inviting the public to a community open house at their 340 N. Cache office on Monday February 4th from 9-11am. The Bridger-Teton National Forest would like to thank their neighbors, partners and friends for the support during the recent government shutdown and will be offering free refreshments. Friends of the Bridger-Teton will also be there to share information about the new organization and how you can help support the Forest. https://www.facebook.com/events/341595570024747/?active_tab=about

Last Updated: 2/3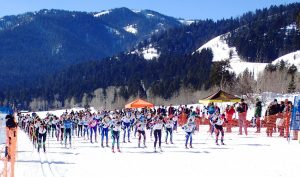 Thanks!
A million thanks to all the skiers, spectators, and especially volunteers that came together to put on a spectacular race at Trail Creek. Nearly 200 high school racers got to show their stuff speeding around our courses, creating a great spectator event and making their families and communities proud.
Click here for a video of the girls start and here for a video of the boys start.
Today at Trail things are quite a bit quieter. About a half foot of very dense snow has fallen with conditions as of 11:45 being heavy snow, a light breeze, and a temperature right around freezing. Grooming with the Pisten Bully started off quite well this morning with the Pisten Bully making a complete skate/classic lap of most trails via the Moose Chase course "more or less". However, soon into the second lap the temperature warmed just enough so that instead of flowing through the tiller, the snow began to turn into giant snow balls. Instead of subjecting the Pisten Bully to the huge stress associated with such conditions, the decision was made to call it a day.
---
Turpin Meadow Ranch Grooming Report
Last Updated: 2/3
We will see what actually comes of this storm, we haven't had too much accumulation yet. The bully was out early yesterday and a set nice firm trail, we're expecting more of the same today. We've got a lodging special going on for the rest of the season, book a night in a chalet, get the second night for 50% off.
Last Updated: 2/2
9:05am: The levee and Stilson are groomed. The levee is very firm but skiing improves immensely after the 1 mile mark. Stilson is in great shape for both classic and skate skiing. I am heading to the school fields now and will be done around 11:00.
---
Grand Teton National Park Grooming Report
Last Updated: 2/3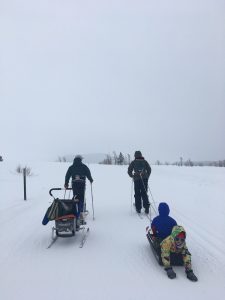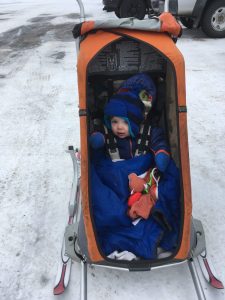 Family XC Ski at Taggart this weekend. Photos courtesy of Heather D. 
Taggart Lake to Signal last groomed 2/1.
Sunday grooming was cancelled due to the snowstorm. 
---
Teton Pines Grooming Report
Last Updated: 1/29
Conditions are great at Teton Pines! We groom daily, so come out and enjoy our beautiful track and the sunny days this week! Wax recommendations: Glide: Swix LF7(purple); Grip: Swix Blue/Blue Extra
---
Shooting Star Grooming Report
Last Updated: 2/1

Soak up the sunshine today as the weather outlook is looking very snowy beginning tomorrow. Overall the skiing should continue to be very delightful. Enjoy!
Next Update: Sunday
---
Grand Targhee Grooming Report
Last Updated: 2/3
Winter's back! Temperatures are dropping, and the snow is falling. Brace yourself though, the 7 day forecast is calling for snow, every. single. day. 5″ overnight, and more currently falling.
Cross Country/Fat Bike 15k: XC OPEN (Last groomed AM 2/3/2019), Fat Bike CLOSED.
---
Pinedale Nordic Trail Report
Last Updated: 2/3 @ 11:15am
Most all trails above groomed this morning. Hard to tell how much new snow because of the wind, maybe ½ foot. 30F degrees, calm – quite pleasant. Road and parking plowed.
---
Alta Track
Grooming Schedule: Tuesday, Thursday, Saturday, Sunday
Last Updated: 2/3 @ 7am
Skate: Not set |  Classic: Not set
Due to the persistent warm temperatures, we're going to wait to groom to prevent damaging the track. Stay Tuned.
Driggs
Grooming Schedule: Monday, Wednesday, Friday
Last Updated: 2/1 @ 6pm
Skate: Fair  |  Classic: Fair
Sherman Park
Grooming Schedule: Monday, Wednesday, Friday
Last Updated: 2/1 @ 12pm
Skate: Good |  Classic: N/A
No grooming in the park today. The track is firm and in good condition. Go enjoy before the weekend storm rolls in.
Teton Canyon
Grooming Schedule: Monday, Wednesday, Saturday and Sunday
Last Updated: 2/3
Skate: Not set  |  Classic: Not set
Sunday: After 48 hours of above freezing temperatures and a fair amount of rain overnight, have decided not to groom this morning. Plan to groom Monday morning.
Teton Springs
Grooming Schedule: Tuesday, Thursday, Saturday
Last Updated: 2/1 @ 6pm
Skate: Good |  Classic: Good
Track is still firm and good to go. Almost (ALMOST!) bummed more snow is on the way, the skiing has been that good. All said, happy more snow is gonna keep us skiing for awhile… if you get a chance, come check out the great skiing before late morning Saturday and the snow moves in!
5th Street Singletrack
Grooming Schedule: Monday, Wednesday, Friday
Last Updated: 1/24 @ 10am
Singletrack: Good
Packed in nicely. Go spin out those ski legs!
Teton Springs Singletrack
Grooming Schedule: Monday, Wednesday, Friday
Last Updated: 1/24 @ 7pm
Singletrack: Good
All Singletrack in Teton Springs is groomed. Enjoy!
Southern Valley Single Track
Grooming Schedule: As Needed
Last Updated: 1/28 @ 12pm
Singletrack: Good
Corduroy goodness.
Alta Vista Freestyle Nordic Race 2019:
9th Annual Alta Vista Freestyle Race
When: Saturday, February 9th
Where: Alta, WY – Alta Nordic Track
This is a beautiful trail race across the foothills of the Tetons. There is something for everyone and fun for all. Come enjoy a very family oriented race in Alta, WY on TVTAP's Alta Nordic Trail. It is a freestyle race, so either skate or classic skiing is allowed. Kids can choose between the 1/2k, 2.5k, or 6k. The big kids and adults can choose to take on the 10k, or do two laps to conquer the 20k race. For more information and to register: https://tvtap.org/alta-skate-race/
---
Special Olympics – Nordic Ski & Snowshoeing
When: February 6-7
Where: Teton Pines Nordic Center, Wilson WY
Contact Chris Hamann, LJHS Nordic Coach chamann63@gmail.com for more information; volunteers welcome 9am-1pm on 8th & 9th
www.sowy.org
---
Send us your event dates, stories, photos
Follow JHNordic on Facebook, Instagram @JHNordic, #JHNordic
Sign up for Daily or Once a Week JH Nordic Trail ConditionReports to know what's groomed, what's happening first thing every morning – or just Saturdays.