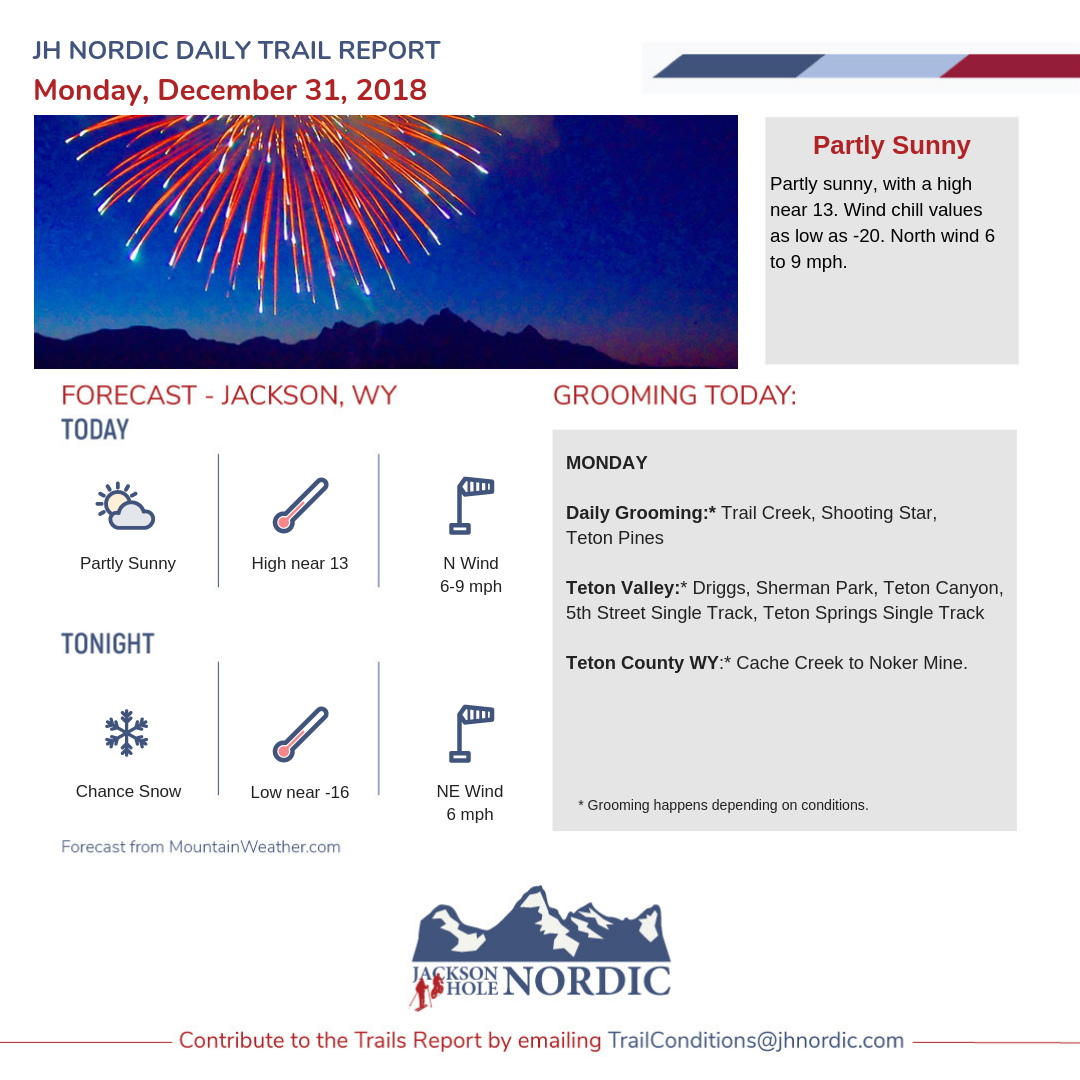 ---
The Champions!
While pretty much everyone that came out yesterday was a champion in one way or another, Kelly Mulligan and Scott Lacey were the fastest women's and men's 10K racers in yesterday's Betty Woolsey Classic Race.  A million thanks to the racers, parents, kids, spectators, and coaches that all came together to make a really great Nordic day!  Around 70 racers skied the variety of courses with the results available here.
Today at Trail Creek it is a really good classic ski day.  Waves of snow are cascading over the trails with well over a half foot of snow accumulating by 12:15 PM.  The temperature is -4ºC/25ºF with heavy snow fall and light breezes.  Today's grooming was a Pisten Bully "classic favoring pass" through all the woods trails with an extra skate pass on Moose Loop.  The close field did receive multiple passes with double classic tracks.  Classic skiers will have big smiles cruising through an awesome storm and if you are determined to skate the close field or Moose Loop will be your best bet.
Look for the entire East Field to be set on Monday.
Groomer's choice for today is a long classic tour.
Buy your Trail Creek Pass!
---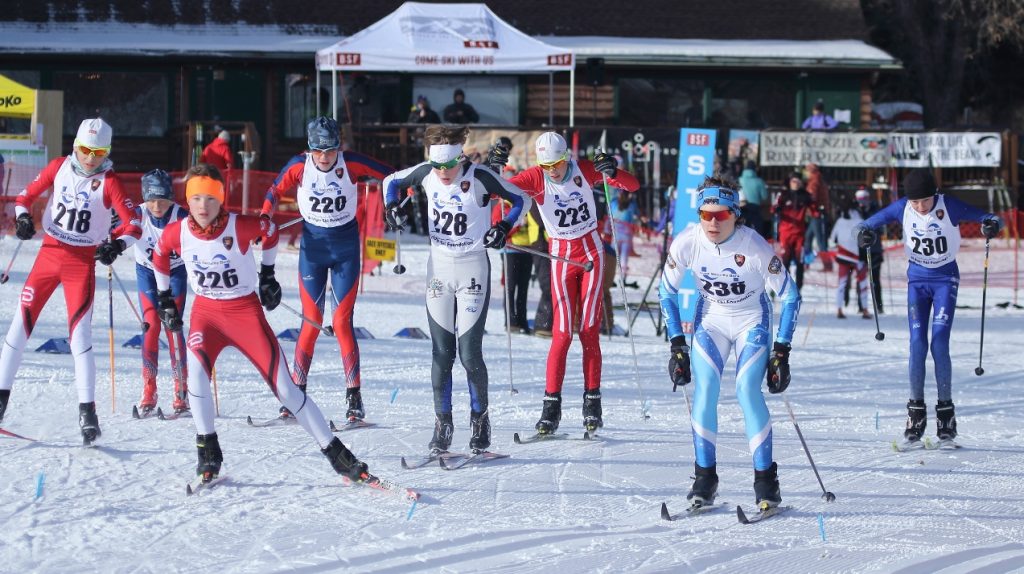 The December  28

th

 edition of the JHSC and Community Nordic Update, Happenings of the JHSC Nordic Program, Trail Creek Nordic Center, and Local Nordic Community has been posted.  Read about coach reports, featured members of the Nordic community, community and school race results and schedules etc. by clicking 

here

.
---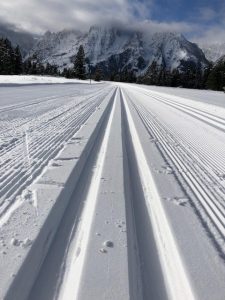 TRAIL REPORT
12/29
Had a nice day in the park. Tracks were pretty good, thanks to special efforts by the GTNP groomer.  Unfortunately the tracks were sort of broken up during the day, never had a chance to set up. But what a blast – good grip, really good glide. 25km of fun! 
In spite of the government shutdown, grooming will continue on Fridays and Tuesdays, thanks to the support of Grand Teton National Park Foundation and community support.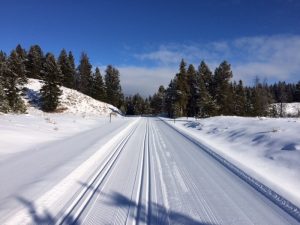 Note that there are no services in GTNP in winter, although Dornan's is open for lunch, drinks. Please take care not to walk on the groomed trail between Taggart and Signal Mountain, and remind others courteously not to walk on the trails. The normal Trail signs are in for repair after last weeks wind storm, so visitors may not be aware that the groomed trail is reserved for Nordic skiers.
Doesn't get any better than this! Head up to the Signal Mtn side of the Taggart to Signal groomed trail for beautiful fresh grooming!
---
Status of USFS Winter Operations
A note from the Forest Service: As you know, the Forest Service is included in the Government Shutdown. Therefore, the majority of our folks are furloughed and the offices are closed. However, we will be able to provide limited services with a focus on public safety. This includes:
The BT Avalanche Center will continue to issue forecasts
Plowing will continue at Granite, Gros Ventre, Mosquito Creek and Cache Creek (but may not be as frequent)
Snow ranger patrols will continue on a limited basis (this includes Cache and Game and our snowmobile patrols)
Jay will continue to cover Teton Pass
The ambassadors will continue covering Cache and Game (since they are not technically FS volunteers)
Thank you for your support of our winter program and your patience. Hopefully we will return to full operations soon.
---
MARK YOUR CALENDARS!
---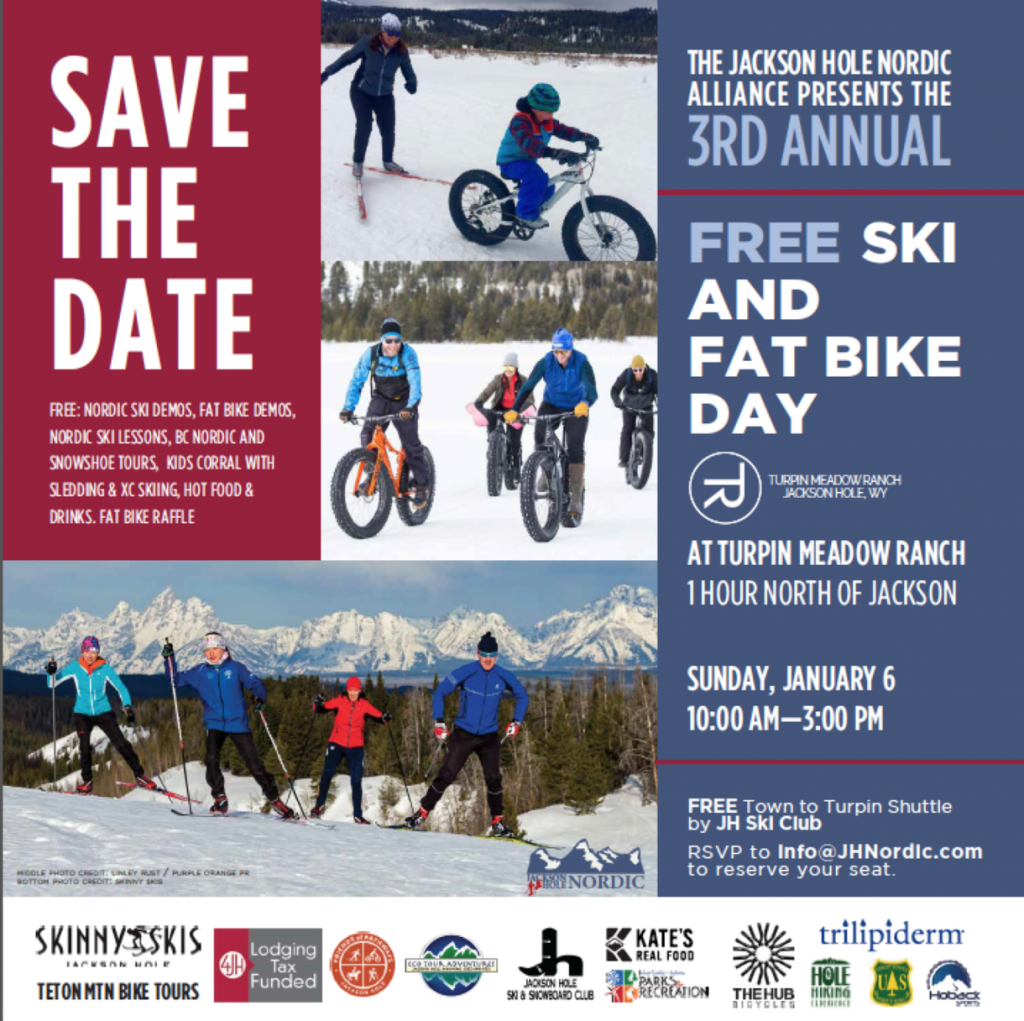 Countdown to Jackson Hole Nordic Alliance's Annual Free Ski and Fat Bike Day at Turpin Meadow Ranch on Sunday, January 6th, 10 am – 3 pm
Next Sunday! Don't miss it!
Remember:
FREE Nordic Ski & Fat Bike Demos
Nordic Ski Lessons for the newbies
Backcountry Nordic & Snowshoe tours
Kids Corral with Sledding & XC skiing
You can bring the whole family including the dog, just be sure to have your pup on a leash (in the main lodge area) and clean up after them
Don't forget we have a Free shuttle to Turpin Ranch from Jackson Home Ranch lot – Meet at 8:45am, email info@jhnordic.com to reserve your seat
This free event benefits Friends of Bridger-Teton USFS, towards Cache Creek trail access and trail ambassadors.
---
The Levee and Stilson are groomed and in great shape. I am heading to the school fields now and should be done around 11:00. Once again there will be no grooming Tuesday due to the holiday. Cache Creek will be groomed Monday.
---
Turpin Meadow Ranch
Last Updated: 12/29 @ 3pm
We've gotten some significant snow in the past 24 hours, the groomers have been working hard to keep the trails open and pleasant. What better way to enjoy the last days of 2018 then a peaceful ski or snowshoe through the forest, over the hills, to Turpin Meadow Ranch?
Buy Your Turpin Meadows Trail Pass!
---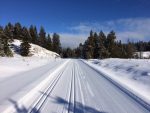 Grand Teton National Park Grooming Report
Last Updated: 12/30 
With all the new snow, bring your classic XC skis for a fine ski of creamy, wind-blown snow over last Friday's groomed tracks.
---
Teton Pines Grooming Report
Last Updated: 12/30 @ 7pm
Conditions at the Pines are great! We are groomed for both Classic and Skate. The snow conditions are incredible right now so please come and ski with us this week!
Wax recommendations: Glide: Swix LF 6(Blue); Kick/Grip: Swix Blue
---
Shooting Star Grooming Report
Last Updated: 12/29 @ 9am

A new winter storm is projected to bring moderate snowfall to the Nordic course this weekend. Expect snow accumulations and drifts (if windy) to form after we groom each morning through Sunday. Note, that HIGH winds are forecasted on Sunday, which could make for a challenging Nordic expedition. Calmer conditions should return for Monday. Be safe, respect the weather, and enjoy the new snow!
Cross Country/Fat Bike 15k: XC OPEN (Last groomed AM 12/30), Fat Bike CLOSED.
So it begins… one flake will turn into two flakes, will turn into a million flakes! Today will be the first wave, with 1-3″ predicted by afternoon. Feeding all the variables into the handy-dandy powder-o-predictor, we're going to go with a grand total of at least 13" from this storm through New Year's Day. That's right, folks. 13" whopping inches by Monday morning! Classic XC skis recommended (too much new snow for skate skis).
Today's Event: S'mores & Hot Chocolate Tubing Party, 4-7pm.
---
Pinedale Nordic Trail Report
Last Updated: 12/28 @ 9am
Half Moon Tie-In, Kelly Park, Kelly Tie-In, Upper & Lower Surveyor, Tree Loop, Moose Ridge, Flatline, and Old Road Trail have all been groomed this morning. Waiting for more snow to do Heart Attack. About 1/2″ of new snow overnight. 7F degrees at the Nordic Equipment Building. Road plowed, a lot of skier traffic – drive with care, always. Watch out for kids and dogs in the White Pine parking lot, especially at road crossings. There are Nordic skiers parking at the lower end, and alpine skiers near the lodge. Drivers, please slow down going to/from/through the White Pine parking lot – a dog got hit yesterday by a truck driving too fast (the dog is ok). There are moose on Moose Ridge – give wildlife their space. The CCC and Golf Course trails were groomed yesterday and should be fair skiing, with a heavy dusting of snow on them. Parking areas are plowed. Golf Course Club House is open for meals and restroom. Lakeside Lodge is also open for meals and lodging. See links below for links to their websites for more info on days and times for open hours and services through the winter.
Mike Looney, Groomer, Sublette County Recreation Board

---

Alta Track
Grooming Schedule: Tuesday, Thursday, Saturday, Sunday
Last Updated: 12/30 @ 11am
Skate: Not Set  |  Classic: Not Set
I'm going to roll out the new snow today. I should be done around 2pm.
Driggs
Grooming Schedule: Monday, Wednesday, Friday
Last Updated: 12/28 @ 12pm
Skate: Fair  |  Classic: Fair
Recent snow has helped track coverage. Main loop good for skating and classic. Classic skiing on east loop better than skate.
Sherman Park
Grooming Schedule: Monday, Wednesday, Friday
Last Updated: 12/28 @ 10pm
Skate: Excellent  |  Classic: Not Set
Rolled and dragged the course 3-4 rows, twice, sometimes 3 times in sections. These low temperatures will permit fantastic firm conditions. Have fun this weekend!
Teton Canyon
Grooming Schedule: Monday, Wednesday, Saturday and Sunday
Last Updated: 12/29 @ 9am
Skate: Fair |  Classic: Fair
About 3 inches new snow in parking lot this morning, snowing lightly, 20 degrees. Will use roller to pack down and set classic. Finish by 11am.
Teton Springs
Grooming Schedule: Tuesday, Thursday, Saturday
Last Updated: 12/28 @ 8am
Skate: Excellent |  Classic: Excellent
All trails set.
5th Street Singletrack
Grooming Schedule: Monday, Wednesday, Friday
Last Updated: 12/27 @ 10pm
Singletrack: Good
Rolled 5th St. Thursday night hoping it will setup nicely for some TGIF laps! Happy Holidays! Go ride!
Teton Springs Singletrack
Grooming Schedule: Monday, Wednesday, Friday
Last Updated: 12/28 @ 10pm
Singletrack: Fair
Groomed Friday afternoon. Should be firm and good to ride on Saturday morning.
Southern Valley Single Track
Grooming Schedule: As Needed
Last Updated: 12/28 @ 5pm
Singletrack: Good
Groomed upper lady slipper to Pole Canyon. Should set up nicely this evening.
Rammell Mountain Road to Indian Meadows
Grooming Schedule: As Needed
Last Updated: 12/19/2018 @ 8am
Singletrack: N/A
Comments: Groomed Today
For more info on Teton Valley grooming, visit their grooming page.
---
Pinedale Nordic Grooming Report
Last Updated: 12/26 @ 9am
Half Moon Tie-In, Kelly Park, Kelly Tie-In, Upper & Lower Surveyor, Tree Loop, Moose Ridge, Flatline, Heart Attack and Old Road Trail have all been groomed this morning. About 1″ of new snow. 12F degrees. Lots of deer and moose both up above – give them their space.
---
UPCOMING EVENTS
---

2019 TRIPLE CROWN RACE SERIES
Register by January 1
1) Skinny Skis 27th Annual Moose Chase Nordic Ski Race
2) FCExcavation 37th Annual Jackson Town Downhill
3) Rendezvous River Sports 44th Annual Karen Oatey Pole Pedal Paddle
_________________________________________
The Triple Crown celebrates Jackson Hole's winter sports traditions and recognizes our region's heartiest athletes.
Do you have the grit and determination to race the entire series? Over $10,000 in Cash and Prizes!
---
New Nordic Master's Program
Thursday January 3
11-12:30: Classic Technique for All
Dates: Jan 3, Jan 17, Jan 31, Feb 14, Feb 28
Trail Pass + Nordic coaching on Tips & Technique, alternating Classic cross-country and skate skiing.
$150 for 6 clinics, $100 for 6 clinics for existing pass holders.
Drop-in clinic and trail pass: $35
Clinic only:  $30.
More info? Contact Nancy at info@jhnordic.com. 650-464-6000