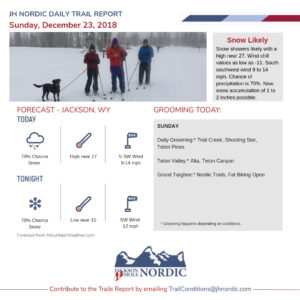 ---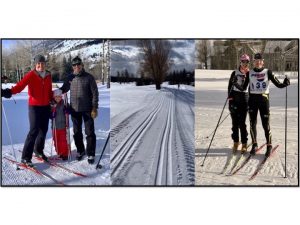 A small and enthusiastic group of nordic skiers came out to put their early  race skills to work over the 5k and 10 course at Teton Pines Nordic Center Saturday morning. The trails were crisp, dry snow, groomed to perfection for both skate and classic. While most of the skiers were locals from JH and Teton Valley, a husband & wife team came from Switzerland.
Families and friends also enjoyed the fine conditions without racing, enjoying the sunshine. Great day to be out on the snow!
---
 
In response to the lapse in federal appropriations, Grand Teton National Park is implementing its plan for a government shutdown. Government-operated facilities in the park will be closed. Visitors will be able to access the park, though no visitor services will be available.
Grand Teton National Park Deputy Superintendent Gopaul Noojibail said, "Visitors will be able to access Grand Teton National Park, but should plan ahead and use caution as park staff will not be available to provide guidance or assistance. If visitors see something that jeopardizes visitor safety or park resources, call Teton Interagency Dispatch Center at
307.739.3301
."
Grand Teton National Park's shutdown plan includes:
Park roads will remain open if they are essential to respond to emergencies-this includes most roads that are normally maintained and open at this time of year. Access to all residences will be maintained.
Emergency response may be delayed.
Entrance stations will not be staffed.
Grooming of the Teton Park Road will continue through a partnership agreement with Grand Teton National Park Foundation.  Grooming is scheduled to occur twice a week.
Access to Yellowstone National Park's south entrance will continue, including staging and winter services available at Headwaters Lodge at Flagg Ranch in John D. Rockefeller, Jr. Memorial Parkway.
---
1) Skinny Skis 27th Annual Moose Chase Nordic Ski Race

2) FCExcavation 37th Annual Jackson Town Downhill

3) Rendezvous River Sports 44th Annual Karen Oatey Pole Pedal Paddle

_________________________________________

The Triple Crown celebrates Jackson Hole's winter sports traditions and recognizes our region's heartiest athletes.

Do you have the grit and determination to race the entire series? Over $10,000 in Cash and Prizes!

Who Will Wear the Crown!?
Next Nordic Masters clinic will focus on classic technique on Jan 3rd: 11-12:30. Open to all!
Dates: Jan 3, Jan 17, Jan 31, Feb 14, Feb 28
Trail Pass + Nordic coaching on Tips & Technique, alternating Classic cross-country and skate skiing.
$150 for 6 clinics, $100 for 6 clinics for existing pass holders.
Drop-in clinic and trail pass: $35
Clinic only:  $30.
More info? Contact Nancy at info@jhnordic.com. 650-464-6000
---
GROOMING REPORTS
---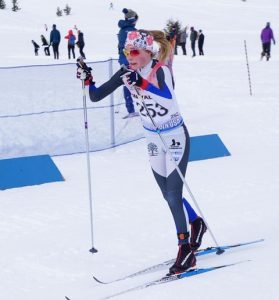 Trail Creek Grooming Report
Last updated: 12/22 @ 11AM
Racing Weekend Continues!
Area youth are putting their intense training at Trail Creek to the test today, speeding around Nordic courses in both Bozeman, MT and Cody, WY, go teams!  Results are being posted for the Junior National Intermountain Nordic Division Qualifier in Bozeman at this site.  While no posting of results from the Wyoming High School Nordic race at Pahaska Teepee near Cody were readily available at report time, the best bet would be to check in with the Cody Enterprise which usually reports high school events quickly.
Things today at Trail Creek are looking quite nice.  We readily survived yesterday's wind storm with the only damage being a bit of needles, cones, small branches, and bark blowing on to the trails.  Today's Pisten Bully grooming did a good job of burying much of the debris enough so that it shouldn't affect your skis too much.  Today's grooming was double Pisten Bully passes of the entire network.  As of 9:45 AM the temperature was -6ºC/21ºF with calm and cloudy conditions which should be quite optimal for a great Nordic ski!
The animals have been extremely active again with the pair of big bull moose actually doing some sparring in the parking area.  Our resident herd of elk are slowly becoming habituated to Nordic skiers and Pisten Bully's and this morning were happily lounging in the Animal Farm area, very content with the fact that no predators have yet become as habituated as them
---
Shooting Star Grooming Report
Last Updated: 12/22
All trails have been leveled and recut after yesterday's wind event. Conditions should be enjoyable today, but the track profile will like have a few inconsistent spots due to the recent weather events(example: soft/icy areas).  Look for colder temperatures this afternoon followed by another forecasted winter system begin overnight. Enjoy!
---
Turpin Meadow Ranch
Last Updated: 12/22 @ 4PM
We have been having a great combination of snow, sunshine, and cold overnight temps which have made for carefree trails. With the combination of weather and good grooming our trails are ready for holiday fun. If you've been thinking about visiting Turpin there is no better time!
Buy Your Turpin Meadows Trail Pass!
---
Grand Teton National Park Grooming Report
Last Updated: 12/21 @ 8AM
Taggart Lake Trail Head to Signal Mountain today – cloudy – cool – and windy today.  After the park we are grooming the Bar B Bar subdivision- have a great day out there everyone.
**Christmas Holiday Notice: The park road will be groomed Wednesday next week instead of Tuesday due to the Christmas falling on Tuesday.
---
Teton Pines Grooming Report
Last Updated: 12/21
The conditions are great at the Pines! With new snow in the forecast, we should be set for a great Holiday season! We have lots of great gifts available in the shop–pants, jackets, base layers, gloves, hats, skate skis, classic skis, boots, poles, bindings and lots more! Come see us from 9am-4pm! Wax report for 12/17: Glide: Swix LF 7, Grip/Kick: Swix Blue Extra/Violet Special
---
The levee and Stilson are groomed in in great shape. Skate and classic lanes will ski nicely. I will be done with the school fields around 11am. Cache will be groomed to Noker Mine Draw on Monday. Because of Christmas there will be no grooming on Tuesday.
Cross Country/Fat Bike 15k: XC OPEN (Last groomed AM 12/22), Fat Bike CLOSED.
Christmas gifts just keep falling from the sky in the form of that soft, light Teton pow. Targhee received an additional 4″ in the last 24 hrs with significant potential for heavy snowfall through Christmas Eve. Look out below! When, these snowy gifts from on high arrive, it's going to come down heavy and stack up deep with a projected 9-17″ between Sunday and Christmas Day.
TODAY: Gingerbread & Cookie Decorating, 5:15-6:45PM
---

Alta Track
Grooming Schedule: Tuesday, Thursday, Saturday, Sunday
Last Updated: 12/22 @ 12PM
Skate: Good  |  Classic: Good
It looks good out there. I packed down the 1 inch of fresh snow and reset the classic track. Enjoy!
Driggs
Grooming Schedule: Monday, Wednesday, Friday
Last Updated: 12/21 @ 9Am
Skate: Good  |  Classic: Not Set
A drag was used to level track today in anticipation of coming snow. Nordic track will be set Monday.
Sherman Park
Grooming Schedule: Monday, Wednesday, Friday
Last Updated: 12/21 @ 3PM
Skate: Fair  |  Classic: N/A
Couple of laps with the roller. Track is in descent shape with the thin cover.
Teton Canyon
Grooming Schedule: Monday, Wednesday, Saturday and Sunday
Last Updated: 12/22 @ 6AM
Skate: Excellent|  Classic: Good
Colder temperatures and a bit of fresh snow should allow both skate and classic tracks to groom nicely this morning. Plan to finish by 10am.
Teton Springs
Grooming Schedule: Tuesday, Thursday, Saturday
Last Updated: 12/21 @ 4PM
Skate: Excellent |  Classic: Good
Just finished grooming with the Ginzu. Winds have calmed and conditions should be excellent for Saturday.
5th Street Singletrack
Grooming Schedule: Monday, Wednesday, Friday
Last Updated: 12/21 @ 10PM
Singletrack: Fair
Pulled the singletrack roller around the loop today. It's thin out there, but definitely rideable.
Teton Springs Singletrack
Grooming Schedule: Monday, Wednesday, Friday
Last Updated: 12/21 @ 3PM
Singletrack: Fair
It's blowing snow. Groomed the short route out to Sherman Springs, but it's probably blown in by now. Also groomed the Sherman Springs access road out to 9500.
Southern Valley Single Track
Grooming Schedule: As Needed
Last Updated: 12/21 @ 3PM
Singletrack: Good
Upper Lady Slipper is in great shape. Lower Lady Slipper had a bit of wind loaded snow in spots. It's groomed all the way to Pole Canyon, but wind is blowing. Nemo is in good condition with a solid base.
Rammell Mountain Road to Indian Meadows
Grooming Schedule: As Needed
Last Updated: 12/19/2018 7:51:17
Singletrack: N/A
Comments: Groomed Today
For more info on Teton Valley grooming, visit their grooming page.
---
Last Updated: 12/20 @ 10AM
Half Moon Tie-In, Kelly Park, Kelly Tie-In, Upper & Lower Surveyor, Tree Loop, Moose Ridge, Flatline, Heart Attack and Old Road Trail have all been groomed this morning. Just what the Doctor ordered, we got 3-4 inches of new snow. 18F degrees. The road and parking lot are plowed. Pretty nice day. 11:50AM Additional Update: Just did the Golf Course and will have the CCC Ponds in for tomorrow.
This Nordic Ski Trail grooming report is courtesy of the Sublette County Recreation Board.
---
UPCOMING EVENTS
---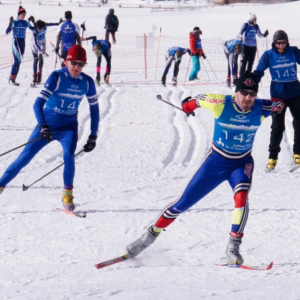 Betty Woolsey Classic – 2k, 5k, 12k
Saturday, December 29
Trail Creek Nordic Center, Wilson WY (off Hwy 22) – 9am-12pm
---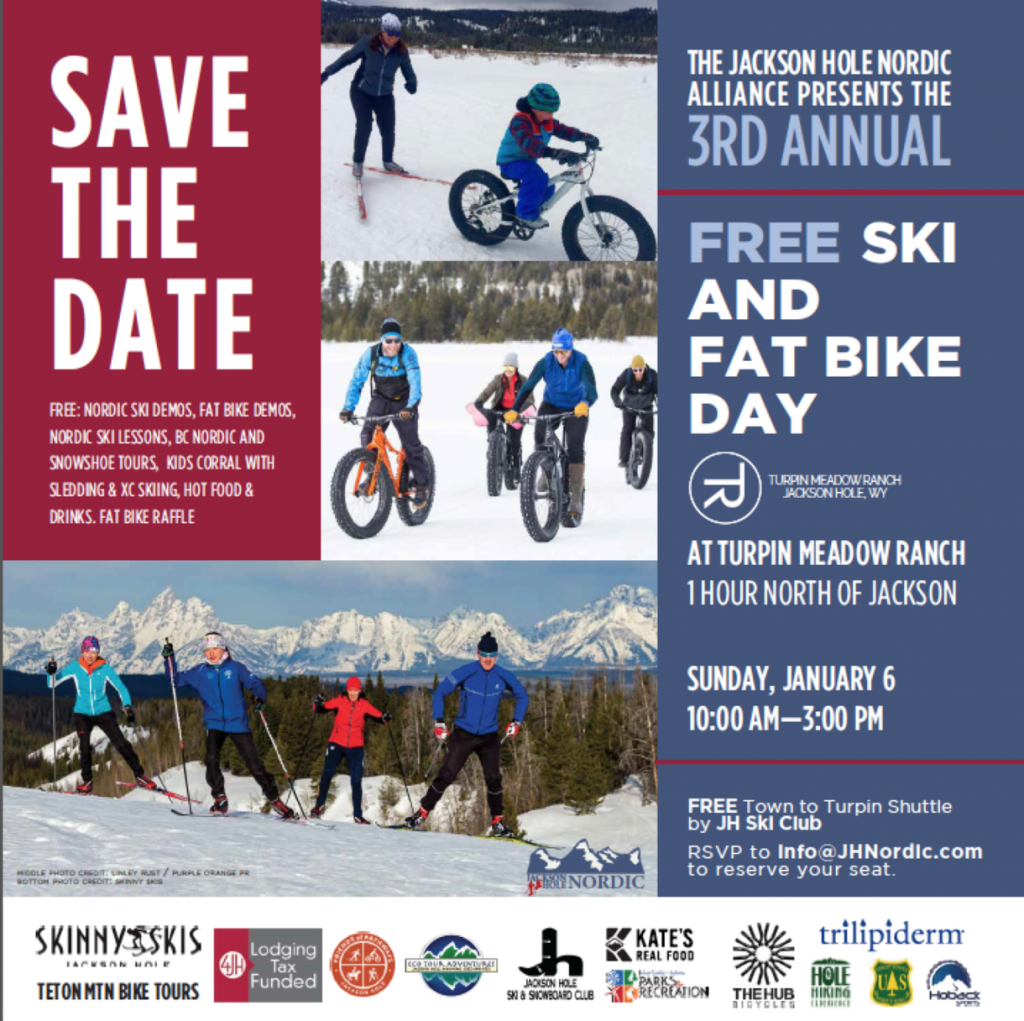 Countdown to Jackson Hole Nordic Alliance's Annual Free Ski and Fat Bike Day at Turpin Meadow Ranch on Sunday, January 6th, 10 am – 3 pm
A little under 3 weeks to go!
Remember:
FREE Nordic Ski & Fat Bike Demos
Nordic Ski Lessons for the newbies
Backcountry Nordic & Snowshoe tours
Kids Corral with Sledding & XC skiing
You can bring the whole family including the dog, just be sure to have your pup on a leash and clean up after them
Don't forget we have a Free shuttle to Turpin Ranch from Jackson, email info@jhnordic.com to reserve your seat
For more events, visit our events page.