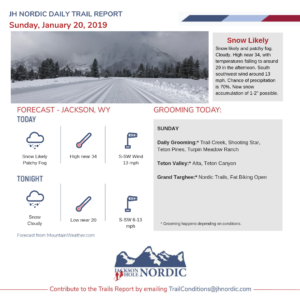 ---
Thank you for continually sharing your photos with us
of Nordic skiing in Jackson Hole
---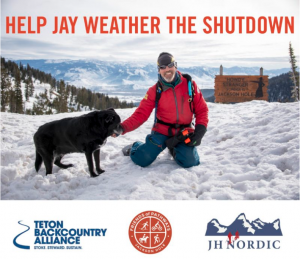 Help Our Teton Pass Ambassador
Jay has been working hard to keep Teton Pass open for the past six weeks, even through the shutdown that considers him "nonessential staff." If you believe Jay is an essential part of Teton Pass, consider chipping in to help Jay cover expenses. Give a gift through Friends of Pathways and we'll make sure Jay gets paid for all his hard work.
---
Nordic Rec Masters Clinic
The Nordic Rec Masters clinic switched gears this week onto classic cross country skis to ski right thru the snowstorm this morning. It was a winter wonderland at Teton Pines Nordic, with many useful tips on how to ride the glide, keep weight over the front foot, naturally swing the arms, keep the head up, and more.
Next clinic: Thursday Jan 31st, will be a Skate Day!
---
Save the Date: Winter Trails Day February 2nd
Join Friends of Pathways, Bridger-Teton National Forest, Teton County/Jackson Parks and Recreation and many others to celebrate winter trails day!
TETON PASS 9am – noon
Join Friends of Pathways Pass Ambassador Jay Pistono and Teton County Search and Rescue Foundation at your favorite backcountry access point.
CACHE CREEK noon – 4pm
Bike Demos, PAWS of Jackson Hole, and Jackson Hole Wildlife Foundation at the Trailhead with hot chocolate and interpretive activities at our most popular close-to-town trailhead.
MAY PARK 11am – 1pm
FREE preschool ski lessons with Snow King Mountain Ski School with children's nordic ski equipment provided by Snow King Mountain. FREE Nordic Tips for Adults by Teton County/Jackson Parks and Recreation
GRAND TETON NATIONAL PARK
Ranger Led Snowshoe Hike/Meet at Taggart Lake Trailhead
All ability levels, ages 8 and up, guided tour with stops.
Suggested donation of $5/adult (plus park entrance fee: show annual pass or $10/vehicle/day)
Space limited, call 307-739-3399 to reserve a spot. Some snowshoes available.
COAL CREEK – 9am – noon
Teton County Idaho Search and Rescue will be at the Coal Creek Trailhead with information.
JACKSON HOLE MOUNTAIN RESORT 12 – 3pm
Top of Bridger Gondola
Bridger-Teton National Forest with Bighorn sheep and Wildlife closure information. TOGWOTEE – 9am – noon
---

Last Updated: 1/19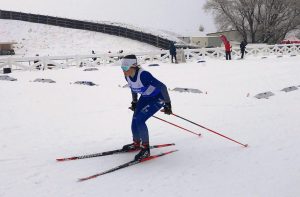 Busy Nordic Day!
Peak season has definitely arrived if you are involved in the Jackson Hole Nordic scene!  First off busloads of racing youth are in Soldier Hollow speeding around the trails on their second day of the Intermountain Division Qualifier today; results are available here and many thanks to Coach Scott for the images above from Soldier Hollow in Utah.
Closer to home many of our local skiers will be racing at the Pines today in the Buffalo Stampede or checking out many of the other amazing Nordic venues in the valley.  Here at Trail Creek things are looking absolutely great with all trails being fully groomed since the recent snowfall.  An especially interesting piece of drama happened this morning when one of our resident weasels was caught in the act of trying to get a recently captured meal, much larger than himself, to someplace secure for his dining pleasure.  Click this video link to watch the drama on you tube or the click on the image below for a larger picture of our friendly (perhaps not to small rodents) weasel.
Today's grooming was a best line Pisten Bully pass of all skate lanes with new double classic tracks set in the close field. Yesterday's classic tracks are very nice and skate lanes have also firmed up very well.  While a little snow is forecast today, as of 10:15 AM it has not amounted to anything and current conditions are cloudy and calm with a temperature of -4ºC/25ºF.  All in all a great day to ski!
Groomer's choice is to cruise the close field looking for our weasel.
Last Updated: 1/19
8:15am: The Levee and Stilson are groomed and should set up nicely for both skate and classic skiing. I will be heading to the school fields shortly and should be done around 10:00.
---
Grand Teton National Park Grooming Report
Last Updated: 1/18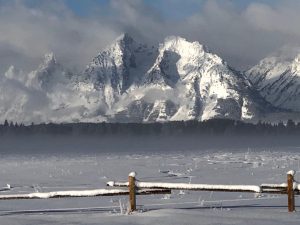 Nice morning after the storm. Skied 22km from Signal almost to North Jenny. Good skiing, good workout, beautiful place to spend the day.
-Chi M.
Next groom: Taggart to South Jenny on Sunday
---
Last Updated: 1/19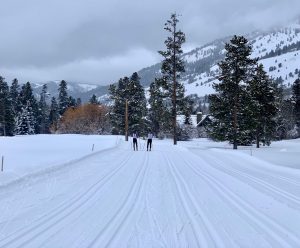 Well groomed skate and double classic set tracks, groomed daily to perfection.
---
Shooting Star Grooming Report
Last Updated: 1/18 @ 5pm

Get outside and enjoy the fluffy wintery backdrop from the recent storm. Conditions should be very enjoyable on Friday with only light flurries expected. Outlook is for a snowy weekend beginning Saturday. Have fun!
Next Update: Sunday
---
Grand Targhee Grooming Report
Last Updated: 1/19
It's an action-packed day at Grand Targhee! Live music at the Trap, a Fat Bike Night Race, and safety information and presentations provided all week long for Grand Targhee's Safety Weekend. Of course, let's not forget the slopes are also here, waiting for a few tracks, then a few more! A little dusting of 1″ yesterday will keep things soft on the mountain until the next storm moves in later today and tomorrow, bringing with it another round of pow-bonanzas!
Cross Country/Fat Bike 15k: XC OPEN (Last groomed AM 1/19/2019, No Classic), Fat Bike OPEN.
---
Pinedale Nordic Trail Report
Last Updated: 1/18 @ 11am
Half Moon Tie-In, Kelly Park, Kelly Tie-In, Lower Surveyor, the perimeter of Upper Surveyor, Tree Loop, Moose Ridge, and Old Road Trail all groomed this morning. About ½ foot of new snow. 30F degrees. Still a few moose hanging out up above. The road and parking lot are plowed. As always, please pick up after your pets and pitch droppings off the groomed ski trails – it really helps to keep the trails clean.
---

Alta Track
Grooming Schedule: Tuesday, Thursday, Saturday, Sunday
Last Updated: 1/19 @ 1pm
Skate: Good |  Classic: Excellent
I rolled out the track on Friday night. There was 4-6″ of new snow, with a bunch of ski tracks in many places,so the new surface is lumpy in spots, but should firm up well overnight. The classic track was able to lay into the fresh snow, so it turned out really well. Enjoy!
Driggs
Grooming Schedule: Monday, Wednesday, Friday
Last Updated: 1/18 @ 5:30pm
Skate: Excellent  |  Classic: Excellent
Reset classic track this afternoon and groomed skate track. All trails are in great shape.
Sherman Park
Grooming Schedule: Monday, Wednesday, Friday
Last Updated: 1/18 @ 8pm
Skate: Good |  Classic: N/A
Three passes wide with the roller. Low temps tonight should make for great conditions Saturday. Go get it while it lasts!
Teton Canyon
Grooming Schedule: Monday, Wednesday, Saturday and Sunday
Last Updated: 1/19 @ 7am
Skate: Good |  Classic: Good
Saturday: On Friday made 4 passes with the roller to pack down the six inches of new snow. This morning, plan to use the Ginzu to firm and smooth skate track and reset classic. Should finish by 930am.
Teton Springs
Grooming Schedule: Tuesday, Thursday, Saturday
Last Updated: 1/19 @ 8am
Skate: Good  |  Classic: Good
Rolled out the skate track this morning. I left classic alone as it was in decent shape. Should be good skiing… come one come all.
5th Street Singletrack
Grooming Schedule: Monday, Wednesday, Friday
Last Updated: 1/19 @ 11am
Singletrack: Good
Riding so well!
Teton Springs Singletrack
Grooming Schedule: Monday, Wednesday, Friday
Last Updated: 1/18 @ 10am
Singletrack: Fair
Groomed from TVTAP trailhead to the gate at Sherman Springs (most direct route)
Southern Valley Single Track
Grooming Schedule: As Needed
Last Updated: 1/15 @ 110am
Singletrack: Excellent
Will be firm and fast this weekend. Enjoy.
14th Annual Spud Chase (Peaked Sports)-16K, 8K, 2K Freestyle
When: Saturday, January 26th
Where: Teton Springs, Victor, Idaho
More info: TVTAP.com
Boulder Mountain Tour Nordic Race

When: Saturday, February 2
Where: Ketchum, Idaho
34 km- designated as a skate race, but classic track is set the length of the course – part of IMD Nordic Marathon Series. bouldermountaintour.com/
---
Send us your event dates, stories, photos
Follow JHNordic on Facebook, Instagram @JHNordic, #JHNordic
Sign up for Daily or Once a Week JH Nordic Trail ConditionReports to know what's groomed, what's happening first thing every morning – or just Saturdays.