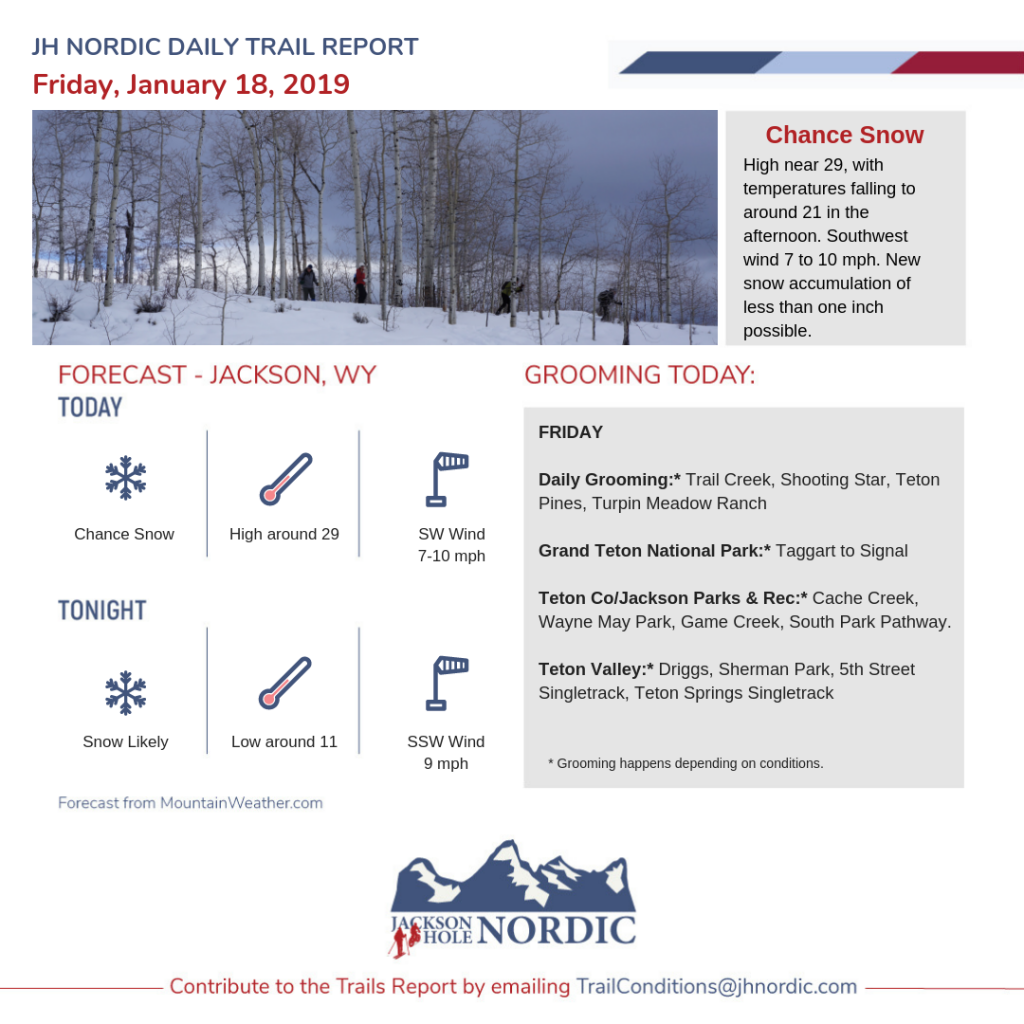 ---
Thank you for continually sharing your photos with us
of Nordic skiing in Jackson Hole
---
Bison Stampede Race Tomorrow!
---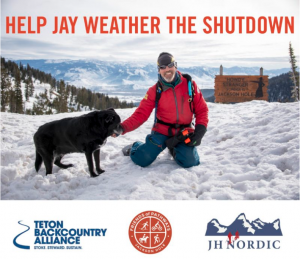 Help Our Teton Pass Ambassador
Jay has been working hard to keep Teton Pass open for the past six weeks, even through the shutdown that considers him "nonessential staff." If you believe Jay is an essential part of Teton Pass, consider chipping in to help Jay cover expenses. Give a gift through Friends of Pathways and we'll make sure Jay gets paid for all his hard work.
---
Nordic Rec Masters Clinic
The Nordic Rec Masters clinic switched gears today onto classic cross country skis to ski right thru the snowstorm this
morning. It was a winter wonderland at Teton Pines Nordic, with many useful tips on how to ride the glide, keep weight over the front foot, naturally swing the arms, keep the head up, and more.
Next clinic: Thursday Jan 31st, will be a Skate Day!
---
Save the Date: Winter Trails Day February 2nd
Join Friends of Pathways, Bridger-Teton National Forest, Teton County/Jackson Parks and Recreation and many others to celebrate winter trails day!
TETON PASS 9am – noon
Join Friends of Pathways Pass Ambassador Jay Pistono and Teton County Search and Rescue Foundation at your favorite backcountry access point.
CACHE CREEK noon – 4pm
Bike Demos, PAWS of Jackson Hole, and Jackson Hole Wildlife Foundation at the Trailhead with hot chocolate and interpretive activities at our most popular close-to-town trailhead.
MAY PARK 11am – 1pm
FREE preschool ski lessons with Snow King Mountain Ski School with children's nordic ski equipment provided by Snow King Mountain. FREE Nordic Tips for Adults by Teton County/Jackson Parks and Recreation
GRAND TETON NATIONAL PARK
Ranger Led Snowshoe Hike/Meet at Taggart Lake Trailhead
All ability levels, ages 8 and up, guided tour with stops.
Suggested donation of $5/adult (plus park entrance fee: show annual pass or $10/vehicle/day)
Space limited, call 307-739-3399 to reserve a spot. Some snowshoes available.
COAL CREEK – 9am – noon
Teton County Idaho Search and Rescue will be at the Coal Creek Trailhead with information.
JACKSON HOLE MOUNTAIN RESORT – 12-3pm
---

Last Updated: 1/17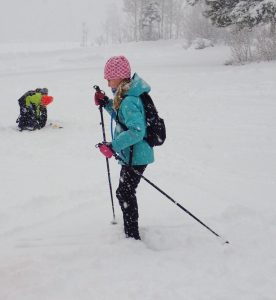 It's Snowing!  How Will We Ever Ski?
It's dumping today at Trail Creek and if you are a skate skier, it could be challenging.  There was about 6 inches of new snow at the beginning of grooming and another 6 has fallen during grooming.  As of 12:30 PM the wind was calm, temperature -1ºC/31ºF, and the snowfall was heavy.
Today's Pisten Bully grooming reworked all the fields, Woolsey Woods, Moose Loop, and Armin's on out to Boiler and back with double or triple passes complete with fresh classic tracks.  While classic skiers were all smiles, a couple of hardy skaters looked a bit flustered as the morning's initial grooming was rapidly disappearing.  Today is the last day of Wilson Winter sports and they seemed to be overjoyed by the bountiful snow.   All in all snow is a really good thing when you are a skier and if you  have time to come out to witness first hand this epic snowfall you won't be sorry.
Groomer's choice for today is Armin's
---
Turpin Meadow Ranch Grooming Report
Last Updated: 1/16 @ 4pm
We had a light dusting of snow Wednesday, and they are calling for intermittent snow showers throughout the day on Thursday. Our groomers will be out in the morning to keep the corduroy fresh. It'll be a great day for the classic skis and snowshoes!
---
Last Updated: 1/16
8:20am: The school fields and the levee are groomed but getting covered up quickly with new snow. Make sure to get out early! I am starting Stilson now and should be done around 10:30.
10:10am: Stilson is groomed but filling in quickly. So make sure to get out this morning before the snow piles up too much. Also a reminder; Upper Cache Creek, past the 2.5 mile mark, and Game Creek cannot be groomed if low elevation avy danger is considerable or higher.
---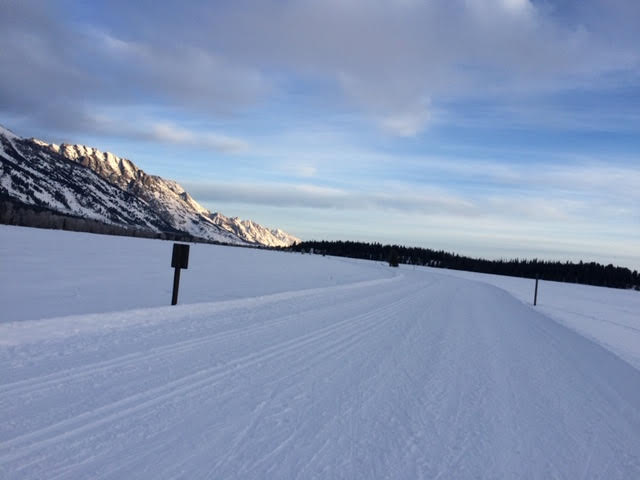 Grand Teton National Park Grooming Report
Last Updated: 1/15
Taggart to South Jenny this morning.
Last Updated: 1/12@ 7pm
Excellent grooming, snow quality, plenty of room on the trail, for classic and skate at your own pace.. and big Teton views!!
---
Shooting Star Grooming Report

Last Updated: 1/16 @ 8am

Trails continue to groom out well and should provide enjoyable skiing. Anticipate the track to accumulate new snow after our morning groom along with some possible drifting as plenty of the white stuff is projected to fall through Thursday. Outlook is for heavy to moderate snowfall to continue over the weekend. Enjoy!
Next Update: Friday
---
Last Updated: 1/17 @ 8am
The pow-pow party is here, bottomless days are near and the guests are all in good cheer! With significant snow for, at least, the next week, there will be PLENTY of snowy, deep runs on the mountain. The only required dress for this party are the widest, floatiest sticks you have at hand; with 6″ in the last 24 hrs, up to 8″ today, and 23″ by Saturday evening onward you will need those big-boy boards and skis to stay on top. Have a hoot out there today!
Cross Country/Fat Bike 15k: XC OPEN (Last groomed AM 1/17/2019), Fat Bike CLOSED.
---
Last Updated: 1/15 @ 9am
Golf Course and CCC trails have skating lane groomed recently. Waiting for more snow to do Classic portion. Chilly today, -10F at the CCC trails, which is about 6F degrees warmer than at the Golf Course. Recommend skiing up above today if you can.
---

Alta Track
Grooming Schedule: Tuesday, Thursday, Saturday, Sunday
Last Updated: 1/17 @ 10am
Skate: Fair|  Classic: Good
Groomed all Alta trails with the ginzu groomer. Set new classic track throughout. It looked really good at 7:30am (and I saw a couple of skiers enjoying it) but it is quickly being covered with heavier, wet snow. Finished grooming at 9:45am.
Driggs
Grooming Schedule: Monday, Wednesday, Friday
Last Updated: 1/16 @ 2:30pm
Skate: Excellent  |  Classic: Fair
Check out the East Loop. It starts at the parking lot and heads due East. Made one grooming pass today.
Sherman Park
Grooming Schedule: Monday, Wednesday, Friday
Last Updated: 1/16 @ 8pm
Skate: Good |  Classic: N/A
Rolled down the roughly 3″ we received today.
Teton Canyon
Grooming Schedule: Monday, Wednesday, Saturday and Sunday
Last Updated: 1/16 @ 6:30am
Skate: Good |  Classic: Fair
Wednesday: Plan to reset both skate and classic tracks this morning. Should finish by 930am.
Teton Springs
Grooming Schedule: Tuesday, Thursday, Saturday
Last Updated: 1/17 @ 5pm
Skate: Good  |  Classic: Good
Rollered the entire course and set classic track. Finished by 4pm.
5th Street Singletrack
Grooming Schedule: Monday, Wednesday, Friday
Last Updated: 1/11 @ 5pm
Singletrack: Good
Groomed Fri AM, might get soft mid-day but should setup overnight. Riding fast.
Teton Springs Singletrack
Grooming Schedule: Monday, Wednesday, Friday
Last Updated: 1/8 @ 10am
Singletrack: Fair
Groomed from TVTAP trailhead to the gate at Sherman Springs (most direct route).
Southern Valley Single Track
Grooming Schedule: As Needed
Last Updated: 1/15 @ 110am
Singletrack: Excellent
Will be firm and fast this weekend. Enjoy!
Buffalo Stampede: 10K Freestyle/Skate Ski Race
When: Saturday, January 19th
Where: Teton Pines Nordic Center
10 am
---
14th Annual Spud Chase (Peaked Sports)-16K, 8K, 2K Freestyle
When: Saturday, January 26th
Where: Teton Springs, Victor, Idaho
More info: TVTAP.com