Photo: Triangle X by Anna R.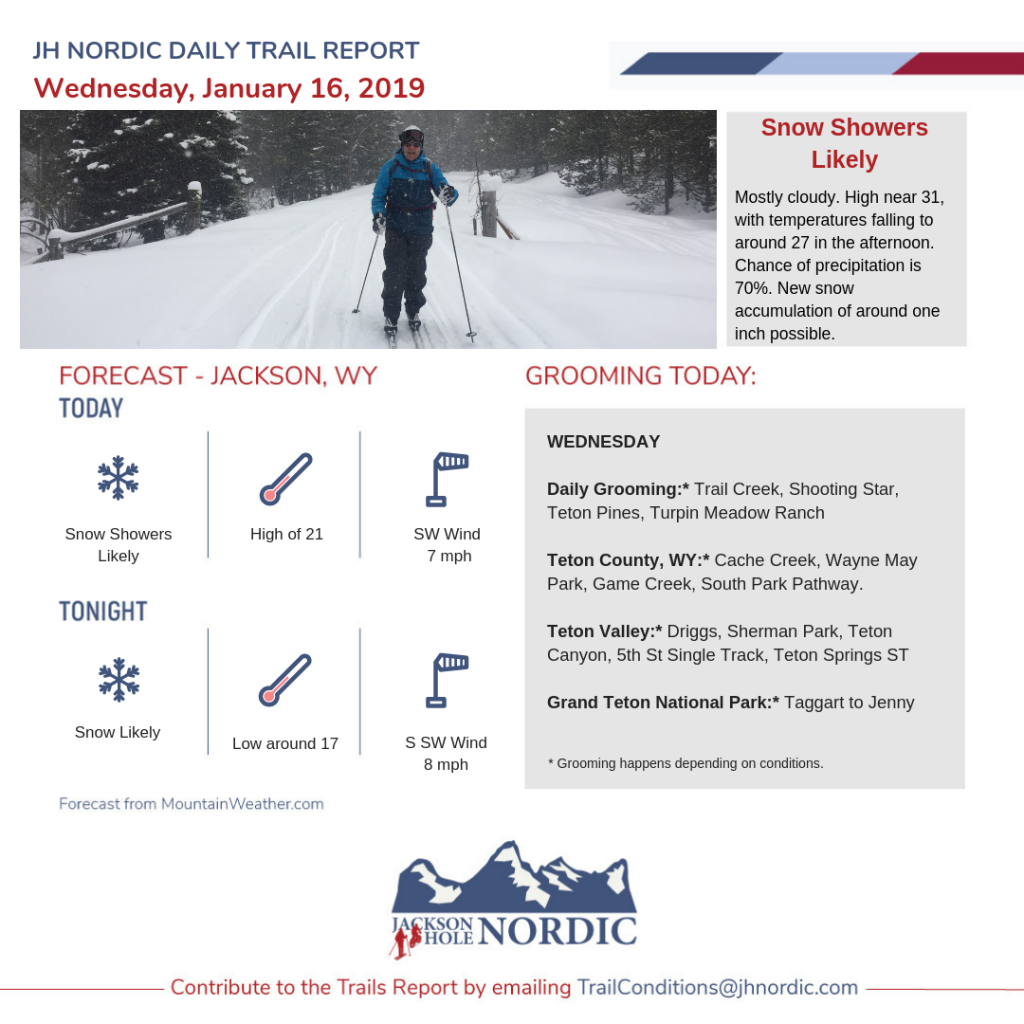 ---
Thank you for continually sharing your photos with us
of Nordic skiing in Jackson Hole
---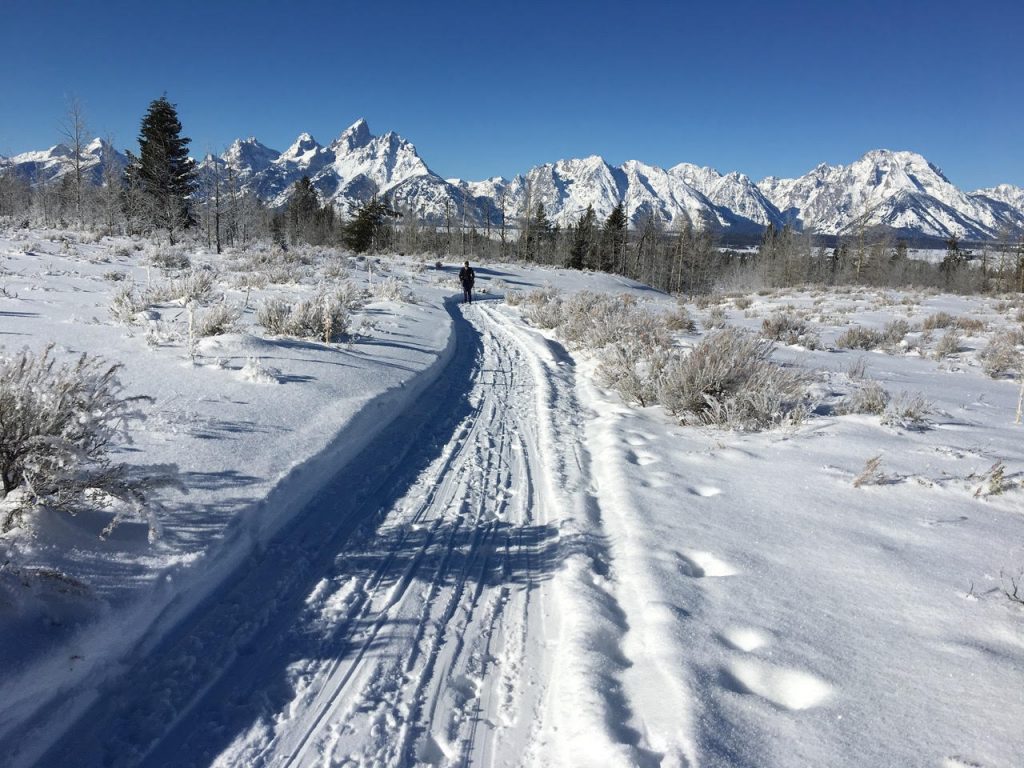 Skier Trail Report: Triangle X
The Triangle X -Plateau Loop, set on the eastern bench of the Jackson Hill valley in the foothills of the northern Gros Ventre Range, provides big, wide views of the central and northern Teton Range. If you are a guest of Triangle X historic guest ranch, you can access the trail there. Or enter vis the USFS road 1 mile north of Triangle X (summer road to Toppings Lake. See JHNordic.com/Trails/TriangleXRanch-PlateauLoop for details, map and elevation profile. Even long time locals may find this as a new treat!
---
New Blog Post: Fat Bike and E-Bike Winter Trail Etiquette
Many of the Jackson area trails are multi-use with hikers, dogs, skiers, snowmobiles and fat bikers all recreating in close proximity. With the privilege of using the trails comes a high level of responsibility for all users in order to avoid conflicts.
Read more about the rules of the trail here.
---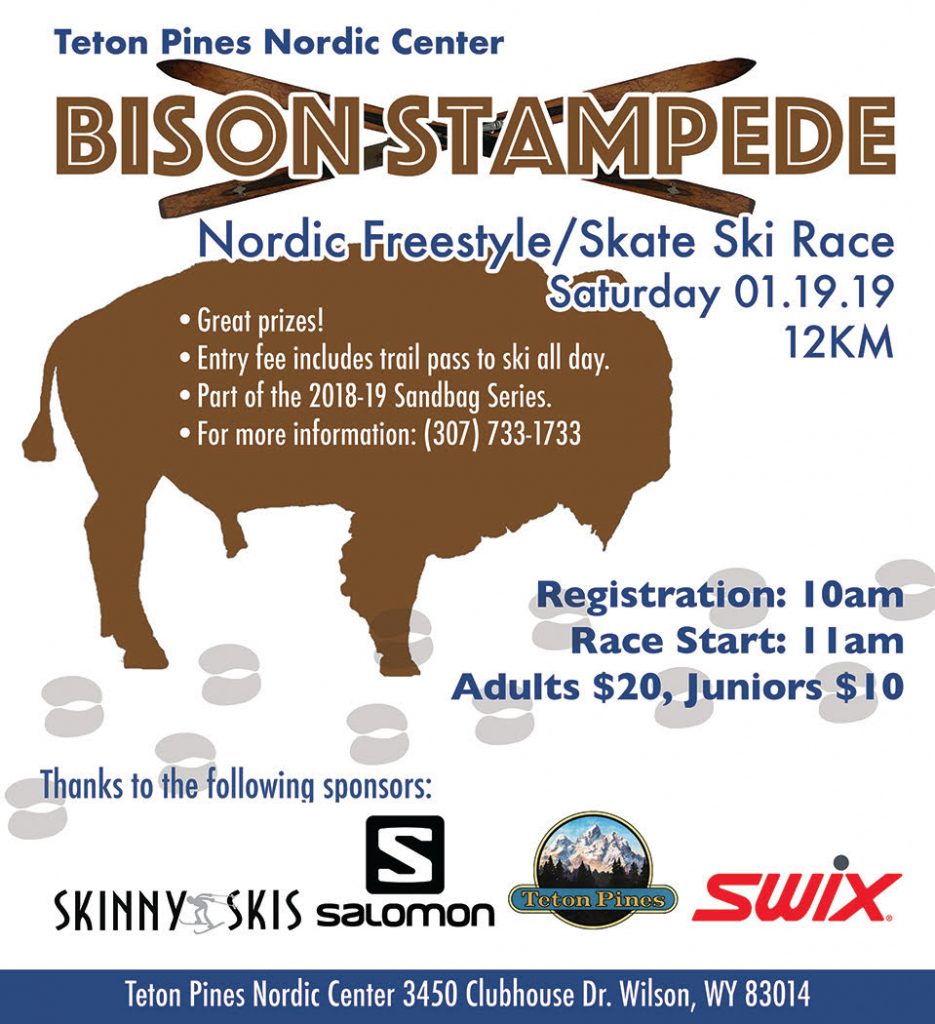 ---

Join Teton County/Jackson Parks and Recreation and Jackson Hole Historical Society and Museum on a guided cross-country ski tour of the historic White Grass
Ranch in Grand Teton National Park this Friday! Hear colorful stories of Jackson Hole's past and experience the amazing winter scenery of the Tetons! Tour covers around 3 miles of rolling non-groomed terrain. Beginner level cross-country ski skills required! Participant must provide their own equipment, Skinny Skis has generously agreed to offer 50% off ski rentals for this program. To register follow the link below or call Parks and Recreation at 307-739-9025.           
Date: Friday, January 18th 9am – 1pm
Fee: 18 and older $30, under 18 $15 (minimum age 10)
Location: Meet at Rec Center, transportation provided.
Registration Closes at noon, January 17th so don't wait to sign up!
---
Chamber Mixer Tomorrow!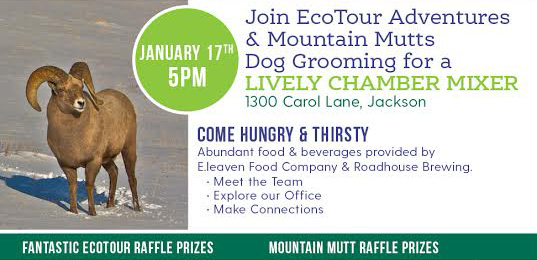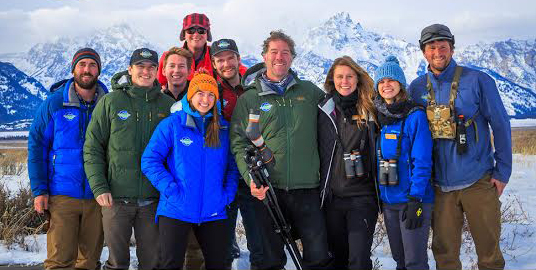 Last Updated: 1/15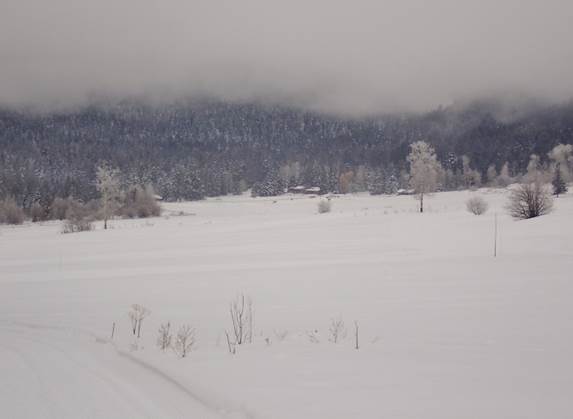 Snow in the Forecast!
It looks like finally today the inversion is going to be stirred up for the next few days with pretty good snowfall chances clear into Saturday.  The interesting image above taken this morning was most likely the warmer moister air above trying to work its way down into the valley.  As of 11:30 while the sky had clouded over, the valley had cleared out with temps climbing through -10ºC/14ºF with little breeze.
Today' grooming was a Pisten Bully skate pass of almost every trail.  Both classic tracks and skate lanes should work nicely today.  Apologies to the lateness of the grooming report, somehow the official mouse exploded in the cabin today, delaying publication.
Groomer's choice for today is Outward Bound.
---
Turpin Meadow Ranch Grooming Report
Last Updated: 1/15 @ 4pm
There are a few flakes falling as I write this, we're expecting light snow this morning and lovely trail conditions all day long. The fat bike single track is in great condition and we will keep it groomed through this up coming storm. Aaron rode it yesterday and had so much fun, he won't stop talking about it!
---
Last Updated: 1/15
8:30am: The School fields and the levee are groomed and will setup firm for skiing today. I am heading to Stilson now and should be done by 11:00.
---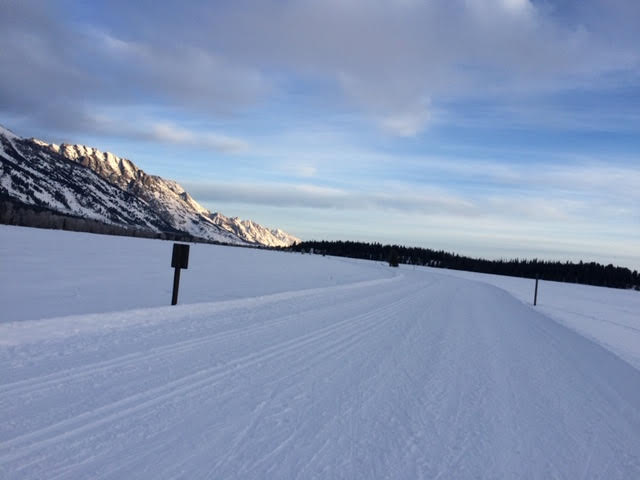 Grand Teton National Park Grooming Report
Last Updated: 1/15
Taggart to South Jenny this morning.
Last Updated: 1/12@ 7pm
Excellent grooming, snow quality, plenty of room on the trail, for classic and skate at yr own pace.. and big Teton views!!
---
Shooting Star Grooming Report

Last Updated: 1/14 @ 7am
Nordic conditions remain very good. Look for this enjoyable sunny weather to last through midday Tuesday when some light snow showers are forecasted to begin. Enjoy!
Next Update: Wednesday
---
Last Updated: 1/15 @ 8am
The streak of sunny days has come to an end. A storm is rolling in, and things won't be starting for a bit yet, but it's time to swap out those lenses. Temperatures will remain mild, and winds light.
Cross Country/Fat Bike 15k: XC OPEN (Last groomed AM 1/13/2019),(Classic Set, but not groomed) Fat Bike OPEN.
---
Last Updated: 1/15 @ 9am
Golf Course and CCC trails have skating lane groomed recently. Waiting for more snow to do Classic portion. Chilly today, -10F at the CCC trails, which is about 6F degrees warmer than at the Golf Course. Recommend skiing up above today if you can.
---

Alta Track
Grooming Schedule: Tuesday, Thursday, Saturday, Sunday
Last Updated: 1/15 @ 8am
Skate: Excellent |  Classic: Good
Groomed last night with the ginzu and set the classic track. Looking really good.
Driggs
Grooming Schedule: Monday, Wednesday, Friday
Last Updated: 1/14 @ 8pm
Skate: Fair  |  Classic: Not Set
I groomed in the evening so the track should be well set with tonight's low temps
Sherman Park
Grooming Schedule: Monday, Wednesday, Friday
Last Updated: 1/13 @ 10pm
Skate: Good |  Classic: N/A
After skiing the track this afternoon I decided to just roll. Came out Great!, You will still see prints but nothing bad. Get out and enjoy another beautiful day on Monday.
Teton Canyon
Grooming Schedule: Monday, Wednesday, Saturday and Sunday
Last Updated: 1/14 @ 7am
Skate: Excellent |  Classic: Fair
Monday; The track, after 5 days of cold, dry weather, has become nice and firm. Will reset skate this morning, and attempt to reset classic. Finish by 930am.
Teton Springs
Grooming Schedule: Tuesday, Thursday, Saturday
Last Updated: 1/13 @ 9pm
Skate: Excellent  |  Classic: Good
Reset all trails.
5th Street Singletrack
Grooming Schedule: Monday, Wednesday, Friday
Last Updated: 1/11 @ 5pm
Singletrack: Good
Groomed Fri AM, might get soft mid-day but should setup overnight. Riding fast.
Teton Springs Singletrack
Grooming Schedule: Monday, Wednesday, Friday
Last Updated: 1/8 @ 10am
Singletrack: Fair
Groomed from TVTAP trailhead to the gate at Sherman Springs (most direct route).
Southern Valley Single Track
Grooming Schedule: As Needed
Last Updated: 1/15 @ 110am
Singletrack: Excellent
Will be firm and fast this weekend. Enjoy!
TOMORROW! JH Nordic Recreational Masters Clinic
Where: Teton Pines Nordic Center. – Skate ski clinic this week. Join Scott Horn, Nordic Masters coach and racer, for tips, technique, fun , and a fun group.
When: Thursday January 17th
11am-12:30pm
Drop-in: $35 includes clinic and Teton Pines Nordic 1 Day trail pass. $30 for clinic only (for Teton Pines Nordic pass holders.
---
Historic White Grass Ranch Ski Tour
Hosted by Jackson Hole Historical Society & Museum and TC/J Parks & Recreation
When: Friday, January 18th
Where: Meet at TC/Jackson Recreation Center, E Gill St
9am-1pm
Bring GTNP pass, ski equipment, water, snack
Difficulty: 3-4 miles, non-groomed
---
Buffalo Stampede: 10K Freestyle/Skate Ski Race
When: Saturday, January 19th
Where: Teton Pines Nordic Center
10 am
---
14th Annual Spud Chase (Peaked Sports)-16K, 8K, 2K Freestyle
When: Saturday, January 26th
Where: Teton Springs, Victor, Idaho
More info: TVTAP.com