---
Thank you for continually sharing your photos with us of Nordic skiing in Jackson Hole
---
Updates from TVTAP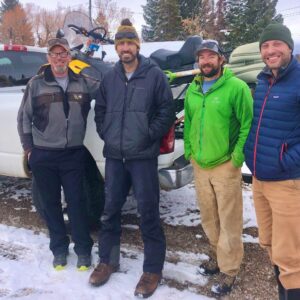 Snow is on the ground and the grooming crew at Trails & Pathways is working almost around the clock to get the Teton Valley Winter Trails ready for you.
Here are 3 numbers for you: 
• 21 Volunteer Grooming Operators
• 3  Part-time operators
• 1 Program Director
For more on what's going on with grooming in Teton Valley, events and how to support the efforts of TVTAP, click here for their Newsletter

Trail Creek Nordic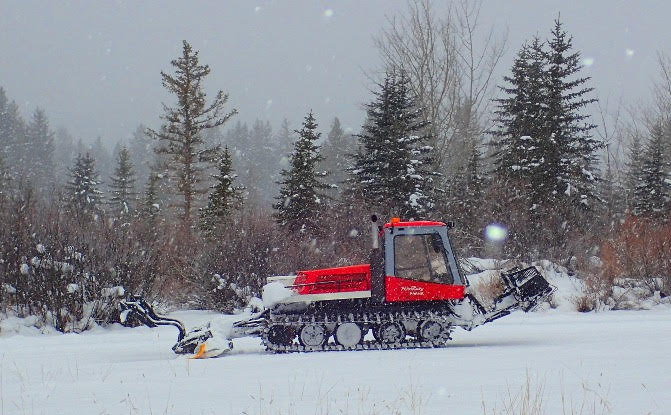 Last Updated: 12/11
Snow, Snow, & More Snow!
The day dawned with a battle between sun and clouds; a quite dramatic rouge painted the early morning summits, but the old adage, "red in the morning, sailors take warning" is the reality that's happening today at Trail Creek.  With the progression of morning, the leaden clouds descended the canyon and as of 11:30 AM heavy snow was falling with a temperature of -8ºC/18ºF.  The forecast is for lots more to come in the days ahead.
While that snow will might give you a little bonus exertion on your Nordic workout today, it will continue to build our bases promising pristine, awesome conditions in the near future.  Our efforts to make pristine skiing today included Pisten Bully best line passes on all recently groomed trails along with fresh classic tracks in the close field.  As you plan your workout time today however, know that the inch an hour plus current rate of snowfall will have an impact on your plans.  One recent addition that has not been reported is that the notorious Faceplant is now being groomed and skiing quite well.
This weekend many of the IMD kids are off the Ketchum for the Sun Valley Supertour, the first official Intermountain Division Nordic event of the year, a great time for the teams to get ready for the upcoming qualifiers, for details click on the link above.
Groomer's choice for today is Woolsey Woods.
---
Turpin Meadows
Last Updated: 12/4
Trails open, grooming begins Dec. 20th.
---
Teton Co./Jackson Parks & Rec
Last Updated: 12/11
7:00am: Cache Creek has been groomed with the snowmobile. I still hit some rocks even with the snowmobile groomer so be aware of thin and uneven areas. This next storm should allow me to get the PB up on Friday. I will be heading to Game Creek shortly with the snowmobile.
---
Grand Teton National Park
Teton Park Road
Last Updated: 12/9
GTNP will be doing its very first " exploratory " grooming on Teton Park road to Jenny Lake tomorrow. Official grooming is set to start mid December – subject to snow. For skiers wondering how the snow is on the Teton Park Road in GTNP, keep an eye on the trail (not yet groomed) and weather via the NPS webcam. Link here.
Grooming Schedule (Begins mid-December):
Tuesdays (Taggart to Jenny Lake)
Friday (Taggart to Signal Mountain)
Sunday (Taggart to Jenny Lake)
Skier-tracked trails:
Granite Trailhead – Moose-Wilson Road to LSR and Phelps: reports on nice skiing, good snow coverage.
Taggart trailhead to Taggart Lake: good skier track. Be careful of the lake, until fully frozen.
---
Teton Pines Nordic
Last Updated: 12/11
We are grooming daily with the snowcat and conditions have been great! With more snow in the forecast skiing should remain great into the foreseeable future!
We are open 9am-4pm daily. Stop by the shop for a large selection of gifts for the nordic skiers on your list this holiday season.
We are currently looking for a few ski instructors to coach our kids winter sports program that takes place Mon, Wed, Fri throughout January. If you are interested please contact Cody at: tetonpinesxc@gmail.com
---
Shooting Star Nordic 
Last Updated: 12/9

Due to the minimal snowpack, we'll continue to only groom the yellow dog loop and the orange leg down hole 3 & 4 through at least Wednesday. During this time you may also see our snowmobile throughout the day as we'll be shoveling snow onto bridges & other low snowpack areas. Good news, is that forecast is calling for another wave of snow beginning Thursday and I hope this will allow us to open some additional areas by the weekend. Next Update will be Thursday and enjoy the sunny skiing until then!
Classic Tracks Set: NO
Snowshoeing : CLOSED
Sled Hill: CLOSED
Next Update: Thursday
---
Grand Targhee Nordic & Fat Biking
Last Updated: 12/11
Snow is in the forecast for the remainder of the week with a current 'Winter Storm Watch' scheduled to go into effect Thursday and remain in effect through Friday. Friday you may be dealing with some déjà vu – if you were so lucky to ski Sunday and Monday this past week! More snow means more base and more base means more terrain access. Keep stretching and hydrating because the season is just beginning
Today, temperatures will near 21 degrees. Winds will be blowing SW around 9-11mph, and there is a 90% chance of snow with 2-4″ of
accumulation predicted.
Cross Country/Fat Bike 15k: XC OPEN (Last groomed 12/10/2019, no classic track), Fat Bike OPEN.
---
Pinedale
Last Updated: 12/10
There is a fresh groomed trail at the Golf Course for both Classic and Skating. The Bike Path at the CCC Ponds is groomed for both Classic and Skating. See CCC Ponds trail map here.
After 10 months of planning and cooperation between the Pinedale Cycle and Trail Club, the US Forest Service, and Sublette County, a new fat bike single track grooming program has begun on the Bridger-Teton National Forest.
New Fat Bike Singletrack Grooming Program Begins!
As of today (Tuesday, December 10th) the single track trails were groomed the morning of December 9th. Trail conditions are medium soft with expected improved surface December 11th. Currently there is 3.5 miles of groomed single track in the Kelly Park multi-use area with sections added weekly. Single track is multi-use which means all users are welcome to enjoy the new trail system.
The Club hopes to have a new map showing the trail system soon. For more information on the single track grooming call Geared Up in Pinedale at 307-399-5539.

Alta Track
Grooming Schedule: Tuesday, Thursday, Saturday, Sunday
Last Updated: 12/9 @ 4pm
Skate: Fair | Classic: Not Set
---
Driggs
Grooming Schedule: Monday, Wednesday, Friday
Last Updated: 11/30 @ 12pm
Skate: Fair | Classic: Not Set
---
Sherman Park
Grooming Schedule: Monday, Wednesday, Friday
Last Updated: 11/30 @ 7am
Skate: Not Set | Classic: Not Set
---
Teton Canyon
Grooming Schedule: Monday, Wednesday, Friday, Saturday, Sunday
Last Updated: 12/9 @ 6:30am
Skate: Good | Classic: Good
---
Teton Springs
Grooming Schedule: Tuesday, Thursday, Saturday
Last Updated: 12/9 @ 6:15am
Skate: Not Set | Classic: Not Set
---
Yeti's Loop
Grooming Schedule: Tuesday, Friday
Last Updated: 12/9 @ 11pm
Skate: Fair | Classic: Not Set
---
5th Street Singletrack
Grooming Schedule: as needed
Last Updated: 12/4 @ 1pm
Singletrack: Good
Rode in the figure-8 loop. Pretty buff about 3 tires wide.
---
Southern Valley Single Track 
Track Grooming Schedule: as needed
Last Updated: 12/6 
Singletrack: Good

Thursday December 12th | Teton Pines Nordic Center | 11am-12:30pm
Classic Cross-country Tips, Technique, and Fun! Coaches provided by the JH Ski Club Nordic program. Sign up for all 8 clinics or drop-in. Clinics every other Thursday with Classic XC and Skate ski lessons alternating.
Register: info@jhnordic.com  For more info, see: blog.jhnordic.com
---
December 14 | The Wildwood Room, Victor 6-9pm
Support Teton Valley Trails and Pathways (TVTAP) & winter grooming in Teton Valley! Join this fun community dinner, supporting some of your favorite Nordic and fat bike groomed trails in Teton Valley – Teton Canyon, Alta, Teton Springs, Yeti Trail, Driggs, Sherman Park – and summer bike paths, too!
---
Saturday, February 8th | Trail Creek
The JH Ski Club recently determined that the Moose Chase Nordic Ski Race was not meeting the goals of the Club. The effort that went into making the Moose Chase a large, regional event did not fit well with the Club's venue at Trail Creek and ultimately was not benefiting the JHSC Nordic Program. The Club will pull the Moose Chase offline for 2020 with discussions continuing between our Nordic Program, staff, and board about how to bring back an improved community Nordic event in the future. The changes are designed to increase resources for the Club and place more emphasis on its core mission of serving 500 local student-athletes.
In its place, the JH Ski Club will host a new JH Ski Club Winter Nordic Carnival on Sat. Feb 8th, with a series of fun races for all Ski club ages, masters, and alumni. Designed to engage all of our JHSC Nordic teams, there will be standard 1,3, 5, and 10km mass start races and a team NordicX sprint. The Ski Club coaches will be organizing sprint teams early in the season. One team will consists of (1.Lollipopper or Teewinot. 2.Development. 3.Junior. 4. Prep or Comp). Teams will have the opportunity prior to the event to train together, talk tactics and technique during regular practice times at Trail Creek.
Registration/Entry:
Race entry is open for all JHSC athletes, and all are highly encouraged to participate. For more info: jhskiclub.org/news/november-nordic-newsletter-0

Sunday, January 5th 2020 | Turpin Meadow Ranch | 10am-3pm
Mark your calendar and Register online!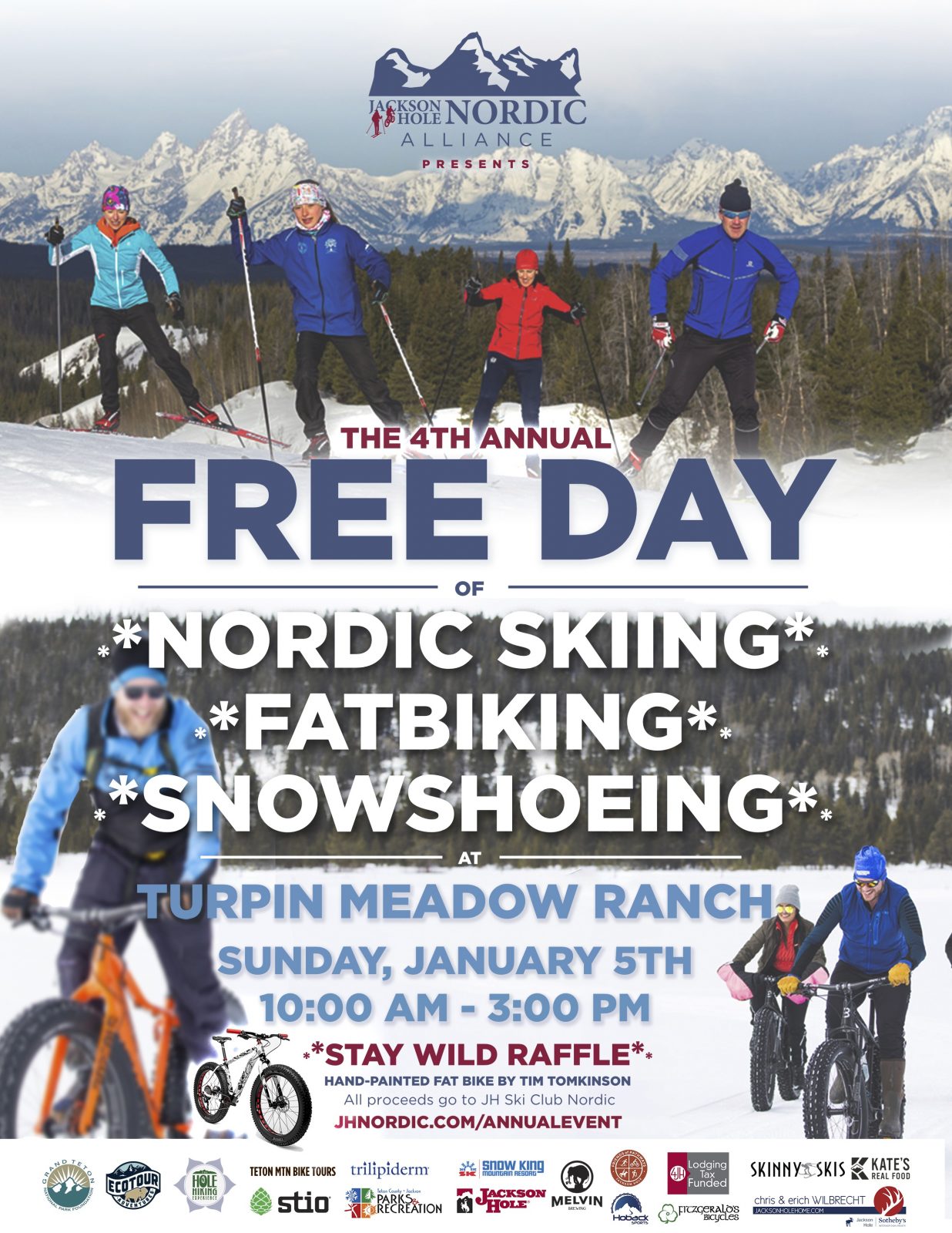 We're getting excited with more demo skis, more fat bikes, Melvin Beer, Kates Bars, Free lessons, snowshoe and BC Nordic tours up the Buffalo Fork, and a huge raffle to benefit the JH Ski Club Nordic program. Raffle will include a Stay Wild fat bike, donated by the JH Travel and Tourism/Lodging Tax supported team, Nordic skis from Skinny Skis, and lots more. Wanna donate to the Raffle? Contact the JH Ski Club: info@JHSkiclub.org
Speed through Registration by pre-signing the Event Activity and Trail Use Waiver online – click here . 
Once the Waiver form is completed online, you will be able to print a pdf copy. We encourage you to print this to present at registration.  We can also look you up as "pre-registered
Sponsored by the JH Nordic Alliance members and JH Travel & Tourism Board
Want to get involved, sponsor an activity, volunteer?
This community event is a great way to connect with our community and visitors. Contact Nancy @: info@JHNordic.com

---
Send us your event dates, stories, photos
Follow JHNordic on Facebook, Instagram @JHNordic, #JHNordic
Sign up for Daily or Once a Week JH Nordic Trail ConditionReports to know what's groomed,
what's happening first thing every morning – or just Saturdays.