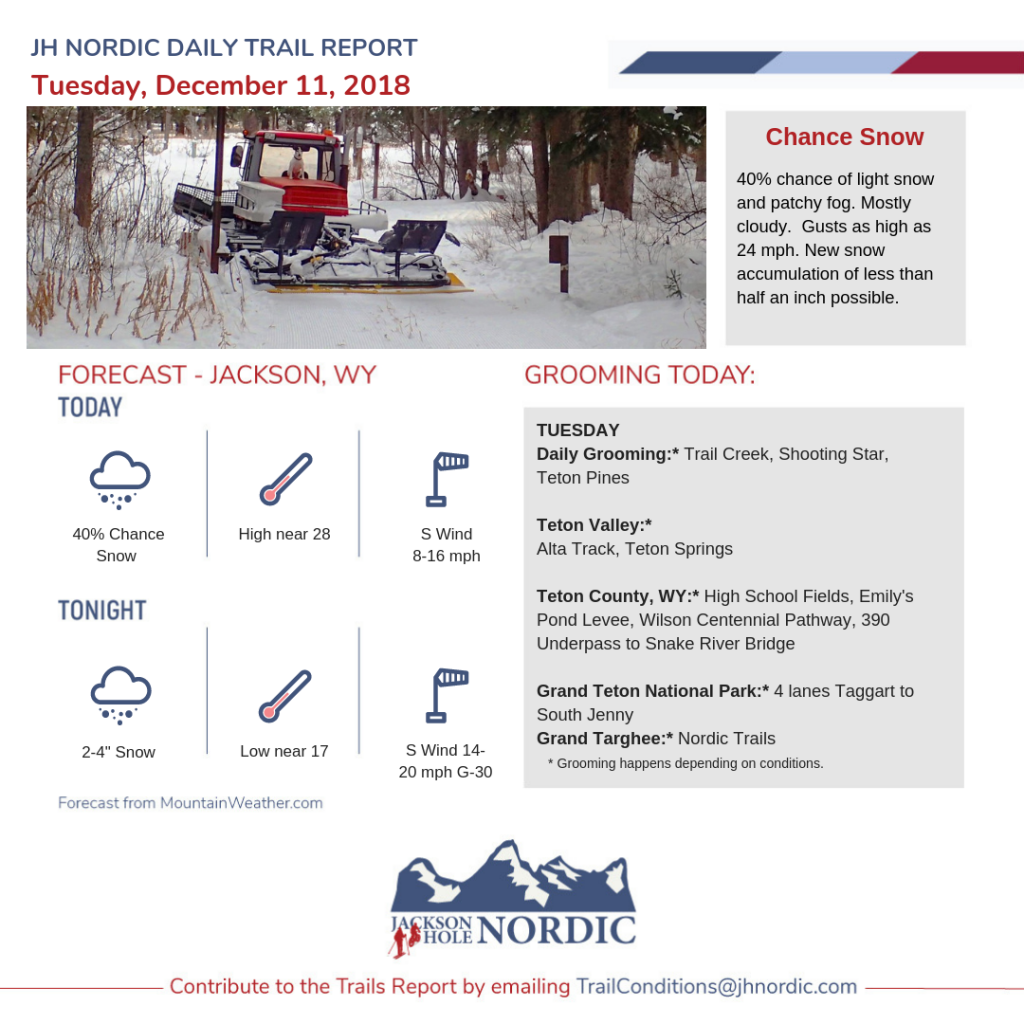 ---
SKI REPORTS
---
Snow returns to the valley today with several chances over the next few days.  Most area Nordic centers will benefit from additional snowfall although it is not certain that this next storm cycle will bring enough to put trails into full winter mode.
Results are in from last weekends Targhee Tune Up, check it out here.
Wide Open Possibilities around Blacktail Butte
A report was received Monday about the possibilities for skiing around Blacktail Butte. With the elk hunting season ending there last Sunday it is now more or less safe to venture out and the skiers reported many hunter trails that worked quite well for skiing. There are still elk and bison in the area so ski accordingly.
---
Enter to win the ULTIMATE WINTER GETAWAY Giveaway
Pack your bags + get ready to head to Jackson, WY for a 5 day/4 night winter adventure for two!
Follow the accounts + tag two friends below for additional opportunities to win.
@jacksonholeecotours
@anvilhotel
@gloriettajackson
@tetonraptorcenter
@mavenbuilt
@WildlifeArtJH
@PalateJacksonHole
@JHNordic
@TetonMountaineering
Click the link below to see full giveaway details + additional entries to win.
http://www.jhecotouradventures.com/insights/giveaway-contest
#anvilexplorer #myjhecotour
---
GROOMING REPORTS
---

Last updated: 12/10
Fire on the Mountain!
Pack your weenies and marshmallows, grab your Nordic skis, head on out to Trail Creek, and it's a party! The Forest Service is burning a couple of brush piles right next to our Homesite trail and the piles are big enough that the fire will burn all day. While there is currently a huge plume of smoke tucked up into the canyon, it is not bad on ground level. If a winter picnic isn't on your agenda for the day, at the very least you could park by the fire and warm up for a while.
Today at Trail Creek was primarily a maintenance day with two of our snow machines being picked up from the shop and brought home for the season. The really big news of the day is that Mug's Meadow has been groomed and added to the trail system for the season. It is a bit brushy and soft, but if you hurry you could have the season's first tracks.
As of 12:15 PM the temperature is -9ºC/16ºF with a thin overcast and calm wind. Only the trails to and from Mug's and the fire were groomed today with the Pisten Bully but all in all except for a few thin spots, skiing is nice. There are respectable classic tracks on about half of the trails.
Grooomer's choice for today is a bonfire on Homesite.
 Click Here to Buy your Trail Creek Pass!
---
Shooting Star Grooming Report
Last Updated: 12/8
Conditions remain great and should provide fun skiing through the weekend. Outlook is calling for some new snow accumulations for the middle of next week, which may finally allow us to set classic tracks…keep your fingers crossed! Next update will likely be this Wednesday.
Below are some other details:
Tight corners may be soft/rough  as its difficult for the grooming equipment to navigate through them(Example: Sharp Turn from 8 Green to 9 Tees)
Early Season Conditions Persist (Rocky/grassy/Inconsistent profile depth & compaction)
Be aware of soft spots
No Classic Track will be set until snowpack increases
Conditions will improve as more snow accumulates
Grooming frequencies may vary depending on snow conditions
Enjoy!
---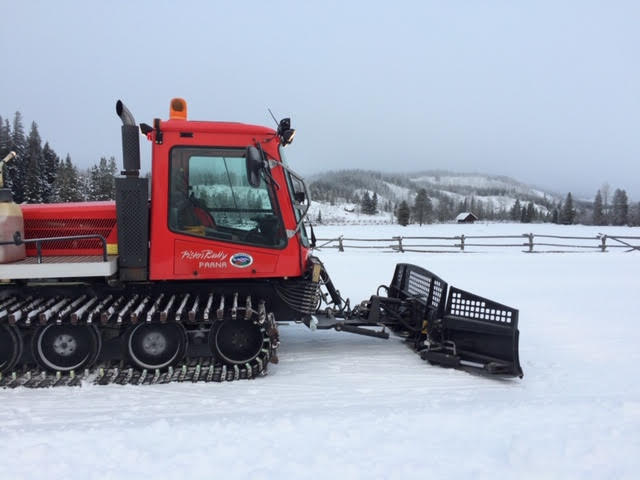 Grand Teton National Park Grooming Report
Last Updated: 12/7
Chilly and foggy out this morning.  We are grooming Grand Teton Park Road – Taggart Lake to Jenny Lake. Tuesday Grooming will be Taggart to Signal.
---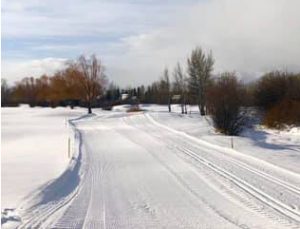 Last Updated: 12/8
Come out and ski! The sun is out and the snow is nice. We need more snow this week, but the weather has been great for maintaining our base!
---
Last Updated: 12/10
Cache Creek to Noker Mine today.
XC OPEN (Last groomed AM 12/9/2018), Fat Bike OPEN.
---

Alta Track
Grooming Schedule: Tuesday, Thursday, Saturday, Sunday
Last Updated: 12/9/2018 11:08:37
Skate: Good  |  Classic: Good
Comments: I ran three laps around this morning. The classic track is reset and looks good. The skate track is also fully reset. The southern loops look really good and the northern loops are still variable with a few soft spots and a wee bit of grass showing through in the thin spots but completely skiable. Enjoy!
Driggs
Grooming Schedule: Monday, Wednesday, Friday
Last Updated: 12/6/2018 20:45:13
Skate: Poor  |  Classic: Not Set
Comments:Plowed a bunch of snow in the ditches and rolled out the trail to establish a base. The base depth is more shallow than the mowed grass. I'd recommend waiting till we get a few more inches of snow before skiing the Driggs Track. Let it snow!!!
Sherman Park
Grooming Schedule: Monday, Wednesday, Friday
Last Updated: 11/19/2018 11:06:49
Skate: Not Set  |  Classic: Not Set
Comments: Coming Soon!
Teton Canyon
Grooming Schedule: Monday, Wednesday, Saturday and Sunday
Last Updated: 12/10/2018 7:32:46
Skate: Good  |  Classic: Fair
Comments: Monday: Plan to make a couple passes over the skate track this morning, finish by 930. Good conditions with the cold, dry weather. Will reset classic Tuesday or Wednesday, after new snow falls.
Teton Springs
Grooming Schedule: Tuesday, Thursday, Saturday
Last Updated: 12/9/2018 13:34:19
Skate: Fair |  Classic: Fair
Comments: Sunday 1pm: Rolled the couple inches of new snow that fell last week. Both skate and classic are in fairly good shape. Still some grass showing here and there, but overall pretty good coverage.
Teton Springs Singletrack
Grooming Schedule: Monday, Wednesday, Friday
Last Updated: 12/9/2018 21:12:02
Singletrack: Excellent
Comments: Ran drag 1x on loop
5th Street Singletrack
Grooming Schedule: Monday, Wednesday, Friday
Last Updated: 12/1/2018 10:26:20
Singletrack: Excellent
Comments: Rode-in 5th St. this AM. Fast, fun and tight! Start north of skatepark for 1mi figure-8. Happy Global Fatbike day! Go grab a demo bike from local shops.
Southern Valley Single Track
Grooming Schedule: As Needed
Last Updated: 12/9/2018 21:11:12
Singletrack: Good
Comments: Ran drag 2x on upper Ladyslipper to Grumpys intersection
For more info on Teton Valley grooming, visit their grooming page.
---
Last Updated: 12/10
Nordic ski trail grooming report – Dec. 10, 2018 (posted 12/10/18)
Mike Looney, Groomer, Sublette County Recreation Board
Monday, December 10, 9:20AM report:
Half Moon Tie-In, Kelly Park, Kelly Tie-In, Lower & Upper Surveyor, Moose Ridge, Tree Loop and Old Road Trail all groomed this morning. 7F degrees at the Nordic Equipment Building, warming up. There are still a couple of moose hanging out up there – give them space. Should be a good skiing day.
This Nordic Ski Trail grooming report is courtesy of the Sublette County Recreation Board.
---
UPCOMING EVENTS
---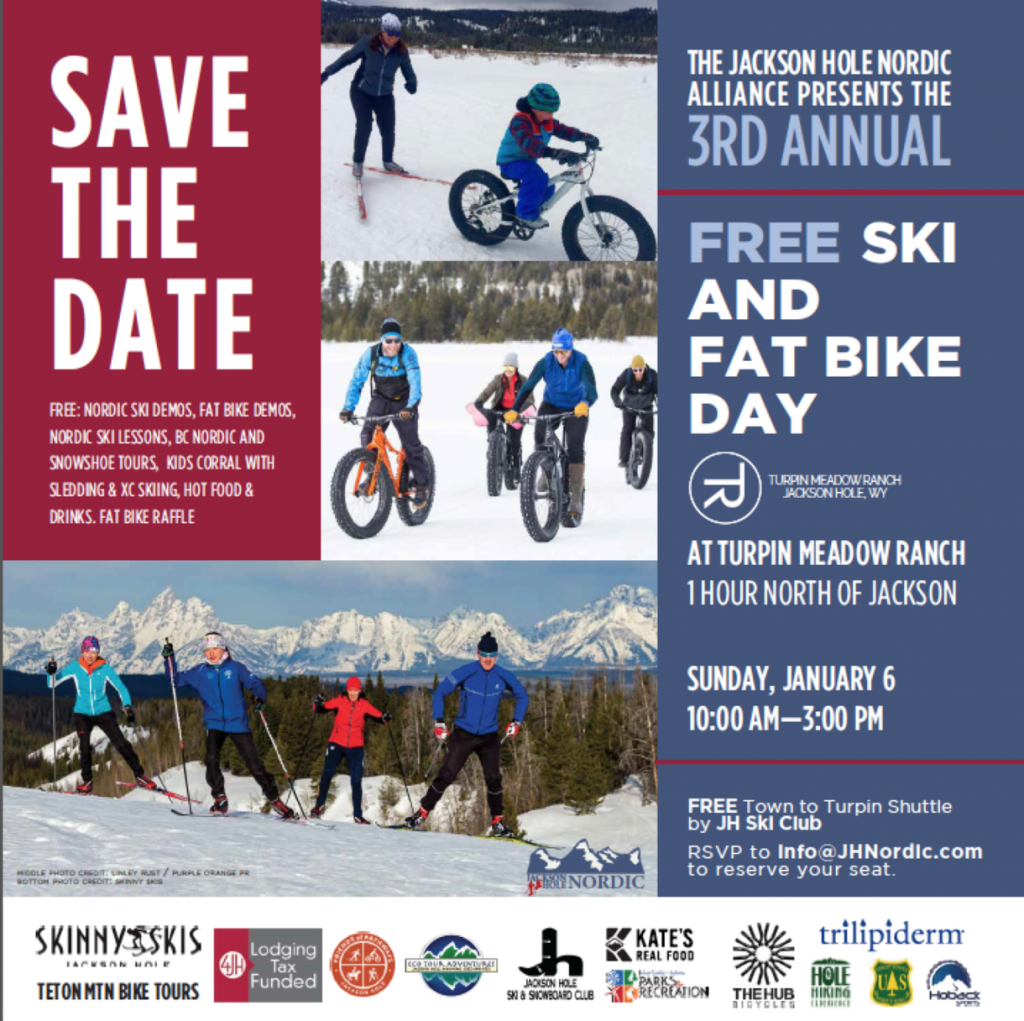 For more events, visit our events page.