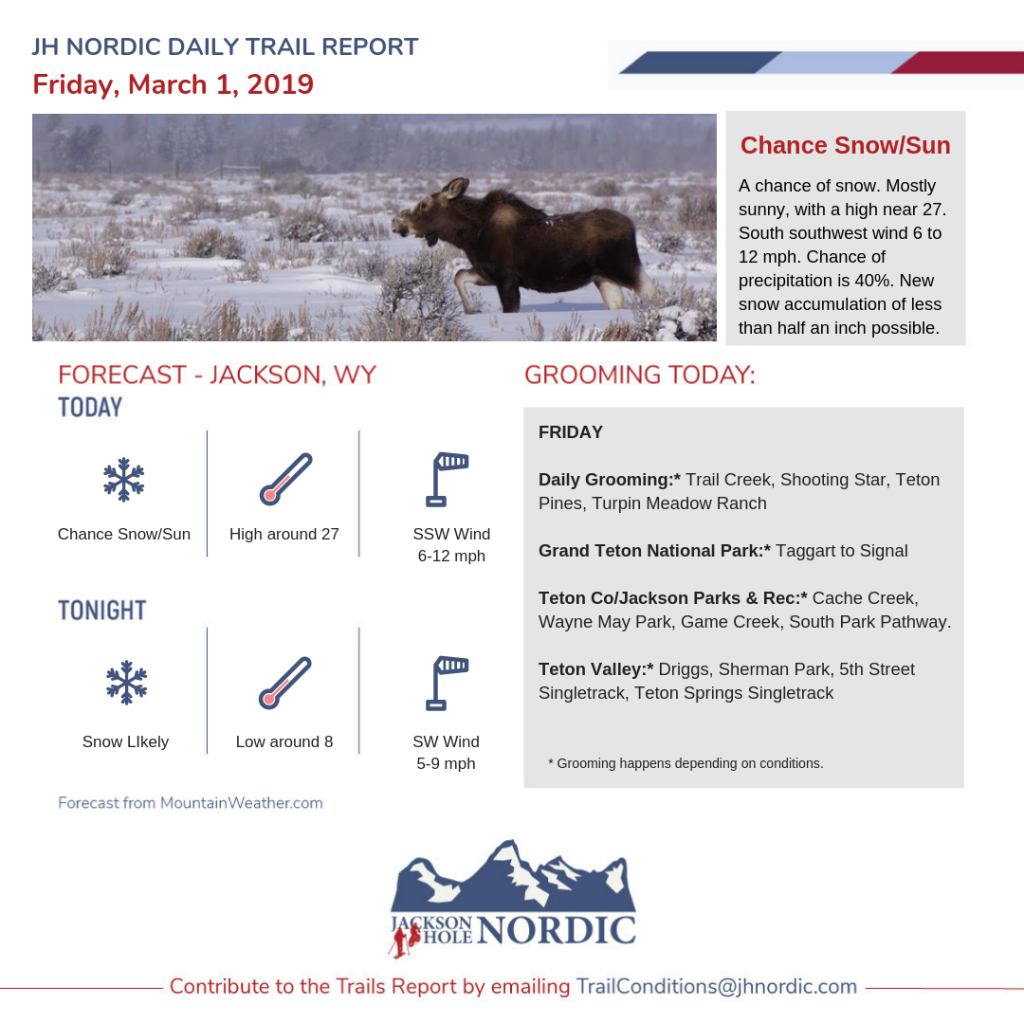 ---
Thank you for continually sharing your photos with us
of Nordic skiing in Jackson Hole
Skier Report : Emily's Pond Levee/Snake River Dike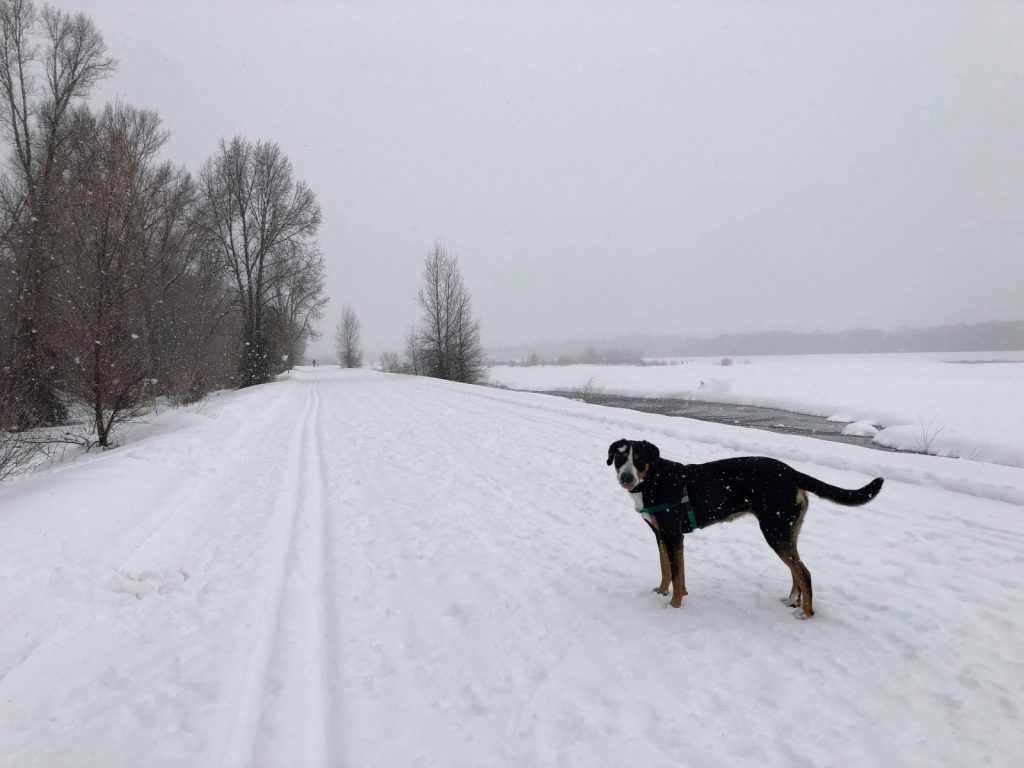 Soft conditions and heavy use makes for an adventure out on the dike! While, it's wet out there, it's still a fun time and the classic track seems to be in decent shape. Head out early for the best conditions.

Last Updated: 2/28
Catching Up/It Keeps Snowing!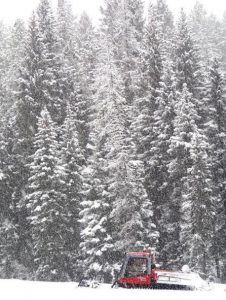 We're actually making significant progress at Trail Creek today even though the snow has continued to fall. The forecast does call for a bit of a reprieve over the next few days and while the snowfall today has been on the light side with only about an inch since grooming began, about 5 inches of heavy snow did fall since yesterday.
Today's Pisten Bully grooming made double passes with fresh classic tracks on most of the trails.  The exceptions were the East Field Woods and part of the National Forest trails.  Skating lanes might have a few snowballs from the warm snow but should set up nicely and ski fast.  Classic tracks are 90% really nice although you will find a few instances of "wandering tracks" as when the edges of the deep snow were being pushed back today, sometimes the deep snow won and pushed the tiller around a bit.  You will notice quite a bit of new or renewed grooming in the close field in preparation for the collegiate competition the week after next.
As of noon the snowfall was very light, the wind calm, and the temperature a very balmy 1ºC/34ºF.
Groomer's choice for today is a perimeter loop of all the fields.
---
Last Updated: 2/25

The road between town and Turpin has been closed since Sunday. Please check current conditions before traveling up.
---
Grand Teton National Park Grooming Report
Last Updated: 2/26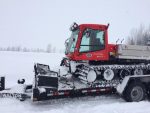 All loaded up and ready to go – but because of weather conditions we will not be grooming any of our trails today
---
Teton Pines Grooming Report
Last Updated: 2/25
Conditions at Teton Pines are…snowy. We are doing our best this week to keep our trails nicely groomed, but due to the amount of snow in the forecast, the wind, and the varying temperatures, please visit our Facebook page or give us a call at (307)733-1733 for the latest conditions.
---
Shooting Star Grooming Report
Last Updated: 2/27
It just keeps snowing! The trails continue to groom out well each morning but expect softer conditions to continue as more snow is forecasted to accumulate through Friday. Enjoy!
Next Update: Saturday
---
Grand Targhee Grooming Report
Last Updated: 2/27
We will remain in a Winter Storm Warning from now until 5:00pm tonight. Winds will blow SSW from 20-25mph with gusts hitting 38mph. 4-8″ are expected to fall throughout the day.
Cross Country/Fat Bike 15k: XC OPEN (Last groomed AM 2/24/2019), Fat Bike CLOSED.
---
Pinedale Nordic Trail Report
Last Updated: 2/28
All trails above groomed this morning. Snowing heavily and steadily while grooming. The first trails groomed will have more snow: Half Moon Tie-in, Kelly Park, Kelly Tie-in. Last groomed will be freshest: Old Road Trail, Tree Loop, Surveyor Park. 26F degrees. The plow just came through. Road snowpacked, low visibility. Some parking plowed. Trails will be soft again today. Please snow bikers, stay off the trails.
---
Alta Track
Grooming Schedule: Tuesday, Thursday, Saturday, Sunday
Last Updated: 2/27 @ 12pm
Skate: Not Set |  Classic: Not Set
The good news is that we have a lot of snow to play in this winter. The bad news is that we lost the trail. Don't worry, we will get it back, just need a little time and some colder temperatures. Many of our trail marking stakes were buried by this last snowfall, so we can't see where we are going. It will take us a few days to get reacquainted with the packed trail.
You can help us by skiing around one of the loops and pulling up the snow stakes so they are visible again. Sorry for the delay, we are doing all we can to keep things groomed. Stay tuned…
Driggs
Grooming Schedule: Monday, Wednesday, Friday
Last Updated: 2/28 @ 10:30am
Skate: Not Set  |  Classic: Not Set
No grooming today. Tomorrow will be colder. Hopefully…
Sherman Park
Grooming Schedule: Monday, Wednesday, Friday
Last Updated: 2/14 @ 11am
Skate: Fair |  Classic: N/A
Made a number of laps to reset the track Thursday am. It is a bit wet and soft but fair and skiable.
Teton Canyon
Grooming Schedule: Tuesday, Thursday, Saturday
Last Updated: 2/27 @ 12pm
Skate: Fair|  Classic: Fair
12 noon update – I got it all rolled out, but sticky wet snow was a challenge. Lots of firm snow clods falling from trees onto the track. Tree wells are getting deeper along the edges of the trail. One moose wandering around about 3/4 mile past Reunion Flats. Enjoy!
Teton Springs
Grooming Schedule: Monday, Wednesday, Saturday and Sunday
Last Updated: 2/28 @ 9:30am
Skate: Good  |  Classic: Good
Reset the tracks with the Ginzu. Came out really nice. I marked as good, but they may be excellent.
Yeti's Loop
Grooming Schedule: As Needed
Last Updated: 2/22 @ 7pm
Skate: Excellent  |  Classic: Excellent
Rolled on Wednesday, ginzu groomed and set a classic track Thursday evening. It skate skied excellent on Friday and should be good tomorrow (Saturday) until it's buried with fresh snow. Will groom again when high pressure returns and equipment is available. Go explore and enjoy!
5th Street Singletrack
Grooming Schedule: Monday, Wednesday, Friday
Last Updated: 2/20 @ 8pm
Singletrack: Good
Last groomed on Monday. Holding up and riding well.
Teton Springs Singletrack
Grooming Schedule: Monday, Wednesday, Friday
Last Updated: 2/17
Singletrack: Poor
Marked conditions as poor due to windblown hardpack that will breakdown with traffic
Southern Valley Single Track
Grooming Schedule: As Needed
Last Updated: 2/19 @ 11pm
Singletrack: Good
Groomed
Powerline to Pole Canyon
Nemo
Grumpy
Upper Ladyslipper
West Yellowstone Rendezvous 2019 Race – 2K, 5K, 10K, 25K classic, 25K & 50K freestyle 
When:  Saturday, March 2
Where: Rendezvous Trails, West Yellowstone, MT
www.skirunbikemt.com/rendezvous-race.html
---
US College Ski Association (USCSA) Championships – Nordic Races

When: Sunday, March 10
Where: Trail Creek Nordic Center, Trail Creek Road – off Hwy 22, Wilson WY
jhskiclub.org/event/uscsa-national-champs
---
Send us your event dates, stories, photos
Follow JHNordic on Facebook, Instagram @JHNordic, #JHNordic
Sign up for Daily or Once a Week JH Nordic Trail ConditionReports to know what's groomed, what's happening first thing every morning – or just Saturdays.