R Park -"Paw print" Loop and NW Snake Dike
1.3mi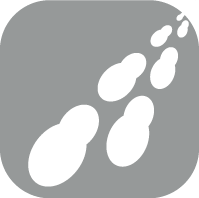 ---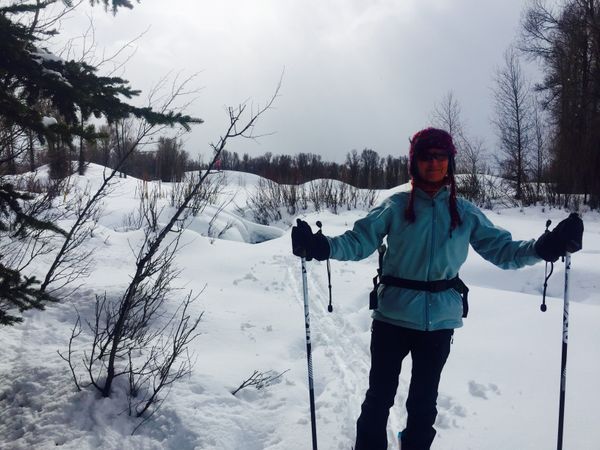 Access via: From Jackson, take WY Hwy 22 west, across the Snake River bridge. Turn right (north) on Hwy 390 -Moose-Wilson Road, then turn right after 200 yards into R Park road. Continue 300 yrds to a small parking area. Trailhead is 10 yds. east. START Bus access via Stilson stop.
Fee: $0.00 - donations appreciated
---
R Park is a delightful community Park on the banks of the Snake River, just north of the Wilson bike Bridge, and a short walk from Stilson. The Park includes open meadows, small hills and berms, a lagoon and borders a section of the Snake River Dike on its North-west side.

This trail is a new loop the follows a olive green "paw-print" logo in a loop around the Park's perimeter, with a short stretch up and back on the NW dike. There are benches set out along the dike and pathway on the south end to sit and take in the beauty of the Snake River in winter, and surrounding winter landscapes.

The loop by itself is .9 mile, flat except for a short 20 foot uphill to scramble up the dike on the north-east side.
XC skiing, snowshoeing, and walking are welcome.. there's no groomed track, but you're likely find tracks to follow - or make your own. The hill often has children sledding and making snow-people. The small lagoon may be frozen in mid-winter, but do not venture out on the snow covered ice unless you are certain its frozen.

What new in 2017-18 are a series of wood plank bridges on the north side of the Park, that connect the trailhead /parking area with the dike, by crossing several channels and winding its way through rushes and willows up to the dike.

Summer Hike: R Park was created a few years ago with generous work of the community and JH Land Trust, who now manages this space. Donations are welcome via the JH Land Trust (JHLandTrust.org).
Summer Hike: R Park is a delightful place for a short walk around the ponds, over to the Snake River via boardwalks, have a picnic, gather with friends and family, read a book in the shade of the large trees.