Coal Creek
5.7mi








---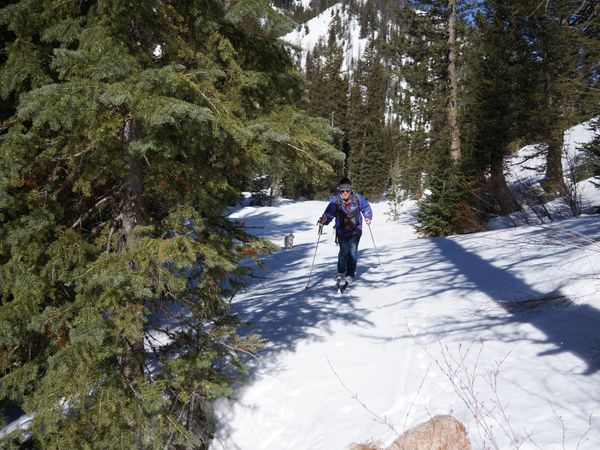 Access via: From Jackson, take WY Hwy 22 west over Teton Pass, to the Coal Creek Trailhead parking area, 2 miles west of the Pass summit, on the right (north) side of the Hwy. From Victor, drive east toward Teton Pass on ID Hwy 31, past the WY state border. As the road begins to rise, Coal Creek is on the left.
Fee: $0.00
---
Coal Creek offers a moderately challenging creek drainage to ski up and back, at the base of Taylor Mountain and Mt Glory, on the west side of the Tetons. This trail is a well-known summer hike and in winter, is a popular ski up/ski down for back-country downhill (AT) skiers coming off Mt Glory or heading out to Taylor Mountain. Caution should be observed for faster downhill skiers, as well as in the upper stretches, exposure to avalanches from the slopes above.
The trail begins at the parking lot/trailhead for the Coal Creek hiking trail, on the north side of WY Hwy22. Head north (ski tracks are common) and ski into a gladed wooded area, crossing the creek. The trail then begins a moderate uphill climb, following the left (west) slope above the creek, winding through aspens and conifers. Views of wide 3000 ft vertical open slopes of the south-east face of Taylor Mountain open up to the west.
At approx. 2 miles, the trail flattens out into a wide meadow, with the snow-covered creek winding its way through the middle. Continue north to the end of the meadow, then climb a final 400 yards to Mesquite Pass.
Return via the same route, taking care on the downhill not to gather too much speed. Some skiers choose to use skins (full length or "kicker" skins) to slow their downhill speed. The trail is skied as an "out-and-back" on skinny skis.

For those with stamina, looking for a longer adventure, one can continue north past Mesquite Pass and connect with Philips Pass, then returning to the Ski Lake. Philips Ridge trailhead –however this level of skiing is beyond the scope of most nordic skiers on skinny skis.

Other trails in Teton Valley