Headed out for a long ski, trail run, bike ride, or adventure? Sick of eating the same Clif bar, or forcing a GU down? With these new snack ideas you will be counting down the minutes until your next snack break!
A great trail snack has the perfect amount of healthy fats, some protein, and fast burning carbohydrates, the main source of energy in long endurance activities. Oh and for a PERFECT trail snack it has to be tasty!
However, that being said, everyone's body is different! So finding that perfect snack that keeps you from bonking may take a little trial and error. Here are some of my favorite go to snacks to try out.
1. Trail Mix:
As it says in the name Trail mix is the ultimate trail snack, but are you sick of the traditional GORP (Good Ol Raisins and Peanuts)? Why not make your own with all your favorite snacks? To get the good ratio of fats and sugars you should add the following.
Nuts: You can use any nut or combination of nuts here – almonds, hazelnuts, brazil nuts, pecans, peanuts. If you want to spice it up a little try roasting them and maybe even adding a little sugar or spice (and everything nice).
Seeds: Seeds are a great source of fiber, fats, minerals and antioxidants to add to the mix. Some of my favorite seeds include pumpkin seeds, and sunflower seeds. If you wanted to get even seeder you could make a natural sweetener coating to add chia seeds, and flax seed to the mix. Click here for a little inspiration.
Dried Fruit: Dried fruit is great for getting your blood sugar up when you are crashing. Unfortunately lots of dried fruit is covered in even more sugar – try to look for natural dried fruit. Dried fruit ideas include: craisins, blueberries, cherries, raisins, apricots, strawberries, and the list goes on.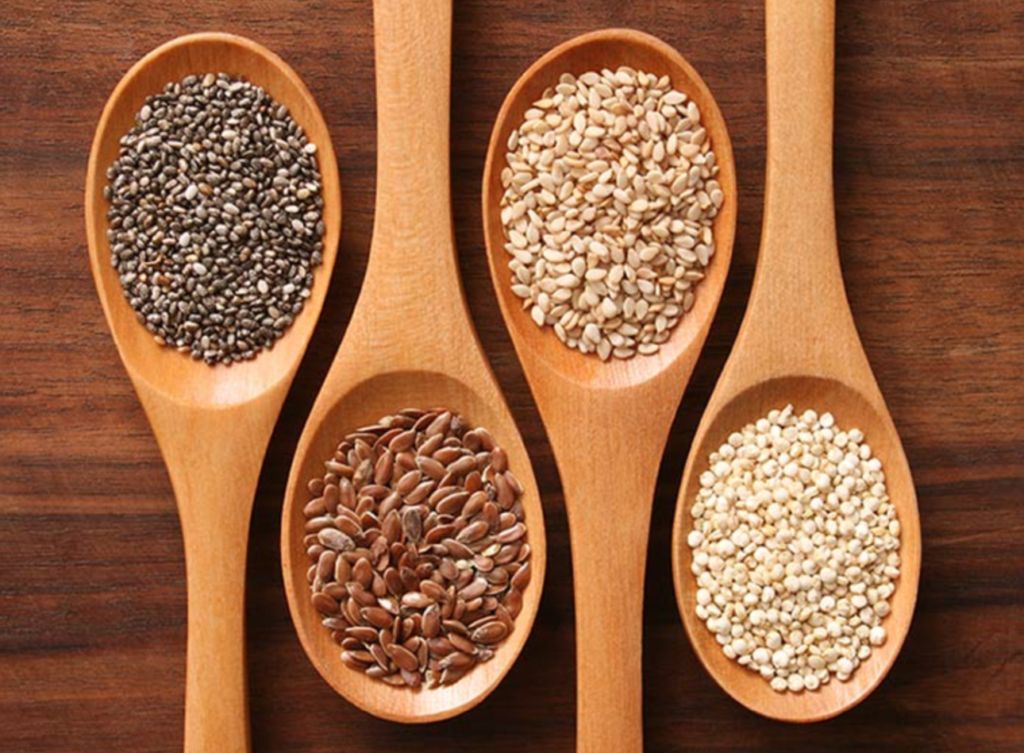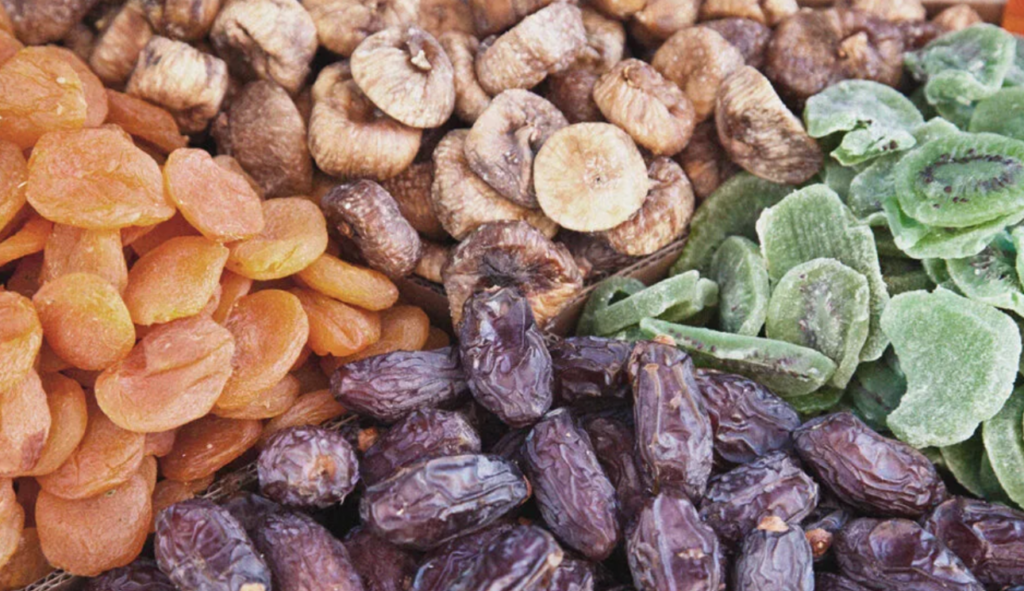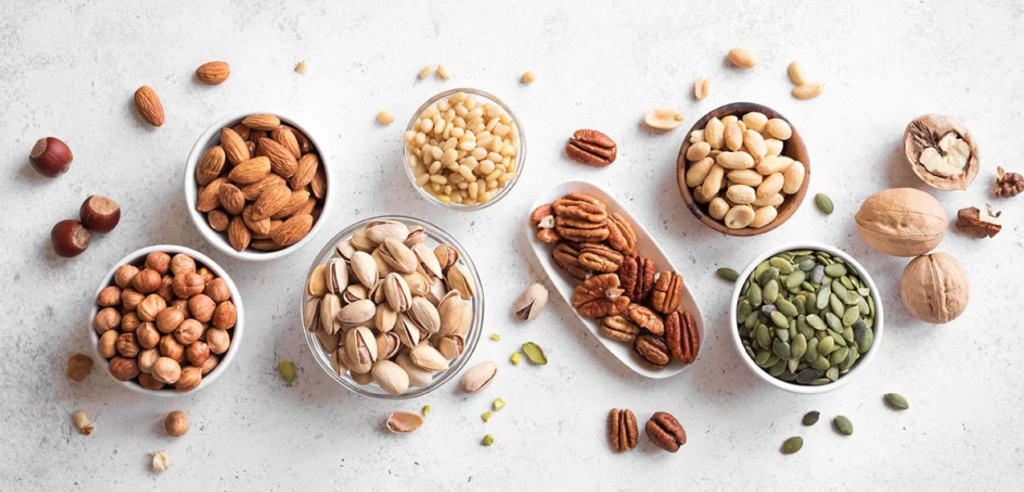 Party Pick: My favorite part of making trail mix is getting to be creative with the final additions. Throw in your favorite sweet treat; dark chocolate nibbles, yogurt chips, some chocolate covered espresso beans for a little extra energy to get you up that big hill. If you are salty person try adding some pretzels, sesame sticks, goldfish, or chex! Have fun with it.
Mix it all together and you will be looking forward to your trail snack!
2. Nut Butters:
I don't know about you but I live off nut butters. Not only are nut butters a great snack in day to day life but they can also be taken on the trail. Nut butters are a great source of protein, fats, fiber, and calories. Your favorite butters will keep you movin and fueled.
My favorite for the trail is Justin's Nut butter which is packable and comes in many different flavors. However if you are trying to eliminate your waste, small reusable plastic containers do the trick!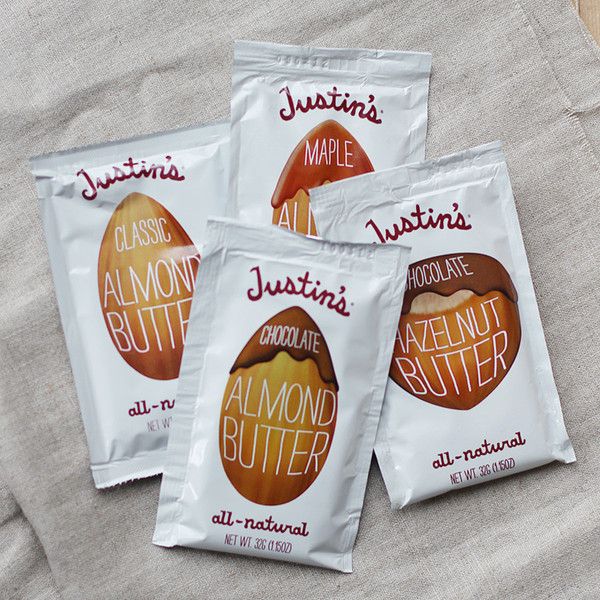 Also you can't forget about the standard PB and J! It's easy to make and easy to pack. If you are looking for a little extra treat on the trail you could swap the Jelly with Nutella for a delicious snack.
3. Jerky:
Jerky is a perfect protein packed treat, helping to refuel the muscles you have been using. While additionally its very packable. There are many different types of jerky to try out. Look for these jerks in your local stores:
Beef jerky
Turkey jerky
Salmon jerky
Vegan jerky (For vegan and salmon jerky check your local organic or healthy food shop)
4. Pre-made baked goods:
Maybe you are dreaming about your favorite baked goods while in the midst of your long nordic ski. But what if instead you took your favorite baked good with you? Think….
All of these are great sources of fast burning carbs that will give you the little bit of extra energy you need. While putting a smile on your face, because we all know that everything tastes better in the backcountry!
5. Protein and Granola bars:
Most everyone's go to snack is a protein or granola bar. They are fast, easy to eat, and give you the energy you need for long days on the trail. But if you are like me you buy one box in bulk and never deviate from the boring kind of bar you are used to…. So I gathered my outdoor oriented fellow AmeriCorps members here at the Teton Science School to help me do a taste test.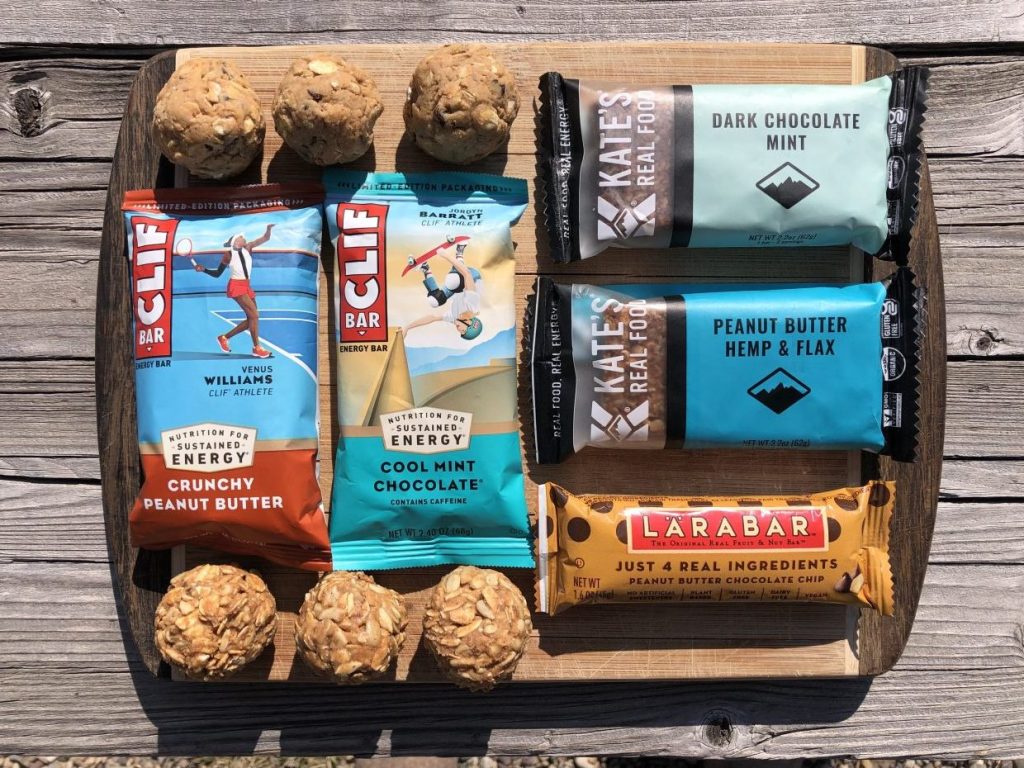 Granola Bars Ranked!
We, my AmeriCorps cohort and I, ranked the bars based on flavor, ingredients, and durability (ie. How they will stick together on the trail.)
# 1 Kates Real Food: Peanut Butter Hemp & Flax Bar
Taste: The hemp and flax seeds in this bar really stand out. A slight hint of peanut butter brings that whole bar together. This bar was voted the favorite of all the bars we tried.
Texture: This bar had a good overall texture, however our only critiques was it was a little dry and crumbly. It may be hard to eat half and save the other half without it falling apart.
Kate's Bars are also a JH Nordic Sponsor, so go try them out!
# 2 LARABAR: Peanut butter chocolate chip
Taste: The LARABAR, made with only 4 ingredients was delightful. It was very moist and had great flavor. If your favorite part of a bar is the chocolate then this bar is for you!
Texture: Holds itself together very well, however if you like the crunch in your bars, this bar is missing that crunch aspect.
# 3 Kate's Real Food: Dark Chocolate Mint Bar
Taste: A perfect subtle mint flavor with a hint of chocolate makes this bar delicious. Similar to the peanut butter flax bar this bar has great seeds mixed in. It has a very natural flavor, with all the raw natural ingredients standing out.
Texture: Similar to the peanut butter hemp bar this bar is a little crumbly and dry in texture making it hard to save, and eat without spilling.
# 4 CLIF Bar: Cool Mint Chocolate
Taste: We described this bar as being more chocolatey than minty, with a nice subtle mint flavor. It was noticed that it did have a similar flavor to the peanut butter bar, but the chocolate minty flavor added more to the bar than just the plain peanut butter bar.
Texture: CLIF bars have nailed the texture of their bars for durability and ease. They stick together very well, and have a good bit of crunch.
# 5 CLIF Bar: Crunch Peanut Butter
Taste: Has some peanut butter flavors, but also tastes similar to other cliff bars. A little bland in the flavor department.
Texture: The texture of this cliff bar was almost exactly the same as the cool mint CLIF bar. They have really nailed the texture.
Another Type of CLIF Bar you might be interested in tying out is the espresso CLIF Bar. It tastes great and gives you a little caffeine boost which can be really helpful when its needed.
Easy Homemade Energy Balls:
Sick of dealing with all the granola bar packaging? Or just sick of standard granola bars all together? Have some extra peanut butter and oats lying around the house? Here are some great energy ball recipes. I made both of the following recipes to test them out, and got my fellow AmeriCorps members to taste test them for me. Both recipes are very easy, and require no special ingredients or tools!
No Bake Energy Balls
1 ½ cup Peanut Butter
½ cup Honey
1 ⅓ cup Rolled Oats
½ cup Vanilla Protein Powder
⅛ tsp. Salt
½ cup mini chocolate chips
Add the no stir creamy peanut butter, honey, rolled oats, vanilla protein powder, salt, and mini chocolate chips and mix with a rubber spatula.
Roll the dough into balls about an inch in size, then put on a tray in the refrigerator for about an hour.
When an hour has passed, transfer the balls into a ziplock and store in the refrigerator.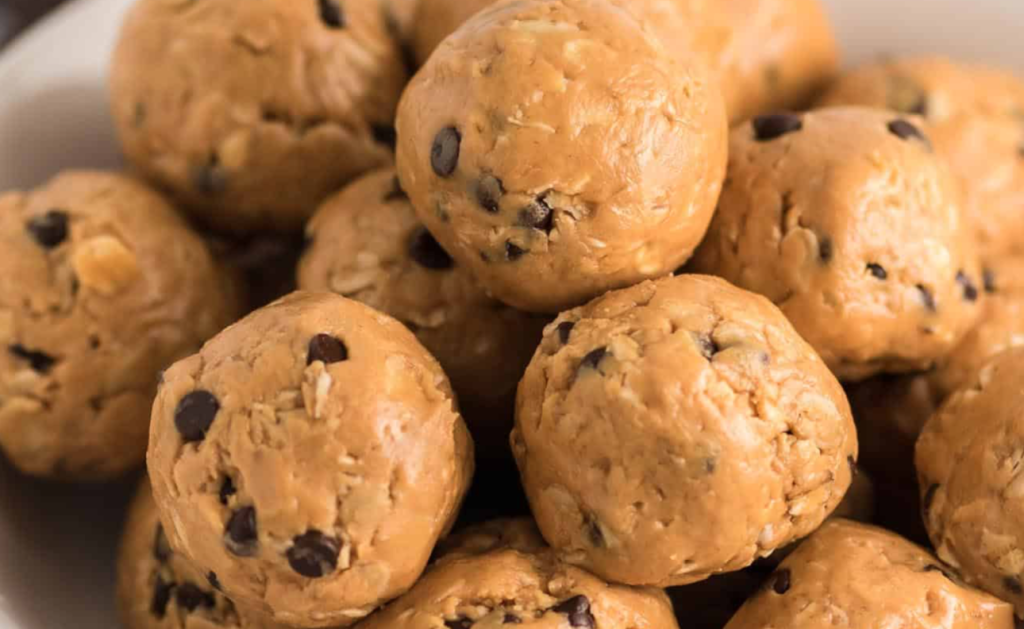 Peanut Butter, Honey, Cinnamon, Energy Balls
1 cup old fashioned oats
½ cup flax (Can substitute with sunflower seeds)
½ cup peanut butter
¼ cup honey
¼ tsp salt
¼ tsp cinnamon
In a food processor blend the oats and flax. (this step is not necessary, but if you like a dinner consistency I would throw the oats in the food processor)
In a medium bowl mix the oat/flax mixture with the peanut butter, honey, salt, and cinnamon.
Roll into around 1 inch balls and stick them in the freezer. They should be ready to eat around an hour or so.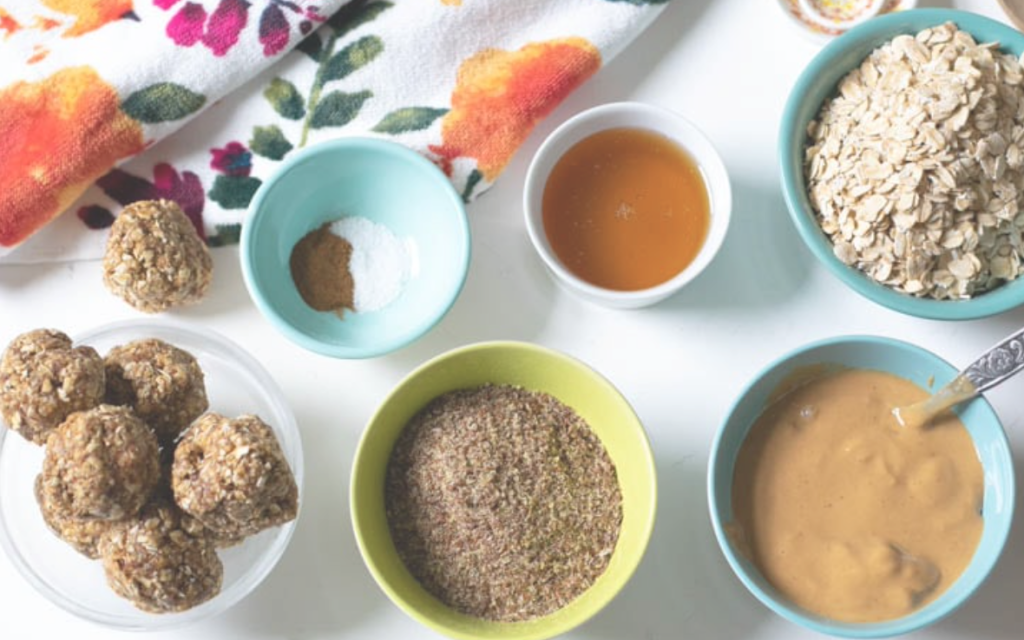 The no bake energy balls were a favorite of the taste test. They were moist and flavorful. When described we agreed they tasted very similar to cookie dough or recess puffs. The oats gave them a nice texture. When eaten straight out of the freezer they are firm and hold together well however the more they sat at room temperature the more gooey they became.
The peanut butter, honey, cinnamon balls were a little more dry but had a very nice and seedy texture. We decided when making them next that we might throw in a little more cinnamon, so if you are a big cinnamon fan you could go along and throw some in!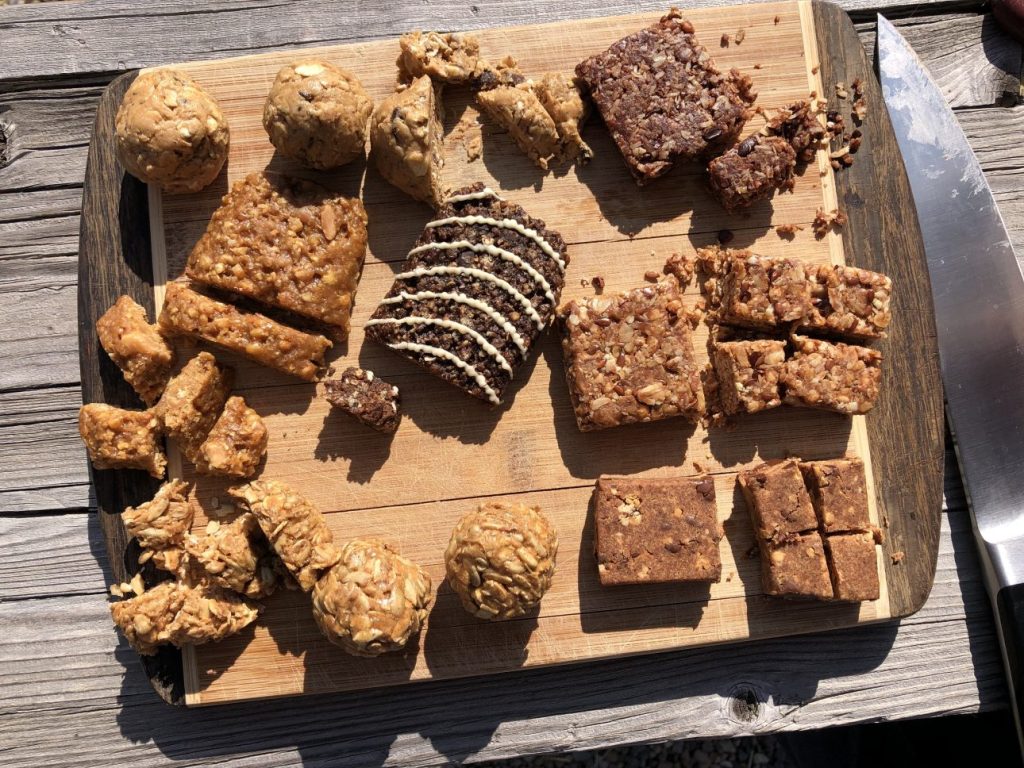 Hopefully these peak your interest and you are now looking forward to the long days spent on the trail for more reasons than just being outside!
Send us your favorite trail snacks!
Have a favorite trail snack, energy bar, or recipe that you want to share? By positing in the comments or writing to info@jhnordic.com with your delicious, healthy recipes you will be entered to win a free JH Nordic neck gaiter "buff!"