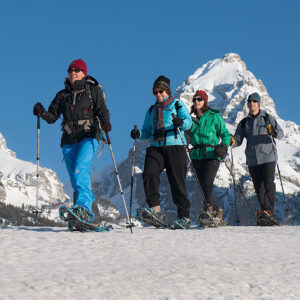 Exhilarating and peaceful describe a snowshoe experience. You walk to increase your heart rate while enjoying winter and the solitude of Grand Teton Park.  Journeying into the backcountry away from crowds makes the most of your visit. You get to explore and tour beneath the majestic, granite pinnacles of the Teton Range.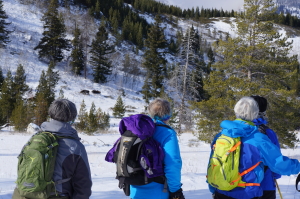 During the winter  months, fewer visitors come to the Greater Yellowstone Ecosystem and Grand Teton National Park. Nature enters the season of dormancy. You hear your breath in the crisp morning air. You hear everything. You easily put on the snowshoes and walk. You explore. You are free to discover. No trail. It's just you, the mountains, and wild nature.  Can't be beat!
With endless options, you can walk in the valley or journey up some hills. It's a sport that doesn't require experience. Using poles helps with balance. You just have to dress to be outdoors so warm and dry with a waterproof outer layer and wear good, warm boots.
Jackson offers endless options which are low in elevation. Since we have wild nature, you do need to be aware of wildlife and snow conditions. It's always fun to go with others or a guide to stay safe and learn along the way.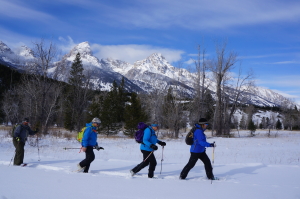 A guide shares nature so the experience becomes engaging and vibrant. You learn about winter, the animals, their tracks, their survival skills. You connect to the landscape so you enhance your time immersed in nature. You end the journey with a connection to the natural world and new insight. Your heart is happy.