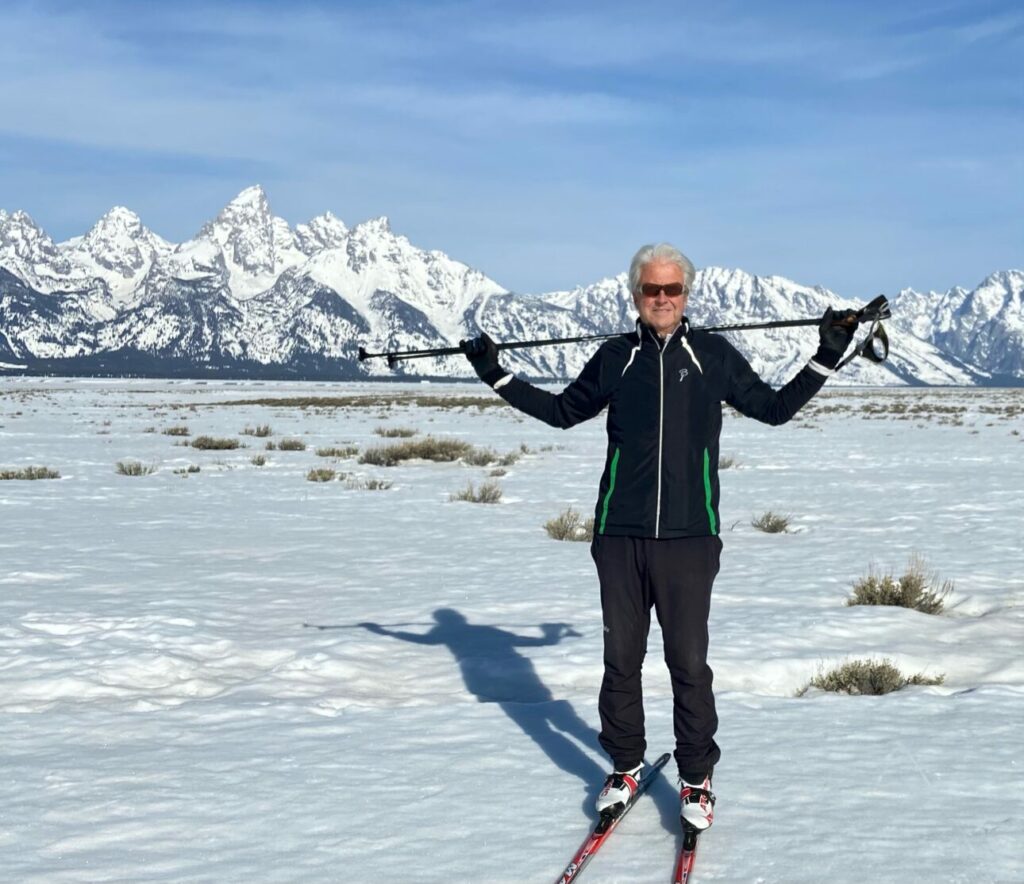 Local Jackson skier, James Mathieu, celebrated his 100th day skiing on Nordic skis in late April 2021, and is on his way to ski another 100 days this year!
JH Nordic: What first inspired you to try Nordic skiing?
James: I began as a backcountry skier in the old Norwegian Army/Bonna skis days (pine tar, leather boots, and kick waxes). In 1983 I skied to Old Faithful from Yellowstone's South Entrance and then across the Pitchstone Plateau.
When my daughter, Corinne, joined the high school cross country ski team in 1996, coached by Walt Berling, I got serious about skate skiing. After repeatedly following Corinne's team to West Yellowstone in November for pre-season training, that annual 'pilgrimage" became somewhat of a family tradition.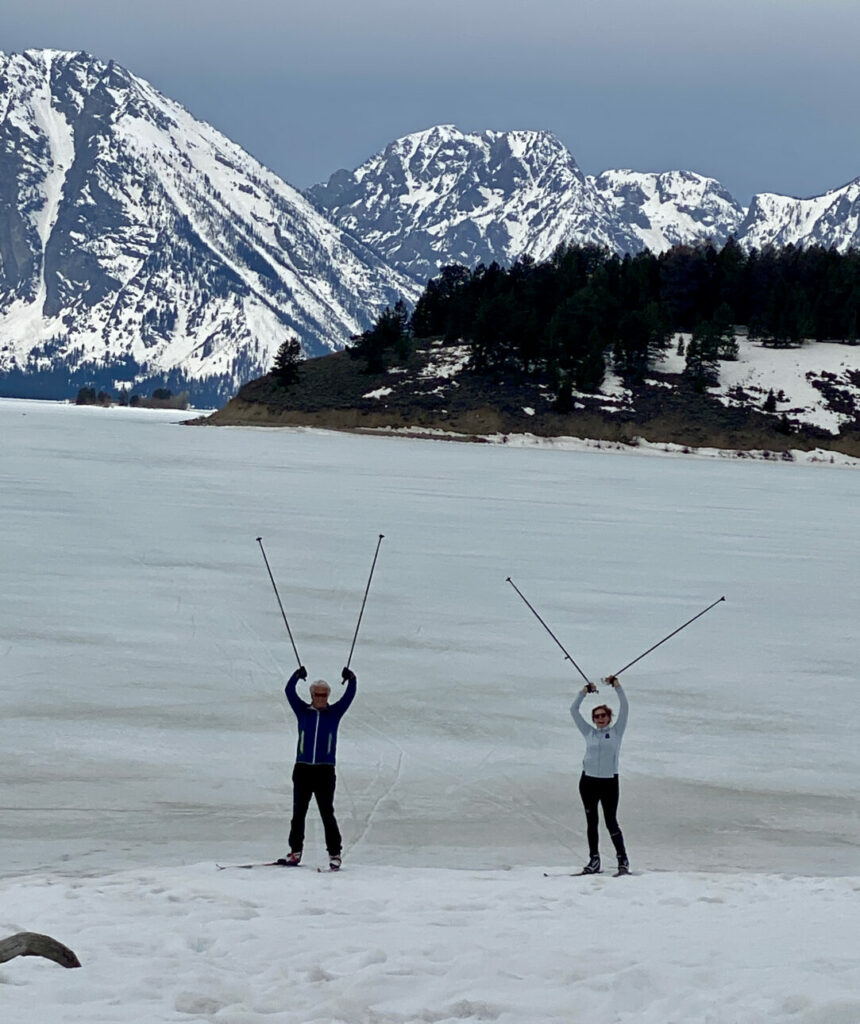 JH Nordic: When did you first come to Jackson Hole?
I first came to Jackson Hole sitting in the back seat of my family's station wagon when I was five-years-old. When my Dad could join us in the summer, we stayed at the Triangle X, otherwise, my Mother, my sister, and I would camp at the Signal Mountain Campground. When I was nine-years-old my family, and three other partners, purchased what is now Lake Creek Ranch, so I spent my summers in Jackson. When I graduated from college in 1972, I worked on haying crews, as a lift operator, as a ski patrolman, and as a land surveyor, but (eventually) I came indoors and ran the first iteration of Wyoming Outfitters on the town square (circa 1974 to 1994).
JH Nordic: What is your greatest achievement as a Nordic skier?
James: Truthfully, I wouldn't say finishing the Moose Chase, or skiing across Yellowstone, are my greatest accomplishments. Instead, managing to log 105 days on my Nordic skis last season at age 71 ranks as my greatest and proudest achievement.
JH Nordic: What is your greatest contribution to the sport of Nordic skiing?
James: My youngest son, Avery, died in a car accident in 2003. Avery loved cross country skiing and winter was his favorite season. I established a skiing scholarship in his memory at the Colorado Rocky Mountain School, in Carbondale, Colorado, where Avery skied the winter before his accident.
I still feel Avery's presence when I visit West Yellowstone, where he, following in his older sister's tracks, trained with his teams at JHHS and CRMS. Through the scholarship in Avery's name, I hope I'm contributing to lifelong memories for the student-athlete recipients.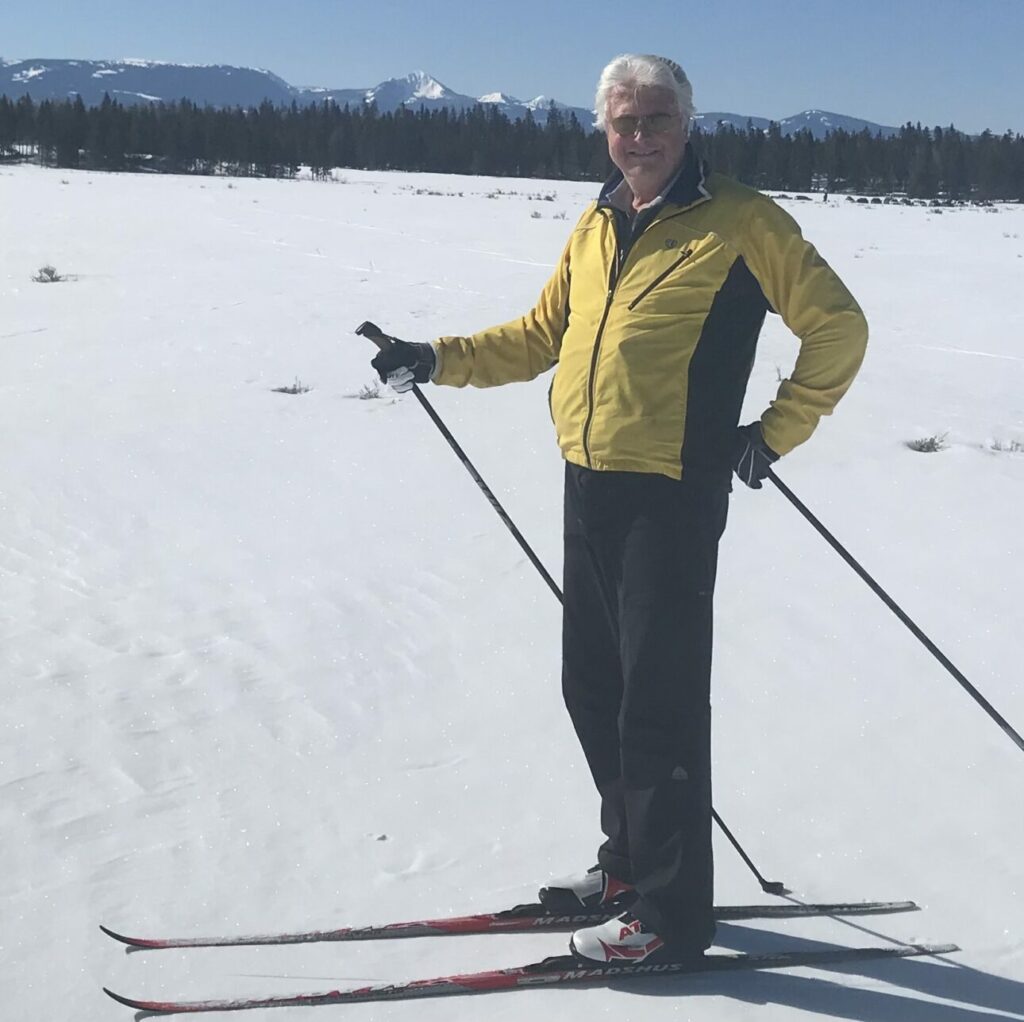 JH Nordic: What advice would you offer to someone who is just starting Nordic skiing?
James: My advice for anyone just starting out, and this would be the same whether it's a youngster or a septuagenarian, is to approach Nordic skiing as a fun activity. When you are on skis, regardless of the conditions, celebrate your surroundings, the fragility of snow, and the beauty of wildlife. Savor the views and enjoy the fellowship with friends. Don't use Nordic skiing like an exercise assignment, a transforming diet, or workout at the spa. Nordic skiing is too magical to reduce to just so many calories burned.