Last Skate Ski clinic for 2019 – Thurs. Feb 28th
The final JH Nordic Recreational Masters Clinic will be held on Thursday, Feb 28th – 11a-12:30p at Teton Pines Nordic Center, with a focus this week on Skate Ski Tips, Technique and Fun.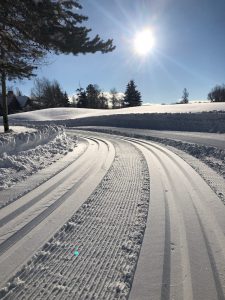 Hosted by the JH Ski Club, with Master racer/coach Scott Horn. This is the 6th Nordic Master Rec clinic of the 2019 winter season, and is open to all skiers (above beginner level).
Drop-in: $35 (includes coaching and all day Nordic ski pass at Teton Pines) or $30 (coaching only – for current Teton Pines Nordic pass holders).
RSVP for this final skate ski clinic to: info@JHNordic.com
The JH Nordic Rec Masters Program has been a success, with an average of 10-13 skiers with 1-2 coaches per clinic, and improvement in technique by all. Useful tips and fun rounded out every session, more miles and time on both classic cross-country and skate skis.
Skiing conditions on the daily groomed trails of Teton Pines were excellent, even on the day of a snow storm when the group quickly switched from skate to classic!
Stay tuned for more next year!