Jackson Hole EcoTour Adventures is a wildlife cross country ski and snowshoe tour operator in Grand Teton and Yellowstone National Parks that has been operating for 12 years. For 365 days of the year, they run a variety of snowshoe and cross country ski tours and road-based wildlife tours for all ability levels that seek to connect visitors and give them a deeper experience with the Greater Yellowstone Ecosystem. In the winter, most of the tours run in Grand Teton National Park.
"Winter is an awesome time to explore Grand Teton because it's a quieter time of year in the parks," said Josh Metten, a Naturalist Biologist Guide with EcoTour Adventures. "The crowds of summer are a distant memory, and with the snow on the ground, it's easy to get off the beaten path and end up in areas where you might not see another person all day long. Something we try to focus on during our trips is getting off the beaten path and getting to places where you can really feel the wildness of the landscape."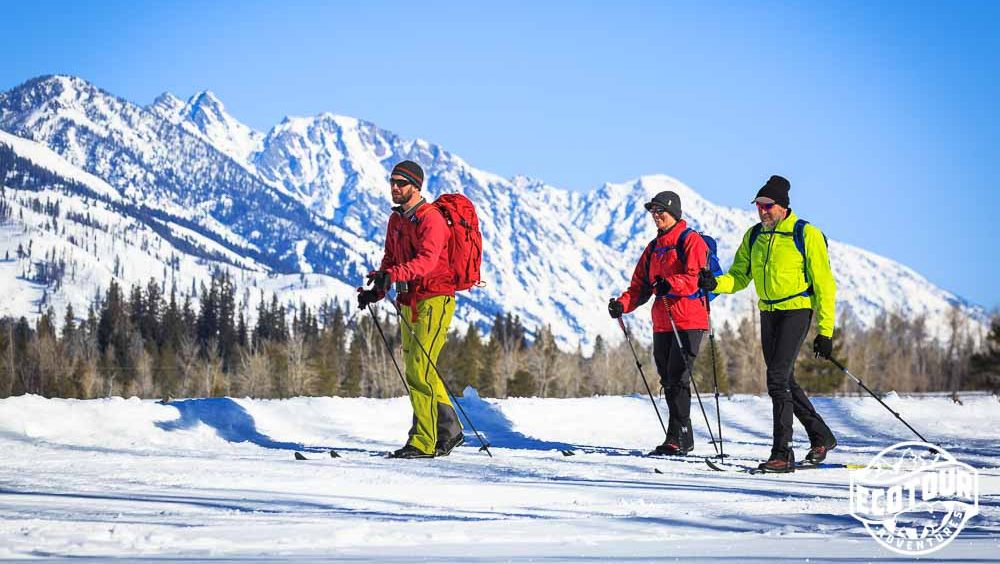 Grand Teton National Park Tours by Cross Country Skis
"There's just no better place to do it than in Grand Teton National Park. Getting to learn to cross country ski or improve as a cross country skier while looking up at mountains that are 7,000 feet above you is really an exciting and amazing thing to get to experience," Josh said. "And we try to get people excited about the winter ecology around us and the added value beyond just a ski tour–it's a ski tour with a skilled, professional naturalist that's going to deeply connect you to the landscape."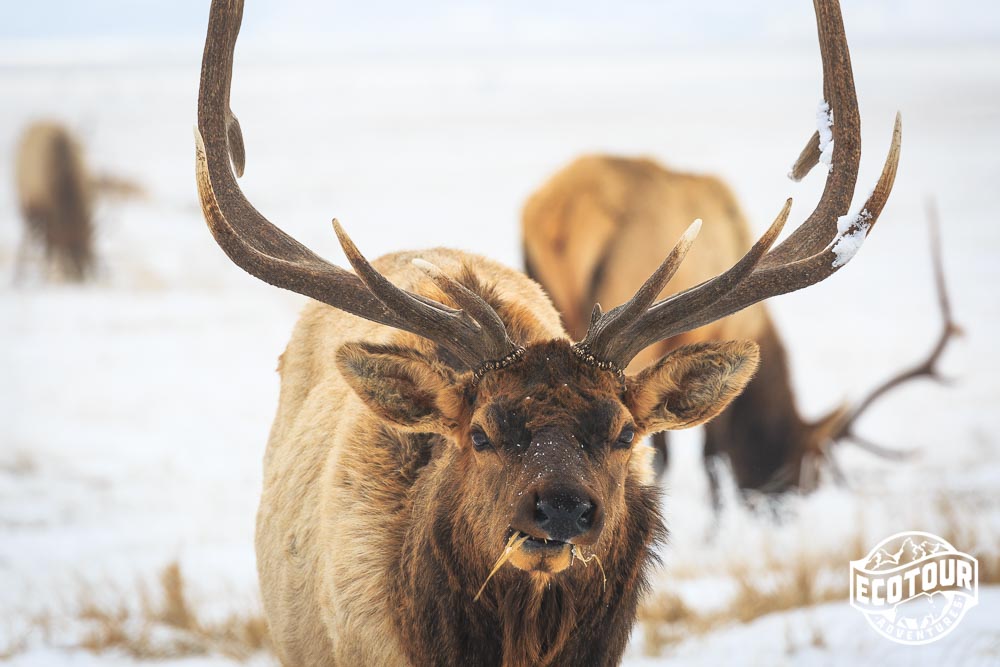 Josh finds that the amazing diversity of species and preserved ecosystems in the Jackson Hole region and the national parks make it a uniquely amazing place to lead these tours.
"One of the reasons we're grateful we get to do the work that we do here is this amazing combination of adventure and nature," Josh said. "The fact that we have this intact wildlife habitat in a similar place to where we like to play is something that makes this area and Wyoming really special."
With such amazing access to wildlife, the folks at EcoTour Adventures are huge advocates for responsible recreation and respect for wildlife in the winter.
Winter Wildlife Tracks & Signs
"It's really important to us to make sure we're giving wildlife space during the wintertime so that they're able to get through the winter because it is such a hard time of year for these animals," Josh said. "I talk a lot about seeing wildlife on trips, but a lot of it is track and sign and learning about what was there, not necessarily what is there."
Josh has some wonderful memories of doing track and sign with some guests that turned into what he called "animal CSI." A few years ago, after finding almost every track you can think of, they eventually came upon the remains of a porcupine and then some mountain lion tracks. With some investigation and exploring, Josh and his guests were able to conclude that the mountain lion had climbed up a tree, swatted the porcupine, and ate it without getting any quills, leaving the remains behind. All this human observation without disturbing any wildlife in the process.
Don't Poach there Powder – Giving winter wildlife space
As a company, EcoTour Adventures sponsors the Don't Poach the Powder educational campaign, which aims to make sure backcountry recreationists are adhering to posted winter wildlife closures and supports other organizations working on safe wildlife crossings, like the Greater Yellowstone Coalition. EcoTour Adventures also donates 2.5% of its profits annually to conservation organizations and participates in yearly fence pulls with the Jackson Hole Wildlife Foundation. In their everyday practices, they work to ensure that the way they travel across the landscape has as low an impact on wildlife as possible.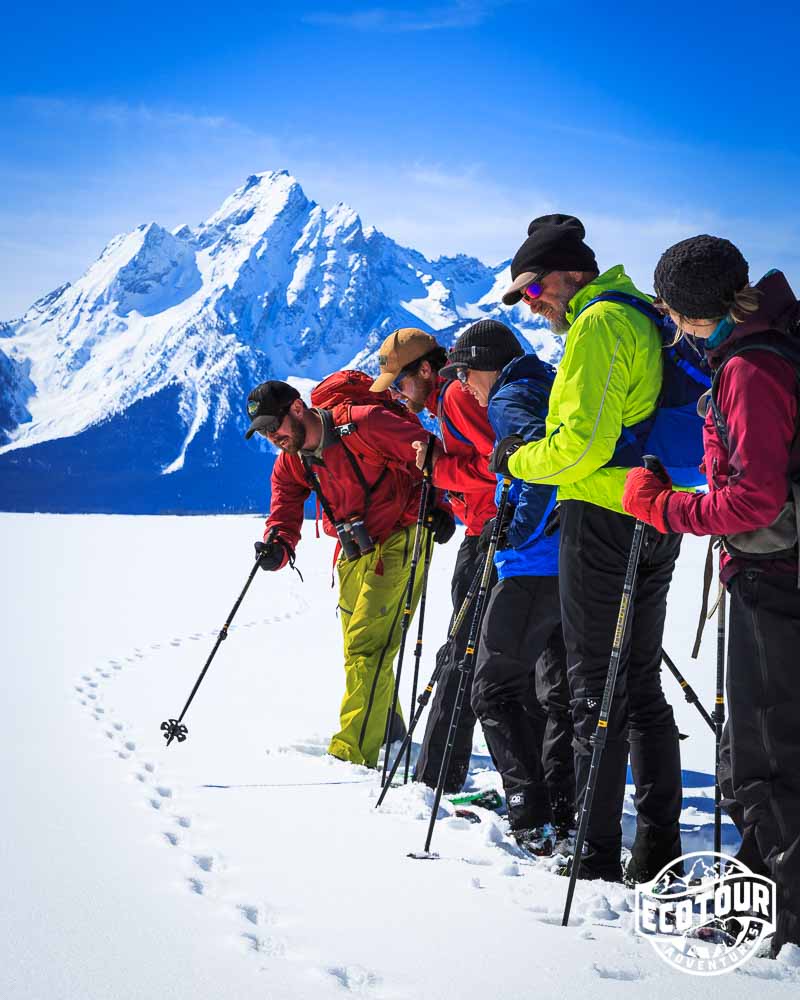 "As a wildlife cross country skiing and snowshoeing tour operator, we have a commitment to conservation because we're only able to do what we do as a company because of the wildlife and wild places around us," Josh said.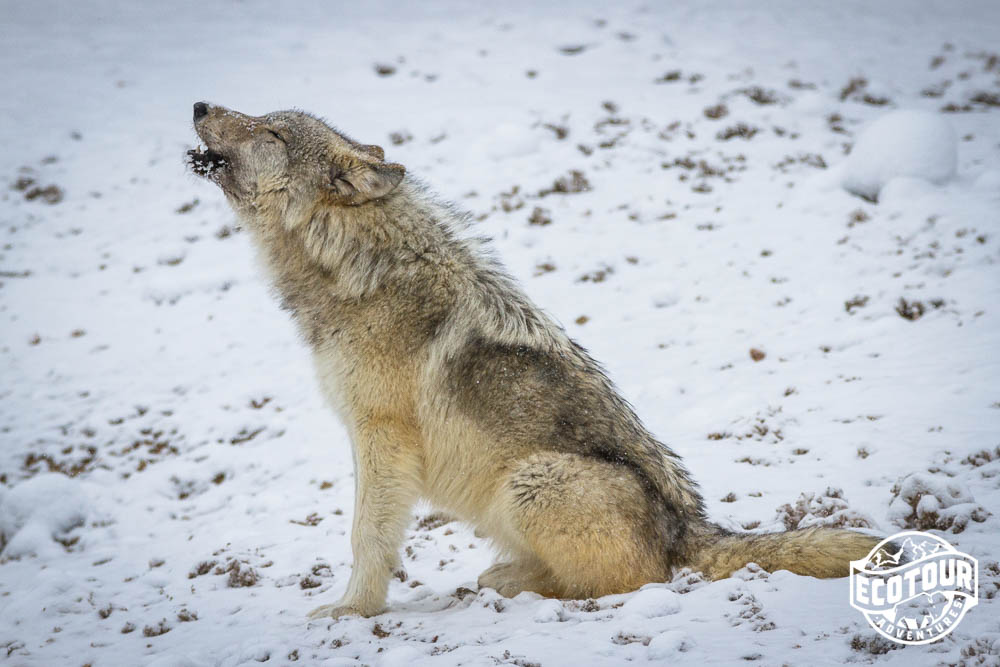 They have also been partners with the Jackson Hole (JH) Nordic Alliance for about 3 years now. Josh has found the partnership with the Nordic Alliance to be a great contribution to expanding knowledge about nordic skiing in the Jackson Hole region–both where to ski and where not to ski to respect winter wildlife closures and encourage stewardship. 
Another partnership that EcoTour Adventures engages in is with the Grand Teton National Park Foundation in their funding for the construction of the weather station in Grand Teton National Park for recreational users.
Wildlife Wednesdays on Facebook
This past summer, EcoTours started Wildlife Wednesdays on their Facebook page to share a weekly wildlife digest with everyone at home due to the pandemic.
"It's been really popular, and people have really appreciated opportunities to see what we have," Josh said. "A lot of the material we're able to get with spotting scopes and from a very long distance away, so it gives us more of an intimate look at animals and animal behavior without disturbing them and having a lighter impact on the wildlife in the parks."
WY Wildlife Conservation license plates
In some exciting news, the folks at EcoTour Adventures successfully lobbied for wildlife conservation license plates and have become the first wildlife tour operator in Wyoming to fully outfit their vehicles with them.
"The fees associated with those plates go towards paying for wildlife crossings and structures that will help reduce wildlife-vehicle collisions across the state," Josh said. "That's a really important conservation issue that we were proud to lobby for and endorse and continue to help promote."
If you are a Wyoming resident, now is a great time to get your wildlife conservation plate since the State of Wyoming and conservation organizations that promoted the plates are aiming to get 2020 plates sold by the end of 2020. You can go online and get one of these license plates and help support wildlife conservation, or check out this article by Josh about the license plates.
If you'd like to book a winter tour or learn more about Jackson Hole EcoTour Adventures, you can check out their website. And don't forget Wildlife Wednesdays at 5:30pm MST on the EcoTour Adventures Facebook page!