Chris Owen is the Trails Program Manager at Friends of Pathways and works in partnership with the JH Nordic Alliance through his work grooming for fat biking and advocating for responsible trail use. Friends of Pathways is a non-profit that focuses on advocating for the completion of a safe and sustainable pathways system for healthy recreation and transportation opportunities in Jackson Hole.
Chris first came to Jackson to work at the Jackson Hole Mountain Resort during the winters while he was working for the National Outdoor Leadership School (NOLS). He later moved into working for the Forest Service. After spending 5 years living in the woods as a NOLS instructor, Chris wanted to focus on the front-country so that he could sleep in a bed more often. At the time, Friends of Pathways were the head ambassadors and trail crew members with the Forest Service, so Chris began working with them. He also started volunteering on his own time, doing work with the volunteer groups, working on map projects, and helping out with fundraising.
"Eventually that led to a full-time position," Chris said. "I always say I walked into my dream job because I was doing all of the [volunteer jobs] I liked to do anyway, and then they created a position around it. I get to be outside as much as I want and work on fun new problems in the office. It's a good gig."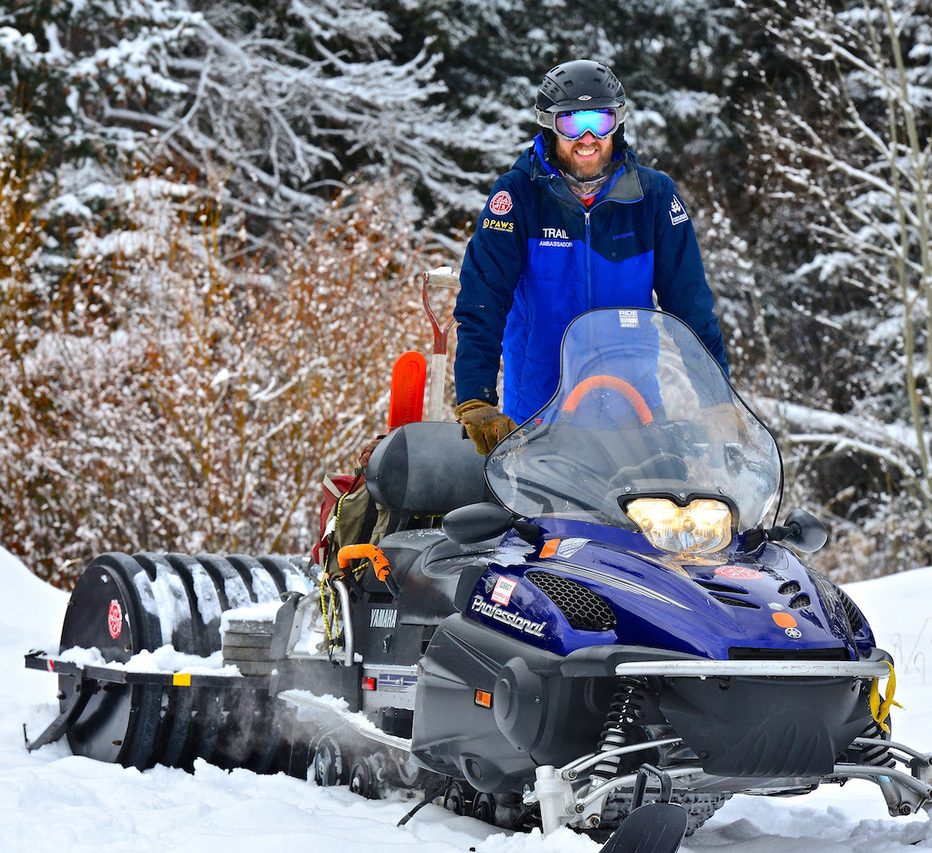 Collecting Trail Use Data for Forest-wide Planning
At Friends of Pathways, Chris is currently collecting and analyzing trail use data to help the Forest Service with their upcoming forest-wide plan. In conjunction with other wildlife and conservation advocacy organizations, they are creating a wildlife-recreation interface map to aid in determining the location of future development.
"In a lot of places, you could maybe just say yes to every new proposal, but here you're fragmenting the ecosystem, which is uniquely intact," Chris said. "So [the Forest Service] wants to make sure [they] do it right, and I respect that."
Chris is also correlating their trail use data with the Strava heat map to assign a grading scale on the map to illustrate the density of use and locate high-use areas.
"What I'm seeing so far, and what the forest service would suspect, is [the trail use is concentrated] in the first mile or two of the trails because peoples' habits have changed over the years, and they're going out for short walks at lunch or after work," Chris said.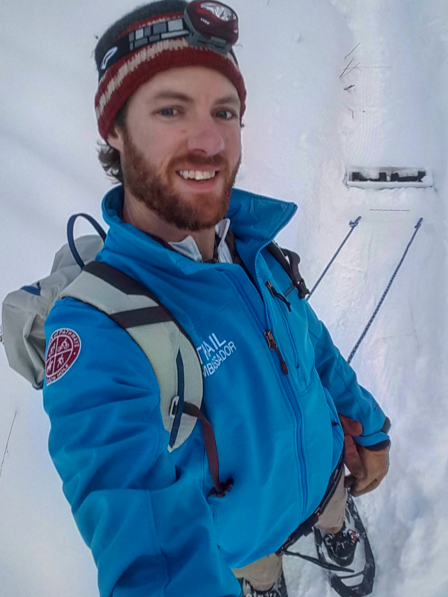 He's also noticed a robust correlation between winter trail activity (or lack thereof) and the first day of grooming in the winter. There is a clear spike on day one of grooming in the winter, as people suddenly show up. That spike is sustained throughout the season until grooming stops when it then drops back down.
"[It] just [shows] that having some sort of compact snow surface is vital," Chris said. "Unless you're backcountry touring, you're limited to that trail corridor."
Grooming for Fat Biking
Nonetheless, grooming for fat bikes hasn't always been around, and it actually started with a sled and a pair of snowshoes. When Chris brought his fat bike to Jackson, Kris Quant and David Hunger had been grooming in Cache Creek for fat bikes. They tried to get the Forest Service to groom for fat bikes, arguing that it was a new and upcoming user group, but they had no luck, but they did find out that it wasn't illegal to snowshoe around while dragging a heavy sled. And so that's what they did.
"I joined them and started snowshoeing around with little weighted plastic sleds called the human-powered groomer," Chris said.
Eventually, the Forest Service started seeing that their grooming was spreading people out off the main road in the bottom of the Cache Creek corridor, which is an important moose habitat where a lot of animals are forced into during the winter.
"When we came back and gave [the Forest Service] a proposal for an official grooming program, they went for it because it was getting people away from that concentrated area and giving wildlife some space," Chris said.
Recreation Impact on Wildlife
Chris has remained interested in that aspect of the human and recreation impact on wildlife. In the summer, as part of the group Neighbors to Nature, Friends of Pathways contributes data to the Nature Conservancy phenology wildlife watch that tracks trends in plant blooms, fruits, and berries and how they correlate with climate change. FOP also contributes to the Jackson Hole Wildlife Foundation's efforts to understand the impact of human activities on trail corridors to determine if the wildlife are being displaced or are changing their behavior.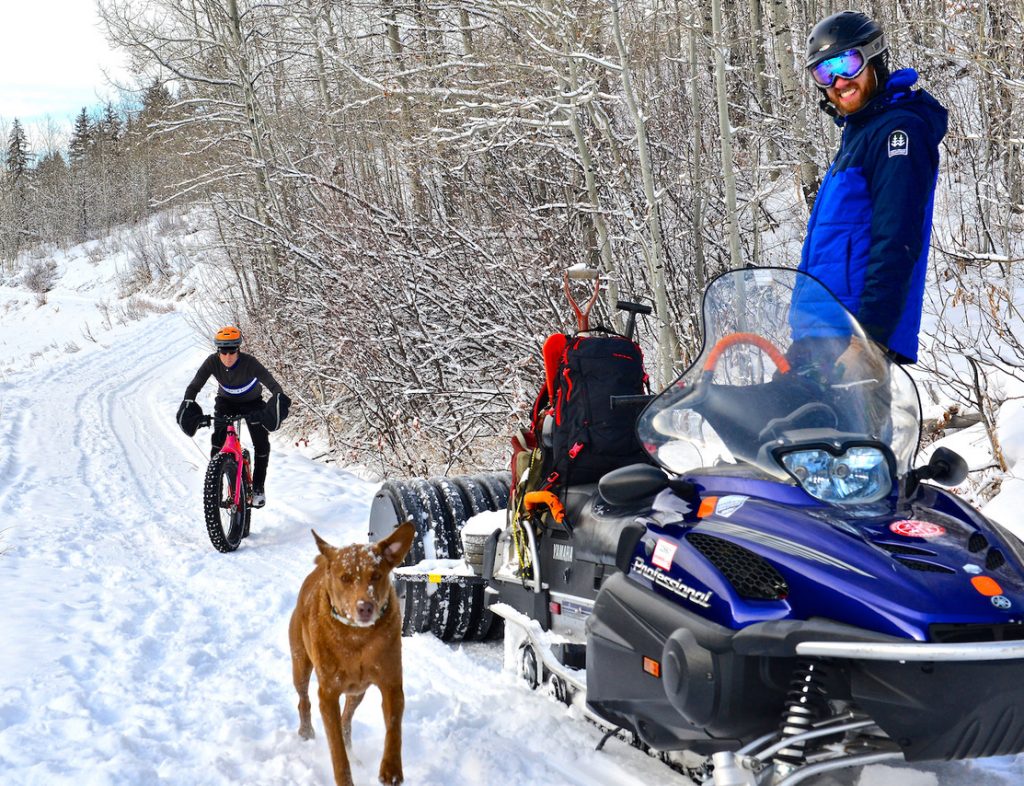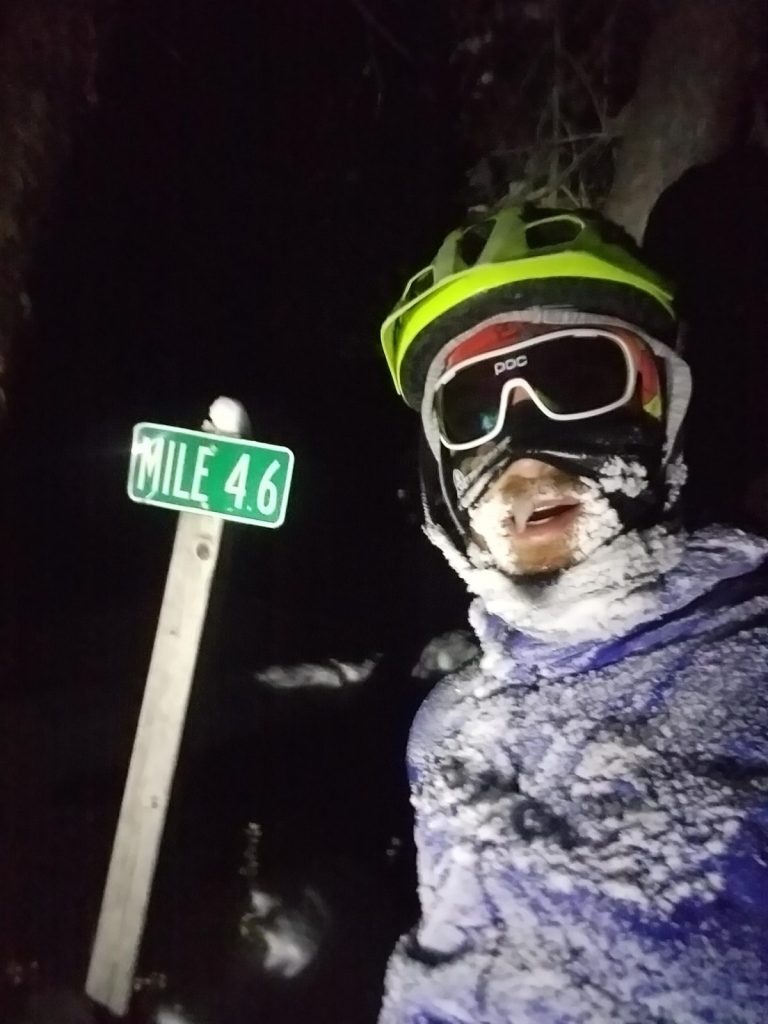 Chris is not only interested in wildlife advocacy but also loves to be outside and observe wildlife in person. One night while out grooming, Chris came across what looked like dog tracks–but way larger.
"It was an offset pattern going up Cache Creek road," Chris said. "And every now and again, there would be a very small single track that would go off to the side and pee and come back. I thought, oh this is a wolf pack, and it's so big because they're all stepping in the same footprint."
Chris completed his animal tracking CSI with confirmation from Forest Service collar data that a wolfpack had just recently moved into that area.
Chris loves going fat biking in the areas they groom, but he also wishes that that area was larger.
"Jackson is tricky because it's all public land, but a lot of the public land is steep stuff, so the flat spots in the winter are hard to get to," he said. "I feel like having some flat areas would be more inviting to beginners."
Fat Biking and Nordic skiing complement a groomed trail
Even though Chris views fat biking and Nordic skiing as complementary, a lot of private Nordic ski areas haven't been open to fat biking with the exception of Turpin Meadow Ranch, making access to flat areas for fat biking even more limited.
"I feel like [skiers and bikers] get along [on the trails] because everyone is helping to pack the trail," Chris said. "The tire tread actually keeps [the snow] from icing over because it is constantly breaking it up and giving it a textured surface."
Even though the terrain is somewhat limited as of now, fat biking in Jackson continues to be on the up and up, and the terrain is still superb.
You can learn more about Friends of Pathways and their ongoing projects at FriendsOfPathways.org, and you can find more information about fat biking in the 2020-2021 winter season here. JHNordic.com has over 40 fat bike trail maps – go to the JHNordic.com/trails/ page and search by clicking the bike icon.