It's 7:00AM. You are enjoying your first cup of joe, glancing out the window at the quiet, snow-filled forest that surrounds, pondering the day. Your morning playlist plays softly in the background. All the possibilities of Jackson Hole, what is it that you want to do today?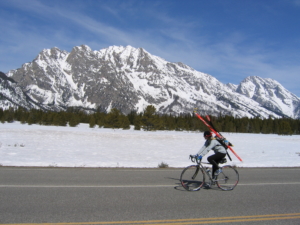 Checking the weather report at MountainWeather.com, your hopes are confirmed. Another beautiful spring day in Jackson Hole. You take another sip of coffee and a thought comes to mind. You quickly check your email for JH Nordic's daily report of snow conditions in the Park, and it's reaffirmed. BRILLIANT!!!! Time to go crust-cruising in Grand Teton National Park!
Knowing there's a delicate balance to this short-timed sport, you quickly get dressed, finish your coffee and head out to the Park. After all, the upper layer of the snow needs to be warmed just gently to allow for a good corn snow glide and a 9-12 noon time-frame is all you have to enjoy this freedom. If you go too late, you lose the firmness of the snow base, and potentially sink into the snow and if you go to early, the glide may be too slick to truly enjoy it. If you time it just right though, WOW! Like gliding along on velvet!
Upon parking at Bradley and Taggart, you head out on the firm snow next to the Inner Park Road for a ways and you spot it….the open field that has your name written all over it. You could glide for hours (or at least until 11AM, maybe even noon!). You decide to commit and the excitement overtakes you. It's time to go crust-cruising in Grand Teton National Park.
The sense of freedom feed you…there is nothing to stop you. Endless fields of snow. A sunny, blue-bird day. The Grand Teton towering above. All you can hear is your breath and the sound of the skis gently gliding over the snow. You are in the ZONE. Farther. Faster. Must keep going.

Crust-cruising in Grand Teton National Park is a perfect activity in any open meadow. Local's favorites include starting at Taggart trailhead, heading north -then west up the meadows behind the Climber's Ranch and Lucas Fabian cabins to Jenny lake, or north-east around Timbered Island and back. Other favorites are starting at the Signal Mountain (north end) of the Inner Park Road. Since the road is closed to vehicular traffic until May 1st, yet plowed after March 20th, you may need to walk down the pavement for a ½ mile until the snow opens up enough to ski. Or bring your bike, and bike into the wide open meadows heading south . Your efforts will be rewarded with wide open views of Mt Moran and the Teton Range.There are plenty of open fields to enjoy and you can easily access the groomed road if the crust gets too warm.
Don't forget to bring a friend or two (and leave Fido at home)..