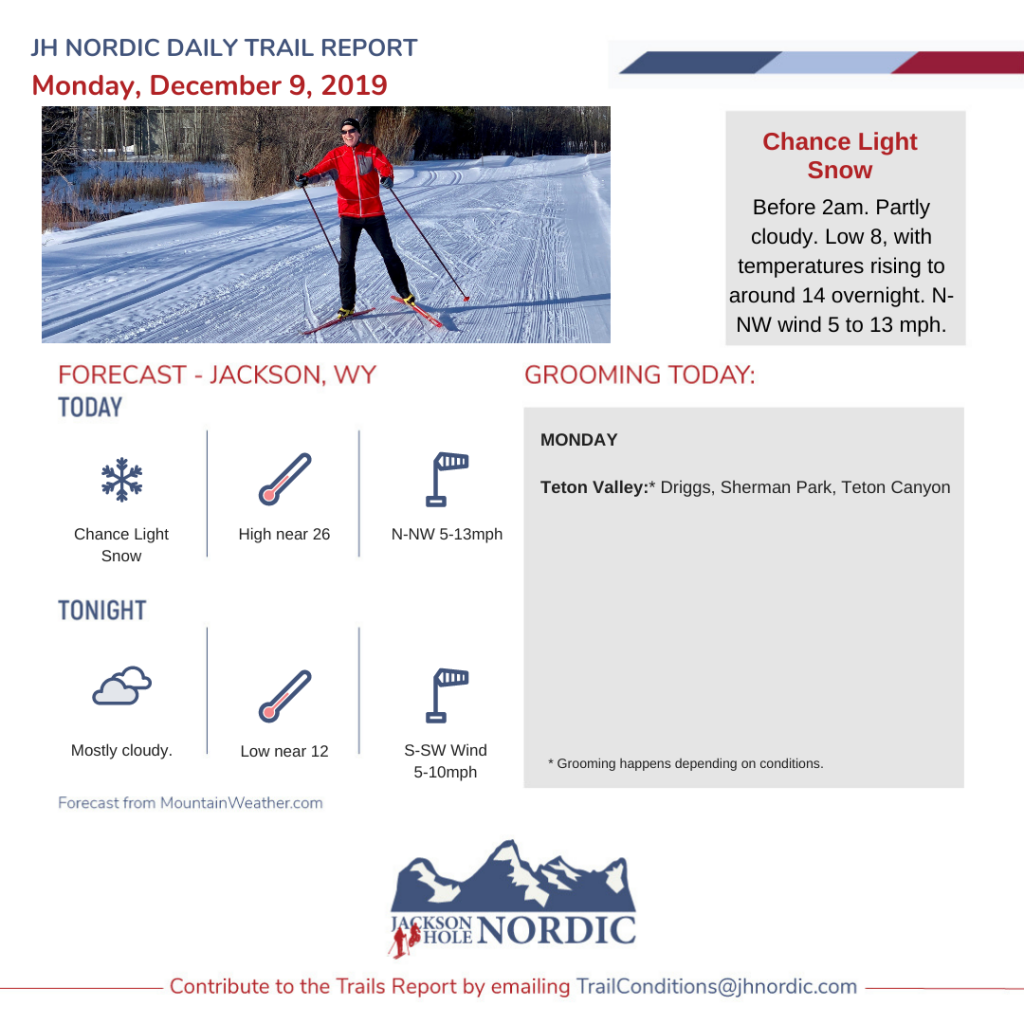 ---
Thank you for continually sharing your photos with us of Nordic skiing in Jackson Hole
---
Brave Enough Episode VI:
Monitoring Training Progress
Monitoring your training is just as important as the training… get this wrong and you'll end up like Betsy at the 1992 Olympics — "over-cooked." Click here to read the newest post in this series.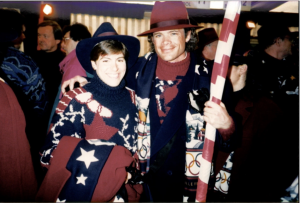 Trail Creek Nordic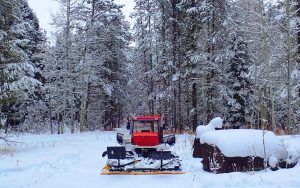 Last Updated: 12/8
A Bit of a Storm!
It turned out to be a rather bizarre snow storm this weekend with places on the north side of Jackson receiving nothing but rain while the south side picked up a couple of inches of snow. The forecast foot didn't quite happen at Trail Creek, but we did receive 4-8 inches of really heavy snow which will go a long way in building our bases. As of noon there were a few holes in the clouds, light snow was falling, the breeze was trending more towards breezy than calm, and the temperature was 2ºC/35ºF.
For today's grooming there was plenty of snow to bring the Pisten Bully back to the trails. The close field received double passes with fresh classic tracks while all recently groomed trails in the woods received a best line skate pass and Boiler/Black Hole received double first of the season grooming passes. The warm snow set up really well today so even fresh groomed trails have firmed nicely. Except for the classic tracks that have been drifting in a bit in the fields, you should find nothing but lots of good skiing today at Trail Creek.
Groomer's choice for today would be to cautiously check out Black Hole/ Boiler.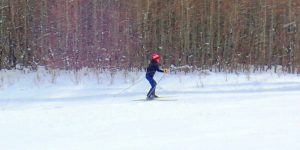 ---
Turpin Meadows
Last Updated: 12/4
Trails open, grooming begins Dec. 20th.
---
Teton Co./Jackson Parks & Rec
Last Updated: 12/6
Starting next Tuesday we will be grooming based on our typical grooming schedule. This week the goal was to get all bases packed as much as possible. Today I will touch up Stilson and the school fields so they should be in good shape for skiing.
---
Grand Teton National Park
Teton Park Road
Last Updated: 12/4
Grooming starts mid December – subject to snow.
---
Teton Pines Nordic
Last Updated: 12/6
Skate skiing was fantastic on Friday and will be awesome throughout the day on Saturday. We have a classic track set, but we will be able to reset it once we get more snow tomorrow. We have lots of great new clothing and gear in the shop from Daehlie, Swix, Salomon, Skida and more! We are open 9am-4pm daily. Please call us for more information at (307) 733-1733.
---
Shooting Star Nordic 
Last Updated: 12/8

A wet heavy 2" of snow fell overnight and several more inches of snow/rain mix are still expected today. Due to the wet/stickiness of this new snow, expect slower skiing and some inconsistent areas on the trails. Early season conditions and low snowpack will continue to persist. Smoother more enjoyable surfaces are anticipated on Monday, as this snow should set up nicely after the cold front passes through tonight. Enjoy!
Classic Tracks Set: NO
Snowshoeing : CLOSED
Sled Hill: CLOSED
Next Update: Tuesday
---
Grand Targhee Nordic & Fat Biking
Last Updated: 12/8
Step into a world of swirling snow. The kicker, it will just keep getting better and better as this powder ride continues into the afternoon. Consistent snowfall, heavy at times, will be the rule. We've already received an additional 1″ within an hour of this report, and 2″ beginning at 3am last night!
Cross Country/Fat Bike 15k: XC OPEN (no classic), Fat Bike
OPEN.
---
Pinedale
Last Updated: 12/5
Kelly Park, Half Moon Tie-in, Old Road Trail, Upper & Lower Surveyor, Moose Ridge, all fresh groomed this morning. Use extreme caution on Half Moon Tie-in trail – don't recommend it due to thin coverage. There is a groomed trail at the Golf Course now. The bike path portion of the CCC Pond trails groomed. Do your best snow dance, we need more snow.

Alta Track
Grooming Schedule: Tuesday, Thursday, Saturday, Sunday
Last Updated: 12/8
Skate: Poor | Classic: Not Set
---
Driggs
Grooming Schedule: Monday, Wednesday, Friday
Last Updated: 11/30 @ 12pm
Skate: Fair | Classic: Not Set
---
Sherman Park
Grooming Schedule: Monday, Wednesday, Friday
Last Updated: 11/30 @ 7am
Skate: Not Set | Classic: Not Set
---
Teton Canyon
Grooming Schedule: Monday, Wednesday, Friday, Saturday, Sunday
Last Updated: 12/8 @ 8am
Skate: Fair | Classic: Fair
---
Teton Springs
Grooming Schedule: Tuesday, Thursday, Saturday
Last Updated: 12/5 @ 1pm
Skate: Not Set | Classic: Not Set
---
Yeti's Loop
Grooming Schedule: Tuesday, Friday
Last Updated: 11/30 @ 7am
Skate: Not Set | Classic: Not Set
---
Southern Valley Single Track 
Track Grooming Schedule: as needed
Last Updated: 12/6 
Singletrack: Good

---

Wednesday December 11th | Snake River Brewing | 7-10pm
Enjoy a fun night of brews and trivia supporting our winter trails!
---
Thursday December 12th | Teton Pines Nordic Center | 11am-12:30pm
Classic Cross-country Tips, Technique, and Fun! Coaches provided by the JH Ski Club Nordic program. Sign up for all 8 clinics or drop-in. Clinics every other Thursday with Classic XC and Skate ski lessons alternating.
Register: info@jhnordic.com  For more info, see: blog.jhnordic.com
---
December 14 | The Wildwood Room, Victor 6-9pm
Support Teton Valley Trails and Pathways (TVTAP) & winter grooming in Teton Valley! Join this fun community dinner, supporting some of your favorite Nordic and fat bike groomed trails in Teton Valley – Teton Canyon, Alta, Teton Springs, Yeti Trail, Driggs, Sherman Park – and summer bike paths, too!
---
Saturday, February 8th | Trail Creek
The JH Ski Club recently determined that the Moose Chase Nordic Ski Race was not meeting the goals of the Club. The effort that went into making the Moose Chase a large, regional event did not fit well with the Club's venue at Trail Creek and ultimately was not benefiting the JHSC Nordic Program. The Club will pull the Moose Chase offline for 2020 with discussions continuing between our Nordic Program, staff, and board about how to bring back an improved community Nordic event in the future. The changes are designed to increase resources for the Club and place more emphasis on its core mission of serving 500 local student-athletes.
In its place, the JH Ski Club will host a new JH Ski Club Winter Nordic Carnival on Sat. Feb 8th, with a series of fun races for all Ski club ages, masters, and alumni. Designed to engage all of our JHSC Nordic teams, there will be standard 1,3, 5, and 10km mass start races and a team NordicX sprint. The Ski Club coaches will be organizing sprint teams early in the season. One team will consists of (1.Lollipopper or Teewinot. 2.Development. 3.Junior. 4. Prep or Comp). Teams will have the opportunity prior to the event to train together, talk tactics and technique during regular practice times at Trail Creek.
Registration/Entry:
Race entry is open for all JHSC athletes, and all are highly encouraged to participate. For more info: jhskiclub.org/news/november-nordic-newsletter-0

Sunday, January 5th 2020 | Turpin Meadow Ranch | 10am-3pm
Mark your calendar and Register online!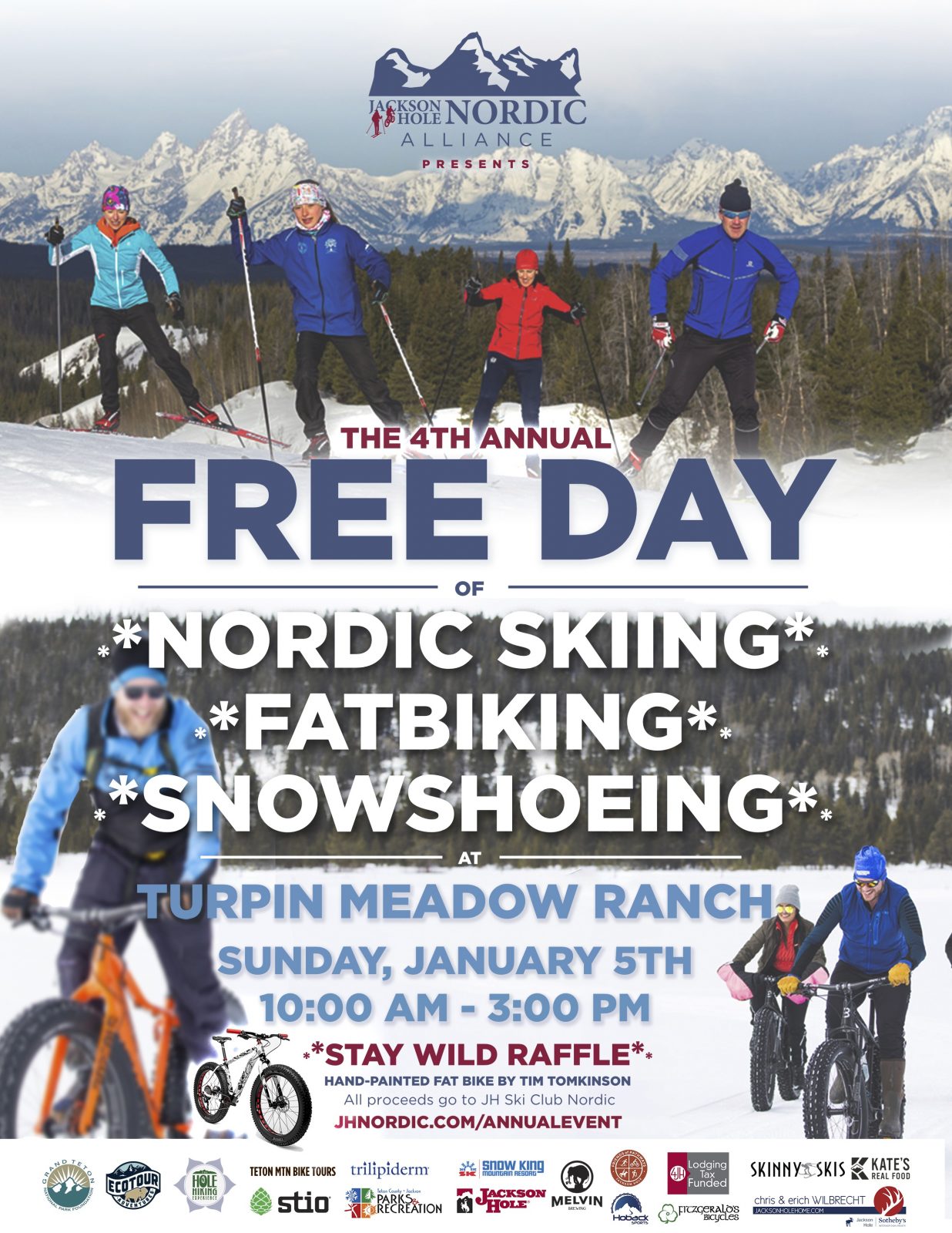 We're getting excited with more demo skis, more fat bikes, Melvin Beer, Kates Bars, Free lessons, snowshoe and BC Nordic tours up the Buffalo Fork, and a huge raffle to benefit the JH Ski Club Nordic program. Raffle will include a Stay Wild fat bike, donated by the JH Travel and Tourism/Lodging Tax supported team, Nordic skis from Skinny Skis, and lots more. Wanna donate to the Raffle? Contact the JH Ski Club: info@JHSkiclub.org
Speed through Registration by pre-signing the Event Activity and Trail Use Waiver online – click here . 
Once the Waiver form is completed online, you will be able to print a pdf copy. We encourage you to print this to present at registration.  We can also look you up as "pre-registered
Sponsored by the JH Nordic Alliance members and JH Travel & Tourism Board
Want to get involved, sponsor an activity, volunteer?
This community event is a great way to connect with our community and visitors. Contact Nancy @: info@JHNordic.com

---
Send us your event dates, stories, photos
Follow JHNordic on Facebook, Instagram @JHNordic, #JHNordic
Sign up for Daily or Once a Week JH Nordic Trail ConditionReports to know what's groomed,
what's happening first thing every morning – or just Saturdays.