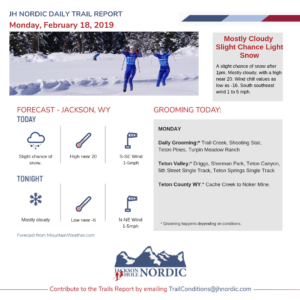 ---
Thank you for continually sharing your photos with us
of Nordic skiing in Jackson Hole
---
Field Report: Hunters Ranch/Shadow Mountain

Near Shadow Mountain. We tried to do Shadow yesterday, but the road was closed. We parked the next lot over and went North. Al knew the way. If you look out at the top you can see Coyote Rock area and the Gros Ventre slide. The snow was like butter cream. Yummy.
---
Moose Chase Highlights
It was a well attended event- ages 5 to 80, from JH and across the region. Fantastic efforts by all for a hilly, challenging race! JH Ski Club coaches were out cheering for their student-athletes. Course was in excellent groomed condition- with a bit of windy blasts, sun. Here are a few photos, enjoy!
---
Field Report: XC Ski Trip to Phelps Lake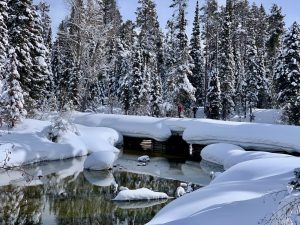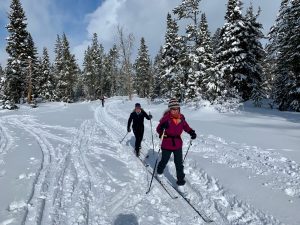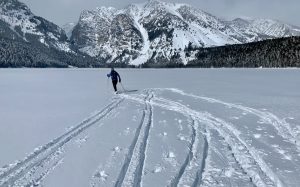 After the Moose Chase, a few friends donned their classic xc skis, and headed north to frozen Phelps Lake along the skier track Moose-Wilson road.
We encountered friends on the trail, other skiers, snowshoers, and heard about a moose over near the Woodland trail, whom we decided to give space and distance to.
Lunch on the Lake Creek bridge, skied our into the openness of the frozen lake, with views of Mt Albright and Death Canyon. And a contrast in the sky of snow clouds, blue sky, snow crystals and sun.. simply a beautiful day to love winter!!

Last Updated: 2/17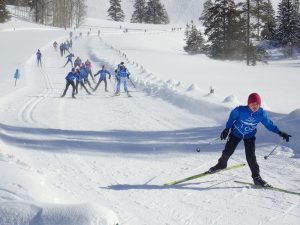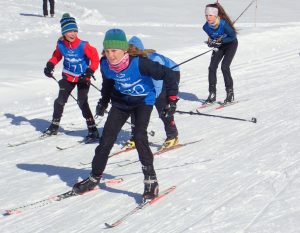 Lots of Winners!
Saturday was a spectacular day at Trail Creek with nearly 200 racers out enjoying sunshine, competition, and plenty of snow. Pictured above is the 30 K winner Coach Scott Lacey tucking towards the Aspen Bump at the 15 K mark. Once again a sea of volunteers came together to host a great race, a million thanks to volunteers, racers, spectators, and staff that make this all possible!
Click on the link to be taken to a folder containing larger images of a lot of people having a lot of fun. Race results for all categories are available here.
Today at Trail Creek it is an awesome day to ski. 10 AM conditions are calm, sun peaking through a thin overcast, a few flakes falling, and a temperature of -11ºC/12ºF. Today's grooming was a Pisten Bully ramble through the woods and fields with a little of this and a little of that. While the Forest Service trails received mainly skate only grooming, the major trails on the rest of our network received double passes with fresh classic tracks. A primary focus was reconnecting connections that had been abandoned for the Moose Chase. About an inch of snow fell since the beginning of grooming but all in all conditions are nice, there is a lot of good skiing today!
Groomer's choice for today is to ski the reconnected lost connections.
---
Turpin Meadow Ranch Grooming Report
Last Updated: 2/17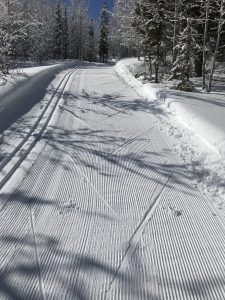 One avid Turpin trail user gave us huge compliment saying "these are the best Nordic trails in the country!" Come visit and become our next biggest fan. We have incredible trails, rental gear available, delicious food, and a cozy lodge. Get up here before the season is over, only 3 more weeks!
---
Grand Teton National Park Grooming Report
Last Updated: 2/17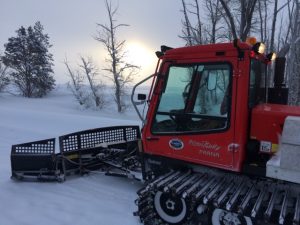 The sun is trying to cut through the fog. Hope everyone has a chance to go out and ski GTNP this Holiday Weekend. Thanks for working today Brandon!
---
Teton Pines Grooming Report
Last Updated: 2/12
Teton Pines Nordic Center will be groomed early on Thursday, as it looks like more snow is coming on Wed into Thursday.
---
Shooting Star Grooming Report
Last Updated: 2/16
Weather has finally calmed and the Nordic skiing should be great. Expect the trails to have a few quirky spots, as it will take a few days to work in the recent snowfall. Take a break from all the shoveling and go for a xcski!
Next Update: Wednesday
---
Grand Targhee Grooming Report
Last Updated: 2/17
Wow, 14″ has blanketed the hill in the last 24 hours. A 41″ storm total; what a week! Earlier denser snow has made a perfect base for this 6% water to snow fluff to sit on top of. It's like it was meant to be!
Cross Country/Fat Bike 15k: XC OPEN (Last groomed AM 2/16/2019), Fat Bike CLOSED.
---
Pinedale Nordic Trail Report
Last Updated: 2/16 @ 9am
All trails above groomed this morning. About 1-2 inches of new snow overnight. 21F degrees. Road is plowed. Little breezy. Should be pretty good skiing. Also did the CCC trails last night – might be a little blown in today.
---
Alta Track
Grooming Schedule: Tuesday, Thursday, Saturday, Sunday
Last Updated: 2/17 @ 11am
Skate: Fair |  Classic: Good
Driggs
Grooming Schedule: Monday, Wednesday, Friday
Last Updated: 2/16
Skate: Fair  |  Classic: Fair
Classic and skate skiing groomed tonight.
Sherman Park
Grooming Schedule: Monday, Wednesday, Friday
Last Updated: 2/14 @ 11am
Skate: Fair |  Classic: N/A
Made a number of laps to reset the track Thursday am. It is a bit wet and soft but fair and skiable.
Teton Canyon
Grooming Schedule: Tuesday, Thursday, Saturday
Last Updated: 2/17 @ 8am
Skate: Poor |  Classic: Good
Just finished up grooming. Nice looking classic track but pretty soft for skate skiing. Beautiful sun dogs on departure! Enjoy the day.
Teton Springs
Grooming Schedule: Monday, Wednesday, Saturday and Sunday
Last Updated: 2/17 @ 1pm
Skate: Good|  Classic: Good
5th Street Singletrack
Grooming Schedule: Monday, Wednesday, Friday
Last Updated: 2/5 @ 11pm
Singletrack: Poor
Trail is snowmobiled in, but not groomed. Planning to roll it out tomorrow…stay tuned!
Teton Springs Singletrack
Grooming Schedule: Monday, Wednesday, Friday
Last Updated: 2/17
Singletrack: Poor
Marked conditions as poor due to windblown hardpack that will breakdown with traffic
Southern Valley Single Track
Grooming Schedule: As Needed
Last Updated: 2/17
Singletrack: Fair
Groomed upper and lower ladyslipper
2 Passes with the V plow
2 Passes with the big drag
Single track should be good
US College Ski Association (USCSA) Championships – Nordic Races

When: Sunday, March 10
Where: Trail Creek Nordic Center, Trail Creek Road – off Hwy 22, Wilson WY
jhskiclub.org/event/uscsa-national-champs
---
West Yellowstone Rendezvous 2019 Race – 2K, 5K, 10K, 25K classic, 25K & 50K freestyle 
When:  Saturday, March 2
Where: Rendezvous Trails, West Yellowstone, MT
www.skirunbikemt.com/rendezvous-race.html
---
Send us your event dates, stories, photos
Follow JHNordic on Facebook, Instagram @JHNordic, #JHNordic
Sign up for Daily or Once a Week JH Nordic Trail ConditionReports to know what's groomed, what's happening first thing every morning – or just Saturdays.