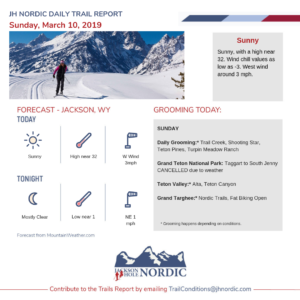 Photo by David Swift. 
---
Thank you for continually sharing your photos with us
of Nordic skiing in Jackson Hole
---
Ski Day in Memory of Jack Bellorado

Over 100 nordic skiers, the Bellorado family and friends came out yesterday afternoon at Teton Pines Nordic Center to honor and celebrate their dear friend, Jack. After a few brief tributes, nordic skiers of all ages skied in skate and classic skis around the newly named "Jack's Loop" trail on the north-west section of Teton Pines Nordic trails.
This wonderful, heart-warming gathering illustrated how many people Jack had touched over many decades in Jackson Hole.
For more on Jack and his amazing life, see the JH News and Guide story.
---
Young Nordic Skiers Head to Alaska for National Championships

Our JH Ski Club Nordic top student skiers are heading off today to rave in the National championships in Anchorage AK. We have a strong team of boys and girls, accompanied by our Nordic Program Director, Ben Morley, and Senior Coach, Scott Lacey. We are all very proud of our student-athletes and Ski Club Nordic Team! Races begin next week.
A wealth of information is available at juniornationalsxc2019.com. It will be a spectacular event with 7 of our athletes competing!
---
Next Week – USCSA National Championship
March 12-16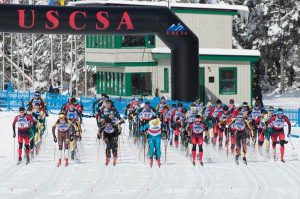 This is a rare opportunity to watch college national champion nordic skiers here at Trail Creek! Hosted by the JH Ski Club. Trail Creek is hosting the USCSA National Championships March 12-16. Skiers from all across the continent will be competing in races throughout the week to see who is the fastest in the nation. It should be a great spectator opportunity and while the fields around the cabin will be maxed out with the races, our members are welcome to ski in the woods throughout the week. Details about the event can be found on the USCSA website.
Over 500 competitors will compete for National collegiate titles in alpine, Nordic, snowboard and freeski. Jackson Hole Ski & Snowboard Club, Snow King Resort, and Snow King Mountain are partnering to host the event.
Nordic Schedule @ Trail Creek
Monday Mar. 11th: Training
Tuesday Mar. 12th: Men's & Women's 7.5K
-10am Men
-11:30am Women
-4:30 Daily Awards
Wednesday Mar. 13th: Men's & Women's FSS
10am Freestyle Spring Qualifier
12 Freestyle Spring Begin
4:30 Daily Awards
Friday Mar. 15th: Men's & Women's 15K
10am Women
11:30am Men
4:30 Daily Awards
Saturday Mar. 16th: Men's & Women's CTS
10am Men's Classic Team Sprint
11am Women's Classic Team Sprint
12pm Mixed Freestyle Team Sprints
4:30pm Daily Awards
7pm Final Awards
March 16th Sandbag Final at Trail Creek
10:30am


Our citizen racers have one last chance to compete at the Sandbag Final at Trail Creek on March 16that 10:30. Due to the collegiate racing occurring at the same time, the venue will be slightly different this year.

Last Updated: 3/9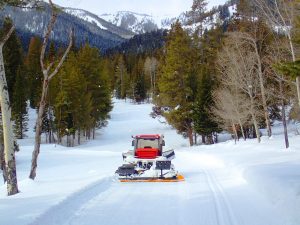 Something's Going On!
If you come out to Trail Creek today you will see a few mysterious things in the works, namely a construction trailer near the cabin with strange antennae sprouting from its roof. This is just the first phase of preparation for the nationally televised USCSA Nordic Championships beginning next Tuesday. By tomorrow the crew will be busy testing all the parameters that go into successfully broadcasting such an event and we expect the first racers from around the nation to be showing up any time.
If you come out today you will also discover that all of the USCSA courses, the March 16th Sandbag course, and Homeward/Outward Bound have received double Pisten Bully passes with fresh classic tracks. 11 AM conditions are thin overcast, light breezes, and a temperature of -6ºC/21ºF. Skiing is all in all pretty nice today; it would be a great day to come on out and check out the beginnings of a busy week.
Groomer's choice for today is to check out the courses and what's going on.
---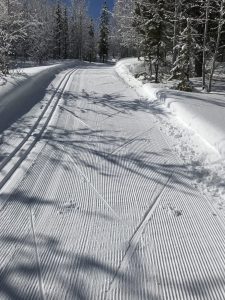 Last Updated: 3/8
Last call: this is the closing weekend for Turpin's winter season. Come build strength, balance, and confidence through Nordic sport. The trails are in great shape, the food is mouthwatering, and there are still a few rooms available if you want to stay this weekend. Monday March 11 is the last day that trails will be groomed and lunch will be served this winter.
This is the last weekend of grooming and lodge operations at Turpin. Big thanks to Turpin for hosting the Annual JH Nordic Alliance Free Nordic Ski, Fat Bike, Snowshoe day in January. Mark your calendar for the 4th Annual Free event next year on Sunday, January 5th 2020!!
---
Grand Teton National Park Grooming Report
Last Updated: 3/8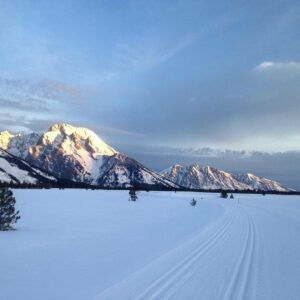 It looks mostly cloudy up in GTNP, but don't let that keep you from skiing Taggart Lake Trailhead to Signal Mountain today. ❄️⛅️. After the park we will be grooming the Bar B Bar Subdivision and up at Spring Creek Ranch. Enjoy the weekend!
The last day of grooming will be Friday March 15, as the road will be plowed starting Monday the 18th.
Nordic skiing is still open in GTNP, but not on the Teton park road. Try many of the superb skier track trails such as Taggart-Bradley Lake, 2 Oceans Lake, Phelps Lake or any or the trail options from the Granite Canyon trailhead, Island hopping in Jackson lake, antelope flats, and more. See the Trails page for detail, search under GTNP Region.
---
Teton Pines Grooming Report
Last Updated: 3/2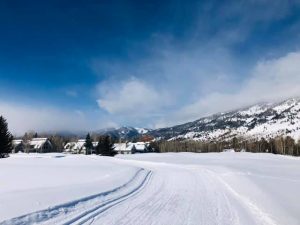 Come out and ski!! The sun is out and the skate skiing is awesome!! The classic track is groomed but the skate conditions are better. The next few mornings will start with cold temps so we recommend waiting until mid-morning once things soften up. March is here, so expect the freeze thaw cycle to continue for the remainder of the season. We are open 9am-4pm daily. Please give us a call at: (307)733-1733 with questions.
---
Shooting Star Grooming Report
Last Updated: 3/6
Snow returns to the Tetons! A few inches of snow groomed out well this morning. Warmer temperatures and dense snow, with the possibility of rain down low, are forecasted for the next few days. Gear up, and enjoy some Nordic skiing!
Next Update: Saturday
---
Grand Targhee Grooming Report
Last Updated: 3/8
With a sneaker storm, 10″ has settled overnight on the mountain! It started exactly after lifts closed and, boy, it did
not let up until this morning! There's a whole lot of snow out there.
Cross Country/Fat Bike 15k: XC OPEN (Last groomed AM 3/9/2019), Fat Bike CLOSED.
---
Pinedale Nordic Trail Report
Last Updated: 3/9 @ 9am
Most trails above groomed this morning. Heavy dusting of new snow. 14F degrees. A little breezy. Looks like the sun might poke through.
---
Alta Track
Grooming Schedule: Tuesday, Thursday, Saturday, Sunday
Last Updated: 3/9 @ 11am
Skate: Fair |  Classic: Fair
There was about 6" of new, dry snow by this morning. I rolled out 3 laps everywhere except The Great White North. It's drifting in fairly quickly but should be okay if you get on it soon.
Driggs
Grooming Schedule: Monday, Wednesday, Friday
Last Updated: 3/8 @ 11am
Skate: Fair  |  Classic: Good
Groomed two passes on Driggs track this morning. Classic is still in good shape, and skate skiing is much better.
Sherman Park
Grooming Schedule: Monday, Wednesday, Friday
Last Updated: 3/8
Skate: Fair |  Classic: Not set
Set the track again with a few inches of fresh snow on top. It was a bit disorienting and I lost the trail a few times – sorry about that. The base is firm, so even with fresh snow continuing to fall, conditions will be good. Enjoy!
Teton Canyon
Grooming Schedule: Tuesday, Thursday, Saturday
Last Updated: 3/6 @ 12pm
Skate: Fair  Classic: Good
All groomed this morning. 6-12 inches of fresh snow. Gonna be soft!
Teton Springs
Grooming Schedule: Monday, Wednesday, Saturday and Sunday
Last Updated: 3/9
Skate: Excellent |  Classic: Excellent
Course should be great skiing today, enjoy!
Yeti's Loop
Grooming Schedule: As Needed
Last Updated: 3/2 @ 7am
Skate: Good  |  Classic: Good
Did a few more laps on Yeti's Loop Friday afternoon with the old ginzu. Got it cleaned up and buffed out.  Also set a classic track that will work well for classic skiing counter-clockwise.
Mike Harris should be plowed this morning…thank you Skyliners! Please park efficiently as the lot can only accommodate about nine vehicles. Are you enjoying this new trail?
5th Street Singletrack
Grooming Schedule: Monday, Wednesday, Friday
Last Updated: 3/1 @ 8am
Singletrack: Not set
Trails closed for wildlife. Please respect closure till snow recedes.
Thanks
Teton Springs Singletrack
Grooming Schedule: Monday, Wednesday, Friday
Last Updated: 3/8
Singletrack: Poor
Did two passes earlier today and got it established again, then it started snowing…
Southern Valley Single Track
Grooming Schedule: As Needed
Last Updated: 3/8 @ 7pm
Singletrack: Fair
---
US College Ski Association (USCSA) Championships – Nordic Races

When: March 12-16
Where: Trail Creek Nordic Center, Trail Creek Road – off Hwy 22, Wilson WY
---
Shuttled Skate Ski from Signal Mountain to Bradley-Taggart 
When: Tuesday, March 12
Where: Meet at the Bradley-Taggart parking area
Professional Nordic skier Scott McGee and park ranger Elizabeth Maki will lead the group on a shuttled skate ski adventure from Signal Mountain to Bradley-Taggart on 14-miles of freshly groomed corduroy. GTNPF.org
---
Send us your event dates, stories, photos
Follow JHNordic on Facebook, Instagram @JHNordic, #JHNordic
Sign up for Daily or Once a Week JH Nordic Trail ConditionReports to know what's groomed, what's happening first thing every morning – or just Saturdays.